The global CNG powertrain market size is anticipated to reach around USD 407.85 billion by 2032 up from USD 82.14 billion in 2022 with a CAGR of 17.38% between 2023 and 2032.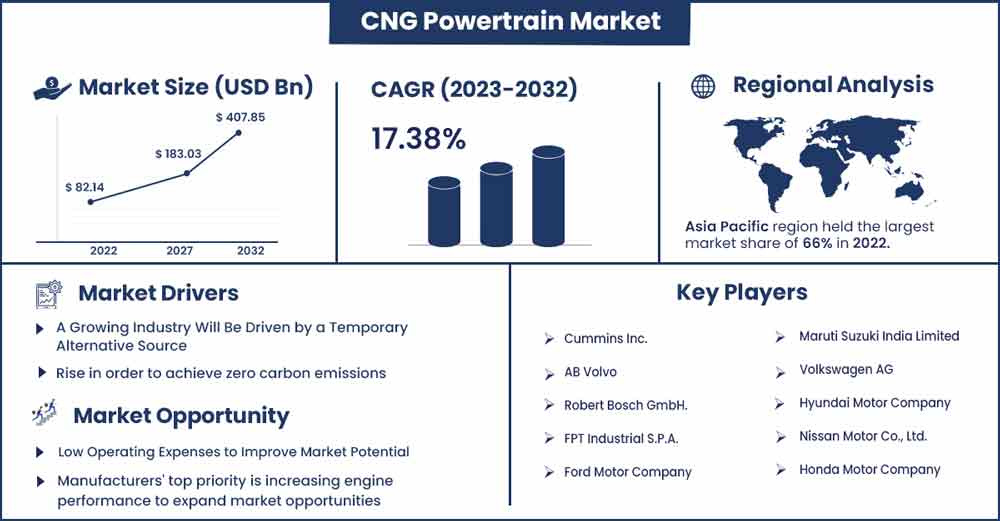 There are no distinctions between the gasoline-powered conventional IC motor and the CNG powerplant. The combustion method is the same even though the CNG powertrain has a few novel components. To generate electricity, the gasoline is combined with oxygen and consumed in the cylinder. Contrary to typical gasoline containers, CNG required a tank that could accommodate highly pressurized gas. High pressure is present when the gas is released from the canister. Original equipment makers will have chances to diversify their revenue streams and regional reach as a result of rising government investments in building CNG and LPG infrastructure around the globe.
In order to reach the objective of net-zero carbon emissions, there is an increasing need for a substitute transitional fuel. Compressed Natural Gas (CNG) is anticipated to overtake other fuels like gasoline, petrol, and LPG as a main energy source because it emits fewer carbon emissions and no particulate matter, which is a significant source of vehicle pollution. Governments all over the world are taking smart steps to offer tax breaks, subsidies, and other advantages to people who buy CNG vehicles, which is anticipated to lead to a significant increase in demand for CNG powertrain cars during the projection period.
The makers of CNG powertrains are primarily focused on increasing the engine efficiency of the car. By focusing on lowering volumetric efficiency loss, speeding up flame spread, and reducing fuel vaporization in engines, they are making investments to improve engine performance. Furthermore, well-known automakers are integrating cutting-edge technologies into CNG cars.
By controlling the fuel and air ratio and syncing the electronic control units and intelligent fuel injection system, for instance, S-CNG technology is used in passenger vehicles to improve fuel efficiency. Additionally, by integrating technology, the CNG system is better calibrated with the drivetrain, suspension, and braking systems, increasing the total effectiveness of the car.
Report Highlights:
The front wheel drive category ruled the market in 2022 in terms of drive type. Due to its beneficial qualities—including its light weight, superior fuel economy, increased mobility, and cost effectiveness—the sector is growing.
The commercial car sector is anticipated to experience phenomenal development over the course of the forecast term. The growing government investment in building CNG infrastructure and the numerous benefits provided to buyers of CNG-powered buses and trucks are both significantly boosting segment development.
In 2022, Asia Pacific held the biggest revenue share with over 66%. The fluctuating price of petroleum is affecting nations like China, India, and Thailand, which motivates them to embrace less expensive alternative fuels like CNG and increases demand for CNG powertrains.
CNG Powertrains Market Report Scope:
| | |
| --- | --- |
| Report Coverage | Details |
| Market Revenue in 2023 | USD 96.42 Billion |
| Projected Forecast Revenue by 2032 | USD 407.85 Billion |
| Growth Rate from 2023 to 2032 | CAGR of 17.38% |
| Largest Market | Asia Pacific |
| Base Year | 2022 |
| Forecast Period | 2023 to 2032 |
| Regions Covered | North America, Europe, Asia-Pacific, Latin America, and Middle East & Africa |

Regional Snapshots
Due to the swift expansion of the automotive industry in nations like China and India, the Asia Pacific region held the lion's portion of the market in 2022, accounting for over 66% of the total. Numerous technical developments are taking place in the Asia Pacific, and CNG infrastructure is constantly expanding. Leading regional companies like Maruti Suzuki are integrating S-CNG technology into passenger vehicles like automobiles. The company's vehicles come with a clever fuel injection system, and the CNG engine is tuned to give peak performance and enhance all-terrain maneuverability.
From 2023 to 2032, South America is expected to grow at the greatest CAGR of 18.6%. Automobile spending has grown as a consequence of rising per capita incomes among customers in Argentina, Brazil, and Colombia. Due to the viability, affordability, and environmental friendliness of cars with compressed natural gas powertrains, consumers are heavily engaging in purchasing a personal vehicle in the area.
Market Dynamics:
Drivers:
The growing demand for alternative cleaner fuels is one of the main reasons propelling development in the compressed natural gas engine market. The worldwide desire for alternative fuels like CNG must rise in order to achieve zero carbon emissions. CNG adds considerably to a low level of pollution because it emits no particulates and produces fewer carbon emissions than other fuels like gasoline, diesel, and petrol. As a consequence, it is expected that during the forecast period, CNG will surpass these other fuels, such as gasoline and diesel, as the main energy source. Governments all over the world are taking smart actions to encourage the uptake of greener fuel cars among the populace, including providing rebates and other financial benefits. These elements are anticipated to increase consumer desire for cars with CNG powertrains, which will fuel the market's expansion.
This may have a significant impact on the market dominance of CNG powertrains.
Restraints:
Automobiles powered by CNG and LPG are more costly than those powered by regular fuel. This is caused by the extra parts that have been added to these cars. Because most of these vehicles lack lubricants, different parts of them degrade more quickly than those powered by gasoline, including parts that are more prone to overheating. As a result, these vehicles need a lot more regular upkeep over time, which increases their overall cost. Additionally, the parts need to be updated frequently, as opposed to petrol cars, which generally have a lengthier lifespan than comparable machinery.
Opportunities:
A market trend for CNG powertrains that is anticipated to have a favorable effect over the next few years is the increased emphasis on improving engine economy. The improvement of CNG car engines' effectiveness is a top priority for the producers of CNG powertrains. The use of cutting-edge technologies in CNG car engines is a significant area of emphasis for the main participants in the global compressed natural gas powertrain market. For instance, Maruti Suzuki, a significant competitor in Asia, offers S-CNG technology as standard equipment for its vehicles. The advantages of S-CNG vehicles over internal combustion engine vehicles are growing due to their high performance, superb engine dependability, superior drivability compared to other models, increased fuel economy, practical fueling mode shifting options, and safety features. Therefore, a rising tendency in the global CNG powertrain market is to concentrate more on improving engine economy, which is anticipated to propel the development of the market under consideration.
In addition, CNG cars are being used, and facilities for refueling CNG is in greater demand. New CNG refueling facilities have been created as a result, making it simpler for proprietors of CNG cars to refill their vehicles.
Challenge:
During the projection period, the compressed natural gas engine market will face significant challenges due to the higher initial investment and upkeep expenses compared to petrol cars. Compared to other cars like gasoline and diesel, the expense of CNG vehicles is higher. Due to the extra components used in CNG cars, the maintenance expenses are also higher. Additionally, the components in CNG powertrain vehicles need to be replaced more frequently than those in gas and diesel vehicles because they last longer than CNG powertrain vehicles. Such elements pose a significant barrier to the expansion of the worldwide CNG powertrain industry.
Also, the market for powertrains has been disrupted by the emergence of electric vehicles (EVs), which are posing an increasing threat to vehicles with conventional internal combustion engines (ICEs) or CNG powertrains. To remain competitive, powertrain makers must adjust to this shifting environment and create new technologies.
Recent Developments:
In March 2022, the Indian government declared the introduction of 100 compressed natural gas-powered vehicles to Delhi, the nation's capital.
Major Key Players:
Cummins Inc.
AB Volvo
Robert Bosch GmbH.
FPT Industrial S.P.A.
Ford Motor Company
Maruti Suzuki India Limited
Volkswagen AG
Hyundai Motor Company
Nissan Motor Co., Ltd.
Honda Motor Company
Market Segmentation:
By Drive Type
All-wheel Drive
Rear Wheel Drive
Front Wheel Drive
By Fuel Type
By Vehicle Type
Passenger Vehicle
Commercial Vehicle
Buy this Research Report@ https://www.precedenceresearch.com/checkout/2743
You can place an order or ask any questions, please feel free to contact at sales@precedenceresearch.com | +1 9197 992 333