The global combine harvester market size surpassed USD 49.74 billion in 2022 and it is expected to rake around USD 74.58 billion by 2032, poised to grow at a CAGR of 4.13% during the forecast period 2023 to 2032.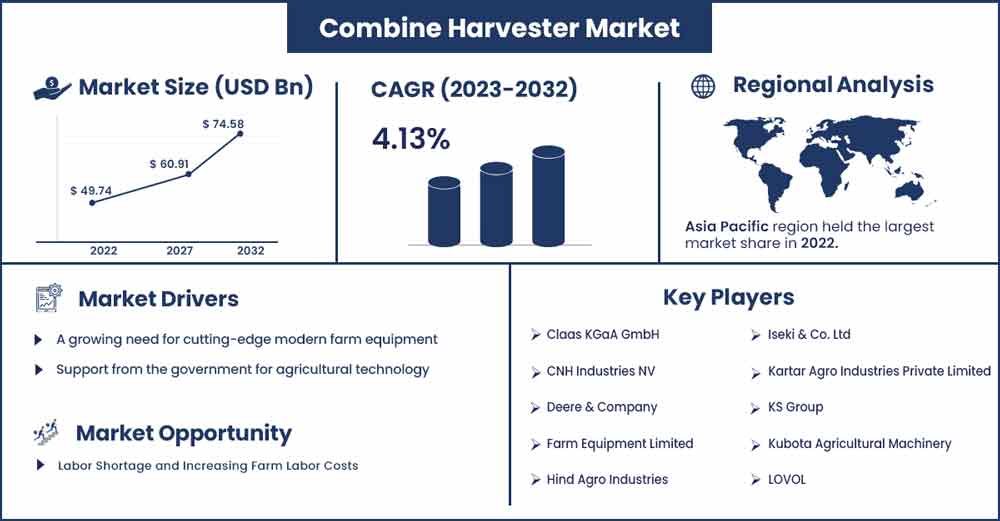 To achieve automation and industrialization in farming, combine harvesters are crucial. The key aspect driving market expansion is an increase in farm production. Increased consumer awareness of the accessibility of such products, increased consumer awareness of improved technology, rising farmer education levels regarding efficient farming methods, a boost in research and development efforts, and a boost in demand from advanced markets are the main factors, among others, driving the market for combine harvesters.
Additionally, the anticipated period will see a surge in technological improvements and modernization of harvester processes, which will lead to new prospects for the industry for combined harvesters. However, the main factor impeding market expansion and adding to the challenges facing the development of such a combined harvest industry in the projection period given listed above is the industry's rising cost of R&D activities.
Report Highlights:
Throughout the entire forecast period, the identity combine harvest segment is expected to rule the industry in terms of volume and value. Due to the rising demand for self-propelled combine harvesters, the tractor mounted/PTO category is predicted to experience falling growth. For small farm fields, tractors mounted with agricultural machinery are typically preferred (ranging in size from 1-10 acres). One significant advantage of agricultural machinery placed on tractors is that landowners can utilize tractors for various field tasks for the remainder of the year. Farmers now prefer using self-propelled combination extractors to harvest their crops, however, as a result of expanding farm size increasing production capacity. By the conclusion of the forecast period, the category is anticipated to represent more than 90% of the market for combined harvesters.
Regional Snapshots:
The need for combined harvesters in the Latin American region is anticipated to increase due to the region's expanding agricultural sector. By the conclusion of 2018, China is anticipated to sell over half of all combined harvester copies sold worldwide in terms of quantity. Since small-sized combined harvesters make up the majority of the machines sold in China, the nation trails behind with the terms of the value shares. In contrast, there is a far larger market for huge agricultural machinery in Central America.
In the Southern Part Asia Pacific region where automated farming will replace traditional farming and experience a 1.4X future growth, the urbanization process is driving this transition. Due to the planned repair of the combined harvester inventories in these countries, regions like Europa and North America are predicted to gather momentum during the second half of a projected timeframe. India is anticipated to increase number growth potential during the projection period due to expanding agricultural technological developments.
Combine Harvester Market Report Scope:
| | |
| --- | --- |
| Report Coverage | Details |
| Market Revenue in 2023 | USD 51.8 Billion |
| Projected Forecast Revenue in 2032 | USD 74.58 Billion |
| Growth Rate from 2023 to 2032 | CAGR of 4.13% |
| Largest Market | Asia Pacific |
| Base Year | 2022 |
| Forecast Period | 2023 to 2032 |
| Regions Covered | North America, Europe, Asia-Pacific, Latin America, and Middle East & Africa |

Market Dynamics:
Drivers:
The global need for sophisticated farm machinery is one of the primary factors driving the business of agricultural machinery. Precision farming boosts crop production and farm revenue by lowering crop yields cost of production, reducing post-harvest waste, and saving time and labor costs. Because more people become aware of their benefits, there is a growing need for items to be transported using electrical, hydraulic, hand-operated devices, and animal-driven instruments. The agriculture sector has a considerable influence on the GDP of every nation in the world. The government's initiatives to advance agriculture both in developing and emerging nations are fueling the agricultural machinery market. machinery.
Restraints:
Due to the availability of plenty of work, low work costs, and substantial machine costs in the past, the usage of join collectors was constrained. with antiquated work schedules. The Mahatma Gandhi National Rural Employment Guarantee Act goes beyond providing a social safety net to ensure that businesses have the right to operate. It is becoming more economically sustainable for Indian farmers to hire a combine gatherer for chopping and whipping because of the decreased work and rising job costs. The join harvester apparatus is expected to be primarily controlled by similar increase and upkeep as well.
Opportunities:
Due to a labor shortage that would again affect American farmers in 2020 for the fourth consecutive year, fruits, vegetables, peas, and beans were left unplanted in many states. Due to the shortage, fruits and vegetables are currently being delivered to meet demand. American farmers are implementing several cutting-edge techniques to grow their enterprises while utilizing a finite number of employees. Farmers are using agrotechnologies, like sensors, forecasting models, automation, and robotics, although their hefty initial expenses, to improve crop production and quality to order to function as effectively utilizing limited resources.
Challenges:
Combination harvesting tractor designs have evolved recently in response to changing consumer expectations. However, the development and research required for modernization instrumentation may result in higher development and research costs. Although product effectiveness is important to farmers, price is frequently the most important factor, especially in poor and rising countries. Combination reaper operations have recently gotten much more difficult as the machines have gotten more sophisticated.
Recent Developments:
Bear Flag Robotics, a Silicon Valley-based provider of agricultural technologies, was acquired by John Deere in August 2021. This acquisition would increase the mechanization of John Deere's farming machinery and support their long-term goal of creating cutting-edge equipment to satisfy the demands of particular clients.
In August 2018, CLAAS KGaA mbH incorporated the new CONVIO FLEX and CONVIO draper cutter bars into its product selection to achieve high performance.
In 2018, the AGCO Corporation-owned Massey Ferguson brand will introduce RazorEdgeTM 1300 Series Pull-Type Discs Mower Conditioners.
In November 2017, a new production plant for tractors and wheel-type combines harvesters owned by Kubota Company commenced full-scale operations. The company sells a range of agricultural goods, and its renowned harvester PRO1408Y delivers exceptional results.
Mahindra & Mahindra Ltd. presented the revised Swaraj Professional Combination 7060, a track combination from the Swaraj vehicle series, in September 2021. With its improved paddy trimmer bar, the new Swaraj Pro Combine 7060 can more precisely and successfully chop resting crops at a cheaper price.
Major Key Players:
Claas KGaA GmbH
CNH Industries NV
Deere & Company
Farm Equipment Limited
Hind Agro Industries
Iseki & Co. Ltd
Kartar Agro Industries Private Limited
KS Group
Kubota Agricultural Machinery
LOVOL
Mahindra & Mahindra Limited
Massey Ferguson (AGCO Corporation)
New Holland
Preet Group
Renault Sonalika International
Sampo Rosenlew Ltd.
SDF S.p.A.
Tractors and Farm Equipment Limited (TAFE)
Yanmar Co. Ltd
Market Segments:
By Type
Self-propelled
Tractor-pulled Combine
PTO-powered Combine
By Mechanism
By Power
Below 150 HP
150-300 HP
300-450 HP
450-550 HP
Above 550 HP
By Class
Class 1-2 (0.5-3 Kg/s)
Class 3-4 (5-8 Kg/s)
Class 5-6 (9-12 Kg/s)
Class 7 (12-14 Kg/s)
By Grain Tank Size
<250 bu
250-350 bu
>350 bu
By Crop Type
Buy this Research Report@ https://www.precedenceresearch.com/checkout/2522
You can place an order or ask any questions, please feel free to contact at sales@precedenceresearch.com | +1 9197 992 333