The global customer experience management market size is anticipated to reach around USD 47.87 billion by 2032 up from USD 11.68 billion in 2022 with a CAGR of 15.2% between 2023 and 2032. The rising deployment of advanced tools and technologies to ease the customer experience services is observed to offer opportunities for market players.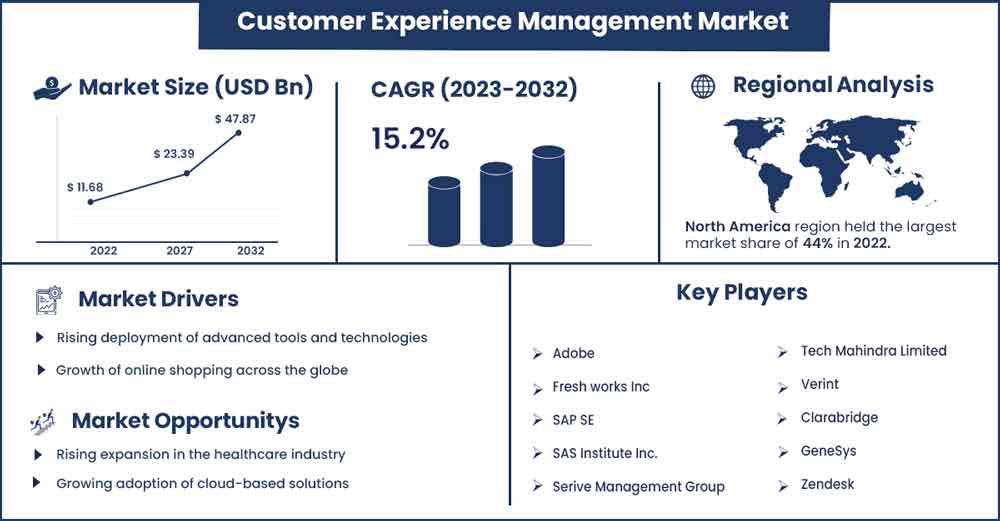 Market Overview:
Customer experience management (CEM) is a strategy that focuses on creating and managing positive interactions between businesses and their customers throughout the customer journey. It involves understanding and meeting customers' needs and expectations, providing a personalized experience, and ensuring customers are satisfied with their interactions with the brand.
The customer experience management market refers to the products and services businesses use to implement and manage their customer experience strategy. This includes software tools and platforms that enable enterprises to collect, analyze, and act on customer feedback and data to improve the customer experience.
The global customer experience management market is rapidly growing as businesses recognize the importance of providing exceptional customer experiences to retain customers, drive loyalty, and increase revenue. The market includes a variety of vendors, from sizeable enterprise-level software providers to smaller startups offering specialized CEM solutions.
Regional Snapshot:
North America held the dominant share of the global customer experience management market; the region is expected to continue its dominance during the forecast period. Companies in the region are aware of their online presence and consumer satisfaction; these factors have boosted the market's growth in North America. The presence of major key players, especially in the United States, has supplemented the market's growth.
Zendesk Inc., Oracle Corporation, Adobe Inc., Medallia Inc., Salesforce, Genesys, OpenText Corporation, Microsoft Corporation, and Freshworks Inc are a few of the major players in North America that contribute to the growth of the customer experience management market. These companies offer a range of CEM solutions, including customer feedback management, the voice of the customer (VoC) analytics, journey mapping, and customer journey analytics.
Asia Pacific is expected to witness rapid growth in the customer experience management market during the forecast period. Asia Pacific is undergoing rapid digital transformation, increasing internet and smartphone penetration rates. This has led to a growing demand for digital customer experiences, such as online and mobile banking, e-commerce, and digital customer service. Moreover, the rising expectations for personalized, convenient, and fast service across all regional channels are accelerating the market's growth. Overall, Asia Pacific's dynamic market presents significant opportunities for companies that can provide exceptional customer experiences.
Customer Experience Management Market Report Scope:
| | |
| --- | --- |
| Report Coverage | Details |
| Market Revenue in 2023 | USD 13.4 Billion |
| Projected Forecast Revenue by 2032 | USD 47.87 Billion |
| Growth Rate from 2023 to 2032 | CAGR of 15.2% |
| Largest Market | North America |
| Base Year | 2022 |
| Forecast Period | 2023 to 2032 |
| Regions Covered | North America, Europe, Asia-Pacific, Latin America, and Middle East & Africa |

Report Highlights:
By deployment, the on-premise segment dominated the market in 2022; a more marked preference for on-site customer experience management systems and rising concerns about data security are two major factors to maintain the growth of the on-premise segment. On the other hand, the cloud segment is expected to be the most attractive segment with rising penetration of convenient and connected devices for customer experience solutions.
By touch point type, the call center segment dominated the market in 2022; the popularity of call centers with the rising adoption of advanced technologies at call centers is observed to maintain the segment's growth during the forecast period. Moreover, the web services segment is predicted to register the fastest growth due to emerging role companies' websites for brand representation.
By analytical tool, the text analytical tool segment dominated the market in 2022; the segment is predicted to have substantial growth during the forecast period as it allows easy improvements in the CEM structures for consumers. The maintained demand for monitoring customer sentiments for business growth will support the development of the text analytics segment. The web analytics segment is predicted to register the fastest growth owing to the rising demand for content management and personalized content for consumers.
By end-use, the retail segment dominated the global customer experience management market in 2022. The massive demand for collecting consumer sentiment and other insights for future services from the retail sector has supported the segment's growth. On the other hand, the rising requirements for CEM solutions from the banking and financial services sector to reduce internal errors are expected to boost the development of the BFSI segment during the forecast period. Along with this, the healthcare segment will be the most attractive segment owing to the shifting focus toward value-based care for patients.
Market Dynamics:
Driver:
Growth of online shopping across the globe
The growth of online shopping is significantly impacting the customer experience management (CEM) market, as it has led to an increased focus on enhancing the customer experience throughout the online shopping journey. With the rise of online shopping, customers have become more accustomed to having a seamless and personalized shopping experience. As a result, businesses have had to adapt by implementing customer-centric strategies that provide a positive shopping experience from the moment a customer lands on their website to the point of checkout.
Overall, the rise of online shopping has driven the growth of the CEM market by emphasizing the importance of customer-centricity in the online shopping experience. As more online businesses recognize the value of investing in CEM solutions, the market is expected to continue to grow in the coming years.
Restraint:
High cost of implementation
Customer experience management (CEM) solutions often require a significant investment in hardware, software, and personnel to implement effectively. For smaller organizations with limited resources, this cost can be a substantial barrier to entry. Additionally, the ongoing costs of maintaining and updating CEM solutions can be high, particularly for organizations that require extensive customization or integration with other systems. As a result, many organizations may choose to delay or forego investing in CEM solutions altogether, which can limit the growth of the market.
Moreover, the cost of CEM solutions can also vary widely depending on the vendor and the features offered. This can create a significant barrier to entry for smaller vendors or new entrants to the market, as they may not have the resources to compete with larger, established vendors. Overall, while customer experience management solutions can provide significant benefits to organizations, the cost of implementing these solutions can significantly restrain the market's growth.
Opportunity:
Growing adoption of cloud-based solutions
Cloud-based customer experience management solutions can be easily scaled up or down to meet changing business needs. This makes it easier for organizations to adapt to changes in customer demand or business conditions. The adoption of cloud-based solutions presents an opportunity for customer experience management vendors to expand their offerings and provide more advanced features and functionality. For example, vendors can develop solutions that leverage the scalability and flexibility of cloud-based solutions to provide real-time insights into customer behavior or use machine learning algorithms to analyze customer data and provide personalized recommendations.
The growing adoption of cloud-based solutions presents several opportunities for the customer experience management market, including scalability, flexibility, cost-effectiveness, security, and integration.
Challenge:
Complexity of customer experience management technology
Implementing and maintaining customer experience management (CEM) technology can be expensive. The high cost of CEM technology can be a significant barrier to adoption for smaller businesses. Many customer experience management solutions require integration with existing systems, such as customer relationship management (CRM) and marketing automation platforms. The complexity of integrating these systems can be a significant challenge for businesses. The complexity of CEM technology can make it difficult for businesses to train employees effectively, resulting in low adoption rates and suboptimal use of the technology. CEM technology requires ongoing maintenance and updates. The complexity of the technology can make maintenance challenging and require specialized skills. Overall, the complexity of CEM technology can make it challenging for businesses to adopt and fully utilize CEM solutions.
Recent Developments:
In October 2022, a global leader in providing customer experience to large-scale companies, ResultsCX, announced a strategic expansion in the United Kingdom and continental Europe by acquiring 60K, a leading Bulgarian customer experience management company. With the acquisition and new business plans, ResultsCX has announced its new headquarters in London.
In December 2022, a leading provider of customer experience management services in China, Aurora Mobile, announced that the company had signed a strategic agreement with Konica Minolta Office Systems Co Ltd (China). Under the strategic agreement, Aurora Mobile will help Konica Minolta to improve user experience and engagement with its leading messaging services.
In June 2022, TravelCenter of America Inc announced that it had teamed up with Service Management Group in order to produce a new customer experience management program for TravelCenter. TravelCenter to America Inc is focusing on measuring location–level customer feedback through the Service Management Group's services.
Major Key Players:
Adobe
Fresh works Inc
SAP SE
SAS Institute Inc.
Serive Management Group
Tech Mahindra Limited
Verint
Clarabridge
GeneSys
Zendesk
International Business Machine Corporation
Market Segmentation:
By Deployment
By Touch Point Type
Store
Call centers
Social media platforms
Email
Mobile
Web services
Others
By Analytical Tool
EFM software
Speech analytics
Text analytics
Web analytics
Others
By End-Use
Construction/Real estate
IT & Telecom
BFSI
Healthcare
Manufacturing
Service business
Government
Retail
Others
Buy this Research Report@ https://www.precedenceresearch.com/checkout/2781
You can place an order or ask any questions, please feel free to contact at sales@precedenceresearch.com | +1 9197 992 333