The global digital printing market size was exhibited at USD 29.27 billion in 2022 and it is projected to attain around USD 49.7 billion by 2030, poised to grow at a CAGR of 6.84% between 2022 and 2030.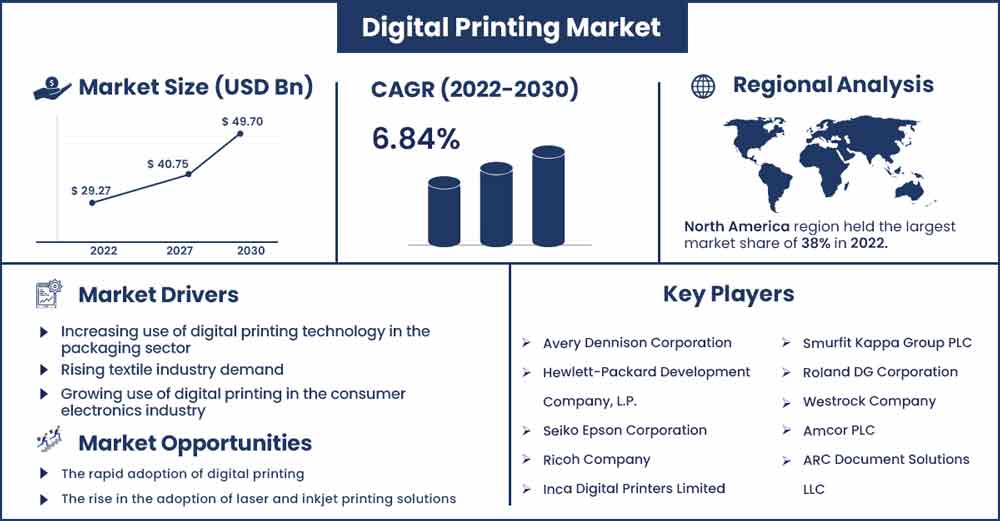 One of the key factors propelling the market's revenue growth is the increasing use of digital printing technology in the packaging sector. The expansion of the worldwide market's revenue will be greatly aided by rising textile industry demand. Other factors are anticipated to contribute to the market's estimated revenue growth, such as the rapid uptake of AI-based printing technologies and the growing use of digital printing in the consumer electronics industry.
Digital data from a computer or other digital device are used as a source in the process of digital printing. Digital printing does not rely on a press plate to convey the image and does not require any setup sheets. Due to decreasing production costs, digital printing has largely replaced lithography in a range of applications. In digital printing, a raster image is sent straight to the printer using digital data and graphics software tools. Contrary to other printing techniques, toner does not penetrate the substrate. With the aid of a fuser fluid, the toner really forms a thin layer on the surface that may be attached to as part of a heating process or ultraviolet (UV) curing process.
The main advantage is the removal of the printing plate since it saves money, time, and labour. The benefits of digital printing are numerous. There is a chance that it will speed up the turnaround. It costs less than offset printing and provides prints of greater quality. It's a wonderful option for printing that needs to be completed quickly, such as on-demand printing. The variety of substrates available to a designer is greater because it is non-contact printing. Digital printing does not result in picture distortion, unlike screen printing.
Positively, digital print manufacturing typically results in the most realistic colour representation possible.
Furthermore, there is minimal to no variation during a production run. The consistency between outputs is frequently 100%. This is fantastic for making sure that every item provided is of grade-level quality, for example, in a business plan meeting with executives and stakeholders. Additionally, because digital printing utilises little dot gain, the finished output on paper looks better. As long as the artwork or image file is of great quality, this approach will provide the same outcomes.
Numerous advantages of digital printing help to keep prices down. One crucial aspect is that plates are not necessary; otherwise, setting up this stage would be quite expensive. Digital press equipment is incredibly quick, and it typically functions similarly to high-speed copiers. Proofs are easy to make and run off the source image in the same manner as the rest of the production is when a print proof is necessary before the start of the entire production. There is no cost loss while making prototype plates, but there is a cost loss if the production does not live up to expectations.
Report Highlights:
Digital printing has a lot of potential in the packaging sector. Different packaging techniques and printing technologies are used to meet various product demands for particular sorts of branding. Carton, label, metal, rigid plastic, corrugated, and flexible packaging's are a few examples of packaging industry.
Customers that care about the environment are increasingly becoming more interested in rigid plastic packaging, thus the UV LED printer also has the advantage of being a very environmentally friendly method for the companies. The capacity to readily include changeable data, serialisation, barcodes, QR codes, or any combination of these to their products is another advantage for the client and a potential profit booster. To make their product more appealing to consumers and establish a competitive advantage, several businesses utilise digital printing on rigid plastic packaging.
The digital platform solutions, end-to-end value creation chains, and innovative, data-based business models are all of great interest to the Chinese printing sector. The widespread use of digital printing has given local designers internet access to more than 12,000 folding carton designs, placing package design at the forefront of adoption.
Digital Printing Market Report Scope:
| | |
| --- | --- |
| Report Coverage | Details |
| Market Revenue in 2023 | USD 31.28 Billion |
| Projected Forecast Revenue in 2030 | USD 49.7 Billion |
| Growth Rate from 2022 to 2030 | CAGR of 6.84% |
| Largest Market | North America |
| Base Year | 2022 |
| Forecast Period | 2022 To 2030 |
| Regions Covered | North America, Europe, Asia-Pacific, Latin America, and Middle East & Africa |

Regional Snapshots:
Due to the growing demand for digital printing across several business verticals, the Asia Pacific market had the greatest market revenue share in 2022. The Chinese printing sector is paying attention to new data-driven business models, digital platform solutions, and end-to-end digitised value creation chains. Local designers now have access to more than 12,000 carton folding patterns online because to the increased adoption of digital printing. Businesses are purchasing digital presses because there are fewer steps in the printing process.
By swiftly providing the finished product, the businesses will be able to increase their manufacturing capacity. On October 15, 2021, Tomato Cloud Technology Co., Ltd., a Chinese printing business, placed an order for 10 new Fujifilm Jet Press 750S digital inkjet printers. By the end of 2022, the firm will be one of Jet Press' key client's thanks to the addition of 10 more Jet Press 750S presses that will be delivered to its location by that time.
Due to the increasing use of digital printing in the packaging and textile industries, the market in Europe is anticipated to rise steadily. Information on the development of new goods and technology is being spread through a number of product launches, marketing efforts, and conferences. The major commercial and technical conference for the digital inkjet printing sector is the IMI Europe Digital Printing Conference 2022. It includes market updates from well-known analysts, pacesetter updates and insights from the industry, important end-user viewpoints, and new technology introductions from inkjet pioneers. The flagship strategic event is the best location to hear about the most recent corporate developments while mingling with top executives from all sectors of the market to discuss potential business opportunities.
The market in North America is expanding significantly and is anticipated to continue doing so over the projected period. The projection period is expected to see revenue growth in the regional market driven by the blending of print and digital technologies as well as the increased acceptance of personalization in print for consumer satisfaction.
Market Dynamics:
Drivers:
Overall waste in the print sector has decreased as a result of significant advancements in supply chain management, time-efficient production, and print manufacturing efficiency. Digital printing has benefited from technological improvements that have made waste reduction possible while retaining good print quality.
In comparison to conventional printing methods like offset printing and solid ink printing, digital printing uses mild solvents and less dangerous chemicals. As a result, the market for printed electronics is seeing an increase in demand for digital printing solutions, which is putting a greater emphasis on eco-friendly printing and efficient production.
Cost, though, continues to be a significant barrier. Additionally, expensive investments impede the total market expansion of the digital printing sector. These expenses comprised the purchase price, support fees, installation charges, maintenance costs, ink and other consumables prices, and installation fees (where applicable).
Restraints:
A significant issue that is anticipated to limit the worldwide market's ability to develop in terms of revenue is the high initial capital expense for the installation of equipment. Costly expenses include the initial cost of the equipment, installation, periodic maintenance, and the cost of ink and replacement components. Additionally, a significant barrier is anticipated to be the high cost of research and development (R&D) efforts for the creation of superior technologies and methodologies. Additionally, products with digital printing have a short lifespan and might fade when exposed to sunlight. With offset or flexographic ink, which is used in conventional prints, this is not the case.
Opportunities:
The market for digital printing is evidently expanding as it becomes more and more integrated into a variety of sectors, including the textile, printed media, and packaging industries. The range of applications has expanded, and this, together with a rise in the use of digital printing across a variety of industries, including educational institutions, has increased interest among businesses in investing in R&D projects. The market for digital printing still has opportunity to expand despite the large range of improvements that have emerged as a consequence of the rapid technical development.
Challenges:
The expansion of the digital printing industry is hampered by high equipment and installation costs. High ink, maintenance, and support expenses are other factors that limit market expansion.
Recent Developments:
In April 2022, Complete Design & Packaging (CDP), a corrugated converting company, is increasing its investment in the single-pass inkjet digital print technology that has helped it become a participant in the industry's innovation and development. The Concord, North Carolina-based business is putting in place a brand-new EFI Nozomi 14000 LED digital press, which is the company's second ultra-high-speed Nozomi direct-to-corrugated system.
Major Key Players:
Avery Dennison Corporation
Hewlett-Packard Development Company, L.P.
Seiko Epson Corporation
Ricoh Company
Inca Digital Printers Limited
Smurfit Kappa Group PLC
Roland DG Corporation
Westrock Company
Amcor PLC
ARC Document Solutions LLC
Market Segmentation:
By Ink
Solvent
UV-Cured
Latex
Dye Sublimation
Others
By Digital Printing
Digital Printers
Ink
Printhead
By Print Head
Inkjet
Thermal Inkjet
Piezo Inkjet
Electrostatic Inkjet
Micro-Electro Mechanical System Inkjet
Laser
By Printhead
Plastic Film
Release Liner
Textiles
Glass
Ceramics
Paper
Others
By Application
Books
Commercial Printing
Texting
Packaging

Labels
Cartons
Flexible Packaging
Corrugated Packaging
Metal Packaging

Others
Buy this Research Report@ https://www.precedenceresearch.com/checkout/2322
You can place an order or ask any questions, please feel free to contact at sales@precedenceresearch.com | +1 9197 992 333