The global electronic equipment repair service market size surpassed USD 125 billion in 2022 and it is expected to rake around USD 241.79 billion by 2032, poised to grow at a CAGR of 6.82% from 2023 to 2032.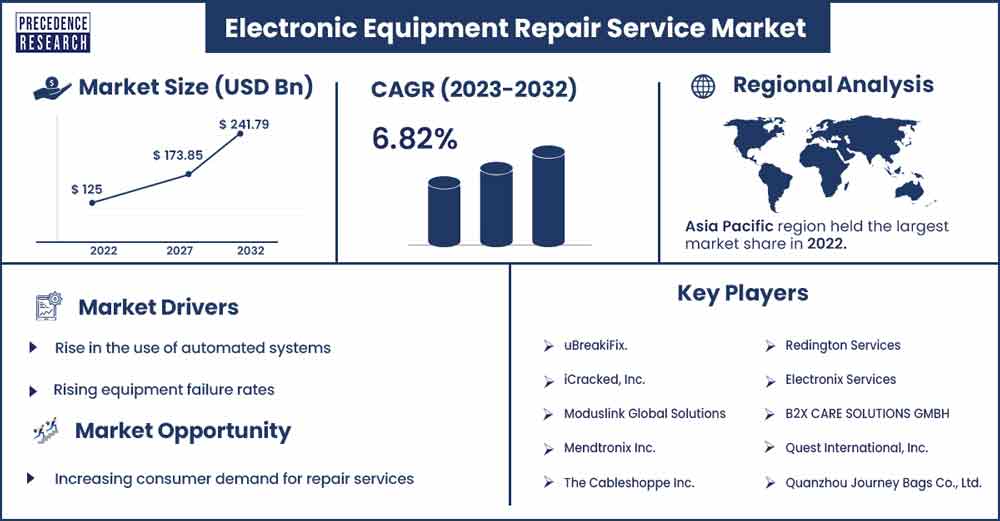 The electronic equipment repair service market refers to the industry that specializes in repairing and maintaining electronic devices and equipment, including computers, smartphones, televisions, and other consumer electronics. This market is fueled by the rising prevalence of electronic devices in daily life as well as the demand for affordable repair options to extend the useful lives of these gadgets.
The market for repairing electronic equipment is extremely competitive and fragmented, and there are many tiny, independent repair companies that operate locally. Larger national and international repair chains are, however, also available, and they are growing their service offerings to include more gadgets and technology. The complexity and sophistication of electronic devices, as well as the growing understanding of the environmental advantages of repair and reuse versus disposal, are projected to drive market growth in the upcoming years.
The market is also fueled by the growing popularity of do-it-yourself (DIY) repair and maintenance, which has given small repair shops and independent business owners new options. Overall, the market for the repair of electronic equipment is a dynamic and expanding one that is anticipated to grow even more in the upcoming years due to rising demand for repair services and increased knowledge of the financial and environmental advantages of repair and reuse.
The market for the sterilization pouch market has been growing in recent years owing to advancements in packaging technology, increasing adoption of sterilization pouches in non-medical industries, and increasing use of sterilization pouches in home healthcare. The healthcare industry is growing rapidly in emerging markets, driven by population growth, increasing income levels, and improving healthcare infrastructure. This is creating significant opportunities for the sterilization pouch market, particularly as awareness of the importance of sterilization in preventing infections increases in these markets.
Report Highlights
Based on technology, the electronic equipment repair service market is segmented into consumer electronics, home appliances, medical equipment, and industrial equipment. Over the projected period, the home appliances segment is anticipated to rule the global market.
On the basis of end-use, the electronic equipment repair service market is segmented into industrial and commercial. The residential segment dominated the global electronic equipment market in 2022 and is expected to maintain its dominance during the forecast period.
On the basis of service type, the electronic equipment repair service market is segmented into in-warranty and out of warranty. Out of these service types, the out-of-warranty repair segment is currently dominating the electronic equipment repair service market.
On the basis of geography, Asia Pacific is anticipated to witness the highest growth rate during the forecast period owing to the presence of numerous domestic and foreign players in the area.
Electronic Equipment Repair Service Market Report Scope
| | |
| --- | --- |
| Report Coverage | Details |
| Market Revenue in 2023 | USD 133.53 Billion |
| Projected Forecast Revenue by 2032 | USD 241.79 Billion |
| Growth Rate from 2023 to 2032 | CAGR of 6.82% |
| Largest Market | Asia Pacific |
| Base Year | 2022 |
| Forecast Period | 2023 to 2032 |
| Regions Covered | North America, Europe, Asia-Pacific, Latin America, and Middle East & Africa |

Regional Snapshots
Geographically speaking, Asia Pacific is predicted to experience the fastest growth rate throughout the projected period due to the concentration of both domestic and international companies there. Japan, China, and India are three of Asia Pacific's major consumers of electrical products. Additionally, it is projected that the region's active R&D activities will in the years to come create new opportunities for the market for services to repair electronic equipment.
Due to the increasing demand for housing, home renovation projects, and commercial space in North America and Europe, the market for electronic equipment repair services is anticipated to expand at a high rate over the forecast period. Additionally, it is anticipated that shifting consumer attitudes in developing nations would present considerable prospects for industry expansion.
Market Dynamics
Drivers
The demand for electronic equipment repair services has increased as a result of the spike in popularity of electronic devices including televisions, telephones, computers, and air conditioners. Also, the proliferation of automated systems in several industries is a major driver of the demand for electrical device maintenance services. Because electronic goods are so expensive, people are increasingly opting to purchase refurbished devices rather than brand-new ones. This will create lucrative market opportunities during the course of the projection year, it is predicted. Rising disposable income and shifting consumer lifestyles have led to an increase in reliance on technological appliances. This is expected to raise demand for technological equipment among households.
Rising equipment failure rates and the cost benefits of repairing rather than discarding outdated technology are expected to fuel the market for consumer electronics repair and maintenance. Both branded and unbranded low-cost goods are continuously entering the market. They eventually need to be repaired, whether they were made with inferior materials or need continual upkeep. Yet, research shows that companies are now adopting a different approach and producing goods that can be easily repaired for use because fixing a device's issue is always a more cost-effective option than buying a new one, strengthening the customer's trust.
Customers are more inclined to buy and use products from a business if it offers replacement parts, repair guides, support, and guidance on how to fix the product. Apple is now assembling the older iPhone in India. Thanks to businesses like iFixit and Repair Café, people are collaborating to fix electronics. The European Commission intends to investigate the specifications for environmentally friendly smartphone design, as well as the accessibility of spare parts and repair information, in 2021. Hence, the rising equipment failure rates and the cost savings of repairing outdated technology are stimulating the demand for consumer electronics repair and maintenance.
Opportunities
Focusing on using augmented reality (AR)-based maintenance and repair techniques, service providers for consumer electronics maintenance and repair. In augmented reality (AR), computer-generated images are superimposed over a user's view of the physical world and combined with direct and indirect views of environments there. Users can enhance their field of view with the most recent digital information by using these augmented reality (AR)-based repair or maintenance solutions. With the use of this information, the user can obtain detailed instructions on how to repair an asset.
In order to guide clients through step-by-step, at-home repairs or replacements for more than 97 different systems in 7 different languages, the new 2022 AR Assistant app from US-based technology company Dell makes use of augmented reality. The AR Assistant app allows users to see their devices and offers repair advice using AR and educational overlays on the device being serviced. The software also provides an augmented clone technology on some systems that displays a cloned server in any desired location and allows complete 360-degree engagement in order to make at-home repairs easier, less stressful, and less wasteful.
Recent Developments
In August 2022, Dayton Appliance Parts (DAP), a division of Parts Town and a top supplier of replacement parts and supply chain services for a wide range of product brands, recently announced that LG has granted DAP permission to distribute LG repair parts from DAP's sites in three states.
Key Market Players
Encompass Supply Chain Solutions Inc.
uBreakiFix.
iCracked, Inc.
Moduslink Global Solutions
Mendtronix Inc.
The Cableshoppe Inc.
Redington Services
Electronix Services
B2X CARE SOLUTIONS GMBH
Quest International, Inc.
Quanzhou Journey Bags Co., Ltd.
Segments Covered in the Report
By Product Type
Consumer Electronics

Notebooks & Laptops
PC sets
Tablets
Set-top Boxes
Televisions
Smartphones and Mobile Phones
Others

Home Appliances

Washing Machines
Mixers, Grinders, and Food Processors
Microwaves
Air Conditioners & Coolers
Refrigerators
Others

Medical Equipment

CT Scanners
Dental Clinic Equipment
Lab Equipment
Medical Monitors
Others

Industrial Equipment

Motors & Generators
Machineries
Frequency Counters
Laser Equipment
Pulse & Signal Generators
Voltmeters
Others
By Service Type
Out of Warranty
In Warranty
By End-Use
Residential
Industrial or Commercial
Buy this Research Report@ https://www.precedenceresearch.com/checkout/2815
You can place an order or ask any questions, please feel free to contact at sales@precedenceresearch.com | +1 9197 992 333