The global electrophysiology devices market size is anticipated to reach around USD 18.52 billion by 2032 up from USD 6.91 billion in 2022 with a CAGR of 10.40% between 2023 and 2032.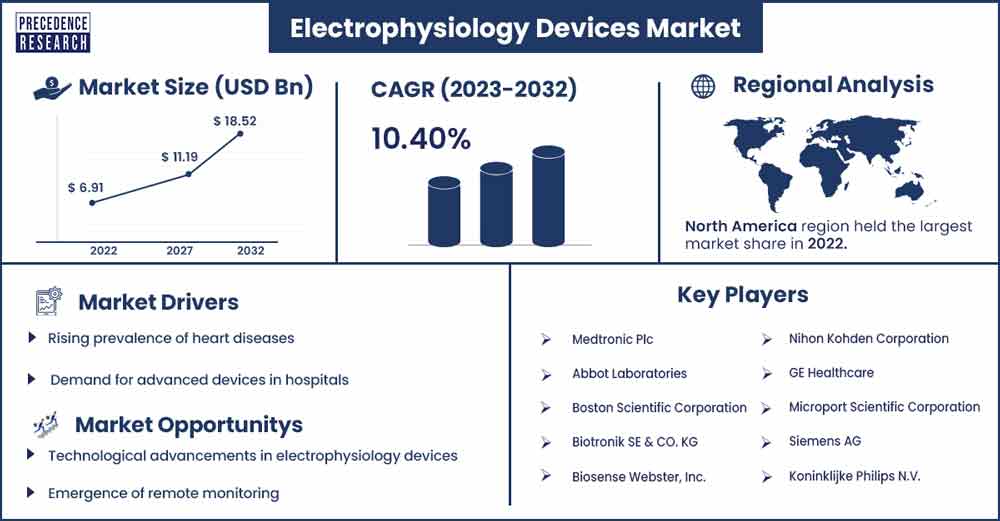 Market Overview
Electrophysiology devices are a combination of a complex array of sensors, catheter tubes, cameras, sensors, coils, and connectors. These devices are used to analyze the electric activity of the heart and can be used with the cardiac catheter and computers to generate electrocardiogram tracings and electrical measurements with accurate prediction from the heart chambers. Rising cases of high blood pressure and diabetes in all age groups, mostly in the geriatric population, heart failure, heart attacks, or other diseases are driving the demand for heart health monitoring devices that are propelling the growth of the electrophysiology devices market.
According to the Centers for Disease Control and Prevention about 11% of US adults have some type of heart disease. The higher prevalence of chronic disease makes the geriatric population more vulnerable to heart disease as compared to the younger population. Age group between 18-44 about 4.8% of the people having heart disease and above 75% age 37.3% individuals have heart disease.
Technological advancement in the healthcare sector results in improved medical devices. The introduction of the latest technologies in cryoablation, laser ablation, and ultrasound ablation with the addition of mapping technologies aims to contribute to the growth of the electrophysiology devices market. Changing lifestyle habits, increasing work-life stress, and rising pollution are resulting in an increase in cases of heart-related diseases which is driving the growth of the electrophysiology devices market.
Regional Insights
North America dominated the electrophysiology devices market with the largest market size in 2022. The region's growth is attributed to the substantial technological advancements in the healthcare sector and the sophisticated healthcare infrastructure along with facilities that drive the growth of the market. The rising rate of geriatric population in the United States and Canada is driving the demand for the monitoring of heart diseases due to the high prevalence of heart attacks, and heart failures in the population.
The United States dominated the market with the increased use of electrophysiology devices due to the higher rate of cardiac disease. About 11.2% of American adults are suffering with heart disease. Heart diseases affect males more at 12.6% as compared to females at 10.1%.
Approximately 1 in 4 people in the United States dies from heart disease. Nearly 18.2 million or 6.7% American population is suffering from coronary artery disease. About 4 in 5 people die from coronary artery disease.
Every 40 seconds one person in America suffers from heart disease. And 14% of the American people die from heart attacks. About 45.1% of Americans will have cardiovascular disease and increases the expenses will increase up to $1.1 trillion by 2035.
Medtronic plc is a US-based medical device company founded in 1949 with headquarters in Dublin, Ireland, United States. The quarter-ending revenue of July 31, 2023, was $7.702B a 4.49% increase year by year. Twelve months ending revenue of July 31, 2023, was $31.558B.
Electrophysiology Devices Market Report Scope
| | |
| --- | --- |
| Report Coverage | Details |
| Market Revenue in 2023 | USD 7.6 Billion |
| Projected Forecast Revenue by 2032 | USD 18.52 Billion |
| Growth Rate from 2023 to 2032 | CAGR of 10.40% |
| Largest Market | North America |
| Base Year | 2022 |
| Forecast Period | 2023 to 2032 |
| Regions Covered | North America, Europe, Asia-Pacific, Latin America, and Middle East & Africa |

Market Dynamics
Drivers
Rising prevalence of heart diseases
The increasing geriatric population, a shift in lifestyle, changing habits, and stressful life are a few factors that highly affect heart health. Patients and healthcare providers increasingly prefer minimally invasive procedures for the treatment of cardiac arrhythmias. Electrophysiology devices play a crucial role in performing procedures such as catheter ablation, which is a less invasive alternative to traditional open-heart surgeries. The aging population is more prone to cardiac diseases. As the global population continues to age, the prevalence of age-related cardiovascular conditions rises, driving the demand for electrophysiology devices for both diagnostic and therapeutic purposes.
Demand for advanced devices in hospitals
The healthcare industry is witnessing continuous advancements in medical technology, including electrophysiology devices. Hospitals are increasingly adopting cutting-edge devices to enhance diagnostic and treatment capabilities, leading to improved patient outcomes. Advanced electrophysiology devices provide greater precision and accuracy in the diagnosis of cardiac arrhythmias and other heart-related conditions. Hospitals seek these devices to ensure accurate and reliable results, enabling healthcare professionals to make informed decisions about patient care.
Restraints
High production cost
High production costs often translate to higher prices for electrophysiology devices. This can make these devices less affordable for healthcare facilities, limiting their ability to invest in the latest and most advanced equipment. High production costs can lead to higher market prices for electrophysiology devices, making it challenging for healthcare facilities in developing regions to access these technologies. This disparity can impact the quality of healthcare services available in such areas.
Issues with accuracy
Inaccuracies in electrophysiology devices can lead to misdiagnosis or incomplete understanding of a patient's cardiac condition. This is particularly critical in the field of cardiology where precise measurements and readings are essential for developing an accurate treatment plan. Electrophysiology devices are used for therapeutic interventions such as catheter ablation to correct abnormal heart rhythms. Inaccurate readings can lead to ineffective treatments or unintended consequences, potentially putting patient safety at risk.
Opportunities
Technological advancements in electrophysiology devices
Advancements in healthcare technology is contributing to the area of development in medical devices. Rising cardiac disease cases result in increasing demands for technological innovations in electrophysiology devices. Innovations such as replacing hooters with wearable and implantable devices, improved ablation technologies, new electro-mapping systems, Cardiac Contractility Modulation, Ultrasound Guidance in the EP Lab, and MRI to Guide Ablation Procedures offer many advantages over X-ray angiography, and Medtronic Reveal XT Remote monitoring.
Emergence of remote monitoring
With remote monitoring, healthcare providers can detect abnormal heart rhythms or device malfunctions promptly. This early detection allows for timely intervention, reducing the risk of complications and improving patient outcomes. Patients with cardiac conditions can receive proactive care even from the comfort of their homes. Remote monitoring allows for continuous tracking of patients' heart rhythms and other vital signs without the need for them to be physically present in a healthcare facility. This continuous monitoring enhances the quality of care by providing real-time data, enabling healthcare professionals to make timely and informed decisions.
Recent Developments
In November 2023, a major medical device outsourcing (MDO) maker and a complete partner in innovation Integer Holdings Corporation announced to launch of Compamed 2023 from November 13-16, at Compamed, Integer looking forward to cooperating with medical device start-ups and OEMs to discuss its comprehensive suite of solutions from prototype to pilot and beyond. In Düsseldorf, Germany. The integer can be found in Hall 8b / N29.
In October 2023, Google, and leading technology company launched its new technology "APG: Audio Plethysmography for Cardiac Monitoring in Hearables." Google claims the technology will analyze and convert ultrasound echoes into heart rate data by using the mathematical model.
In November 2023, Acorai a cardiology startup secured €2.3m ($2.46m) with an investment of €10m ($10.70m) from the European Innovation Council (EIC) or the technological advancement of its non-invasive intracardiac pressure monitoring devices and the investment goes in the clinical validation.
In November 2023, researchers from India and Australia designed the gel-free, lightweight, hexagonal-shaped ECG patch which claims to be the best suited for point-of-care diagnostics. The latest devices are capable of wireless Bluetooth communication for remote sensing capacities.
In November 2023, Owlet, a Utah-based company that works on baby care technology received a novo clearance from the Food and Drug Administration for the launch of its baby monitoring Dream Sock. After the approval, they became the first over-the-counter medical-grade pulse oximetry device.
In October 2023, Minttihealth is continuously revolutionizing the healthcare sector with remote health monitoring and home telemedicine device providers. Minttihealth is empowering healthcare with the devices such as Mintti Vision, Mintti Handbook, and Mintti Smartho D-2.
In November 2023, a leading global performance technology company in elite sports "Catapult" launched the next-gen technology of unified heart rate technology for their Vector athlete monitoring system.
Key Market Players
Medtronic Plc
Abbot Laboratories
Boston Scientific Corporation
Biotronik SE & CO. KG
Biosense Webster, Inc.
Nihon Kohden Corporation
GE Healthcare
Microport Scientific Corporation
Siemens AG
Koninklijke Philips N.V.
Market Segmentation:
By Indication
Atrial Fibrillation (AF)
Atrioventricular Nodal Re-entry Tachycardia (AVNRT)
Supraventricular Tachycardia
Bradycardia
Wolff-Parkinson-White Syndrome (WPW)
Others
By Application
Diagnostic Devices

Diagnostic Electrophysiology Catheters
Holter Monitoring Devices
EP Mapping & Imaging Systems
Electrocardiograph (ECG)
Insertable Cardiac Monitors (ICM)
Others

Treatment Devices

Automated external defibrillators (AEDs)
Implantable Cardioverter Defibrillators (ICDs)
CRT-D
CRT-P
Catheters
Pacemakers
Others
By End-User
Ambulatory Surgical Centers
Hospitals
Others
Buy this Research Report@ https://www.precedenceresearch.com/checkout/1100
You can place an order or ask any questions, please feel free to contact at sales@precedenceresearch.com | +1 650 460 3308