The global elevator and escalator market size surpassed USD 86.32 billion in 2022 and is projected to rise to USD 170.6 billion by 2032, anticipated to grow at a CAGR of 7.1 percent during the projection period from 2023 to 2032.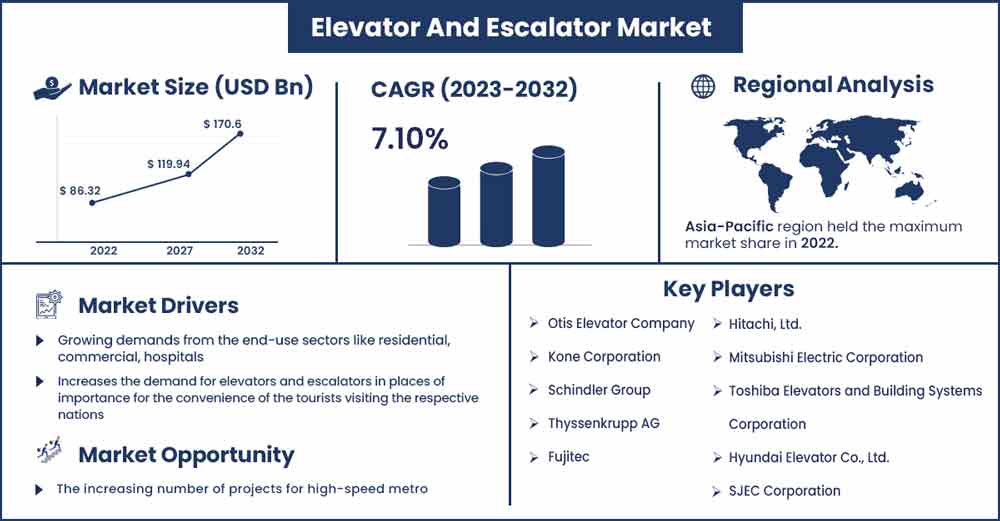 Market Overview:
The elevator and escalator market refers to the industry involved in designing, manufacturing, installing, and maintaining elevators and escalators for various types of buildings, including residential, commercial, industrial, and public spaces. Elevators are vertical transportation devices that move people or goods between different levels of a building, while escalators are moving staircases designed to transport people between different floors. Both elevators and escalators play a crucial role in improving accessibility, convenience, and efficiency in buildings with multiple floors. The industry is influenced by advancements such as smart elevators and escalators that integrate IoT (Internet of Things) technologies, real-time monitoring, predictive maintenance, and energy-efficient solutions.
Regional Snapshot:
Asia Pacific is expected to hold the dominant share of the market throughout the forecast period. Many countries in the Asia Pacific region, such as China and India, have experienced rapid urbanization and population growth. As cities become more densely populated, there is a higher demand for vertical transportation solutions like elevators and escalators to efficiently move people within buildings.
As of March 2023, Gujrat, a state in India alone had 1.10 lakh lifts. Among which, 11,000 were installed in 2022-23. The rising urbanization and demand for advanced infrastructure in the region have supported the growth of the market in recent years. Moreover, the rising number of malls, theaters and offices in countries promotes the growth of the market.
Some governments in the Asia Pacific region have implemented regulations and incentives that encourage the use of energy-efficient and modern elevator and escalator systems. These policies have driven the adoption of advanced technologies in the market. The Asia Pacific region is home to some of the world's tallest and most densely populated cities. As urban land becomes scarcer, there is a trend towards constructing high-rise buildings to accommodate the growing population. High-rise buildings necessitate advanced elevator and escalator systems for vertical mobility.
Elevator And Escalator Market Report Scope:
| | |
| --- | --- |
| Report Coverage | Details |
| Market Revenue in 2023 | USD 92.02 Billion |
| Projected Forecast Revenue in 2032 | USD 170.6 Billion |
| Growth Rate from 2023 to 2032 | CAGR of 7.1% |
| Largest Market | Asia Pacific |
| Base Year | 2022 |
| Forecast Period | 2023 to 2032 |
| Regions Covered | North America, Europe, Asia-Pacific, Latin America, and Middle East & Africa |

Report Highlights:
By product, the escalator segment is expected to grow at the fastest rate in the market throughout the forecast period. The capability of escalators to carry a greater number of people as compared to lift promotes the segment's growth.
By business, the market revenue growth has been significantly aided by the new equipment segment, which is expected to dominate over the forecast period. The boom in the real-estate sector is expected to push the development of the segment. Additionally, the segment is expected to be accelerated by the rising pace of approval for new lifts in residential areas.
By application, the commercial sector leads the market. In businesses and shopping centers, escalators and lifts are both commonly employed. The retail industry is moving towards designs and infrastructure that are safe and easily manageable. This promotes the segment's growth.
Market Dynamics:
Driver:
Integration of IoT
The worldwide lift and escalator market is observed to experience significant growth as a result of the incorporation of IoT in these systems. With the Internet of Things (IoT), a product may gather, share, and analyze data with its manufacturer, owner, and other devices that are extremely important to the lift and escalator business. Modern lifts and escalators can forecast and react to traffic effectively in real time owing to the capabilities of IoT. They can also communicate with service teams and be called via a smartphone app. Installing a linked sensor in a lift and escalator, which shortens wait times, may also improve the utilization of lifts. Thus, the integration of IoT is observed to act as a driver for the market.
Restraint:
Strict government guidelines
Manufacturers have been compelled to adhere to strict regulations and certifications by government laws and rules governing the safety requirements for escalators and elevators. Employees who work in lift maintenance or repair are involved in nearly half of fatal lift events. However, incidents involving passengers are crucial. These escalators and lifts are kept safe from accidents by stringent maintenance standards and safety guidelines. Manufacturers of lifts and escalators are obliged to adhere to all applicable safety regulations. Considering the complexities associated with such guidelines, the factor is observed to hamper the growth of the market.
Opportunity:
The increasing number of projects for high-speed metro
As developing countries integrate metros, the demand for advanced infrastructure is expected to grow. For instance, India has experienced a sharp increase in investments in large-scale metro projects from private and public organizations, to provide customers with an efficient transportation system. More people have moved to metropolitan areas due to increasing urbanization in quest of better living conditions and employment possibilities, leading to a lack of effective transit infrastructure. Aside from providing the economy with cutting-edge infrastructure, the ongoing expansion in building brand-new metro stations has also raised the need for lifts and escalators. During the projection period, there will be an increase in demand for escalators and elevators in India due to real estate developments around these metro rail stations. This requirement presents a significant opportunity for the market to expand.
Challenge:
High cost of maintenance
Despite an average lifespan of 20 to 30 years for new installations, lifts and escalators are required to be continuously maintained and monitored due to various operating issues. The call box malfunctioning, strange noises, and jumpy or rough rides are common issues with lifts and escalators. However, these problems necessitate ongoing escalator and lift maintenance and monitoring and frequently call for multiple component replacements. Because of the high maintenance, repair, and replacement costs, consumers, especially in residential areas may become unwilling to replace outdated escalators and lifts, which may challenge the market's expansion throughout the projection period.
Recent Developments:
In May 2023, the IoT service platform Otis ONE was introduced in the Middle East by Otis Worldwide Corporation, a global leader in manufacturing, installing, and maintaining lifts and escalators. The Otis ONE system integrates the most recent advances in cloud computing, machine learning, and the Internet of Things with Otis' over three decades of remote monitoring expertise. Customers and service personnel may access transparent, real-time monitoring, and it can proactively identify and fix possible problems to keep lifts and escalators operating and, in the case of a closing, restart service more quickly. The United Arab Emirates, Kuwait, Bahrain, Qatar, and the Kingdom of Saudi Arabia sell it.
In June 2023, Otis, the top producer, and maintenance of escalators and lifts worldwide, teamed with EXCEL Elevators, a prominent vertical transportation service in Zimbabwe. As a result of the arrangement, Excel Elevators will now be the official distributor of Otis services and products in Zimbabwe. This is a significant accomplishment for both businesses and, in the words of Ivan Savala, Excel Elevators Managing Director, a "promising industry" in the nation, it creates an unrivaled service network. For the 800 to 1,000 elevators in Zimbabwe, Excel Elevators will be granted access to the extensive inventory of products and services offered by the American company.
Major Key Players:
Otis Elevator Company
Kone Corporation
Schindler Group
Thyssenkrupp AG
Fujitec
Hitachi, Ltd.
Mitsubishi Electric Corporation
Toshiba Elevators and Building Systems Corporation
Hyundai Elevator Co., Ltd.
SJEC Corporation
Market Segmentation:
By Product
Elevators
Moving Walkways
Escalators
By Business
Maintenance
New Equipment
Modernization
By Application
Industrial
Residential
Commercial
Buy this Research Report@ https://www.precedenceresearch.com/checkout/1056
You can place an order or ask any questions, please feel free to contact at sales@precedenceresearch.com | +1 9197 992 333