The global endoscope drying cabinets market size was evaluated at USD 194.5 million in 2022 and is expected to attain around USD 395.3 million by 2032, growing at a CAGR of 7.40% from 2023 to 2032.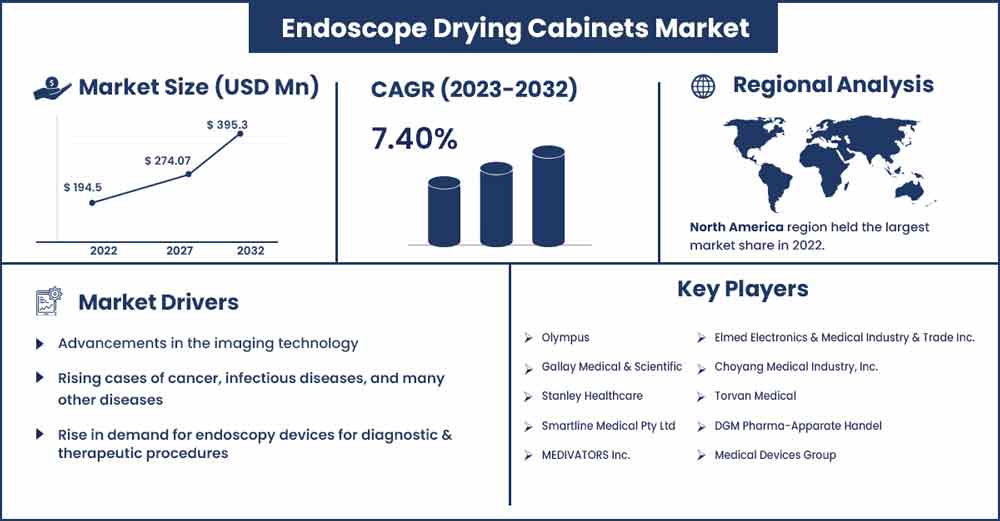 An endoscope is a thin, flexible tube with a light and camera at one end that is used to examine the inside of the body. Endoscopes are frequently used to examine organs such as the stomach and bladder. Endoscopes come in a variety of shapes and sizes, including flexible sigmoidoscopes for the rectum and colon, hysteroscopes for the uterus, and bronchoscopes for the lungs. Endoscope drying and storage cabinets are equipment for reprocessing endoscopes. This equipment has cupboards for storing and drying reprocessed endoscopes. Filtered air is contained within the device to guarantee that each endoscope channel receives dried air. To avoid contamination and infection control, endoscope drying and storage cabinets are critical.
Endoscopes can be used for both diagnosis and treatment. Endoscopes are instruments that are used in endoscopic operations to examine and operate the body's interior organs and veins. The procedure's gadget penetrates the body and is used on a number of patients, putting them at risk of contamination. To meet your needs, the cabinet comes in a number of sizes. Cabinets with built-in fluorescent lights to illuminate the cabinet are also available to save space and provide low-lighting alternatives.
Increased demand for minimally invasive surgeries, increased adoption of endoscopic equipment in healthcare facilities, high cancer prevalence, and the presence of a large geriatric population are key factors expected to drive the endoscope drying cabinets market growth in the coming years. The higher revenue share can be linked to the high frequency of colorectal cancer, which leads to increased demand for colonoscopies and laparoscopies. Other considerations for regional expansion include a strong presence of original equipment manufacturers and independent endoscope repair service providers.
The increasing need for minimally invasive operations, technological improvements in endoscopic instruments, and the rising frequency of chronic diseases are all driving the endoscopes drying cabinets market forward. Traditional open surgery is giving way to laparoscopic and robotic-assisted surgery on the endoscope drying cabinets market. As a result, endoscopes are being used more widely over the world. Surgery that is minimally invasive is less invasive and results in less tissue damage. They also result in fewer hospital stays, decreased complication rates, and quicker recovery times. Furthermore, endoscopic gadgets have become more portable and user-friendly as a result of technical improvements.
Endoscope Drying Cabinets Market Report Scope:
| | |
| --- | --- |
| Report Coverage | Details |
| Market Revenue in 2023 | USD 207.92 million |
| Projected Forecast Revenue by 2032 | USD 395.3 million |
| Growth Rate from 2023 to 2032 | CAGR of 7.40% |
| Largest Market | North America |
| Base Year | 2022 |
| Forecast Period | 2023 To 2032 |
| Regions Covered | North America, Europe, Asia-Pacific, Latin America, and Middle East & Africa |

Report Highlights:
Based on the product, the multi door cabinet segment dominated the global endoscopes drying cabinets market in 2022 with highest market share. This is due to rising rates of chronic disorders and obesity around the world, which has resulted in an increase in the number of endoscopic treatments over the last few decades.
Based on the end user, the hospitals segment dominated the global endoscopes drying cabinets market in 2022 with the highest market share. This is attributed to the growing number of surgeries in the hospitals.
North America is the largest segment of the endoscope drying cabinets market in terms of region. This is due to the growing incidence of cancer, the government's favorable payment policies, and increased research activity aimed at improving endoscopic methods and technology.
Asia-Pacific region is the fastest growing region in the endoscopes drying cabinets market. The increased incidence rates of gastrointestinal disorders and the increasing number of surgical procedures in this region are both contributing to this growth.
Future of Endoscopes Drying Cabinets Market
Technology is increasingly being used in operating procedures. The rise in healthcare spending in emerging economies, the rising prevalence of lifestyle related diseases, and the increased demand for high-tech advancements by physicians, surgeons, and nurses are all major growth drivers for the endoscope drying cabinets market. The majority of medical technology is focused on less invasive procedures, which is creating lucrative opportunities for the growth of the endoscopes drying cabinets market in near future.
COVID-19 Impact Analysis:
The elective endoscopic treatments have to be postponed in the past due to COVID-19's rapid proliferation.
Due to the COVID-19 pandemic, the danger of infection from inappropriate endoscope cleaning is becoming a growing concern among pulmonologists and otolaryngologists.
Furthermore, during endoscopic surgery, there is a substantial chance of transfer of the COVID-19 virus. Several governments have issued guidelines prohibiting all non-emergent procedures. This had a negative impact on the growth of the endoscopes drying cabinets market.
Key Developments in the Marketplace:
The IDESO ENDO D3 endoscopes drying cabinet was introduced by IDESO. In November 2020, the first IDESO ENDO D3 cabinet was installed at Stellenbosch University's new Bronchoscopy Laboratory.
In June 2021, the ScopeLocker with HEPA hinged door endoscopic storage system, introduced by Olympus, is a novel endoscope storage cabinet which can also be used as drying cabinet.
Major Key Players:
Olympus
Gallay Medical & Scientific
Stanley Healthcare
Smartline Medical Pty Ltd
MEDIVATORS Inc.
Elmed Electronics & Medical Industry & Trade Inc.
Choyang Medical Industry, Inc.
Torvan Medical
DGM Pharma-Apparate Handel
Medical Devices Group
Wassenburg Medical
Arc Healthcare Solutions
Market Segmentation:
By Product
Multiple Door Cabinet
Double Door Cabinet
Single Door Cabinet
By Size
8 Endoscope
12 Endoscope
16 Endoscope
Others
By End-User
Ambulatory Surgical Centers
Hospitals
Clinics
Others
Buy this Research Report@ https://www.precedenceresearch.com/checkout/1115
You can place an order or ask any questions, please feel free to contact at sales@precedenceresearch.com | +1 9197 992 333