The global endoscopes market was estimated at USD 11.99 billion in 2021 and is predicted to hit around USD 25.25 billion by 2030; foreseen to register a compound annual growth rate (CAGR) of around 8.62% during the forecast period 2022 to 2030.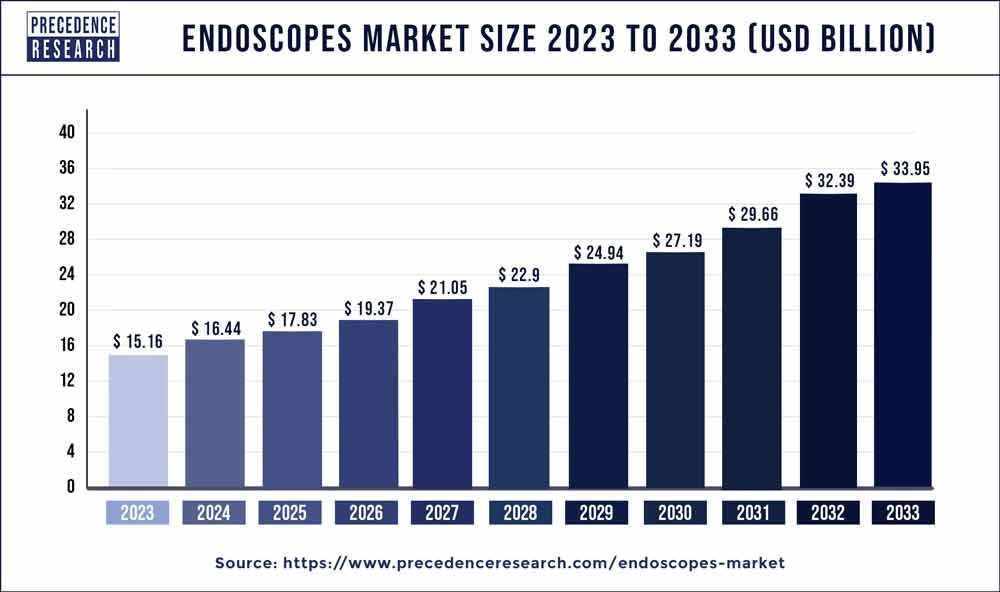 Growth Factors
The arena of endoscopy and related devices has perceived a diversity of revolution, since past few years. Over the past numerous years, technological developments and product enhancements have made gastrointestinal endoscopes more operative in performing GI procedures. At present, HD format and HD+ including cutting-edge magnification abilities which entered the GI endoscope market caused in a better revealing rate for polyps. Further, better-quality designs have allowed flexible GI endoscopes easy to use, and smaller instrumentation has permitted for more dedicated devices.
Since previous decade, the request for flexible endoscopes has augmented remarkably, mostly due to patients' inclination towards minimally invasive procedures. Commonly endoscopic processes are low-risk actions and are effortlessly covered under health insurance policies. Currently, upsurge in the number of aged population with high risk of orthopedic, gastrointestinal, and ophthalmic diseases and different kinds of cancer are driving the growth of endoscopes market across the world. As per statistics revealed by World Health Organization during 2000 to 2050, the proportion of the world's population that is aged 60 years will be twice from around 11% to 22%. This elderly population is the leading end user of bariatric surgeries, colonoscopy procedures, knee-hip implants, and gastrointestinal endoscopy among others.
As the marketplace advances, there will be a strong distinction of endoscopic systems on account of necessities of image-quality procedures and reprocessing. Such developments are already noticeable from costly optical high-end endoscopes to optimized visualization systems that incorporate camera and endoscope. Noteworthy changes like this in numerous minimally invasive applications endure to deliver new-fangled openings for all system suppliers and need competent partners to cultivate innovative products.
Product Insights
Different types of product segments assessed in this report include flexible endoscopes, capsule endoscopes, robot assisted endoscopes, rigid endoscopes, disposable endoscopes and others.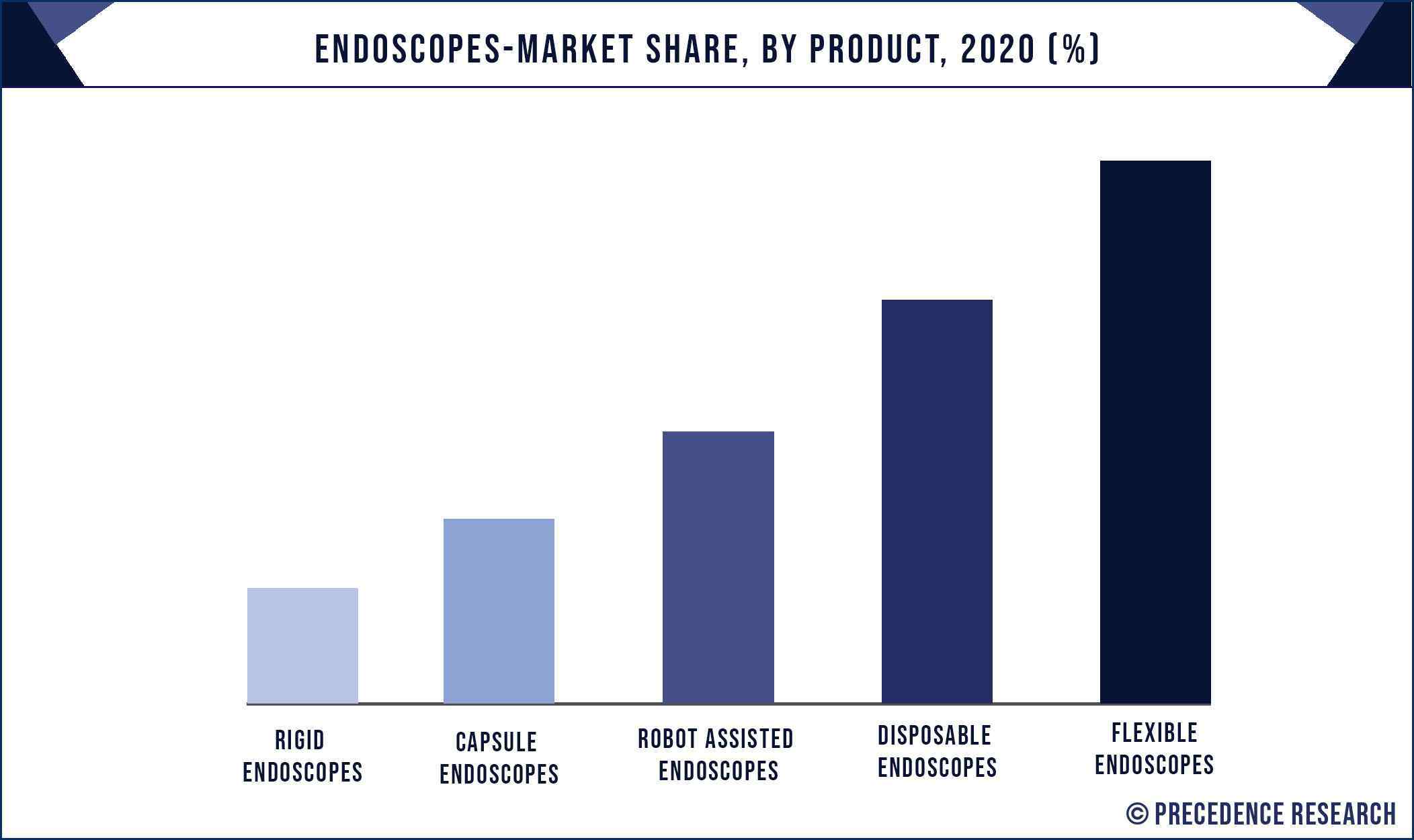 Among all, flexible endoscopes gathered highest market revenue 47% in 2021 due to growing inclination on account of improved safety, ergonomics, and effectiveness over rigid endoscopes.
Application Insights
Among different applications evaluated in this report, GI endoscopy accounted for major market revenue of around 51% in 2021. Intensifying burden of GI diseases, plus mounting geriatric populace is motivating GI endoscopy demand worldwide. GI tumors are the second prevalent reason of cancer-associated deaths across the globe. Thus, less risk of surgical site infection (SSI), technical developments and low cost offered by surgeries than others are some of the considerable factors driving the progress of this segment in the global endoscopes market.
End-user Insights
Different end-users of endoscope products include ambulatory surgical centers or clinics, hospitals, and other. Other segment involves mobile endoscopy facilities, diagnostic centers, and office endoscopy services.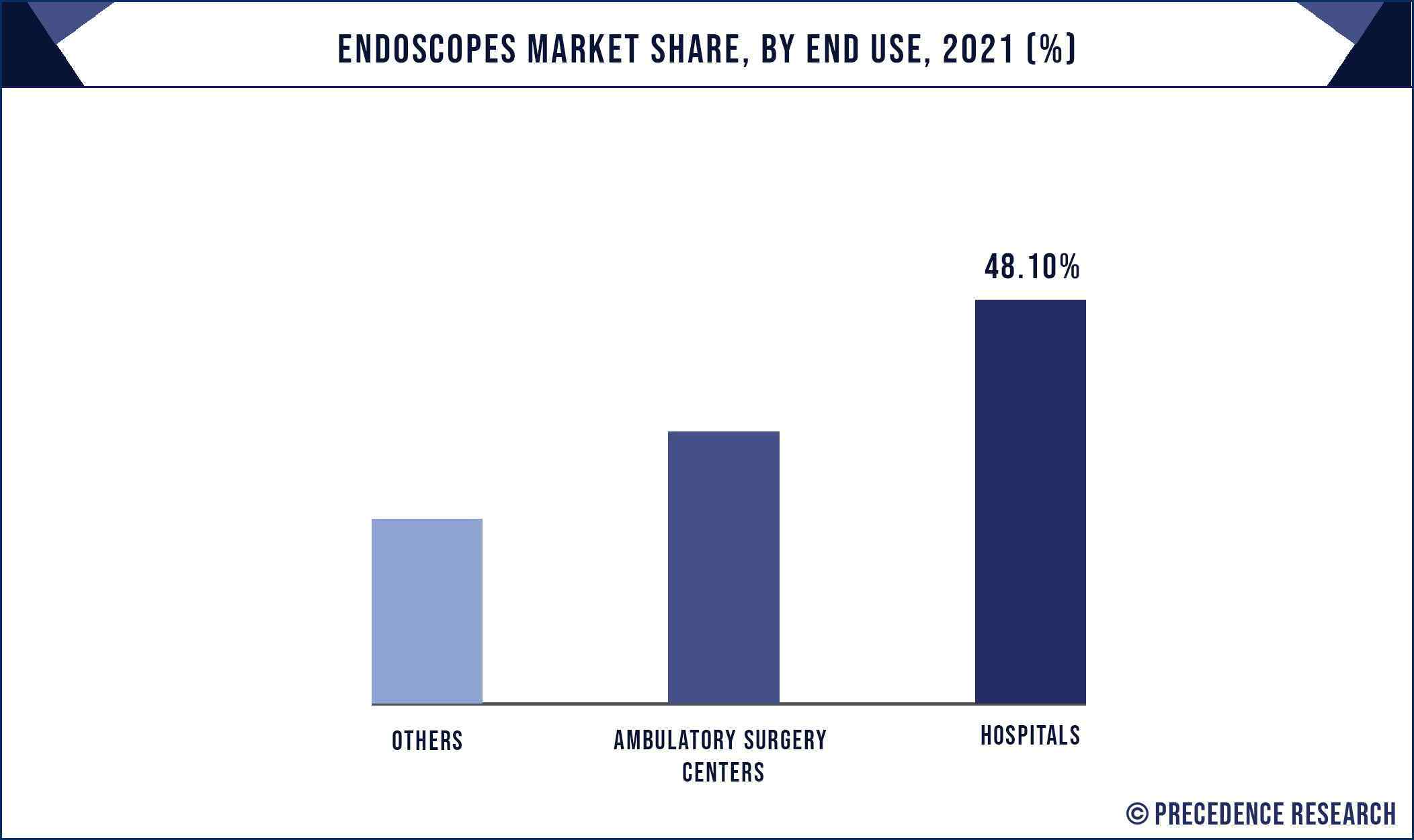 Among these, hospitals appeared as the prevalent end-user in 2021 and garnered market share 48.1%, due to extensive implementation of endoscopes and an upturn in the amount of surgeries accomplished in hospitals. Further, cumulative private and government subsidy and upward trend among patients and physicians to execute endoscopic processes in a hospital-based environment are driving the growth.
Regional Insights
Globally, North America gathered major revenue chunk in 2021 of over 41% with of the total endoscopy devices market is projected to uphold this drift throughout the assessment period. This progress credited is upsurge infrequency of chronic diseases plus augmenting elderly population, great acceptance rate of technically cutting-edge endoscopy devices, and great responsiveness concerning the paybacks of endoscopy interventions. Additionally, intensification in measures for preventive healthcare, occurrence of highly sophisticated healthcare organization, and encouraging reimbursement setting is further pushing the market growth in this region.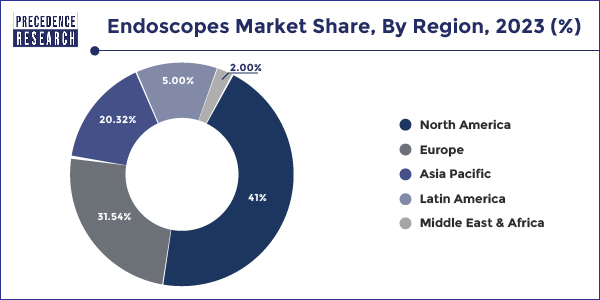 India, Brazil, Russia, China, and South Africa are amongst the fastest-growing nations across the world. The World Economic Forum evaluates these emergent markets will occupy about one-third of the global healthcare spending by 2020. Now, numerous endoscopy equipment makers are setting up their plants in the Middle East, Asia Pacific, and Latin America. Leading companies like KARL STORZ and Stryker have already set up their R&D and manufacturing facilities in these nations. Furthermore, market maturity in established regions like North America and Europe, will further push endoscopy equipment manufacturers to emphasis on evolving nations during years to come.
Key Companies & Market Share Insights
Some of the prominent tactics undertaken by leading market participants in order to sustain the fierce market completion include collaborations, acquisitions, substantial spending in R&D and the improvement of new-fangled products or reforms among others.
Few of the foremost contenders operational in endoscopes marketplace are as follows:
Olympus Corporation
Stryker Corporation
Ethicon Endo-Surgery, Inc
Covidien Plc
Aesculap, IncBoston Scientific
Arthrex, Inc.
Smiths Group,
Karl Storz
Richard Wolf GmbH
Hoya Corporation
ConMed
Fujifilm Holdings Corporation
Report Scope of the Endoscopes Market
| | |
| --- | --- |
| Report Highlights | Details |
| Market Size | USD 25.25 Billion by 2030 |
| Growth Rate | CAGR of 8.62% from 2022 to 2030 |
| Largest Market | North America |
| Fastest Growing Market | Asia Pacific |
| Base Year | 2021 |
| Forecast Period | 2022 to 2030 |
| Segments Covered | Product, Application, End User, Region |
| Companies Mentioned | Karl Storz GmbH & Co. KG, Fujifilm Holdings Corporation, Olympus Corporation, Boston Scientific Corporation, Conmed Corporation, Medtronic Plc, Hoya Corporation, Stryker Corporation, Johnson & Johnson and Smith & Nephew Plc |
Segments Covered in the Report
This research study comprises comprehensive assessment of the marketplace revenue with the help of prevalent quantitative and qualitative acumens, and forecasts of the market. This report presents breakdown of market into major and niche segments. Furthermore, this research study gauges market revenue growth and its drift at global, regional, and country from 2016 to 2027. This report includes market division and its revenue assessment by categorizing it depending on product, application, end-user and region as follows:
By Product
Flexible Endoscopes

Bronchoscopes
Laryngoscopes
Sigmoidoscopes
Upper Gastrointestinal Endoscopes
Duodenoscopes
Colonoscopes
Pharyngoscopes
Nasopharyngoscopes
Other

Capsule Endoscopes
Robot Assisted Endoscopes
Rigid Endoscopes

Urology Endoscopes
Laparoscopes
Arthroscopes
Cystoscopes
Neuroendoscopes
Other

Disposable Endoscopes
By Application
Arthroscopy
Urology Endoscopy
Laparoscopy
Gastrointestinal (GI) Endoscopy
Bronchoscopy
Mediastinoscopy
Gynecology Endoscopy
Otoscopy
Laryngoscopy
Other Applications
By End-Use
Ambulatory Surgery Centers
Hospitals
Other
By Regional Outlook
North America
Europe
Asia Pacific

China
India
Japan
South Korea

Middle East & Africa
Latin America