The global rigid endoscopes market size was estimated at USD 7.14 billion in 2022 and is projected to reach around USD 14.41 billion by 2032, expanding at a CAGR of 7.28% during the forecast period from 2023 to 2032.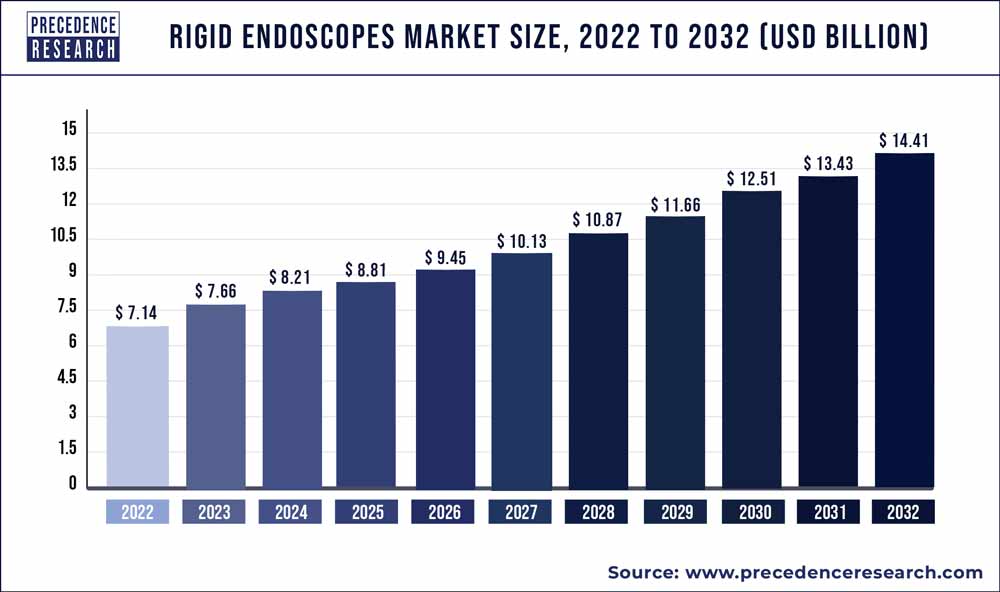 Access our Premium Real Time Data Intelligence Tool, Visit: Precedence Statistics
Key Takeaways
North America led the global market with the highest market share of 40% in 2022.
Asia-Pacific is estimated to expand at the fastest CAGR from 2023 to 2032.
By Product, the laparoscopes segment has held the biggest revenue share in 2022.
By Product, the ureteroscopes segment is anticipated to expand at a fastest CAGR during the projected period.
By End-use, the outpatient facilities segment held the highest market share in 2022.
By End-use, the hospital segment is projected to expand at the fastest CAGR over the projected period.
Rigid Endoscopes Market Overview
The rigid endoscopes market refers to the segment of the medical device industry focused on the production, distribution, and utilization of rigid endoscopic instruments and systems for medical and surgical applications. Rigid endoscopes are specialized optical devices designed for visualizing and accessing the interior of the human body without the need for invasive surgery. It consists of a rigid, tube-like structure with a lens system and illumination source, allowing medical professionals to perform and examine minimally invasive procedures within various body cavities, such as the thorax, abdomen, or joints.
The rigid endoscopes market is expected to witness significant growth during the forecast period due to the rising demand for minimally invasive surgical techniques, which provide advantages such as reduced patient trauma, smaller recovery times, and less healthcare costs. Technological advancements may led to the development of 3D, high-definition, and robotic-assisted rigid endoscopic systems, improving precision and visualization during procedures. In addition, the aging global population and the rising prevalence of chronic diseases drive the demand for endoscopic diagnostics and treatments.
Rigid Endoscopes Market in the U.S. 2023-2032
The U.S. rigid endoscopes market size was valued at USD 1.65 billion in 2022 and is estimated to hit around USD 3.34 billion by 2032, growing at a CAGR of 7.28% from 2023 to 2032.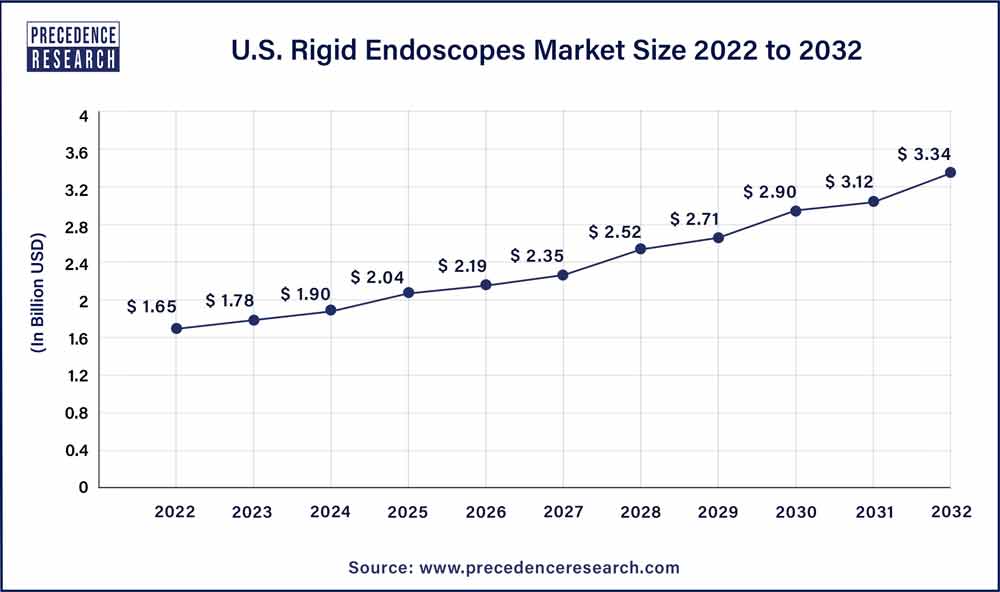 North America as held the largest revenue share of 40% in 2022. North America is a substantial region for the rigid endoscopes market, characterized by its advanced healthcare infrastructure and high adoption of minimally invasive surgical techniques. The market has experienced steady growth, driven by factors such as the aging population, rising occurrence of chronic diseases, and technological advancements in endoscopic systems.
Asia-Pacific is estimated to observe the fastest expansion in the rigid endoscopes market in 2022. This growth is driven by factors such as a rising population, increasing healthcare expenditure, improving healthcare infrastructure, and a growing demand for minimally invasive surgical procedures. Moreover, region continues to invest in healthcare infrastructure and innovation, it is well-positioned to play a vital role in the future of rigid endoscopes across the Asia-Pacific region.
The European rigid endoscopes market is anticipated to grow at a high rate during the forecast period. Europe is a significant market for rigid endoscopes, driven by its advanced healthcare systems, high-quality medical facilities, and a strong emphasis on minimally invasive surgical techniques. The market has experienced steady growth, with increasing adoption in various medical specialties.
Growth Factors
The rigid endoscopes market is expected to grow driven by the rising occurrence of chronic diseases and age-related conditions, such as orthopedic issues, gastrointestinal disorders, and respiratory ailments, is enhancing the demand for surgical procedures and minimally invasive diagnostics. It plays an essential role in these processes by giving clear visualization and precise access to affected areas.
Moreover, advancements in technology have greatly improved the capabilities of rigid endoscopes. High-definition imaging, 3D visualization, and integrated surgical instruments have enhanced the effectiveness and safety of these devices, further driving their adoption among healthcare professionals. Moreover, the integration of robotics and artificial intelligence into rigid endoscopic systems is opening up new possibilities for minimally invasive surgeries, attracting both surgeons and patients.
Furthermore, as the elderly population increases, there is a higher demand for endoscopic procedures to address age-related health issues. This demographic trend is expected to persist and sustain the growth of the rigid endoscopes market. In addition, regulatory reforms and increased healthcare spending are expanding the accessibility of advanced rigid endoscope devices.
The market is also advancing from improved awareness about the profits of minimally invasive procedures, leading to larger acceptance among healthcare providers and patients. Thus, the rigid endoscopes market is poised for continued growth due to the convergence of demographic shifts, technological advancements, and evolving healthcare practices, making it a vital component of modern medical practice.
Rigid Endoscopes Market Scope
| | |
| --- | --- |
| Report Coverage | Details |
| Growth Rate from 2023 to 2032 | CAGR of 7.28% |
| Market Size in 2023 | USD 7.66 Billion |
| Market Size by 2032 | USD 14.41 Billion |
| Largest Market | North America |
| Base Year | 2022 |
| Forecast Period | 2023 to 2032 |
| Segments Covered | By Product and By End-use |
| Regions Covered | North America, Europe, Asia-Pacific, Latin America, and Middle East & Africa |

Rigid Endoscopes Market Dynamics
Driver
Increasing demand for minimally invasive surgery
Minimally invasive surgical procedures have gained immense popularity among patients and healthcare providers due to the numerous advantages they offer compared to traditional open surgery. Rigid endoscopes play a pivotal role in facilitating MIS by providing surgeons with a means to access and visualize internal organs and structures through small incisions. This approach minimizes the need for large surgical openings, resulting in reduced patient trauma, less post-operative pain, shorter hospital stays, and quicker recovery times. Patients often experience improved cosmetic outcomes as well.
Moreover, minimally invasive techniques can lead to lower healthcare costs as they require fewer resources and shorter hospitalizations. This cost-effectiveness has garnered the attention of healthcare systems and insurers, further propelling the adoption of rigid endoscopic procedures. The demand for MIS continues to soar across various medical specialties, including gynecology, urology, gastroenterology, orthopedics, and otolaryngology.
Technological advancements in rigid endoscopes have led to improved optics, better lighting, and the integration of surgical instruments, enhancing the precision and effectiveness of minimally invasive surgeries. As patients increasingly seek out less invasive treatment options, and as healthcare providers recognize the benefits of these procedures, the rigid endoscopes market is expected to witness sustained growth, making it a vital component of modern medical practice.
Restraints
High costs
Rigid endoscopic systems are typically complex, precision instruments that incorporate advanced optics, lighting, and sometimes integrated surgical tools, which contribute to their substantial price tags. This cost can be a deterrent for healthcare facilities, particularly smaller clinics, and those in resource-constrained regions. Moreover, the initial investment required to procure rigid endoscopic equipment can be prohibitively expensive for many healthcare institutions, particularly those with limited budgets. This financial barrier can hinder access to the latest technology and discourage healthcare providers from adopting rigid endoscopes.
Furthermore, ongoing costs for the maintenance, sterilization, and repair of rigid endoscopes can add to the overall expense. These costs include specialized training for staff in proper handling and disinfection procedures, which can be resource-intensive. In addition, the need for regular upgrades and replacements as technology advances can strain the financial resources of healthcare facilities.
This can lead to a reluctance to invest in rigid endoscopic systems, particularly if alternative, less expensive technologies or procedures are available. However, to address this restraint, manufacturers and healthcare systems must work together to explore cost-effective solutions, such as offering leasing options, providing training and support, and developing more affordable entry-level systems. Overcoming the cost barrier is crucial to expanding access to the benefits of minimally invasive surgery and ensuring that rigid endoscopes remain a valuable tool in healthcare.
Opportunities
Technological advancements
Technological advancements represent a significant and ongoing opportunity for the rigid endoscopes market, shaping its growth and potential in healthcare. Advanced optics and imaging technologies, including high-definition cameras and 3D visualization, provide surgeons with clearer and more detailed views of internal structures. This enhanced visualization facilitates more precise diagnoses and minimally invasive surgeries, attracting healthcare providers and patients seeking better outcomes.
Furthermore, integration of rigid endoscopes with robotic surgical systems enables greater precision and dexterity during procedures. Robotic-assisted surgery minimizes human error, expands the range of surgical techniques, and increases the efficiency of surgeries, making it a compelling opportunity for the market. Technological advancements not only enhance the effectiveness of rigid endoscopes but also provide development of minimally invasive procedures.
It is vital in attracting healthcare professionals, expanding the scope of applications, and meeting the evolving needs of patients and the healthcare industry. As technology continues to advance, the rigid endoscopes market is expected to experience further growth and innovation, ultimately improving patient care and outcomes.
Impact of COVID-19
The COVID-19 pandemic has had a multifaceted impact on the rigid endoscopes market, with both challenges and opportunities emerging as healthcare systems worldwide grappled with the crisis. Initially, many healthcare facilities postponed elective surgeries and non-urgent procedures to conserve resources and reduce the risk of virus transmission. This led to a significant decline in the demand for rigid endoscopes for a range of elective procedures. The rigid endoscope market experienced disruptions in the global supply chain, impacting the production and distribution of these devices. Delays in the procurement of critical components and restrictions on international trade affected manufacturers.
However, as the pandemic progressed, the need for rigid endoscopes remained strong for critical and emergency procedures, such as those related to respiratory infections and trauma cases. These devices played a vital role in the diagnosis and treatment of COVID-19 complications. Moreover, the pandemic accelerated the adoption of advanced technologies like robotics and AI in healthcare.
Rigid endoscope manufacturers adapted to these trends, integrating these technologies into their systems to enhance functionality and safety. Thus, the COVID-19 pandemic brought about disruptions and shifts in the rigid endoscopes market. While elective procedures declined temporarily, the pandemic underscored the critical role of endoscopic procedures in healthcare.
Product Insights
According to the product, the laparoscopes segment has held highest revenue share in 2022. Laparoscopy, a minimally invasive surgical technique, involves the use of laparoscopes or rigid endoscopes to visualize and access the abdominal cavity through small incisions. The widespread acceptance, versatility, and clinical advantages of laparoscopy have solidified the dominance of the laparoscopes segment in the rigid endoscopes market.
The ureteroscopes is anticipated to expand at a significantly CAGR during the projected period. Ureteroscopes are specialized rigid endoscopic instruments designed for examining and treating the ureter, typically used in urological procedures. The rising incidence of urological conditions such as kidney stones, urinary tract infections, and urothelial tumors is driving the demand for ureteroscopy across the market. These conditions often require diagnostic and therapeutic interventions facilitated by ureteroscopes.
End-use Insights
Based on the end-use, the outpatient facilities segment held the largest market share in 2022. Outpatient facilities, such as ambulatory surgical centers (ASCs), specialize in minimally invasive procedures that often utilize rigid endoscopes. These facilities are known for their efficiency and focus on same-day surgeries. It offer patients the convenience of shorter wait times, reduced hospital stays, and lower costs. Rigid endoscopes enable healthcare providers in these settings to perform minimally invasive surgeries with fewer resources.
On the other hand, the hospital is projected to grow at the fastest rate over the projected period. Hospitals are typically equipped to handle a wide range of medical procedures, including complex surgeries that may require rigid endoscopes. They often perform a high volume of cases, making them a significant user of these devices. It provides comprehensive healthcare services, from emergency care to specialized surgeries. Rigid endoscopes are essential tools in various medical specialties within a hospital setting, including general surgery, urology, gastroenterology, and gynecology.
Recent Developments
April 2022: SurgEase partnered with Wellness@TheClinic to launch digital rigid rectoscope for endoscopy assessments, LumenEye X1.
March 2023: Dr Deendayal's ENT Care Centre (DECC) launched a one-of-it-kind state-of-the-art ENT care facility in Hyderabad. The center is fitted with diagnostic tools with lasers for complex laser surgeries, advanced diagnostic software and flexible endoscopes to diagnose remote and invisible parts of the throat, larynx, ear and nose, radiofrequency machines; flexible and rigid endoscopes, audiology equipment and advanced ultrasound machines to aid in diagnosing head and neck conditions accurately.
May 2023: Virtuoso Surgical, Inc. launched its robotic surgery system that redefines endoscopic surgery in terms of function, scale, and cost. The system enables surgeons to employ two hands to perform skillful maneuvers deep within the body with the help of endoscope's tip.
Rigid Endoscopes Market Players
Ethicon U.S., LLC
Boston Scientific Corporation
Karl Storz GmbH & Co. KG
Stryker
PENTAX Medical
Richard WolfMedtronic
B. Braun Melsungen AG
CONMED Corp.
FUJIFILM Holdings Corp.
Integrated Endoscopy Inc.
NeoScope Inc.
Olympus Corp.
Smith & Nephew Plc.
Segments Covered in the Report
By Product
Laparoscopes
Arthroscopes
Ureteroscopes
Cystoscopes
Gynecology Endoscopes
Neuroendoscopes
Bronchoscopes
Hysteroscopes
Laryngoscopes
Sinuscopes
Otoscopes
Sigmoidoscopes
Pharygnoscopes
Duodenoscopes
Nasopharygnoscopes
Rhinoscopes
By End-use
Hospitals
Outpatient Facilities
By Geography
North America
Europe
Asia-Pacific
Latin America
Middle East and Africa