The global gastroenterology market size was estimated at USD 51.37 billion in 2022 and it is expected to hit around USD 93.8 billion by 2032, poised to grow at a CAGR of 6.21% from 2023 to 2032.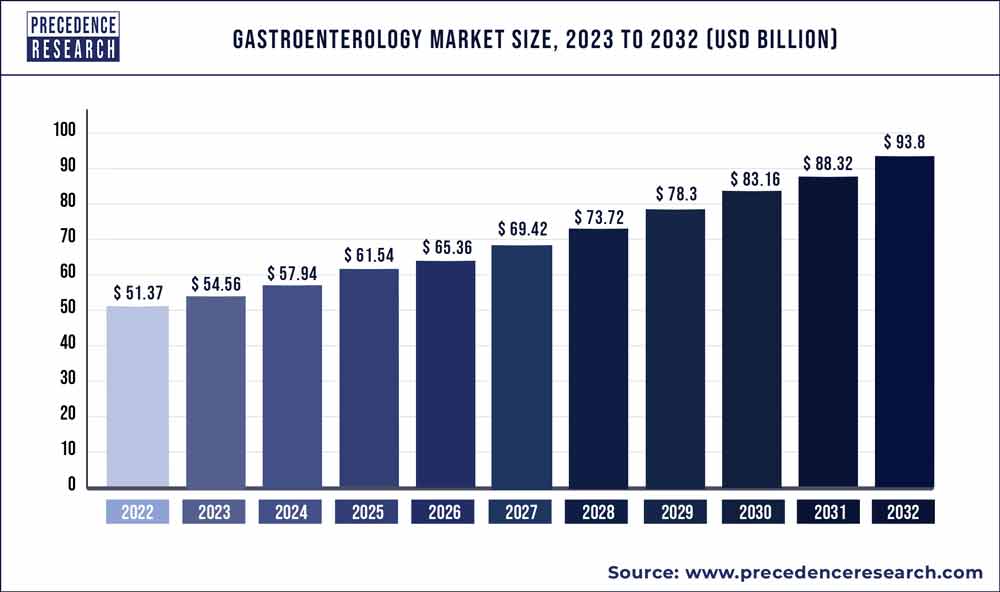 Gastrointestinal disorders are gastrointestinal illnesses that affect the colon, small and large intestines, and the rectum. Irritable bowel syndrome, peptic ulcer diseases, and constipation make up most of the problems. These are all characterized by symptoms like discomfort, bloating, diarrhea, nausea, and vomiting. The term "gastrointestinal therapies" refers to a class of medications that includes the following: Prilosec, Aciphex, Afinitor, Akynzeo, and Akynzeo.
The primary reasons propelling market expansion include expanding geriatric population, geriatric occurrences, overcrowding in the hospital outpatient department (HOPD), and rising demand for ambulatory treatments to minimize irrational hospitalization costs.
The market will grow in size during the projected period as a result of factors such as an increase in chronic diseases, a growth in the older population, unhealthy lifestyles, and an increase in the number of surgeries in the world.
Key Points:
North America region dominates the global market between 2023 and 2032.
The branded type segment led the global market in 2022, In terms of revenue.
The online pharmacies distribution channel segment holds a significant revenue share in 2022.
The crohn's disease application segment led the global market share in 2022, In terms of revenue.
The injectables route of the administration segment generated for the maximum revenue share in 2022.
Market Growth
The rising incidence of gastrointestinal disorders brought on by unhealthful eating patterns, the expansion of clinical studies with reliable findings, rising healthcare costs, and the rise in the elderly population are the main drivers of the gastroenterology market. But it's anticipated that the market will not grow as quickly as it may due to drug side effects and strict regulatory rules for drug approval.
In the near future, the gastroenterology industry will experience significant demand due to rising demand for self-medication and regenerative medicines, as well as several patient support programs implemented in emerging nations. Hospital patient loads have increased as a result of an increase in surgical operations, particularly small inpatient surgeries such as minor joint repair, abdominal hernia repair, gall bladder removal, cataract surgery, and other treatments. One of the main forces fueling the market's expansion is the increasing number of patients.
Report Scope of the Gastroenterology Market
| | |
| --- | --- |
| Report Coverage | Details |
| Market Size in 2023 | USD 54.56 Billion |
| Market Size by 2032 | USD 93.8 Billion |
| Growth Rate from 2023 to 2032 | CAGR of 6.21% |
| Largest Market | North America |
| Base Year | 2022 |
| Forecast Period | 2023 to 2032 |
| Segments Covered | By Type, By Distribution Channel, By Application and By Route of Administration |
| Regions Covered | North America, Europe, Asia-Pacific, Latin America and Middle East & Africa |

Market Dynamics
Market Drivers
The growing size and quantity of investments made in the healthcare system by governments and commercial companies of different countries are one of the primary drivers fueling the market's growth. The rapid economic development and the rising expense of healthcare would give more developing nations better access to high-quality care. Governments from several countries are attempting to improve residents' access to high-quality medical care and increase payment choices.
Additionally, pharmaceutical and biotechnology businesses are focusing more on R&D to find and create new medications for treating gastrointestinal illnesses, expanding their product pipeline. Additionally, the global increase in drug development for gastrointestinal illnesses is anticipated to contribute to the growth.
Market Restraints
The market's expansion is constrained by the increase in healthcare costs. In addition, the market's expansion is constrained by the lack of access to medical services and treatments. Among inflammatory diseases, chronic gastritis is quite frequent. In many patients, the inflammatory stomach mucosa exhibits a tendency to atrophize over time (atrophic gastritis). Gastritis typically lasts a lifetime, and patients with autoimmune chronic corpus gastritis have very low chances of spontaneous recovery.
The Helicobacter pylori bacterium has been linked to gastritis. Gastric secretory processes, such as pepsin, gastric acid secretion, and gastrin, are hampered by inflammation and atrophy of the gastric mucosa. Therefore, it is anticipated that the gastroenterology field will suffer from the lack of effective and long-lasting treatments for gastrointestinal diseases.
Market Opportunities
The market will rise in the future as technologically sophisticated surgical techniques like minimally invasive operations become more commonplace, and as patients come to accept and become more aware of these procedures being provided in ambulatory facilities. This represents a significant prospective growth opportunity for the market during the anticipated term.
Market Trends
The market's simple access to medications to treat ulcerative colitis can be credited with the segment's expansion. The strong clinical urgency to stop the spread of ulcerative colitis is another factor contributing to the segment's expected rapid growth. Due to the poor prognosis and use of harmful foods, there is a great likelihood that the condition will return.
In Japan, there were over 180,000 people with ulcerative colitis, according to a study by Shinji Okabayashi et al. that was published in the Journal of the Anus, Rectum, and Colon in January 2020. Additionally, it has been noted that in newly industrialized areas of Latin America, ulcerative colitis (UC) incidence and prevalence are increasing.
The incidence and prevalence of ulcerative colitis (UC) in Latin America were 0.04 to 8.00/100,000 and 0.23 to 76.1/100,000, respectively, according to a study by Paulo Gustavo Kotze et al. that was published in Therapeutic Advances in Gastroenterology Journal in July 2020. As a result, studies and research indicate that the prevalence and incidence of Ulcerative Colitis are rising, which is driving demand for the market.
Growing R&D initiatives are also accelerating market expansion. There are over 245 current clinical studies for ulcerative colitis in various stages of development, according to the National Clinical Trials (NCT) registry as of May 2021. With the success of this research, ulcerative colitis patients might anticipate new, efficient treatments in the upcoming years.
Segments Insight
Type Insights
The gastroenterology market is divided into branded and generic segments based on type. In terms of revenue, the branded segment led the gastroenterology market in 2022 owing to the good commercial performance of branded gastrointestinal products, the investigational pipeline's promising candidates combined with the high costs, and the market exclusivity. Additionally, it is estimated that the category will expand during the projected period due to the increasing regulatory approvals of branded pharmaceuticals.
Distribution Channel Insights
The gastroenterology market is divided into hospital pharmacies, retail pharmacies, and online pharmacies according to the distribution channel. In 2022, the market for gastroenterology saw a significant revenue share for the online pharmacies industry. This is a result of rising online pharmacy trends, increased internet usage, and the numerous discounts provided by online pharma players. Additionally, the market sector is anticipated to develop during the anticipated period due to the rise in telemedicine adoption that occurred during the pandemic and continues to grow even after COVID-19.
Application Insights
The gastroenterology market is divided into categories based on application, including Crohn's disease, ulcerative colitis, GERD, IBS, and others. In terms of revenue share, the gastroenterology market's Crohn's disease sector led the way in 2022.
This is because there have been more cases of Crohn's disease (CD) over the past five decades, more novel drugs are being approved for CD, and there are more diagnostic options for the disease, such as imaging modalities or serological markers, which are expected to boost the market for CD during the forecasted period.
Route of Administration
The gastroenterology market is segmented into oral, injectable, and other segments based on the route of administration. In the gastroenterology market in 2022, the injectables segment accounted for the largest revenue share. The elements driving the market's expansion include higher pricing, quick onset of action, better bioavailability, and a lower likelihood of first-pass metabolism in the case of injectable pharmaceuticals, as well as the higher acceptance rate of biological drugs.
Regional Insights
Technological advancements, an increase in gastrointestinal diseases, an increase in the number of geriatric and obese people, and an increase in research and development activities with the presence of major market players are some of the factors propelling market growth in the North American region.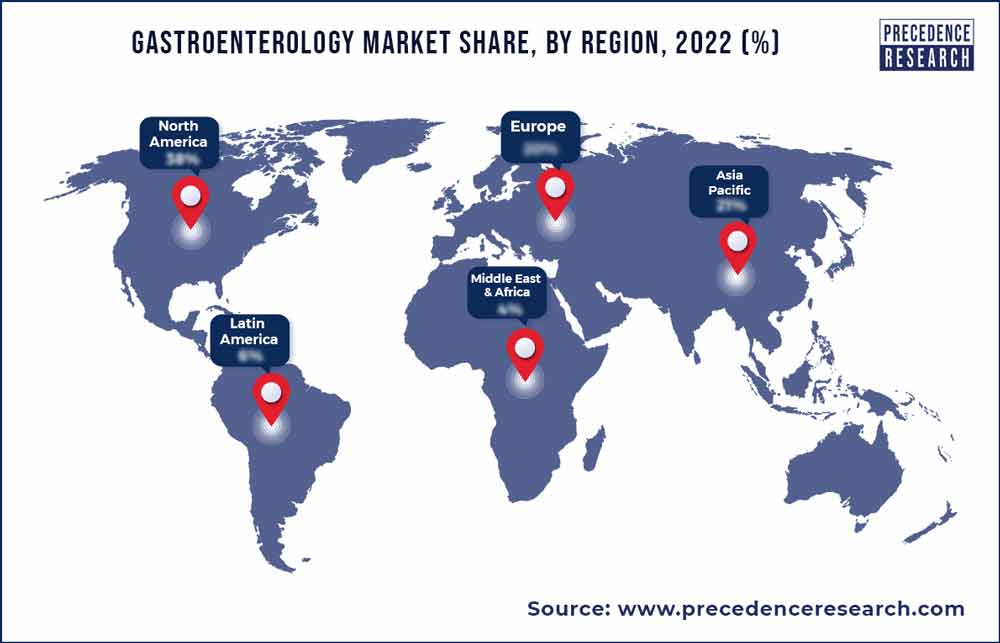 Patients with co-morbid diseases, those who have impaired immune systems, and those who are malnourished and immunosuppressed have been shown to experience more severe COVID-19 infections. Crohn's disease and ulcerative colitis are both intestinal and extraintestinal manifestations of the chronic remitting and relapsing condition known as inflammatory bowel disease (IBD). Due to their frequent malnutrition and use of immunosuppressive drugs, people with inflammatory bowel disease (IBD) may be significantly more likely to get COVID-19 infection.
Recent Development
In September 2022, combined usage of golimumab and guselkumab shows impressive outcomes in patients with ulcerative colitis at a European Crohn's and Colitis Organization symposium.
In September 2022, From February 2023, Pharmac will begin funding Entyvio's efforts to develop a new medication for inflammatory bowel illnesses.
In September 2022, Risankizumab (SKYRIZI®), a key player in the worldwide gastroenterology market, received a favorable CHMP opinion for the treatment of individuals with moderate to severe Crohn's disease from AbbVie.
In September 2022, for ulcerative colitis, Palatin's PL8177 began mid-stage studies.
In August 2022, Researchers at Georgia State University discovered that treating mice with acute ulcerative colitis with new lipid nanoparticles is very successful.
In August 2022, Ozanimod, a medication for multiple sclerosis, showed promise in a clinical trial and was found to be beneficial in treating ulcerative colitis in individuals.
In August 2022, A French business called Abivax raised about $49 million for a cross-phase III trial of its ulcerative colitis medication.
In March 2022, RINVOQ, a prescription drug used to treat individuals with moderate to severe ulcerative colitis, was given FDA approval by AbbVie. With the approval of RINVOQ as a therapeutic option, AbbVie keeps up its cutting-edge research that may benefit and have an impact on the lives of patients with ulcerative colitis.
In April 2021, the daily probiotic supplement ENVIVE was made available by Bausch Health. A new multi-strain, preservative-free probiotic designed to help consumers with recurrent GI issues is what the product is all about. It has been carefully developed and clinically tested.
Key Market Players:
Abbott Laboratories
Johnson & Johnson
AbbVie Inc.
Salix Pharmaceuticals
GlaxoSmithKline Plc.
ALLERGAN
Takeda Pharmaceutical Company Limited
AstraZeneca
Astellas Pharma US, Inc.
Pfizer Inc.
Segments Covered in the Report
(Note*: We offer report based on sub segments as well. Kindly, let us know if you are interested)
By Type
By Distribution Channel
Retail Pharmacies
Hospital Pharmacies
Online Pharmacies
By Application
Crohn's Disease
Ulcerative Colitis
GERD
IBS
Others
By Route of Administration
By Geography
North America
Europe
Asia-Pacific
Latin America
The Middle East and Africa