The global fiber optics market size is projected to surpass USD 11.1 billion by 2030 from valued at USD 7.4 billion in 2021, growing at a CAGR of 4.6% from 2021 to 2030.
An optic fiber is a translucent, flexible fiber used to transport light that is created by drawing plastic or glass. The telecom industry, military, electromagnetic interference, community access television, and linked devices all have high need for optical fiber. It's also commonly used to set up fiber optic connections. Fiber lasers and fiber optic sensors are two types of fibers that are utilized for a variety of other purposes. The multi-mode fibers are fibers that are designed to support numerous propagation sections or transverse modes. Single mode fibers, on the other hand, only support a single mode. The fiber optics market is predicted to increase significantly as a result of the surge of applications and needs. However, high fiber optics implementation costs and issues with fiber optic cable merging are likely to limit revenue growth in the global fiber optics market over the projection period.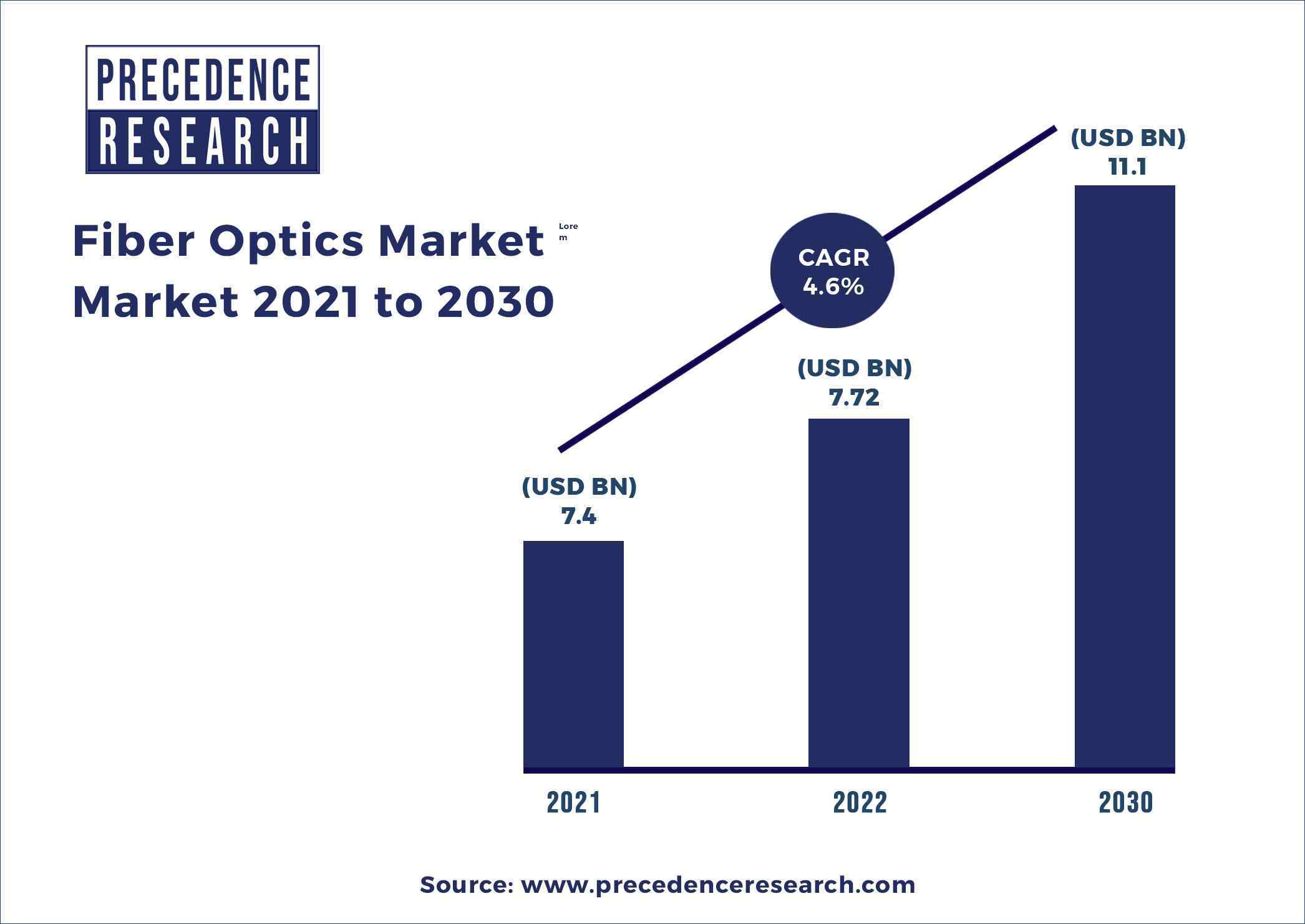 Regional Snapshot
Asia-Pacific is the largest segment for fiber optics market in terms of region. The increased application areas are responsible for the regional expansion.
North America region is the fastest growing region in the fiber optics market. Technology developments and widespread usage of technology in the information technology, telecommunications, and administrative sectors are propelling revenue growth in the North America region.
Report Highlights
Based on the product type, the multimode segment dominated the global fiber optics market in 2020 with highest market share. The multimode and single product type categories are likely to maintain their growth and lead the fiber optics market during the forecast period.
Based on the application, the telecommunication segment dominated the global fiber optics market in 2020 with highest market share. Due to the increasing adoption of technology in communication and data transmission services, telecommunications is expected to have excellent growth possibilities. Fiber optics allow for high-speed data transfer across short and large distances.
Scope of the Report
Report Coverage
Details
Market Size in 2021
USD 7.4 Billion
Revenue Forecast by 2030
USD 11.1 Billion
Growth Rate from 2021 to 2030
4.6%
Base Year
2021
Forecast Data
2021 to 2030
Segmentation

Product
Application
Region
Market Dynamics
Drivers
Widespread implementation of 5G
Consumers are increasingly demanding more information and greater global coverage. The 5th generation wireless connection is projected to be the next technological advancements. These heavy-duty optical fiber networks, which affect both the wireline and wireless sides of the infrastructure, have a big influence on the 5th generation. Furthermore, 5th generation's network performance targets rely substantially on widespread fiber connectivity. 5th generation is now being tested in a number of markets, with significant adoption projected by 2020.
Restraints
Highly susceptible
Fiber optic cable is a thin, compact cable that is easily cut or damaged during installation and development. The data transmission possibilities of fiber optic cables are amazing. As a result, when fiber optic cabling is selected as the transmission medium, backup, restoration, and survivability must all be considered. As a result, the highly susceptible is restricting factor for the growth of the global fiber optics market during the forecast period.
Opportunities
Surge in demand for internet
The internet is a worldwide network of interconnected devices. Fiber optics serve as the internet's backbone, with optical fiber cables serving as the medium for transporting data from one location to another. The internet is being driven by the expanding importance of data transfer, internet of things, cloud computing, and storage. The number of internet users is predicted to rise from 3.6 billion in 2018 to 5 billion by 2025, according to the International Energy Agency. Thus, the surge in demand for internet is creating lucrative opportunities for the growth of the fiber optics market during the forecast period.
Challenges
Alternative wireless connectivity solutions
Wireless communication networks transmit data from one location to another using the microwave radio spectrum. From a central location, information is broadcast to the receiving dishes. For wireless communication, the most often utilized techniques are radio frequency and fiber space optics. Wireless communication has the advantage of requiring less capital for installation than fiber optics. Another key benefit of radio frequency and fiber space optics is that they do not interfere with one another. As a result, alternative wireless connectivity solutions are a major challenge for the growth of the fiber optics market during the forecast period.
Buy this premium research report - https://www.precedenceresearch.com/checkout/1028
Any question regarding this study, please feel free to contact at sales@precedenceresearch.com