The global fiber optics market size was estimated at USD 7.72 billion in 2022 and is expected to hit around USD 12.63 billion by 2032, expanding growth at a CAGR of 5.10% from 2023 to 2032. Asia Pacific fiber optics market was valued at USD 2.4 billion in 2022.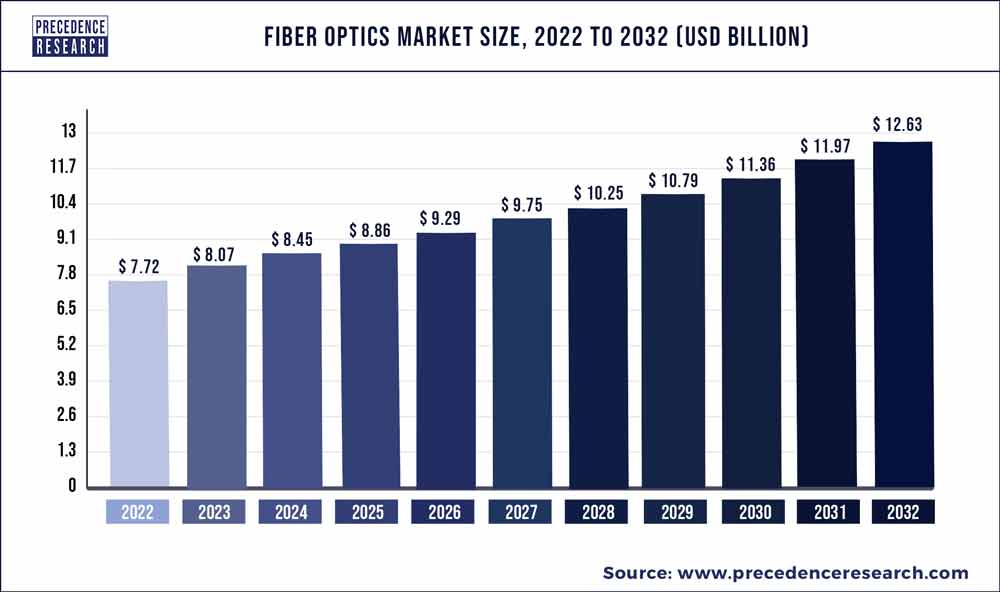 Access our Premium Real Time Data Intelligence Tool, Visit: Precedence Statistics
Key Takeaway
Asia Pacific region has dominated the market with a revenue share of around 29.2% in 2022.
By application, the telecom segment has held revenue share of around 41.9% in 2022.
By type, the multi-mode fiber optic segment has generated a revenue share of 53.9% in 2022.
By material type, glass segment has captured the highest revenue share of over 61% in 2022
By cable type, the single mode fiber optics segment has held revenue share of 51% in 2022.
Fiber Optics Market in the Asia Pacific 2023 To 2032
The Asia Pacific fiber optics market size was valued at USD 3.47 billion in 2022 and is projected to reach around USD 5.63 billion by 2032, growing at a CAGR of 5% from 2023 to 2032.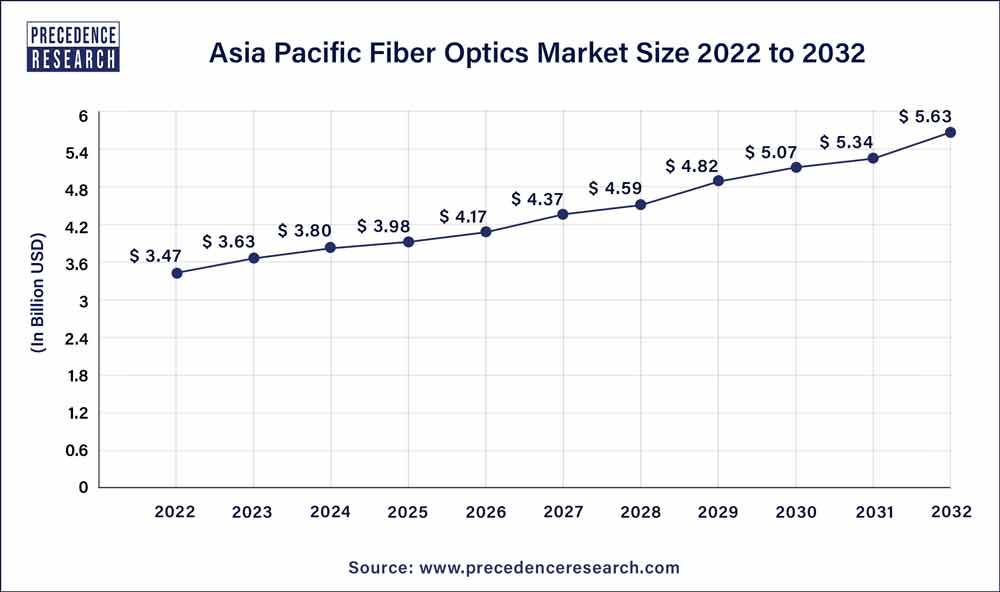 Asia Pacific spearheaded the global fiber optics market in terms of revenue in the year 2022 owing to increasing adoption of fiber optics in IT and telecom sector. In addition, the region exhibits lucrative growth opportunity by maintaining its dominant market position in the coming years. The region offers high growth prospects for the new technologies, thereby drives the fiber optics demand. Increasing infrastructural development and industrialization have offered enormous growth opportunities for the deployment of fiber optic cables across several applications in the region. Recently, World Bank has estimated that the Asia Pacific require toinvest USD 1.7 trillion per year from 2016 to 2030 in infrastructure development to maintain its economic growth. In the wake of same, private money has poured significantly in past few years. For instance, in July 2018, United States announced to invest USD 113 million on the infrastructure projects in Asia Pacific.
The Asia Pacific region is predicted to proliferate during the projected period. The market's position in the Asia-Pacific region is being strengthened by the high rate of penetration of the industry's increasing IT & telecommunications sector. Additionally, the expanding usage of fiber optics in the medical industry is accelerating development in nations like Japan, China, and India and accelerating market growth globally.
Moreover, with 15% of its total global user base in Asia Pacific, India is Facebook's largest market globally. In a country with more than a billion citizens and around 400 million Facebook users, there is an increasing demand for data center capacity. To meet the exponential capacity demand and connect data centers with the least amount of latency, there has been a growing need for undersea fiber optic cables. Throughout the projection period, there should be a rise in demand for undersea fiber optic cables.
Additionally, the region's increased use of lasers in cosmetology and dentistry is expanding the use of medical fiber optics. Supporting governmental initiatives, enhancing the region's healthcare system, and raising people's standards of living are a few of the elements boosting the market's expansion. In addition, rising medical tourism in nations like South Korea, Thailand, and Singapore is anticipated to fuel the expansion of fiber optics in the area. Also, the major players want to spend in developing nations like India and China, which is anticipated to accelerate market expansion.
Growth Factors
Increasing demand for communication having high bandwidth is flourish the market growth. These systems are used to transmit voice, data, and images to a distance ranging from few meters to several kilometers very easily. They have proved to be a boon for several applications especially for telecommunication sector. The evolution of fiber-integrated infrastructure has magnificently boosted the demand for fiber optic cables. Furthermore, increased deployment of broadband network architectures such as Fiber to the Home (FTTH), Fiber to the Premise (FTTP), Fiber to the Cabinet (FTTC), and Fiber to the Building (FTTB) have prominently escalated the demand for fiber optic network, and thus drives the demand for fiber optic cables.
In addition, increasing demand for Internet of Things (IoT) and connected devices also guide the positive growth of fiber optics. Rising demand for smartphones, connected wearables, and tablets are some of the major driving factors for high market growth of fiber optics in the upcoming years.
In addition, increasing demand for Internet of Things (IoT) and connected devices also guide the positive growth of fiber optics. Rising demand for smartphones, connected wearables, and tablets are some of the major driving factors for high market growth of fiber optics in the upcoming years. However, rising trend for wireless communication may restrict the market growth. The wireless communication uses microwave radio spectrum for transmitting data from one point to another. Fiber Space Optics (FSO) and Radio Frequency (RF) are the most preferred techniques for the wireless communication. Some of the benefits offered by wireless communication over fiber optics are non-interference of FSO and RF waves along with less capital required for installation. Nevertheless, significant investment by prominent market players to upgrade and develop the technology application arena anticipated to present promising growth for the market in years to come.
Report Scope of the Fiber Optics Market
| | |
| --- | --- |
| Report Highlights | Details |
| Market Size | USD 12.63 Billion by 2032 |
| Growth Rate | CAGR of 5.10% from 2023 to 2032 |
| Largest Market | Asia Pacific |
| Fastest Growing Market | North America |
| Base Year | 2022 |
| Forecast Period | 2023 to 2032 |
| Segments Covered | Product Type, Application Type, Region Type |
| Companies Mentioned | Optical Cable Corporation (OCC), Corning Incorporated, OFS Fitel, LLC, Sterlite Technologies Limited, AFL, Prysmian Group, Finolex Cables Limited, Birla Furukawa Fiber Optics Limited |
Market Dynamics
Market Driver: Increase in Data Centers
Since data centers often need a lot of bandwidth to process and store data, the growth of data centers has increased demand for fiber optics, boosting the market for fiber optics. The requirement for fiber optics technology to manage the increased data transfer develops as data centers need more capacity. A speedy and secure method for transmitting huge volumes of data is offered by fiber optic technology. Additionally, as fiber optic cables are more flexible, lighter, and capable of carrying more data than copper wires, the increased number of data facilities has increased demand for highly specialized fiber optics equipment and services, such as optical transceivers and cabling, to ensure the proper operation of the data centers.
Market Restraint: Barriers During Installation
Delays in implementing maximum broadband have several causes, including environmental constraints. Compared to densely populated metropolitan regions, rural areas typically have a more diversified geography. Under the surface, the installer will find a variety of materials, most frequently including rock. For rural locations that may have mountains or frequently severe weather, strategies have not yet been designed. However, for many carriers, the cost of purchasing or renting huge devices to remove underwater cables or rocks may be out of their financial reach.
Market Opportunity: Expanding 5G Communication Network Installation
The widespread adoption of 5G in both advanced and emerging nations would present favorable chances for the market's suppliers of fiber optics. The deployment of optical fibers is crucial to the development of 5G infrastructure. These optical fibers are capable of transmitting a significant amount of data rapidly between two locations. Telecom service providers are putting a lot of emphasis on installing newer 5G base stations as 5G services continue to be commercialized in order to obtain a competitive edge in the market.
COVID-19 Impact Analysis:
COVID-19 outbreak in the early 2020 has disrupted several industries that also includes electronic sector. Country lockdown along with new stringent government norms for controlling the spread of virus in the environment has hindered the market demand for various consumer electronics and related products. Despite above scenarios, the market demand for fiber optics observes significant boom during the pandemic period. Prime factors attributed to the prominent growth of the market includes rapid change in work culture across several companies, change in life style, and many others.
Talking about the U.S., only 7% professionals were working from home as well as employer's were responsible for maintaining smooth connectivity of internet among employees. However, pandemic outbreak has changed all these trends, now smooth internet connection at home has become significantly important for working in work-from-home environment. In addition, surge in online education during the pandemic is the other important factor that boosts the growth of fiber optics in order to access smooth internet connection.
Cable Type Insights
In 2022, single mode fiber optics led the global fiber optics market with more than 51% of revenue share. Some of the prime factors supporting the growth of single mode segment includes high application for long distance communication along with increased application in data centers. As per a study conducted by in 2020, several companies and data centers are switching to sing mode fiber optic cables because of its high quality transmission. For instance, in 2020, Facebook has taken efforts to shorten their data cable links to 500m or less by deploying single mode fiber optics at lower cost. Similarly, Microsoft Azure, a leading service provider in cloud-based services has also opted single mode fiber optic cabling system for their data centers and presently more than 99% of their data centers is using single mode fiber optics. Besides all this, single mode fiber optics also find its prominent application in marine and sophisticated communication networks. The aforementioned factors are likely to propel the market demand for single mode fiber optics at a rapid rate during the forecast period.
Single-mode cables are made to transmit just one light beam. These connectors primarily serve long-distance communication applications and use laser beams with a wavelength of up to 1550 nm as their source of light. Single-mode cables also project light in precise configurations, making them suitable for aesthetic illumination. Compared to other mode cables, the diameter is smaller at only 8.5 mm.
Since fewer routes or switches are required during communication, single-mode fiber optic communications are rapid over distance. Moreover, they can carry data over 40Gb across greater distances without integrity loss and have a virtually limitless bandwidth capacity. Single-mode fiber optic cables are, therefore, in great demand and are expected to rise significantly during the forecast period.
In 2022, the global fiber optics market was dominated by the multimode segment with nearly half of the market revenue share and expected to retain the leading position over the forecast period. Single mode and multimode segments exhibit moderate growth over the analysis period. Single mode fiber optics is used for long distance applications ranging from 2 to 10,000 meters. It also offers low power loss as compared to its counterpart's i.e. multimode and plastic optical fiber.
Material Type Insights
Glass captured the highest revenue share in the global fiber optics market with more than 61% of the global revenue in 2022 owing to high penetration of the material in fiber optics market. However, plastic optical fiber registers the fastest growth opportunity over the upcoming period because of its dynamic applications coupled with cost saving feature. The core of the plastic optical fiber is made from polymer material that is less is cost compared to glass.
Plastic optical fiber encountered the highest growth opportunity over the analysis period owing to its dynamic applications and cost saving feature. The plastic optical fiber have core made from polymer while single and multimode fibers have code made from glass, this attributes for the overall cost reduction of the product type.
Single strands of optical fiber material typically comprise plastic fiber optics. The sensing end of the majority of plastic fiber optic assemblies is terminated with a probe and a threaded mounting tip. Usually, plastic fiber optic assemblies leave the control end unterminated so that it can be conveniently trimmed by the user to the required lengths. Plastic fibers are less costly, regardless of whether they are standard, unique, or particularly the vantage line of high-quality, reasonably priced fiber optics packed for OEM applications.
Furthermore, they enable reduced signal attenuation. The fiber optic's inherent material characteristics, including absorption, impurities, and scattering, produce attenuation. Plastic fibers are more resilient to repeated bending and more flexible. It is possible to use plastic fiber optics that is pre-coiled for sensing purposes on reciprocating machinery. Plastic fibers may be woven into incredibly small spaces due to their size. For many fiber optic sensing applications, plastic fibers are a great, affordable option all around.
Application Insights
Due to its flexibility and ease of combining wires, the communication segment is the most significant use of optical fiber. It is used as a medium for computer networking and telecommunication. Distance communications benefit significantly from the use of optical fiber. Optical fiber has been extensively employed in the field of communication systems for the sending and receiving of signals in a variety of networking domains. Also, over the past few years, the utilization of optical fiber cables for signal transmission and reception has increased significantly. They are the ideal means of signal transmission due to their greater speed and bandwidth. In comparison to conventional copper wire, fiber optic wire is more affordable, which is a significant benefit.
Telecommunication sector accounted for the largest revenue share in the global fiber optics market and projected to retain its position over the forecast period. In addition, the segment offers promising growth aspects in the years to come owing to increasing adoption of fiber optics in data transmission services and communication. The technology enables high speed transfer of information in both long and short range communications. Furthermore, increasing demand for Video-on-Demand service, cloud-based applications, and audio-video services stimulates the market growth of fiber optics in telecom sector.
Besides this, military & aerospace and medical sectors poised to grow at the rapid pace attributed to the increasing application of optic technology devices. Furthermore, increasing terrorist activities is appealing defense services and government authorities of various countries to take firm steps to curb down these occurrences. For the same, defense sector has adopted advanced technologies such as wearable devices, body cams, and other responders that keep the military person connected irrespective of their location. Need of high speed internet for supporting the growth of Internet of Everything (IoE) to maintain high-level security in the nation is the other major factor that drives the demand for fiber optics.
Key Companies & Market Share Insights
The global industry for fiber optics is highly competitive owing to the presence of large number of market players along with increased focus of market players on development and innovation. Significant number of innovations in fiber optics market for reducing the deployment cost of the product plays an important role in guiding the market growth at a rapid pace.
The global fiber optics market seeks significant investment in product development and research & development. Furthermore, market players are prominently expanding their manufacturing facilities worldwide. For instance, in January 2018, Corning Inc. announced its new manufacturing facility in Newton, North Carolina, USA. The new manufacturing center helps the company to meet the rising demand for fiber optic cables in the region.
Some of the recent activities by market players are as follows:
In January 2023, DirectLase Premium Yb-doped optical fiber for directed energy fiber-laser systems was announced by OFS as the company's most recent invention.
In September 2022, A multi-fiber optic connector inspection system - FOCIS Lightning 2, AFL- simplifies the connection and bulkhead assessment. Businesses, data center administrators, and service providers can rapidly examine and authenticate existing fiber connectivity owing to FOCIS Lightning2, designed to greatly simplify and speed up fiber connector analysis.

In August 2022, Based on a long-standing partnership with AT&T, the largest fiber broadband provider, Corning Incorporated increased the optical cable production capabilities as the carrier extended its fiber services.

In March 2020, CommScope installed over nearly 1.5 million feet of copper cabling along with 227 miles of fiber cables in Allegiant Stadium, Las Vegas, the U.S. The new installed fiber optics cabling expects to deliver high-bandwidth connectivity.
In March 2019, Microsoft Corporation introduced Co-Packaged Optics (CPO) collaboration in partnership with Facebook Inc. The new collaboration was done with an aim to guide technology vendors in the design and manufacturing of CPO approaches.
Some of the prominent players in the fiber optics market include:
Optical Cable Corporation (OCC)
Corning Incorporated
OFS Fitel, LLC
Sterlite Technologies Limited
AFL
Prysmian Group
Finolex Cables Limited
Birla Furukawa Fiber Optics Limited
Yangtze Optical Fiber and Cable Co., Ltd. (YOFC)
Segments Covered in the Report
This report analyses and projects market revenue and growth trend at global, regional, and country levels and offers an analysis of the modern industry developments in each of the sub-segments from 2017 to 2030. This report classifies global fiber optics market on the basis of product type, application, and region:
By Product Type
Multimode
Single Mode
Plastic Optical Fiber
By Material Type
By Application
Military & Aerospace

Weapon System
Secure Communication
Surveillance System
UAV
Optical Computing
Military Vehicle Sensing

Oil & Gas

High Bandwidth Communications
Material Sensing
Others

BFSI
Railway

Speed Monitoring
Railway Maintenance
Dynamic Load Calculation

Telecom
Medical

Minimal Invasive Surgery
Biomedical Sensing
Imaging

Others
By Regional Outlook
North America
Europe
Asia Pacific

China
India
Japan
South Korea

Rest of the World