The global fiber optics market size is expected to hit around USD 11.1 billion by 2030 from at USD 7.4 billion in 2021, expanding growth at a CAGR of 4.6% over the forecast period 2021 to 2030.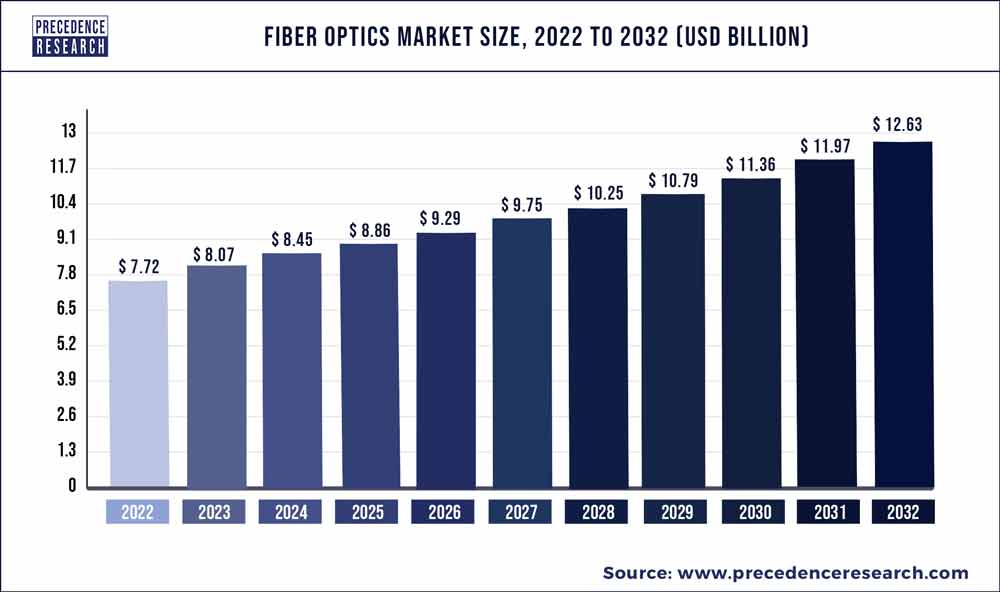 Growth Factors
Increasing demand for communication having high bandwidth is flourish the market growth. These systems are used to transmit voice, data, and images to a distance ranging from few meters to several kilometers very easily. They have proved to be a boon for several applications especially for telecommunication sector. The evolution of fiber-integrated infrastructure has magnificently boosted the demand for fiber optic cables. Furthermore, increased deployment of broadband network architectures such as Fiber to the Home (FTTH), Fiber to the Premise (FTTP), Fiber to the Cabinet (FTTC), and Fiber to the Building (FTTB) have prominently escalated the demand for fiber optic network, and thus drives the demand for fiber optic cables.
However, rising trend for wireless communication may restrict the market growth. The wireless communication uses microwave radio spectrum for transmitting data from one point to another. Fiber Space Optics (FSO) and Radio Frequency (RF) are the most preferred techniques for the wireless communication. Some of the benefits offered by wireless communication over fiber optics are non-interference of FSO and RF waves along with less capital required for installation. Nevertheless, significant investment by prominent market players to upgrade and develop the technology application arena anticipated to present promising growth for the market in years to come.
Report Scope of the Fiber Optics Market
| | |
| --- | --- |
| Report Highlights | Details |
| Market Size | USD 11.1 Billion by 2030 |
| Growth Rate | CAGR of 4.6% from 2021 to 2030 |
| Largest Market | Asia Pacific |
| Fastest Growing Market | North America |
| Base Year | 2021 |
| Forecast Period | 2021 to 2030 |
| Segments Covered | Product Type, Application Type, Region Type |
| Companies Mentioned | Optical Cable Corporation (OCC), Corning Incorporated, OFS Fitel, LLC, Sterlite Technologies Limited, AFL, Prysmian Group, Finolex Cables Limited, Birla Furukawa Fiber Optics Limited |
Product Type Insights
In 2019, the global fiber optics market was dominated by the multimode segment with nearly half of the market revenue share and expected to retain the leading position over the forecast period. Single mode and multimode segments exhibit moderate growth over the analysis period. Single mode fiber optics is used for long distance applications ranging from 2 to 10,000 meters. It also offers low power loss as compared to its counterpart's i.e. multimode and plastic optical fiber.
Plastic optical fiber encountered the highest growth opportunity over the analysis period owing to its dynamic applications and cost saving feature. The plastic optical fiber have core made from polymer while single and multimode fibers have code made from glass, this attributes for the overall cost reduction of the product type.
Application Insights
Telecommunication sector accounted for the largest revenue share in the global fiber optics market and projected to retain its position over the forecast period. In addition, the segment offers promising growth aspects in the years to come owing to increasing adoption of fiber optics in data transmission services and communication. The technology enables high speed transfer of information in both long and short range communications. Furthermore, increasing demand for Video-on-Demand service, cloud-based applications, and audio-video services stimulates the market growth of fiber optics in telecom sector.
Besides this, military & aerospace and medical sectors poised to grow at the rapid pace attributed to the increasing application of optic technology devices. Furthermore, increasing terrorist activities is appealing defense services and government authorities of various countries to take firm steps to curb down these occurrences. For the same, defense sector has adopted advanced technologies such as wearable devices, body cams, and other responders that keep the military person connected irrespective of their location. Need of high speed internet for supporting the growth of Internet of Everything (IoE) to maintain high-level security in the nation is the other major factor that drives the demand for fiber optics.
Regional Insights
Asia Pacific spearheaded the global fiber optics market in terms of revenue in the year 2019 owing to increasing adoption of fiber optics in IT and telecom sector. In addition, the region exhibits lucrative growth opportunity by maintaining its dominant market position in the coming years. The region offers high growth prospects for the new technologies, thereby drives the fiber optics demand. Increasing infrastructural development and industrialization have offered enormous growth opportunities for the deployment of fiber optic cables across several applications in the region. Recently, World Bank has estimated that the Asia Pacific require toinvest USD 1.7 trillion per year from 2016 to 2030 in infrastructure development to maintain its economic growth. In the wake of same, private money has poured significantly in past few years. For instance, in July 2018, United States announced to invest USD 113 million on the infrastructure projects in Asia Pacific.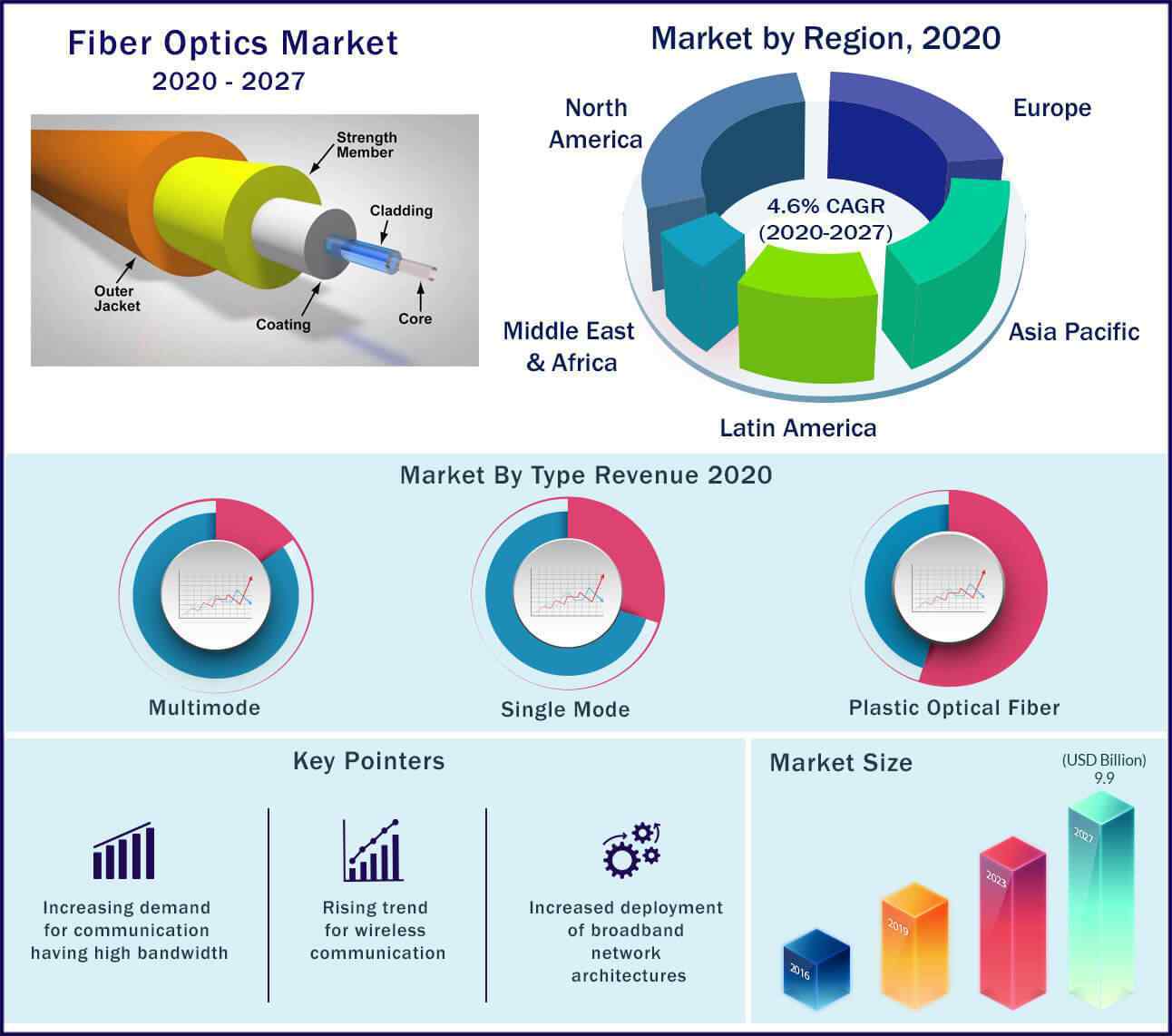 Key Companies & Market Share Insights
The global fiber optics market seeks significant investment in product development and research & development. Furthermore, market players are prominently expanding their manufacturing facilities worldwide. For instance, in January 2018, Corning Inc. announced its new manufacturing facility in Newton, North Carolina, USA. The new manufacturing center helps the company to meet the rising demand for fiber optic cables in the region.
Some of the prominent players in the fiber optics market include:
Optical Cable Corporation (OCC)
Corning Incorporated
OFS Fitel, LLC
Sterlite Technologies Limited
AFL
Prysmian Group
Finolex Cables Limited
Birla Furukawa Fiber Optics Limited
Yangtze Optical Fiber and Cable Co., Ltd. (YOFC)
Segments Covered in the Report
This report analyses and projects market revenue and growth trend at global, regional, and country levels and offers an analysis of the modern industry developments in each of the sub-segments from 2016 to 2027. This report classifies global fiber optics market on the basis of product type, application, and region:
By Product Type
Multimode
Single Mode
Plastic Optical Fiber
By Application
Military & Aerospace

Weapon System
Secure Communication
Surveillance System
UAV
Optical Computing
Military Vehicle Sensing

Oil & Gas

High Bandwidth Communications
Material Sensing
Others

BFSI
Railway

Speed Monitoring
Railway Maintenance
Dynamic Load Calculation

Telecom
Medical

Minimal Invasive Surgery
Biomedical Sensing
Imaging

Others
By Regional Outlook
North America
Europe
Asia Pacific

China
India
Japan
South Korea

Rest of the World