The global advanced optics market size was valued at USD 254.4 billion in 2022 and it is anticipated to reach around USD 594 billion by 2032, growing at a CAGR of 8.9% during the forecast period 2023 to 2032.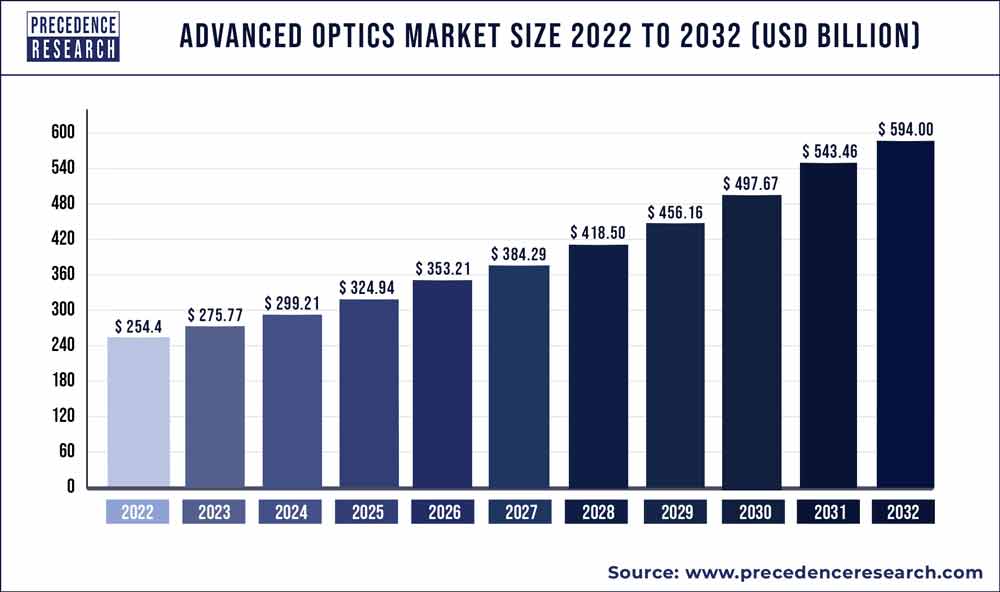 Access our Premium Real Time Data Intelligence Tool, Visit: Precedence Statistics
Key Takeaways:
Asia-Pacific contributed more than 41% of revenue share in 2022.
By Technology, the quantum optics segment has held the largest revenue share in 2022.
By Technology, the wave segment is expected to expand at the fastest CAGR between 2023 and 2032.
By Application, the lighting solution segment has held the highest market share in 2022.
By Application, the optical communication is projected to grow at the fastest rate over the projected period.
By End-use, the commercial segment captured the highest market share in 2022.
By End-use, the space segment is expected to expand at the fastest rate over the projected period.
Asia-Pacific Advanced Optics Market Size By 2032
The Asia-Pacific advanced optics market size was estimated at USD 104.3 billion in 2022 and is projected to surpass around USD 243.54 billion by 2032, expanding at a CAGR of 8.9% between 2023 and 2032.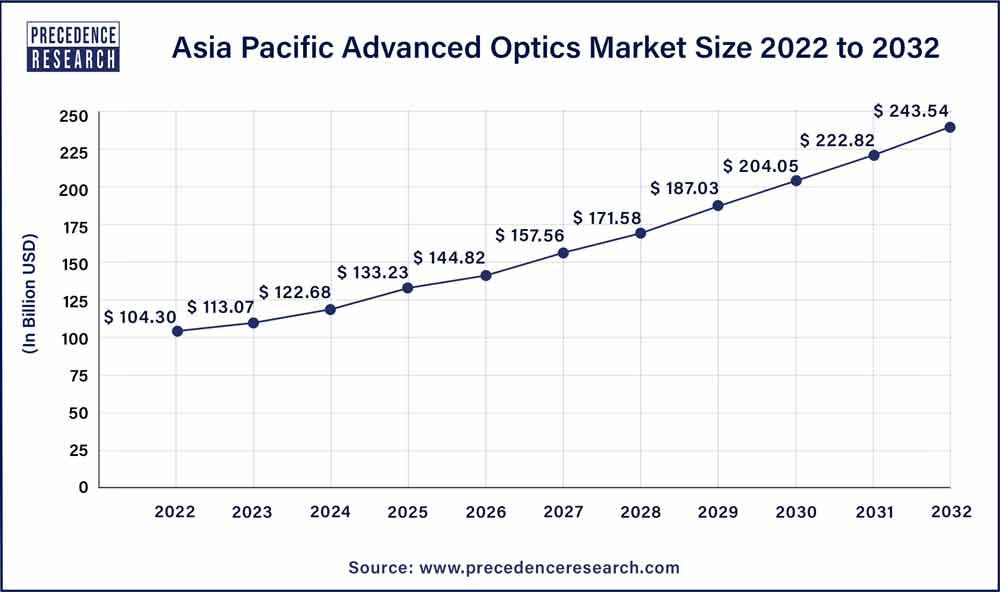 Asia-Pacific has held the largest revenue share in 2022 and is estimated to observe the fastest expansion. This is due to the various driving factors including surging adoption of advanced optics in industries such as healthcare and telecommunications, rapid technological advancements, and the existence of key manufacturing hubs of advanced optics in countries such as China, India, Japan, and South Korea. Furthermore, the expansion of 5G networks and the rising demand for optical communication technologies, such as fiber optics, may considerably drive demand for the advanced optics market across the Asia-Pacific region. Countries including China and India were heavily investing in the development of 5G infrastructure, boosting the demand for optical components.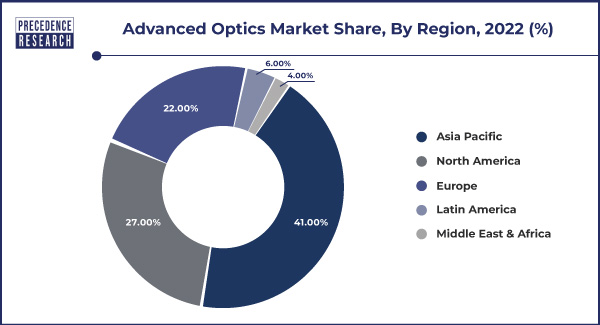 North America Estimated to Observe Significant Expansion in the Market in 2022
The region is home to numerous companies and research institutions dedicated to advancing optical technologies. Investments in research and development drive innovation and contribute to market growth. The healthcare industry in North America places a significant emphasis on cutting-edge medical imaging and diagnostic technologies. Advanced optics play a pivotal role in devices such as MRI machines, CT scanners, and endoscopes, contributing to market expansion.
The European advanced optics market is expected to flourish at a high rate in the coming years, owing to Europe's commitment to research and development in optics and photonics is evident through participation in international research projects and collaborations. The European Commission has funded various photonics research initiatives.
For instance, in June 2023, the European Commission approved the aid VIGO Photonics project worth up to EUR 102.9 million. Its R&D work will primarily focus on PIC, optimizing the technology for manufacturing waveguide components, light sources, and detectors for the mid-infrared range.
ERP Software Market Overview:
The advanced optics market consists development, manufacturing, and sale of cutting-edge optical components, devices, and systems for various applications. It involves the use of precision engineering, specialized materials, and innovative technologies to control and manipulate light for several purposes, such as communication, imaging, sensing, and manufacturing processes. It plays a vital role in numerous industries and is crucial for allowing technological innovations and enhancing the performance of optical systems and devices.
The market provides superior lenses, mirrors, prisms, filters, gratings, and other optical elements intended to control and manipulate light with a high degree of precision. These are integrated systems or setups that use advanced optical components to achieve specific functions, such as telescopes, cameras, microscopes, and laser systems.
Growth Factors:
The growth of the advanced optics market can be attributed to various factors such as escalating demand for superior imaging solutions across diverse sectors like healthcare, aerospace, automotive, and consumer electronics.
Moreover, the electronics industry's rapid expansion is necessitating advanced optics for semiconductor manufacturing and optoelectronic devices, further fuels market growth.
Additionally, the surging demand for high-speed data networks, particularly with the advent of 5G, underscores the importance of advanced optical communication systems like fiber optics.
The healthcare and life sciences fields continually advance, spurring the need for precise optical components in medical imaging and diagnostics. Emerging applications in autonomous vehicles, the defense sector's reliance on advanced optics for surveillance and targeting, and increased R&D activities across various scientific domains also contribute to market expansion.
The advanced optics market continues to evolve rapidly with ongoing advancements in materials science, nanotechnology, and photonics. It plays a critical role in various industries and is essential for enabling technological innovations and improving the performance of optical systems and devices.
Furthermore, the aerospace and defense sectors depend on advanced optics for applications such as surveillance, targeting, missile guidance, and night vision. Growing defense budgets and technological advancements drive the demand for advanced optical solutions.
For instance, in November 2022, QinetiQ US announced that it has received a contract from the U.S. Army C5ISR center, research & technology integration directorate, image processing division (IPD) worth $48 million for research, development, and engineering support for image processing and advanced optics technologies. This supports the Army's modernization priorities and cross-functional team (CFT) science and technology research objectives to include those of Next Soldier Lethality (SL), Future Vertical Lift (FVL), and Generation Combat Vehicle (NGCV).
Report Scope of the Advanced Optics Market:
| | |
| --- | --- |
| Report Coverage | Details |
| Market Size in 2023 | USD 275.77 Billion |
| Market Size by 2032 | USD 594Billion |
| Growth Rate from 2023 to 2032 | CAGR of 8.9% |
| Largest Market | Asia Pacific |
| Base Year | 2022 |
| Forecast Period | 2023 to 2032 |
| Segments Covered | By Technology, By Application, and By End-Use Industry |
| Regions Covered | North America, Europe, Asia-Pacific, Latin America, and Middle East & Africa |

Market Dynamics:
Driver:
Increasing demand for high-resolution imaging and vision systems
The requirement for precision and clarity in imaging has been more critical these days across various industries, such as healthcare, aerospace, automotive, consumer electronics, and others. For instance, in healthcare, advanced optics are integral to cutting-edge medical imaging devices like MRI and CT scanners, as well as endoscopes and microscopy systems. These technologies enable healthcare professionals to diagnose diseases and conditions with greater accuracy, ultimately improving patient care. Also, in aerospace, advanced optics are essential for surveillance, navigation, and remote sensing applications. High-resolution imaging from satellites and aircraft is vital for monitoring weather patterns, tracking environmental changes, and ensuring national security.
The automotive industry relies on advanced optics for applications like adaptive headlights, LiDAR sensors for autonomous vehicles, and heads-up displays. These technologies enhance driver safety and provide a more immersive driving experience.
For instance, in November 2022, AMS OSRAM announced that it will launch its latest sensing and lighting solutions at the Electronica Conference 2022 in Munich, Germany. The technologies consist of the new TMF882x direct time-of-flight sensors, an active stereo vision 3D mapping, and a structured lighting system using ams OSRAM dot pattern illuminators.
Moreover, consumer electronics consumers may expect improved display and camera quality in their smartphones, tablets, and televisions by advancing optics technology. This drives the development of advanced optical components and systems, making them a key feature in the competitive consumer electronics market. Thus, the increasing demand for high-resolution imaging and vision systems underscores the indispensable role of advanced optics in delivering superior image quality, precision, and performance across a myriad of industries, fueling its sustained growth and innovation.
Restraint:
Complexity in design and requires expertise
Designing, manufacturing, and integrating advanced optics systems can be highly complex, requiring specialized knowledge and expertise. Its design may need a deep understanding of materials science, optical physics, and precision engineering. The development process may require a multidisciplinary approach, including experts in fields such as optics, mechanical engineering, and electronics. This complexity extends to the manufacturing phase, where extreme precision and quality control are essential. The demand for specialized expertise may create an obstacle to entry for businesses and individuals to enter the advanced optics market. New companies in the market must invest significantly in research, development, and personnel training to meet the industry's high standards. Moreover, finding skilled professionals with the necessary expertise may be challenging, as there is a shortage of qualified optical engineers and technicians.
The intricacy of advanced optics also translates into longer development cycles and higher production costs. Thus, while the advanced optics market offers immense potential for innovation and growth, the complexity of design and the need for specialized expertise can limit the rate of adoption and expansion. Companies are using various initiatives such as partnership, collaboration, and investing in substantial resources in research and development to stay competitive and keep pace with rapidly evolving technologies.
For instance, in October 2022, Lockheed Martin collaborated with Ayar Labs to develop future sensory platforms. It supports Ayar Labs in advancing optical I/O microchips that use light to transfer data faster, at a lower latency, and a fraction of the power of existing electrical I/O solutions.
Opportunity:
Adoption of AI in advanced optics
AI brings intelligence and automation to optical systems, making them smarter and more adaptable. For instance, AI-driven image analysis and machine learning algorithms may swiftly detect defects and anomalies in optical components, ensuring that products meet rigorous quality standards. This not only boosts production efficiency but also reduces costs associated with defective items. Moreover, AI aids in optical design optimization, enabling engineers to explore complex design spaces efficiently. AI algorithms can simulate and analyze vast datasets to identify design improvements that might be challenging to uncover using traditional methods. This streamlines the development of cutting-edge optical systems and components.
In addition, AI enhances image processing, reducing noise and enhancing image resolution. This proves invaluable in medical imaging, improving diagnostic accuracy. Also, AI-driven optical character recognition (OCR) systems facilitate text extraction from images, benefiting document scanning, autonomous vehicles, and robotics.
For instance, in May 2023, AICRAFT, an Australian artificial intelligence (AI) company signed two memorandums of understanding (MoUs) with Scanway to develop new solutions for space such as innovative smart imaging systems & HEX20 (Australia) and new constellations of smart satellites. In partnership, the company supports AICRAFT's artificial intelligence (AI) and semiconductor technologies, and Scanway's expertise in designing and manufacturing electro-optic systems for space and industrial applications.
Furthermore, AI-powered facial recognition and biometrics systems find applications in security, access control, and authentication. The increasing demand for these technologies provides various opportunities for advanced optics in the near future.
Impact of COVID-19:
The COVID-19 pandemic had a significant impact on the advanced optics market, primarily due to the widespread disruptions in global supply chains, factory closures, and logistics challenges that led to delays in the production and delivery of optical components and systems. This affected various industries that rely on advanced optics, such as healthcare, aerospace, and manufacturing. The uncertainty surrounding the pandemic also led to reduced investments in research and development in some sectors, impacting innovation within the advanced optics market.
However, the pandemic also highlighted the importance of advanced optics in various critical applications. In healthcare, advanced optics played a pivotal role in the development of diagnostic equipment, including advanced imaging systems and optical sensors used in testing and monitoring. In addition, the demand for optical communication technologies surged as remote work and online activities increased, driving investments in fiber optics and photonics. The increased reliance on digital connectivity during the pandemic is expected to drive continued investment in optical communication technologies like fiber optics, as demand for faster and more reliable data transmission remains high.
For instance, in January 2023, Sterlite Technologies Ltd. announced its investment to expand its optical fiber manufacturing capacity to 42 million fiber kilometers from 33 MFKM. This expansion is worth around 800 crore Indian rupees and done by the end of FY24.
Technology Insights:
According to the technology, the quantum optics segment technology has held the highest revenue share in 2022. It is a specialized field that explores the quantum mechanical behavior of light and its interaction with matter. It delves into the fundamental quantum nature of photons and their interactions with atoms and molecules. Quantum optics is essential for technologies such as quantum cryptography, quantum computing, and quantum sensors. It leverages the principles of superposition, entanglement, and quantum states to develop advanced optical systems that exploit quantum effects for various applications.
The wave optics technology is anticipated to expand at a significant CAGR during the projected period because it is crucial for understanding complex optical phenomena, such as the behavior of light as it passes through small apertures, the interference patterns created by multiple light sources, and the characteristics of laser light. It plays a critical role in the design of advanced optical systems used in applications like microscopy, spectroscopy, and laser technology.
Application Insights:
By application, lighting solution is anticipated to hold the largest market share in 2022. This is because it is used in lighting systems in various applications to improve energy efficiency, color rendering, and light distribution. This includes applications in architectural lighting, automotive lighting, and LED technology.
On the other hand, the optical communication is projected to grow at the fastest rate over the projected period. It involves the transmission of data through optical fibers. It is a key technology for high-speed and long-distance data transmission, including telecommunications networks and data centers.
End-use Industry Insights:
In 2022, the commercial segment had the highest market share of on the basis of the end-use industry. The commercial sector includes applications in retail, entertainment, and hospitality, where advanced optics are used in displays, projectors, lighting systems, and augmented reality (AR) technologies to enhance customer experiences.
The space end-use industry is anticipated to expand at the fastest rate over the projected period. Space exploration and satellite technologies heavily rely on advanced optics for telescopes, imaging systems, sensors, and scientific instruments used in Earth observation, planetary exploration, and space research.
Recent Developments:
June 2023: Zomedica Corp. launched TRUVIEWTM digital microscopy platform with advanced optics, automated slide preparation, and telepathology services. It features the proprietary TRUprepTM system that automatically prepares slides, along with LiquiViewTM liquid lens technology that provides best-in-class images.
April 2023: Voyis launched Discovery Vision Systems, an advanced vision system for subsea ROVs. It delivers situational awareness to ROV operations, including real-time 3D perception and high-resolution video for piloting, inspection, and autonomy applications.
March 2023: North America's International Municipal Signal Association (IMSA), a trade and certification association announced the formation of a new and more advanced fiber optic design certification for the traffic and ITS industries.
Key Market Players
Signify N.V. (Netherlands)
Shin-Etsu Chemical Co. Ltd (Japan)
Nikon Corporation (Japan)
Cisco Systems Inc. (U.S.)
Corning Inc. (U.S.)
Hoya Corporation (Japan)
Schott AG (Germany)
II-VI Inc. (U.S.)
GlobalFoundries Inc. (U.S.)
AGC Inc. (Japan)
Hamamatsu Photonics K.K. (Japan)
Gooch & Housego PLC (U.K.)
Excelitas Technologies Corp. (U.S.)
Imagine Optic SA (France)
Iris AO, Inc (U.S.)
Boston Micromachines Corporation (U.S.)
Flexible Optical B.V. (Netherlands)
Active Optical Systems, LLC (U.S.)
Northrop Grumman Corporation (U.S.)
Market Segmentation:
(Note*: We offer reports based on sub-segments as well. Kindly, let us know if you are interested)
By Technology
By Application
LiDAR
Lighting Solution
Optical Communication
Intelligence, Surveillance & Reconnaissance (ISR)
Medical Equipment
Camera
Metrology Devices
3D Scanner
Others
By End-Use Industry
Commercial
Industrial
Defense
Medical
Aviation (Drone)
Automotive
Space
Others
By Geography
North America
Europe
Asia-Pacific
Latin America
Middle East and Africa