The global advanced IC substrates market size accounted for USD 8 billion in 2022 and it is projected to hit around USD 14.67 billion by 2032, registering a CAGR of 6.3% during the forecast period 2023 to 2032.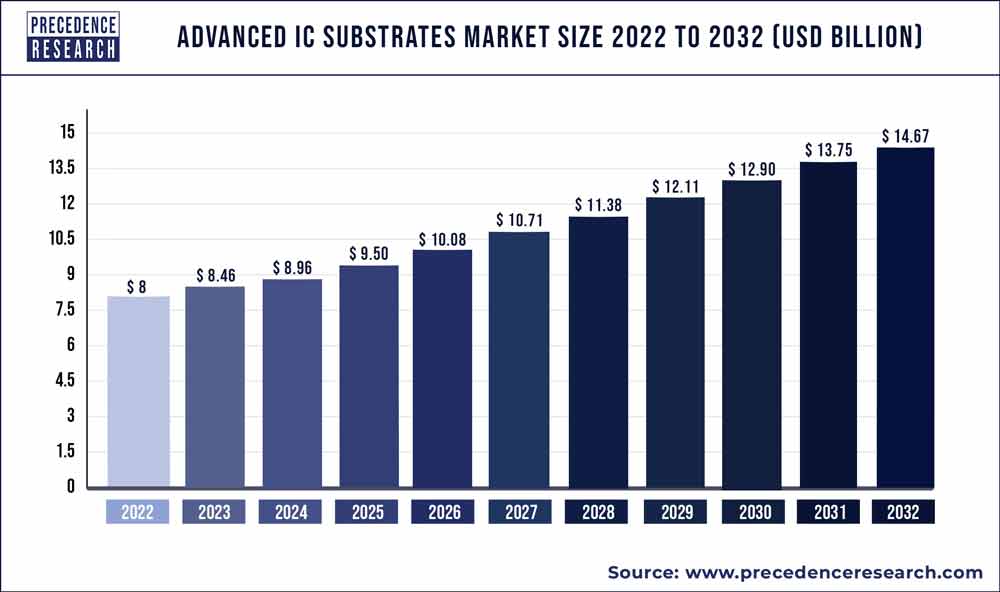 Access our Premium Real Time Data Intelligence Tool, Visit: Precedence Statistics
Key Takeaways:
Asia-Pacific is expected to dominate in the advanced IC substrates market during the forecast period.
By type, the FC BGA segment shows a leading growth in the advanced IC substrates market.
By application, the mobile and consumer segment shows a dominant position in the advanced IC substrates market.
Asia Pacific Advanced IC Substrates Market Size By 2032
The Asia Pacific advanced IC substrates market size was valued at USD 2.8 billion in 2022 and is projected to surpass around USD 5.23 billion by 2032, expanding at a CAGR of 6.5% between 2023 and 2032.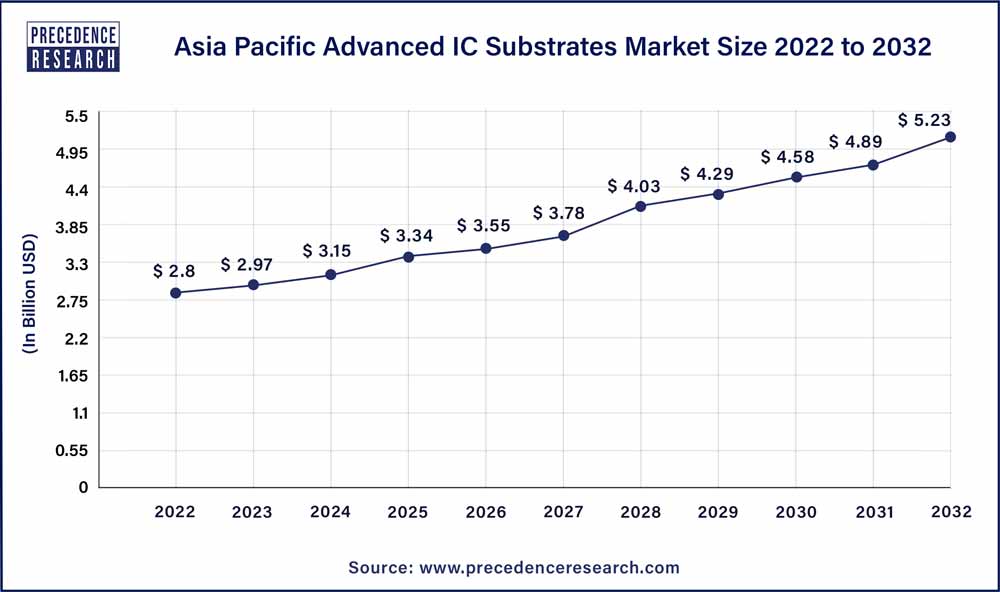 Asia Pacific has its largest revenue share in 2022 and is expected to dominate in the advanced IC substrates market throughout the predicted timeframe.
Asia Pacific, especially nations like Taiwan, South Korea, and China, have become a center to produce electronics and semiconductor-related components on a global scale. These nations have created cutting-edge manufacturing facilities and a labor force with the necessary skills to produce IC substrates. Most of the top semiconductor foundries in the world are in Asia, mainly in Taiwan and South Korea. It is advantageous for manufacturers to source from the area due to the efficient supply chains and lower shipping costs for IC substrates made possible by this closeness. Some of the semiconductor industry most technologically advanced businesses are in Asia Pacific.
For instance, Taiwan's TSMC (Taiwan Semiconductor Manufacturing Company), a world leader in semiconductor fabrication, significantly impacts the need for cutting-edge IC substrates. Due to cheaper labor and overhead costs than many Western nations, the region enjoys an advantageous cost structure for industry. Asian producers may sell their products competitively due to their economic efficiency. Businesses in the Asia Pacific region make significant R&D investments, spurring innovation in IC substrate technology. Due to their ongoing innovation, they can remain at the top of their field and provide cutting-edge solutions to satisfy the changing needs of semiconductor manufacturers.
North America Shows a Significant Growth in the Market
North America has led the way in technical innovation in the semiconductor sector. The area is home to several top semiconductor businesses and research centers that make significant investments in creating cutting-edge IC substrates. Government programs and policies have occasionally contributed to the expansion of the semiconductor sector.
This covers money for R&D and financial incentives for businesses to invest in facilities for advanced manufacturing. High-performance electronics, such as game consoles, cellphones, tablets, and vehicle electronics, are in constant demand. These devices require sophisticated IC substrates, which serve as the building blocks of integrated circuits. The COVID-19 outbreak demonstrated the importance of a safe and robust semiconductor supply chain.
Market Overview:
Flexible and elastic substrates are becoming more significant with the emergence of wearable electronics. These substrates can endure bending and stretching while molding to irregular forms that eliminates the need for discrete components and result in more compact and power-efficient designs by directly incorporating passive components such as resistors, capacitors, and inductors into the substrate. It is essential to guarantee the performance and dependability of IC substrates. Cutting-edge testing and inspection technologies are being created to find flaws and increase yield.
An innovative method provides larger bandwidth and quicker data transfer rates by fusing photonics with conventional electronic components on a single substrate. Through-silicon vias (TSVs) are used in these technologies to connect the many integrated circuits (ICs), which increases performance and functionality while taking up less space. The development of substrates with greater heat conductivity, reduced signal loss, and increased reliability all essential for high-performance applications has been made possible by advances in materials science.
Growth Factors:
Electronic devices need substrates that can support intricate circuitry, high pin counts, and multi-layer interconnects as they become more advanced. Modern IC substrates provide the essential capabilities to support these complex designs. The desire has pushed the need for enhanced IC substrates for smaller and more compact electronic devices, including smartphones, tablets, wearables, and IoT devices. The element acts as a growth factor for the market.
These substrates offer a platform for tightly packed integrated circuits. The need for advanced IC substrates has increased due to the adoption of advanced packaging techniques such as flip-chip, system-in-package (SiP), and fan-out wafer-level packaging (FOWLP).
Report Scope of the Advanced IC Substrates Market:
| | |
| --- | --- |
| Report Coverage | Details |
| Market Size in 2023 | USD 8.46 Billion |
| Market Size by 2032 | USD 14.67 Billion |
| Growth Rate from 2023 to 2032 | CAGR of 6.3% |
| Largest Market | Asia Pacific |
| Base Year | 2022 |
| Forecast Period | 2023 to 2032 |
| Segments Covered | By Type and By Application |
| Regions Covered | North America, Europe, Asia-Pacific, Latin America, and Middle East & Africa |

Market Dynamics:
Driver:
Increasing demand for advanced electronics
As technology develops, there is a growing need for electronic gadgets that are more advanced and potent. This encompasses wearable technology, IoT gadgets, laptops, tablets, smartphones, and even auto electronics. These devices need higher-performing integrated circuits (ICs) to keep up with the changing needs of customers and industries. The demand for high-speed data transmission increases as data-intensive applications like streaming, gaming, and cloud computing increase. The infrastructure for high-frequency and high-speed signal processing is provided by advanced IC substrates, ensuring smooth data flow within electronic devices.
The demand for specialized ICs is being driven by developments in technologies like 5G, artificial intelligence (AI), augmented reality (AR), and virtual reality (VR). These technologies need substrates that can accommodate these applications' performance and increased complexity demands. The demand for energy-efficient electronics is driven by the growth of green energy technologies and the spread of IoT gadgets. The creation of power-efficient ICs, necessary for increasing the battery life of portable devices and lowering energy consumption in many applications, can be made easier with the help of advanced IC substrates.
Restraint:
Supply chain disruptions
Components and materials used in the current supply chain are acquired from different parts of the world due to globalization. Any interruption can have a cascading effect, affecting several stages of production, whether a natural disaster, geopolitical unrest, or unforeseen circumstances like a pandemic bring it on. Several firms in the electronics sector use a just-in-time inventory approach to reduce storage expenses. As a result, they only maintain small buffer stocks. There is limited room for error when a disruption happens, and any delay could result in production stops. Longer lead times and bigger stocks are two options businesses may choose to reduce the risk of supply chain interruptions. This, however, entails higher keeping costs and a higher danger of obsolescence.
There may occasionally be just one essential supplier for a particular substance or component. A bottleneck in the entire supply chain may result from a disruption at that provider. Specialized materials, including high-purity metals, ceramics, and polymers, are frequently needed for advanced IC substrates. There may be a limited number of suppliers for certain goods, and any manufacturing or shipping interruption can cause shortages and delays.
Opportunity:
Growth in high performance computing
Modern IC substrates are necessary for high-performance computing systems to sustain the increased processing power required by intricate calculations and simulations. These substrates are essential to HPC systems because they must effectively dissipate heat and have trustworthy electrical connections. Signal integrity maintenance becomes crucial for HPC systems because of their high-frequency activities. Advanced IC substrates with regulated impedance properties and minimal signal losses are necessary to transmit data reliably.
Complex designs, such as multi-core processors, specialized accelerators, and networked nodes, are frequently used by HPC systems. The interconnection and thermal management of these components are made possible by advanced IC substrates, providing optimal performance. Businesses that can provide IC substrates that are creative and trustworthy and are suited to the unique needs of HPC systems gain a competitive advantage. They can become recognized as reliable partners in the quickly expanding HPC sector.
Type Insights:
The FC BGA segment is expected to be dominant in the advanced IC substrates market during the predicted period. The flip-chip configuration reduces parasitic capacitance, inductance, and resistance by shortening interconnects. Electrical performance is enhanced, and power consumption and signal propagation are sped up. Signal deterioration and electromagnetic interference risks are reduced with FC BGA. This is particularly significant for high-frequency applications where it is essential to retain signal integrity. FC BGA provides better thermal dissipation than other packaging methods. Higher power densities are possible, and the danger of overheating is decreased thanks to the direct attachment of the die to the substrate, which enhances heat transmission. FC BGA technology can be more challenging to install than conventional packaging techniques. Still, its simpler manufacturing procedures and greater yields may be more economical for high-volume production.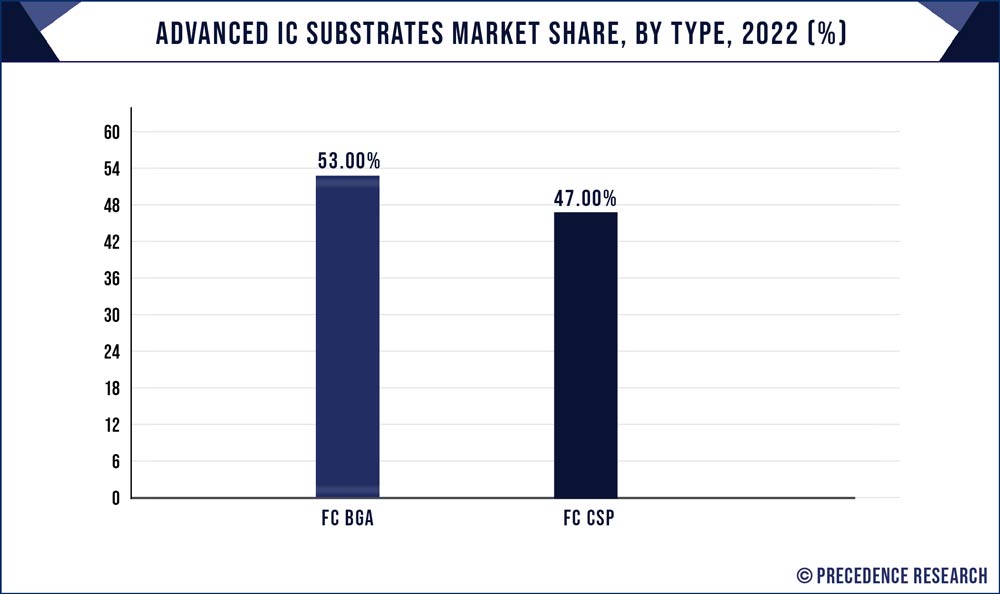 The FC CSP segment is the fastest growing significant growth in the advanced IC substrates market during the forecast period. In contrast to conventional packaging techniques, FC CSP enables a smaller package size. There is an increasing need for smaller, thinner IC packaging as portable electronic gadgets become increasingly common. Compared to certain other packaging technologies, FC CSP provides higher thermal performance. Heat dissipation is more effective by the die's direct connection to the substrate. The demand for small, high-performance IC packages has increased due to the widespread use of consumer electronics, Internet of Things devices, and other portable devices. FC CSP is an excellent choice for these uses. FC CSP has been increasingly standardized, making it easier for different industries and applications. As a result of this standardization, the market may embrace it more widely. FC CSP offers high input/output (I/O) density.
Application Insights:
The mobile and consumer segment is expected to be dominant in the advanced IC substrates market during the forecast period. The mobile sector has significantly fueled the market for advanced IC substrates. The manufacture of advanced IC substrates has increased dramatically due to the steadily expanding demand for smartphones, tablets, and wearable technology. These substrates are necessary for integrating sophisticated semiconductor components in small, portable devices. Consumer electronics includes a wide range of items besides just mobile devices, such as computers, gaming consoles, smart TVs, digital cameras, and more. The effective operation of these gadgets depends on cutting-edge IC substrates. Cooperation and integration are key within the semiconductor supply chain. Substrate producers collaborate closely with semiconductor foundries and packaging businesses to ensure compatibility and performance. Demand for sophisticated ICs will probably increase as 5G technology is widely adopted and the Internet of Things (IoT) ecosystem expands.
The IT and telecom segment is the fastest growing in the advanced IC substrates market during the predicted period. Integrated circuits (ICs) and substrates must keep up with ongoing innovation in the IT and telecom industries. These substrates act as the building blocks for semiconductor devices, enabling greater densities, expanded functionality, and superior performance. The development of data centers and the demand for cloud services have increased the demand for sophisticated IC substrates. These substrates are essential for the processing and storage power required to manage large amounts of data. The proliferation of IoT devices is radically altering the landscape.
Compact, energy-efficient ICs are needed for these networked devices, which increases the demand for innovative substrates that can handle downsizing without sacrificing performance. The demand for small yet potent IC substrates increases as smartphones, wearables, and other consumer electronics advance. These substrates are essential for enabling electrical device downsizing and enhanced performance. The introduction of 5G networks is a key factor. The need for specialized substrates is increased by the need for sophisticated IC substrates to enable higher frequencies and data rates in this next-generation wireless technology.
High-performance ICs are necessary to expand AI and machine-learning applications across numerous industries. The development of specialized processors that are optimized for various activities depends on advanced substrates. The healthcare industry increasingly relies on cutting-edge electronic technologies for diagnosis, monitoring, and treatment. This pattern has increased demand for specialist IC substrates that can handle the demanding specifications of medical applications.
Recent Developments:
In September 2023, the AP860, a new DRAM-free PCIe 4.0 SSD from BIWIN, is designed to work with desktop, laptop, and all-in-one systems. The price of high-performance with the ongoing decline in PCIe SSD prices in 2022. This has increased the market share of customer PCIe 4.0 SSDs and expanded the use of PCIe 4.0 SSDs in the PC OEM market.
In July 2023, the semiconductor start-up Silicon Box opened a sophisticated semiconductor packaging facility worth $ 2 billion in Singapore.
Key Market Players:
ASE Kaohsiung (ASE Inc.)
Siliconware Precision Industries Co. Ltd
TTM Technologies Inc.
AT&S Austria Technologies & Systemtechnik AG
Ibiden Co. Ltd
Market Segmentation:
(Note*: We offer reports based on sub-segments as well. Kindly, let us know if you are interested)
By Type
By Application
Mobile and Consumer
Automotive and Transportation
IT and Telecom
By Geography
North America
Europe
Asia-Pacific
Latin America
Middle East and Africa