The global flavors and fragrances market size was exhibited at USD 32.49 billion in 2022 and it is projected to attain around USD 44.18 billion by 2030, poised to grow at a CAGR of 3.91% between 2022 and 2030.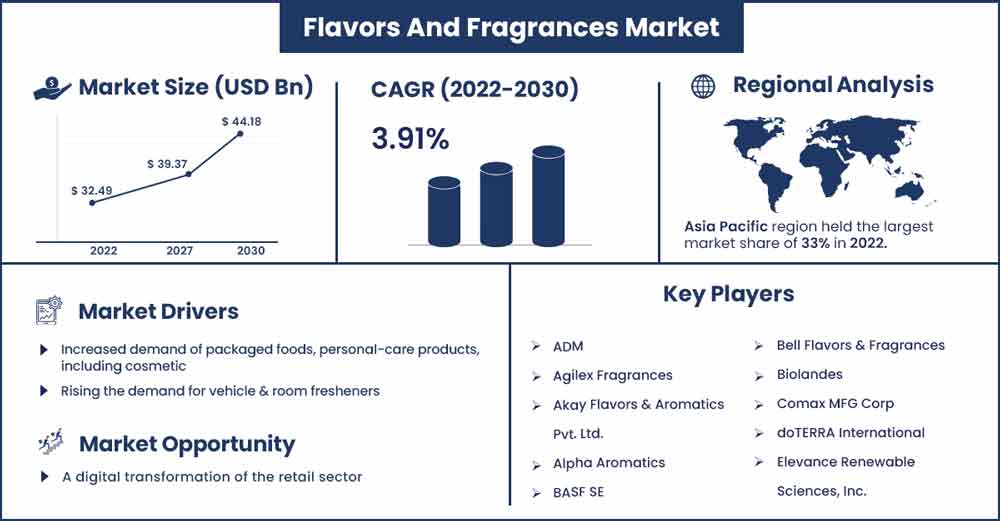 Aroma and flavor are two senses. While the smell is perceived via the nose, the flavor is experienced through the mouth. Both fragrance and flavor have a distinct aroma that is sweet & pleasant. The primary distinction between flavor and scent is that the former is experienced via the nose, while the latter is experienced through the tongue. However, as flavor frequently comes from both smell and taste, flavor and perfume cannot be thought of as separate concepts. Therefore, the flavor is primarily influenced by smell. The demand for natural flavors and fragrances is expected to boost the global flavors and perfumes market. Flavors and scents are crucial ingredients in a range of consumer goods, including food products like prepared dishes, household items, and personal care items, among many others. Natural essential and artificial compositions provide a variety of flavors, such as cold mint flavor in toothpaste, cherries flavor in cherry cola, & cinnamon aroma in pumpkin latte.
Report Highlights:
Chemical processes are used to create synthetic ingredients. It has differing qualities from its antecedents due to chemical modification. Chemical chemicals are mixed in a complex way to create artificial flavors. Due to its low cost and expanding use in a variety of end uses, including drinks, packaged foods, and personal and home care items, artificial ingredients are now the most common. During the projection period, the industry for artificial chemicals will be driven by novel formulations by manufacturing businesses, innovations in flavoring components, and substantial demand for artificial flavors in numerous culinary & non-edible activities. Due to the rising desire for aspirational purchases of international beverage brands and growing preference for dietary beverages as a result of a growing population of health-conscious people, the bakery sector is expected to expand. Due to the growth of structured retail chains, shifting lifestyles, and rising demand for a variety of consumer goods like personal grooming & home products, the household products segment is predicted to expand.
Flavors And Fragrances Market Report Scope:
| | |
| --- | --- |
| Report Coverage | Details |
| Market Revenue in 2023 | USD 33.77 Billion |
| Projected Forecast Revenue in 2030 | USD 44.18 Billion |
| Growth Rate from 2022 to 2030 | CAGR of 3.91% |
| Largest Market | Asia Pacific |
| Base Year | 2022 |
| Forecast Period | 2022 To 2030 |
| Regions Covered | North America, Europe, Asia-Pacific, Latin America, and Middle East & Africa |

Regional Snapshots:
Due to the rising demand for tastes and fragrances from numerous end-use sectors, Asia Pacific currently owns the furthermore market share. In 2022, Asia Pacific held the greatest market share, and over the forecast period, it is expected to rise at the highest CAGR. This is a result of more people adopting Western eating patterns, which have increased demand for foods that are simple to prepare or consume and increased consumption of frozen foods, baked goods, cereals, and other commodities. During the projected period, APAC is predicted to be the biggest flavors & perfumes market, in terms of dollar value. The market for flavors and perfumes in this region has been spurred by the changing lifestyles and rapid economic expansion of emerging economies like China, Vietnam, India, and Indonesia. Moreover, the country's tastes and fragrances market is expanding thanks to the quickly expanding beverage, food, cosmetic, and home healthcare sectors. Due to increasing consumer demand among food and beverage makers, Europe also holds a dominant position in the international market for tastes and perfumes.
Market Dynamics:
Drivers:
Foods that have received professional processing and require little to no activities pertaining before eating are categorized as convenience foods. They include merchandise, meals that have been stored, and prepared foods. Some food products have individual flavorings added to them to enhance the flavor. Because of urbanization and the rise in the working-age population, ready-meal consumption has grown in both emerging and developed countries. Additionally, rising middle-class disposable cash and ready meals expenditures are predicted to boost demand for quick meals, which would turn boost demand for flavors.
Restraints:
The law mandates that the flavor and scent industry abide by the guidelines established by several regulatory organizations. Each country has its regulatory criteria, but they are all designed to ensure the security of the public. The usage of tastes and scents along with the precise labeling of consumer goods are both heavily emphasized in the regulations created by several governments. These stringent regulations may hinder or prohibit the launch of new items, which could increase prices and lead to product failures. As a result, expanding the market is negatively impacted by new regulations and changes to existing ones.
Opportunities:
The creation of new apps that facilitate clients' product selection as well as online food and consumer goods shopping are among the most current changes driving the flavors and scents industry. Customers favor Internet sales due to their convenience and variety. According to Eurostat, nearly 25% of the inhabitants made food and grocery purchases in 2018. As the use of smartphones and the internet rises, commercial grocery shopping has become one of the platforms used by businesses to market and sell their products. The number of companies accepting payments online is increasing globally. The growth of the flavors and perfumes market is supported by elements including increased smartphone ownership, specialized apps, and expanding payment options, which boost the broader online grocery sector.
Challenges:
The rising cost of raw materials due to climate change spurred about by global warming is a significant factor that influences the growth of flavors and perfumes economy's earnings. For instance, on Mar 17, 2022, International Flavors & Skincare Products Inc. announced that it would implement extensive pricing hikes for flavors & fragrance services. The continued and severe hyperinflation of energy, raw materials, and logistics as a result of the current political environment is the primary driver of the price increase in price. They keep looking for innovative ways to give their customers value like taste advances like intensifiers and a sizable stock of specialty components. During the projection period, these factors have a significant impact here on the industry's revenue growth.
Recent Developments:
In March 2022, Symrise submitted a legally obligatory bid to get R. Romani Society branch Aromatiques and Neroli Participate DL. The Groupe Neroli the corporate headquarters of both companies are located in Grasse, France. Through these agreements, Symrise proposes to enlarge its satisfactory fragrance brand's perceptibility crosswise south France, support its competitive ability in the development of small compositions and enhance its market share in significant European, African, as well as Middle Eastern countries.
In January 2021, Solvay developed Eugenol Synth, a fragrance ingredient with characteristics similar to cloves.
In October 2020, IFF stated that it will be building an entrance to the new Taste Training Centre in the United Arab Emirates to better satisfy the unique needs of its clients and encourage expansion within the Turkish, African, Middle Eastern, and Indian sectors. This new lab will satisfy the applications and development needs of all important areas, comprising savory, sweet, drinks, snacking, and dairy.
Beginning in 2020, a research collaboration between Givaudan & Novozymes will focus on the exploration and development of novel, eco-friendly cleaning and food products.
In 2020, DuPont's Nutritional & Bioscience and World Flavors and Fragrances Inc. merged to produce high-value services and goods for the personal grooming, food and beverage, and wellness and health industries.
Major Key Players:
ADM
Agilex Fragrances
Akay Flavors & Aromatics Pvt. Ltd.
Alpha Aromatics
BASF SE
Bell Flavors & Fragrances
Biolandes
Comax MFG Corp
doTERRA International
Elevance Renewable Sciences, Inc.
Falcon Essential Oils
Firmenich SA
Flavex Naturextrakte GmbH
Givaudan
Indo World
International Flavors & Fragrances Inc
Mane
Manohar Botanical Extracts Pvt. Ltd.
Ozone Naturals
Robertet SA
Sensient Technologies Corporation
Symrise AG
Synthite Industries Limited
T.Hasegawa USA Inc.
Takasago International Corporation
Ungerer & Company
Universal Oleoresins
Vigon International, Inc.
Young Living Essential Oils
Market Segmentation:
By Ingredients
Natural

Essential Oils

Orange Essential Oils
Corn mint Essential Oils
Eucalyptus Essential Oils
Pepper Mint Essential Oils
Lemon Essential Oils
Citronella Essential Oils
Patchouli Essential Oils
Clove Essential Oils
Ylang Ylang/Cananga Essential Oils
Lavender Essential Oils

Oleoresins

Paprika Oleoresins
Black Pepper Oleoresins
Turmeric Oleoresins
Ginger Oleoresins

Others

Aroma Chemical

Esters
Alcohol
Aldehydes
Phenol
Terpenes
Others
By End-Use
Flavors

Beverages
Baby Drink
Savory & Snacks
Dairy Products
Bakery
Confectionary
Others

Fragrances

Fine Fragrances
Soaps & Detergents
Cosmetics & Toiletries
Aromatherapy
Others
By Application
Food & Beverages
Homecare
Pharmaceuticals & Healthcare
Beauty & Personal Care
Fabric Care
Others
Buy this Research Report@ https://www.precedenceresearch.com/checkout/2314
You can place an order or ask any questions, please feel free to contact at sales@precedenceresearch.com | +1 9197 992 333