The global flow meters market revenue was evaluated at USD 10.37 billion in 2022 and is expected to attain around USD 23 billion by 2032, growing at a CAGR of 10.47% from 2023 to 2032.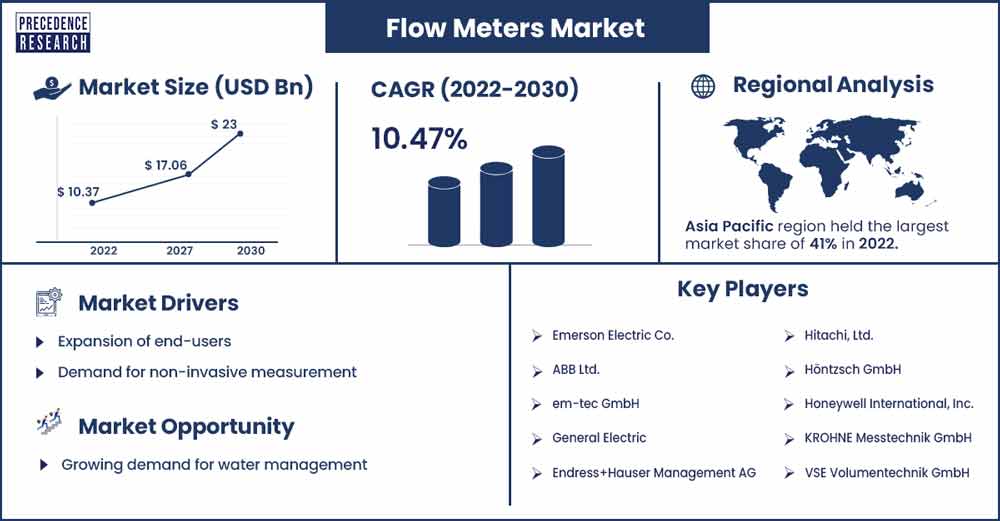 Market Overview
Numerous industries use flow meters, including water treatment, oil and gas, chemical, construction, automotive, and medical. They are used in septic systems, chemical plants, HVAC systems, and medical equipment. Flow meters measure the volume of water that passes through the system during wastewater treatment. Flow meters, sometimes called flow sensors, are electrical devices that track and regulate the velocity at which gases and liquids pass through pipes and tubes. These meters pick up on changes in liquid concentration brought on by pollution or contamination, leaks, obstruction, and ruptured pipes. Flow sensors and devices are frequently attached to gauges to provide measurements. However, they can also be connected to computers and digital interfaces. There are two types of flow meters: contact and non-contact.
Global wastewater generation is considered a major cause for the expansion of flow meters market. Expansion of textile manufacturing, oil and gas industries also play a vital role for the market's growth. These businesses utilize flow meters to treat wastewater. In addition, process automation is one of the most recent developments in the flow meter industry that has been noted as a result of mass production. Consequently, it is anticipated that the expansion of the flow meter market will be driven by an increase in industrial production worldwide.
In May 2023, to assist businesses more rapidly and incorporate flow and temperature measurement capabilities into their new product design. Flusso has developed a line of gas flow sensor electronics modules designed to be plug-and-play. The FLS122 debuted last year as the world's most miniature air velocity sensor with a footprint of 3.5mm x 3.5mm, and the FLS11X series of gas flow and different pressure sensors. Flusso offers two gas flow sensor product lines. Both sensors use a unique arrangement of four temperature-detecting components on a CMOS MEMS die.
In April 2023, Tenovi, a pioneer in remote patient monitoring systems, announced the launch of their cellular-enabled remote peak expiratory flow meter. Patients with asthma can send instantaneous readings of their forced expiratory volume and peak expiratory flow rate to physicians when paired with Tenovi's cellular gateway.
Regional Snapshot
Europe acquires the largest share of the global flow meter market. The growth of the region is driven by increasing adoption of flow meter in power generation sector. The growing demand of these meters for O&G management is also expected to contribute towards the growth of the industry. The industrial landscape of Germany includes a sizable portion of the flow meter market. Flow meters are used in Germany's established manufacturing and industrial sectors for various purposes, such as process control, monitoring, and measurement. The market for flow meters has expanded due in part to Germany's industrial output and requirement for accurate flow measurement. Ultrasonic, electromagnetic, and Coriolis meters are among the cutting-edge flow meter technologies that have historically found favor in the German market.
The industrial and manufacturing backbone of the United Kingdom makes the flow meter market a prominent industry. Its consistent rise has been the heightened demand across multiple industries, such as chemicals, oil and gas, water and wastewater, and medicines. Depending on the kind of flow meter, the market is usually split into different categories, such as electromagnetic, ultrasonic, vortex, Coriolis, positive displacement, and turbine, among others. These segments each serve various industries and uses.
In December 2022, the Yamal-Europe pipeline was initiated again to carry gas supplies to Europe. According to Moscow, as stated by Russian Deputy Prime Minister Alexander Novak to the official TASS news agency.
Europe has several key players in the flow meter market, including Siemens AG, ABB Group, Schneider Electric, Emerson Electric Co., Endress+Hauser, KROHNE Group, Mettler, Honeywell International, Yokogawa Electric Corporation, and Danfoss Group.
In April 2023, Schneider Electric unveiled Zeigo, a sustainability-focused software ecosystem to facilitate businesses' efforts to combat climate change. Zeigo strengthens Schneider Electric's growing suite of digital solutions and adds to its sustainability advice services.
In September 2023, ABB introduced the hoisting young engineer exchange program to encourage engineering graduates to pursue a career in mine hosting to overcome the growing skill gap in the mining industry. The two-year program is worldwide and involves time spent in the local engineering team of the participants. After that, there were a couple of abroad rotations in major hoisting markets for ABB, which include Canada, Australia, Poland, South Africa, Sweden, and China.
Flow Meters Market Report Scope:
| | |
| --- | --- |
| Report Coverage | Details |
| Market Revenue in 2023 | USD 11.46 Billion |
| Projected Forecast Revenue by 2032 | USD 23 Billion |
| Growth Rate from 2023 to 2032 | CAGR of 10.47% |
| Largest Market | Europe |
| Base Year | 2022 |
| Forecast Period | 2023 to 2032 |
| Regions Covered | North America, Europe, Asia-Pacific, Latin America, and Middle East & Africa |

Market Dynamics
Drivers
Expansion of end-users
Flow meters are utilized in the biopharmaceutical industry to ensure exact and hygienic procedures while manufacturing medications and vaccines. They measure and regulate the flow of liquids. Increasingly, a flow meter is being utilized in precision agriculture to optimize resource consumption by measuring and controlling the flow of fertilizer, herbicides, and irrigation water. Flow meters are used by data center cooling systems to monitor and control the flow of cooling liquids, improving equipment performance and energy efficiency.
Demand for non-invasive measurement
Non-invasive flow meters are appropriate for applications where process disturbance is undesirable because they don't need to cut into pipes or stop the fluid flow. They don't require specific sensors for each fluid type; therefore, they can be utilized for various fluids, including gases and liquids. Since no portions of non-invasive meters come into direct contact with the fluid, there is less chance of corrosion or wear, making them easier to maintain.
Restraints
Calibration and accuracy
It is necessary to calibrate the flow meter by accepted industry standards, such as ISO 17025, NIST, or particular industry standards like ANSI or API. These guidelines guarantee the traceability and dependability of the calibration procedure. The capacity of a flow meter to deliver readings that are nearly accurate to the actual fluid flow value is known as accuracy. High precision is necessary when exact measurements are crucial, like in custody transfer or process control. A way to link the calibration to an established metrology institute or standard should exist.
Technology obsolescence
Older flow meters become outdated when newer technologies and measurement methods produce more accurate and dependable data. Employing more sophisticated flow meters with features like data integration and remote monitoring might be necessary to comply with industrial standards and regulations. Newer flow meters are frequently more efficient than older ones, which might reduce their competitiveness. The cost of producing and maintaining older flow meters may increase compared to newer, more affordable models as technology develops.
Opportunities
Industrial automation
Owing to automation technology, flow meters are expected to deliver incredibly accurate measurements. The process can be strictly tolerable by continuously monitoring and adjusting flow rates using an automated flow meter system. This is important in industries where even minute changes in flow can significantly impact the effectiveness and quality of the final output. Flow meter systems can be remotely monitored and controlled thanks to industrial automation. Operators can use mobile devices or a central control center to obtain real-time data and make modifications. By doing this, operational effectiveness is increased, and the requirement for on-site staff is decreased, which can be advantageous in dangerous circumstances.
Growing demand for water management
Water consumption has increased due to urbanization and the growing global population, yet the problems associated with water scarcity are getting worse. It is necessary to guarantee the effective and sustainable administration of water resources. Flow meters are essential for tracking water use and ensuring that environmental laws are followed, which helps preserve these valuable resources. Precise flow measurements are crucial for industries like chemicals, food and beverages, and pharmaceuticals that depend on water for their operations to maximize efficiency and minimize waste. In industrial settings, flow meters track water usage and boost productivity. As the requirement for water management increases, the demand for flow meters is expected to rise in the upcoming period.
Recent Developments
In October 2022, the global leader in flow meters and systems for measuring moisture, oxygen, and hydrogen, Panametrics, a baker Hughes company, announced the introduction of Hygroproll, a groundbreaking new moisture measurement technology. The most sophisticated moisture transmitter available today, the hygroProll, offers consumers excellent performance and dependability.
In September 2023, ABB introduced the CoriolisMaster and ProcessMaster flowmeters, which do not require separate wiring because they can be powered by the same Ethernet line used to transmit data. The new function speeds up and improves the dependability of data transfer while cutting installation costs and time.
Major Key Players
Emerson Electric Co.
ABB Ltd.
em-tec GmbH
General Electric
Endress+Hauser Management AG
Hitachi, Ltd.
Höntzsch GmbH
Honeywell International, Inc.
KROHNE Messtechnik GmbH
VSE Volumentechnik GmbH
Siemens
Yokogawa Electric Corporation
Market Segmentation:
By Product
Positive Displacement (PD)
Differential Pressure (DP)
Vortex
Ultrasonic
Magnetic
Wireless
Wired
Turbine
Coriolis
Others
By Application
Oil & Gas
Water & Wastewater
Power Generation
Chemicals
Food & Beverage
Pulp & Paper
Others
Buy this Research Report@ https://www.precedenceresearch.com/checkout/1069
You can place an order or ask any questions, please feel free to contact at sales@precedenceresearch.com | +1 9197 992 333