The global food processing equipment market size was evaluated at USD 50.8 billion in 2022 and is expected to touch around USD 77.76 billion by 2032, growing at a noteworthy CAGR of 4.40% from 2023 to 2032.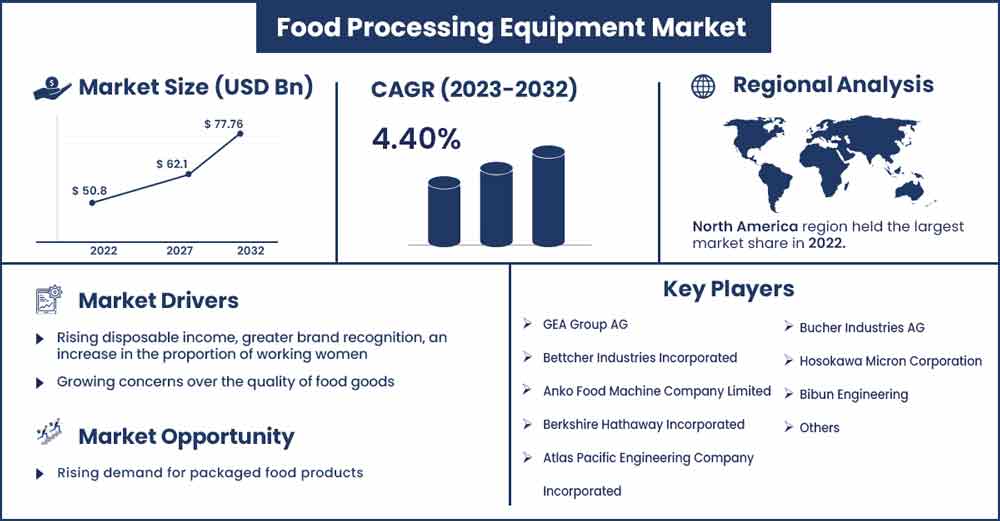 Market Overview:
The food processing equipment market refers to the industry that manufactures and supplies machinery and equipment used in the processing and production of food and beverages. This includes various types of machinery, such as mixers, blenders, slicers, ovens and packaging machines. The market plays a crucial role in enhancing efficiency, quality and safety in food processing operations for industries like dairy, meat and bakeries.
Global population expansion, urbanization, and an increase in disposable income are the main factors fueling the growth of the food processing equipment market, causing a rise in the demand for poultry and meat products. A further factor contributing to the expansion of the market for food processing equipment is the population's growing awareness of food safety and food waste, raising the appeal of food processing equipment.
Regional Snapshot:
Asia Pacific had the largest share of the market in 2022, the region is expected to sustain its position throughout the forecast period. The market for food processing equipment in the region has expanded significantly due to consumers' growing demand for nutritious and useful meals. Accordingly, increasing food safety management concerns throughout the food industry and increasing R&D expenditures in food processing technology are significant factors supporting the growth of food processing equipment throughout the forecast period. Its explosive expansion can be attributable to rising disposable income levels and the presence of several major market participants in Asian markets. The area's growth is aided by China's strong economic performance and significant expenditures in science and technology. China is anticipated to significantly change the food and beverage sector to address issues, including economic inequality and rising urbanization.
Report Highlights:
By type, in 2022, the processing equipment segment had the highest share in 2022. Due to the strong demand for processed goods and the rising popularity of packaged and nutritious foods, this category is anticipated to increase at the quickest rate over the projected period.
By mode of operation, the automatic mode of operation segment is expected to witness a significant rate during the forecast period, the technological advancements and rising rate of automation in the industry is observed to promote the segment's growth.
By application, over the projected period, the meat, poultry, and seafood application segment is anticipated to increase at the quickest rate. Demand for poultry, meat, and seafood goods has increased due to changing consumer lifestyles, rising interest in nutrient-dense foods, and growing knowledge of the health advantages of marine products.
Food Processing Equipment Market Report Scope:
| | |
| --- | --- |
| Report Coverage | Details |
| Market Revenue in 2023 | USD 52.78 Billion |
| Projected Forecast Revenue in 2032 | USD 77.76 Billion |
| Growth Rate from 2023 to 2032 | CAGR of 4.40% |
| Largest Market | Asia Pacific |
| Base Year | 2022 |
| Forecast Period | 2023 to 2032 |
| Regions Covered | North America, Europe, Asia-Pacific, Latin America, and Middle East & Africa |

Market Dynamics:
Driver:
Increased demand from developing nations
Food packaging equipment manufacturers have various potential prospects in emerging markets, including the markets or end-users in developing nations across the globe. Growth in these areas is mainly fueled by consumers' preference for convenience and ready-to-eat foods. Shifting consumer lifestyles, quickly rising disposable income, greater brand recognition, an increase in the proportion of working women, and growing concerns over the quality of food goods are some of the main variables influencing the demand for processed or packaged food items. Agriculture and Agri-Food Canada (AAFC) predicts that these developing nations will provide the food packaging sector with additional sources of income. Hence, the increased demand from the developing nations is observed to act as a driver for the market.
Restraint:
Technological complexities and strict regulations
Implementing and maintaining sophisticated food processing equipment requires specialized knowledge and skilled operators, which can be a limiting factor for some companies. Strict food safety regulations and compliance requirements can pose challenges for manufacturers in terms of equipment design, sanitation and record-keeping. Thus, such technological complexities and strict regulations create a restraint for the market.
Opportunity:
Rising demand for packaged food products
Global use of processed foods has significantly expanded in recent decades. The expanding global population is a significant contributor to this rise. Consequently, consumers in urban settings can access a considerably greater variety of food options than those in rural settings. This urbanization trend substantially contributes to growing living standards and earnings, which substantially impact the affordability of packaged food items. As a result, food processors are always looking for and experimenting with novel preservation and processing technologies with innovative machinery, driving the widespread use of food-processing machinery globally. Thus, the rising demand for packaged food products creates a significant opportunity for the market.
Challenge:
Lack of qualified workforce
The lack of a qualified workforce is a major challenge for the food processing equipment market because operating and maintaining these sophisticated machines require specialized skills and knowledge. With a shortage of trained personnel, companies may face difficulties in optimizing equipment performance, ensuring efficient production, and minimizing downtime. Moreover, it could hinder the adoption of advanced technologies, slowing down innovation and growth in the food processing industry. Addressing this issue through training programs and workforce development initiatives becomes crucial to overcome this challenge and maximize the potential of the food processing equipment market.
Recent Developments:
In July 2023, a new campaign launched by the equipment company GEA UK is intended to promote customers' efforts to improve their gear to boost production, save waste, and save energy. The scheme will allow businesses involved in food processing equipment to upgrade various GEA machines. Since GEA's equipment, like the crumbmaster, is recognized for its durability and extended lifespan, the worldwide technology expert also aims its marketing at users of rival machines unsatisfied with dependability or productivity concerns.
In February 2023, Rebellyous Foods, a Seattle-based manufacturer of food technology, secured $9.5 million in additional funding, which the business intends to utilize to set up its most recent plant-based meat manufacturing machinery. Christie Lagally, a former Boeing engineer, founded Rebellious in 2017, which produces a range of plant-based imitation chicken items like nuggets, burgers, and tenders.
Major Key Players:
GEA Group AG
Bettcher Industries Incorporated
Anko Food Machine Company Limited
Berkshire Hathaway Incorporated
Atlas Pacific Engineering Company Incorporated
Bucher Industries AG
Hosokawa Micron Corporation
Bibun Engineering
Others
Market Segmentation:
By Type
Processing
Pre-processing
By Mode of Operation
By Application
Bakery & Confectionery
Meat, Poultry & Seafood
Dairy
Beverages
Others
Buy this Research Report@ https://www.precedenceresearch.com/checkout/1038
You can place an order or ask any questions, please feel free to contact at sales@precedenceresearch.com | +1 9197 992 333