The global hand sanitizer market size was valued at USD 1.61 billion in 2022 and it is expected to hit around USD 3.45 billion by 2032, poised to grow at a CAGR of 8% from 2023 to 2032.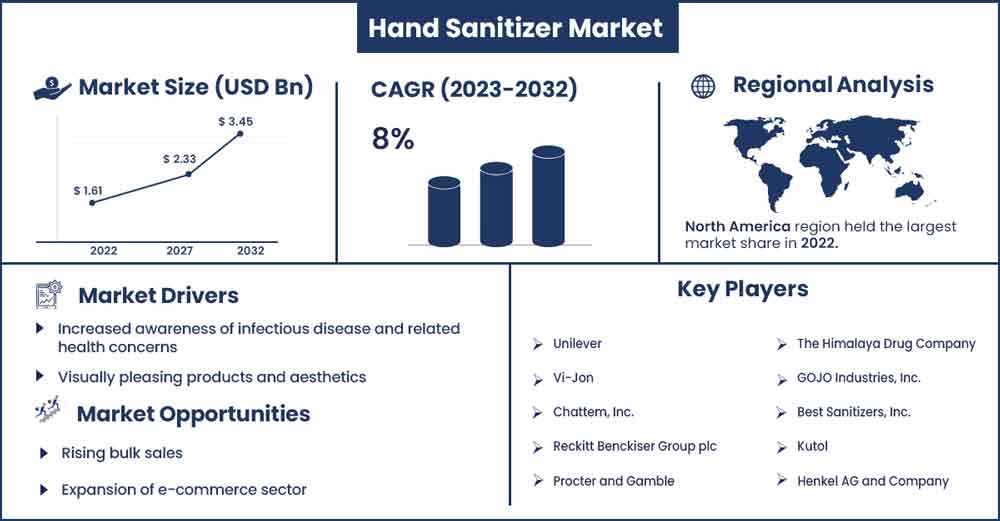 Market Overview
Hand sanitizer is an umbrella term that encompasses consumer goods marketed for the prevention of transmission of infectious microorganisms and with applications generally limited to one's body. Hand sanitizers can completely replace cleaning products like soap due to their nature of rapid evaporation and disinfection. Besides the famous gel formulation, hand sanitizers are available in many other forms; these include foam, wipes, liquid, spray, etc. Hand sanitizers have been a part of the healthcare sector since 1966. It was invented by a nursing student, Lupe Hernandez, as a gel-based formulation to deliver disinfecting alcohol.
Despite being launched in the everyday consumer market three decades after its discovery in 1996, the hand sanitizer industry actually gained momentum during the COVID-19 pandemic. The 2019 pandemic was a global-scale event that challenged the very survival of humans. It was during this period of medical crisis and severe resource shortage that preventive measures were promoted.
The inconspicuous hand sanitizer came into the limelight and stayed there despite the passing of the critical stage of the panic. According to the October 2023 update of the World Health Organization (WHO), Coronavirus had reportedly consumed 6,960,783 lives around the globe. With 771,151,224 confirmed cases worldwide, the virus is still a significant threat. International regulatory agencies still recommend using strategies like disinfectants and sanitizers to prevent a repetition of the 2019 scenario.
Hand Sanitizer Market Report Scope:
| | |
| --- | --- |
| Report Coverage | Details |
| Market Revenue in 2023 | USD 1.73 Billion |
| Projected Forecast Revenue by 2032 | USD 3.45 Billion |
| Growth Rate from 2023 to 2032 | CAGR of 8% |
| Largest Market | North America |
| Base Year | 2022 |
| Forecast Period | 2023 to 2032 |
| Regions Covered | North America, Europe, Asia-Pacific, Latin America, and Middle East & Africa |

Regional Snapshot
Due to a general awareness of the growing number of infectious diseases, the North American region hosts the largest market in terms of revenues and shares. This was closely followed by Europe. The hand sanitizer market first took off during the initial phase of the pandemic. In order to meet the increasing demand for products, the market witnessed a massive surge of production by existing and newly established businesses. This production frenzy, however, created a strain on the already stretched resources. The resultant raw material shortage, in turn, inspired a wave of novel formulations boasting the use of alternative compounds that were abundant in nature. Amongst all the countries in the North American subcontinent, the United States generated the highest revenue.
Like any country during the pandemic, the US faced immense pressure. Handling a nationwide hysteria with a situation-worn medical network, the country strived until the end. Several establishments came together to support the nation. During the pandemic, vi-Jon, a Missouri-based company, gained recognition in the healthcare sector. Primarily established as a beauty and cosmetic company, it slowly entered the personal hygiene industry. Germ-X Hand Sanitizer, launched during the Covid chaos, claimed to kill 99.99% of germs in just 15 seconds of application.
According to the WHO, on October 4, 2023, the United States reported a total of 103,436,829 confirmed cases and 1,127,152 deaths. With thousands of new cases diagnosed in the month of January of 2023 alone, the country has yet to recover from the grasp of the disease. Driving the industry during its post-Covid era, other American companies of significance involve the Tennessee-based Chattem, Inc., Procter & Gamble Company, Kutol, and GOJO Industries, Inc. headquartered in Ohio, Best Sanitizers, Inc. Of Kentucky, etc. These US-based key players are responsible for solely maintaining the hand sanitizer market in their country.
Aside from the high infectivity of the virus and general fear, several other factors were involved in the post-pandemic growth of the market. These included varying portion sizes, add-on features, aesthetic compatibility, etc. Single-use portion products have become popular within the catering and hospitality industries. Miniature sanitizer pouches first started to be included with package meal portions and short-term rentals in accordance with COVID-19 guidelines. As time passed, this practice was adopted by other sectors like travel, cosmetics, and childcare.
On the other hand, sanitizer by the gallon became an integral part of every medium to large infrastructure. PURELL hand sanitizer, America's leading hand sanitizer produced by GOJO Industries, Inc., catered to these larger demands. Bulk qualities at a subsidized rate were supplied to clinics, hospitals, and companies nationwide for internal use. This gave rise to a niche industry of hand sanitizer dispensers. These steady dispensers were built to hold massive sanitizer volumes and smooth uniform portions of dispensation. These units, which were placed in areas of high traffic, were later updated with features like sensor-based dispensation.
Market Dynamics
Drivers
Increased awareness of infectious disease and related health concerns
There has been an increased awareness of infectious diseases, especially after the COVID-19 pandemic. Unwilling to be caught unprepared in case of a similar event, researchers worldwide have tripled their efforts with regard to the study of contagious pathogenic organisms. The emergence of hospital-acquired conditions has further added to the existing fear. The hand sanitizer market has greatly benefited from the mentality that prevention is better than cure.
Visually pleasing products and aesthetics
Another critical driver of the hand sanitizer industry is the visual appeal. The diverse product forms and aesthetic presentation accessories play a vital role for the younger population of the consumer base. Sanitizers are packaged in new and exciting containers or sold as accessories like keychains, fridge magnets, or decorative pieces. These variations are often popular with young adults. Businesses also add fragrances, texturizing particles, and pigments for a competitive advantage.
Restraints
Unapproved products and falsified claims
The pandemic saw an increase in the number of commercially available sanitizing products. Companies successively release their versions of hand sanitizers. With formulation boasting natural alternatives to additive promising lasting effects with better efficacies, the businesses continuously strived to dominate the market. In order to gain a conventional advantage, companies started advertising fabricated results that were alluding to regulatory approvals. Some agencies even sold products that didn't follow the CDC specifications for sanitizing hand rubs. The discovery of these malpractices by CDC and WHO led to warnings and successive bans on several products worldwide. These bans were a massive blow to the hand sanitizer market.
Alcohol and other components induce skin allergies
Hand sanitizers are topical formulations and, hence, have much more relaxed regulations. Their overuse can often lead to irritation. High concentrations of alcohol or the presence of specific allergens as ingredients can cause local sensitivity or rashes. Flaky, cracked, or damaged skin due to the sanitizer may increase the chances of bacterial buildup. Cases of other health problems arising from hand sanitizer components have also negatively impacted the industry. For example, using triclosan as an ingredient in hand sanitizers has been associated with irregular hormone cycles and deteriorating fertility.
Opportunities
Rising bulk sales
Securing long-term contracts with industries can provide a stable and consistent source of revenue, reducing the uncertainty associated with consumer-oriented sales. Bulk sales often come with cost advantages due to economies of scale. This can lead to better profit margins for manufacturers and distributors. Compliance with health and safety regulations is crucial for many industries. Being a reliable supplier of hand sanitizers that meet these standards can be a strong selling point. Positive experiences in supplying hand sanitizers to industries can lead to recommendations and referrals, further expanding the market presence.
Expansion of e-commerce sector
The e-commerce sector, globally is expanding at a robust pace. The expansion of the same is observed to open a set of lucrative opportunities for the hand sanitizer market. Sales of hand sanitizers via online platforms often leverage the position of manufacturers and key players involved in the businesses by offering them an opportunity to expand their businesses regards any limitation. The COVID-19 pandemic has offered multiple growth opportunities for key players to leverage businesses by offering products online.
Recent Developments
On May 26, 2022, the National Research Council of Canada (NRC) declared its solutions to meet the demands created by the pandemic and preparations for future needs. The plans involved considerations for sanitization and shortage of raw materials like alcohol used in sanitizer preparation.
In December 2022, a lot of non-alcohol-based hand sanitizers were listed on the website of Hand Hygiene and Associated Products and Services Tenders. One of the products listed, Spectricept Care+ Hands, was launched in the market in May 2023. SpectrumX, a healthcare and pharmaceutical company based in the UK, developed this lot, which the NHS later acquired.
In May 2022, GOJO Industries Inc. Decided to expand its hygiene selection by launching its PURELL® Healthcare Surface Disinfecting Wipes. These wipes claimed to eliminate 99.9% of bacteria and viruses from the surface of your skin.
In May 2022, Best Sanitizers Inc. in collaboration with Saraya Co. Ltd., showed their support for hygiene awareness on World Hand Hygiene Day. They took various initiatives to spread awareness about the necessity of hand hygiene. This event, organized by WHO, educated the population about the benefits of hand sanitizer in reducing the transmission of diseases in healthcare settings.
Major Key Players
Unilever
Vi-Jon
Chattem, Inc.
Reckitt Benckiser Group plc
Procter and Gamble
The Himalaya Drug Company
GOJO Industries, Inc.
Best Sanitizers, Inc.
Kutol
Henkel AG and Company
Market Segmentation:
By Product Type
By Distribution Channel
Drug Store
Online
Hypermarket & Supermarket
Specialty Store
Buy this Research Report@ https://www.precedenceresearch.com/checkout/1025
You can place an order or ask any questions, please feel free to contact at sales@precedenceresearch.com | +1 9197 992 333