The global haptic technology market size surpassed USD 10.22 billion in 2022 and is projected to rise to USD 23.8 billion by 2030, anticipated to grow at a strong CAGR of 11.14 percent during the projection period from 2022 to 2030.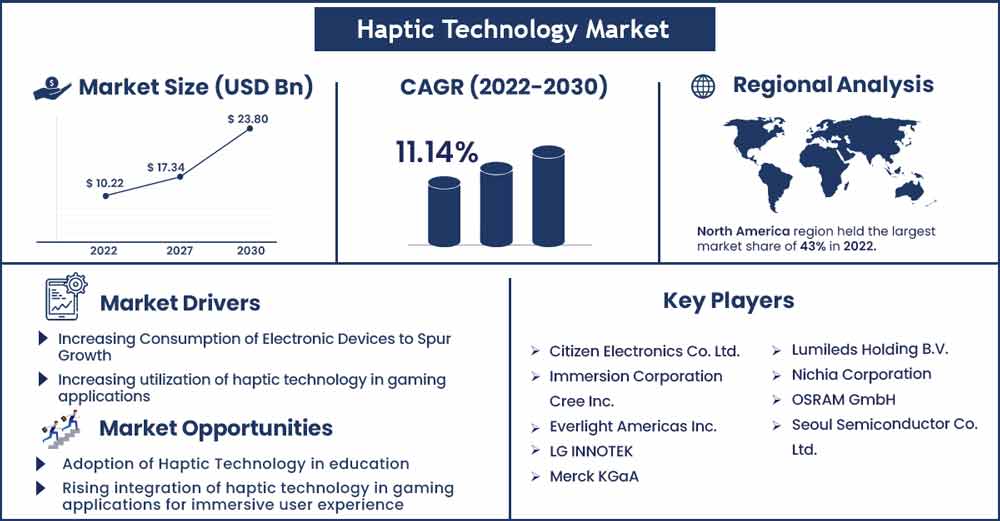 Any device that can simulate the sensation of touch by exerting pressures, vibrations, or movements on the user is referred to as haptic technology, also known as kinaesthetic communication or 3D touch. These technologies enable the creation of virtual objects in computer simulations, their control, and improved remote operation of machinery and gadgets (telerobotics). Tactile sensors that measure the user's forces on the interface may be included in haptic devices. Information can be transmitted and understood through touch using the haptic method. With the user's touch, movements, or vibrations, it can produce an experience.
This technique can be used to create virtual objects, improve control devices, and many other things in electronics. Wearables, virtual reality, the automobile industry, phones, game controllers, and many more products employ haptic technology extensively. By providing users with engaging audio, touch, and sight, haptic technology offers an enhanced multi-modal experience. Haptic technology identified the mistake or risk. The market for haptic technology is expanding more quickly thanks to a wide range of applications.
The demand for smartphones, laptops, and tablets has increased as a result of the growing number of loT devices throughout the globe. And it had a very favourable effect on the market size for haptic technology. In addition, the car industry greatly benefits from haptic technology, and demand for highly sophisticated vehicles has grown over time. These cars are equipped with high-quality safety measures, cutting-edge technology, and haptic technology. The market is displaying an increase in the Haptic Technology Market Trend as a result of the automobile sector's increasing demand. As more institutions and research centres update their haptic offerings and take into consideration these positive impacts, the demand for haptic technology will rise in the future years.
Report Highlights:
During the projected period, the haptic technology market for software is anticipated to expand at a faster CAGR. The component of the haptic stack that controls the haptic experience in real-time is called haptic software.
During the forecast period, the haptic technology market for automotive and transportation applications is anticipated to develop at the greatest CAGR. This is explained by the ongoing need for high-performance electronic systems in high-end cars and hybrid electric cars.
From 2021 to 2026, the haptic technology market in APAC is expected to dominate the sector. One of the key drivers fueling market development is a rise in disposable income, which has increased the adoption of consumer electronics.
As the most widespread use, consumer electronics dominated the market for haptic technology. However, the education & research sector is anticipated to offer the biggest development opportunity in this market because to the prospective need for haptic technology in these fields.
The tactile segment will rule the market during the forecast period based on feedback type. In recent years, tactile feedback has the potential to be used on smartphones and tablets.
Haptic Technology Market Report Scope:
| | |
| --- | --- |
| Report Coverage | Details |
| Market Revenue in 2023 | USD 11.36 Billion |
| Projected Forecast Revenue in 2030 | USD 23.8 Billion |
| Growth Rate from 2022 to 2030 | CAGR of 11.14% |
| Largest Market | North America |
| Base Year | 2022 |
| Forecast Period | 2022 To 2030 |
| Regions Covered | North America, Europe, Asia-Pacific, Latin America, and Middle East & Africa |

Regional Snapshots:
Due to the significant need for OLED display screens from smartphone makers and OEMs, APAC now holds the largest share in the OLED market. Additionally, the bulk of display manufacturers as well as a number of prominent original brand manufacturers have their corporate headquarters in APAC. Due to China's low cost of logistics operations connected to the delivery of finished goods, many OLED display-related businesses, including R&D, production, and assembly, are shifting to the nation. China is becoming into a crucial hub for the production of consumer goods as Chinese companies increase their market share from across board.
Market Dynamics:
Drivers:
One of the key factors propelling the market is the growing integration of haptics into consumer electronics. One of the key elements driving the rise in demand for haptic technology is the rising usage of consumer electronics devices like smartphones, tablets, and other wearable technologies. Haptics are almost universally included in smartphones and tablets, and the trend is moving toward their incorporation into smartwatches and wristbands. With speedier controls, longer battery life, and user-friendly interactions, haptic feedback finds utility in wearable device technologies, such as smartwatches, bracelets, and fitness trackers. These wearables' haptics enables informational communication and authentic experiences.
Restraints:
The market for haptic technology is experiencing growth restraints due to the high cost of force feedback technology. In smartphones and tablets, haptics has been widely accepted and has reached a saturation point. A lot of businesses are considering the integration of haptic technology and weighing the cost and risk of doing so. Force feedback haptic devices are more expensive than tactile feedback haptic devices, despite the fact that tactile feedback haptics are less expensive to integrate into smartphones and tablets. Force feedback haptic technology necessitates effective 3 degrees of freedom (DoF), 6 degrees of freedom (DoF), and 7 degrees of freedom (DoF) devices that enable users to experience real-time virtual haptics in a variety of applications. Haptic devices with force feedback are employed in numerous ergonomic studies as well as simulation applications in the manufacturing, automotive, aerospace, and medical fields. When it comes to wearable haptic device technology, the bulkiness of these haptic devices becomes a significant problem.
Opportunities:
Previously restricted to smartphones, tablets, and other consumer electronics, haptic technology is increasingly being used in new fields including robotics and education. Robot operators move a robotic hand or other end effectors with fine control by using haptic devices like gloves in robotics. Robot operators may accurately control the robot arms while sitting kilometres away from the production floor by donning haptic gloves. One of the top manufacturers of haptic gloves for robotic applications is HaptX (US).
Challenges:
The main obstacle in the haptic technology industry is the technological difficulty that manufacturers must overcome to include haptic capability in a variety of products, including smartphones, tablets, surgical tools, car dashboards, and gaming consoles. Any gadget that uses haptic feedback may be made more user-friendly and directional. However, it is important to think about which components would work best in a given system before implementing haptic feedback into a product. The actuator design and related driving characteristics are the main factors taken into account under system limits to provide the best feedback performance. The producers have to look at how well the controller function may be included into the overall product design.
Recent Developments:
Ultraleap signed a deal with IPlan Ideas Events and its subsidiary, IPlan Ideas Technology (IPI Tech), a subsidiary of the Hawas Group, to make its hand tracking and mid-air haptic technologies available to customers in the UAE.
In September 2020, Immersion and LG Electronics (South Korea) signed to a multi-year licence extension for the use of TouchSense technology and haptic technology in mobile devices. IPI Tech will bring the technology to a number of sectors, including theatres, kiosk manufacturers, retail, advertising, and marketing. It's expected that Immersion haptic software will continue to be used across the board by LG devices.
Microchip Technology declared the inauguration of a new R&D facility in Chennai, India, in July 2019. Around 1,200 people are employed by the new R&D centre, which aims to stimulate the growth of the regional ecosystem for integrated circuit design and specialist embedded systems development.
Major Key Players:
Citizen Electronics Co. Ltd.
Immersion Corporation
Cree Inc.
Everlight Americas Inc.
LG INNOTEK
Merck KGaA
Lumileds Holding B.V.
Nichia Corporation
OSRAM GmbH
Seoul Semiconductor Co. Ltd.
Stanley Electric Co.
Toyoda Gosei Co. Ltd.
Market Segmentation:
By Component
Solution

Actuators
Drivers and Controllers
Others

Software
By Application
Consumer Electronics
Gaming
Healthcare
Robotics
Education
Research
Others
By Feedback Type
Buy this Research Report@ https://www.precedenceresearch.com/checkout/2116
You can place an order or ask any questions, please feel free to contact at sales@precedenceresearch.com | +1 9197 992 333