The global human growth hormone market size was exhibited at USD 4.86 billion in 2022 and is projected to attain around USD 10.67 billion by 2032, poised to grow at a strong CAGR of 8.18 percent during the projection period from 2023 to 2032.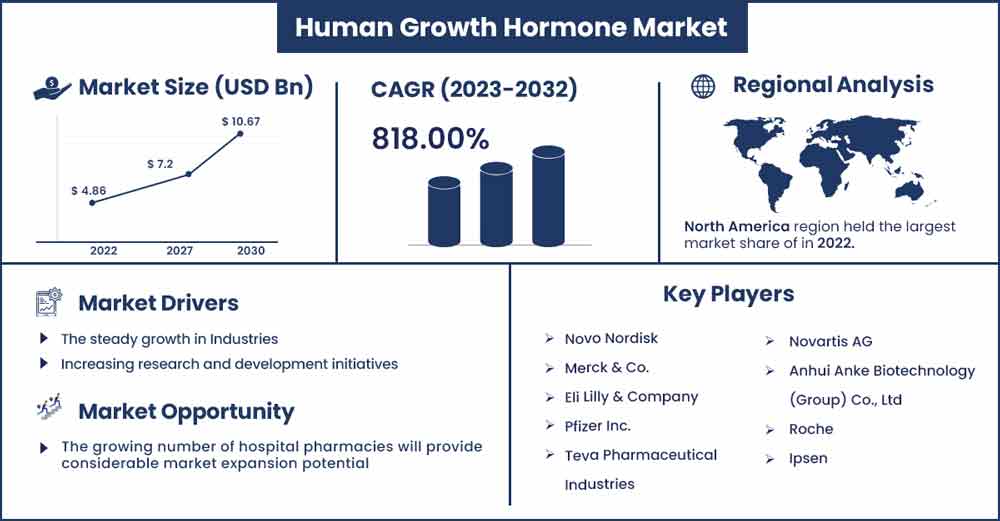 Market Overview:
Growth hormones support early development and aid in maintaining organs and tissues throughout life. The pituitary gland. This natural slowing has raised interest in using synthetic human growth hormone (HGH) to prevent some aging-related changes, such as a decline in bone and muscle mass. Synthetic growth hormone may be used to treat some cases of GHD when a pediatric endocrinologist is in charge. Human growth hormones support growth, regeneration, and reproduction. Growth of the global human growth hormone market is accelerated by increased usage of growth hormone and growth hormone understanding, which aid in treating problems caused by hormonal imbalance. Moreover, many companies are funding research and development to create a long-lasting growth hormone that has fewer adverse effects.
Regional Snapshot:
North America dominated the human growth hormone market in 2022, the region is expected to grow at a significant rate during the forecast period while sustaining its position. This is due to a rise in public knowledge about the deficiency, growth hormone therapies, and the benefits of early detection. The presence of prominent companies in the region, favorable reimbursement conditions, considerable government initiatives, expanding healthcare awareness, established healthcare infrastructure, and increased access to innovative pharmaceuticals are other factors that have contributed to the region's market expansion.
Asia Pacific is expected to witness the fastest rate of growth during the forecast period. Development of the regional market would be driven by increasing awareness of growth hormone treatment in the Asia Pacific. Additionally, the market expansion has been fueled by government programs for better illness management.
Report Highlights:
By application, due to more awareness and cutting-edge treatments, the growth hormone deficiency segment held the greatest market share in 2022, and this trend is expected to continue during the forecast period. TransCon hGH from Ascendis Pharma A/S received Orphan Designation for its long-acting GH treatment for kids. The segment's growth is supported by substantial investments in treatments and therapies for growth hormone deficiency in children. Due to governmental and private initiatives to increase knowledge about early detection and treatment, Turner's syndrome holds the second-highest market share.
By distribution channel, the hospital, retail, online, and specialty pharmacies make up the human growth hormone market. Due to rising hospital visits and public awareness of GH deficiency, the hospital pharmacies segment holds a significant share of the market. Whereas owing to the rising demand for convenient delivery options, online pharmacies are anticipated to expand significantly.
Human Growth Hormone Market Report Scope:
| | |
| --- | --- |
| Report Coverage | Details |
| Market Revenue in 2023 | USD 5.26 Billion |
| Projected Forecast Revenue in 2032 | USD 10.67 Billion |
| Growth Rate from 2023 to 2032 | CAGR of 8.18% |
| Largest Market | North America |
| Base Year | 2022 |
| Forecast Period | 2023 To 2032 |
| Regions Covered | North America, Europe, Asia-Pacific, Latin America, and Middle East & Africa |

Market Dynamics:
Driver:
Growing growth hormone deficit
A disorder called growth hormone deficit (GHD), commonly called pituitary dwarfism or dwarfism is brought on by the body's inability to produce enough growth hormone. Children with GHD have normal body proportions and extremely small heights. GHD may be congenitally present at birth or appear later in life (acquired). Insufficient growth hormone production by the pituitary gland causes the disease. As awareness about GHD improves, more individuals with the condition are being diagnosed. GHD can affect children and adults, and it is characterized by insufficient production or secretion of growth hormone by the pituitary gland. As more people are identified with GHD, there is a growing demand for HGH as a treatment option. The growing prevalence of GHD and the increasing recognition of its impact on individuals' health and well-being play a significant role in driving the growth of the HGH market.
Restraint:
High cost of therapy
One of the factors preventing the human growth hormone industry from expanding is the high cost of therapy. Once a patient's condition, dose, and course of treatment are established, the anticipated expenses of HGH therapy may be assessed. The high cost of HGH therapy can place a significant financial burden on healthcare systems, including government-funded healthcare programs and private insurance providers. The cost of HGH therapy may lead to difficult decisions regarding coverage and reimbursement, which can further limit patient access to treatment. As a result, many individuals in developing and price-sensitive areas need help to afford the high price of these therapies, which restrains the growth of the market for human growth hormones.
Opportunity:
Technological advancements in the drug delivery system
The pharmaceutical and healthcare sectors are rapidly growing due to technical developments, rising healthcare spending and improved healthcare infrastructure and procedures are significant factors for the same. Around the world, several clinics, ambulatory surgical centers, and hospitals are implementing cutting-edge technology. Technological advancements in drug delivery systems can enhance the convenience and effectiveness of HGH therapy. Novel delivery systems, such as micro-needle patches, smart devices, and sustained-release formulations, offer improved patient compliance and minimize the need for frequent injections. These advancements can enhance patient experience and increase the acceptance of HGH therapy. Growth in the frequency of chronic diseases, quick progress in the healthcare and medical fields, widespread use of the newest equipment and methods, and rising funding from various public and commercial sectors contribute to the worldwide market for growth hormone drugs revenue growth. Therefore, technological improvements in the market are observed to open opportunities for the market's development.
Challenge:
Government bans due to HGH doping
Adults with low GH benefit from replacement therapy by developing bigger muscles, having more energy, and being better able to exercise. Athletes put forth a lot of effort to bulk up and improve their performance. GH abuse has tarnished several sports, including baseball, cycling, and track and field, despite being prohibited by the International Olympic Committee, the National Football League, Major League Baseball, and the World Anti-Doping Agency. Competitive athletes that misuse GH run the danger of being disqualified and discredited.
Scientists have been unable to assess GH on the pitch since it is illegal to use it, and the performance of athletes relies on numerous psychological, physical, and competitive elements. A government ban on HGH can result in restricted availability of the hormone in the market. This can make it difficult for patients who require HGH for legitimate medical purposes, such as individuals with growth hormone deficiencies or certain medical conditions that benefit from HGH therapy.
Recent Developments:
In June 2023, Domestic Supply, an industry leader in the international health and fitness sector, is pleased to release its much-anticipated Human Growth Hormone dietary supplement for purchase. This ground-breaking innovation heralds a substantial advance in performance improvement and general well-being, offering an enhanced quality lifestyle for those who care about their health worldwide.
In April 2023, The Food and Drug Administration (FDA) authorized Sogroya (somapacitan-beco) to treat pediatric patients with growth failure caused by insufficient endogenous growth hormone (GH) production in children who are 2.5 years of age and older. Previously, only adult patients having GH deficiency had access to the human growth hormone analog. Once each week, Sogroya is given by subcutaneous injection. Somapacitan's elimination is delayed by reversible binding to endogenous albumin, extending the medication's half-life and duration of activity.
Major Key Players:
Novo Nordisk
Merck & Co.
Eli Lilly & Company
Pfizer Inc.
Teva Pharmaceutical Industries
Novartis AG
Anhui Anke Biotechnology (Group) Co., Ltd
Roche
Ipsen
Market Segmentation:
By Application
Growth Hormone Deficiency
Prader-Willi Syndrome
Turner Syndrome
Small For Gestational Age
Others
By Distribution Channel
Hospital Pharmacy
Retail Pharmacy
Online Pharmacy
Buy this Research Report@ https://www.precedenceresearch.com/checkout/2601
You can place an order or ask any questions, please feel free to contact at sales@precedenceresearch.com | +1 9197 992 333