The global humanoid robot market size is anticipated to reach around USD 28.66 billion by 2032 up from USD 1.62 billion in 2022 with a CAGR of 33.28% Between 2023 and 2032.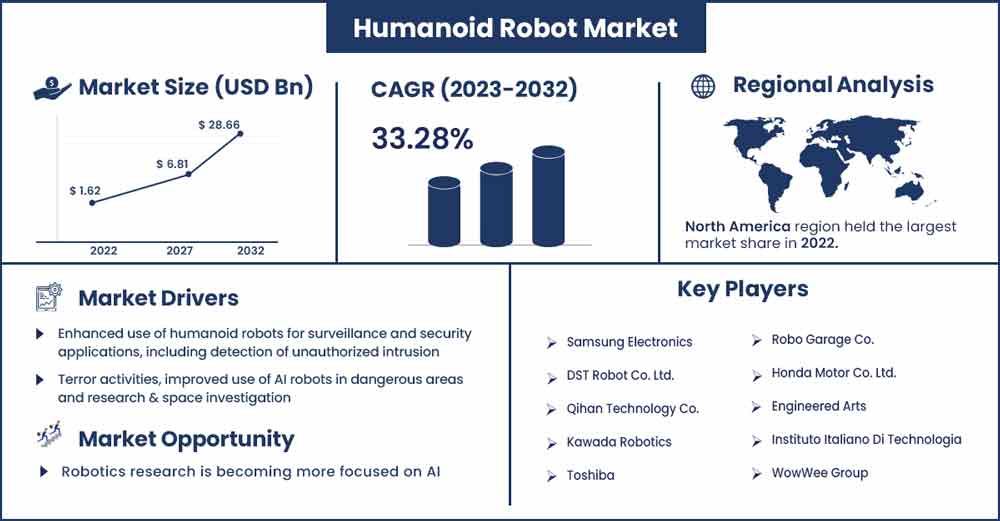 Humanoid robots are used in retail or commercial settings to demonstrate components, assist customers, and effectively collect customer data such as zip codes, phone numbers, email addresses, and service feedback. Government R&D expenditures and the implementation of humanoid robots to teach in educational organizations will grow the market.
A transition to effective infrastructure opens novel opportunities for the humanoid robot sector. Furthermore, the market is projected to grow due to the emerging requirement for humanoid robots in everyday life for personal assistance. For instance, Mitsubishi developed the Wakamaru robot. The Wakamaru is intended to provide companionship for older people who live alone or have mobility issues. The Wakamaru has been renamed an "ultra-compact helper robot" due to its small size and friendly face.
Humanoid Robot Market Report Scope:
| | |
| --- | --- |
| Report Coverage | Details |
| Market Revenue in 2023 | USD 2.16 Billion |
| Projected Forecast Revenue in 2032 | USD 28.66 Billion |
| Growth Rate from 2023 to 2032 | CAGR of 33.28% |
| Largest Market | North America |
| Base Year | 2022 |
| Forecast Period | 2023 to 2032 |
| Regions Covered | North America, Europe, Asia-Pacific, Latin America, and Middle East & Africa |

Market Dynamics:
Drivers:
Most developed countries are placing a greater emphasis on healthcare due to the growing geriatric population.
Robotic technologies, machine learning, AI, and speech recognition have been developed to achieve autonomous actions across humanoid robots in the healthcare industry. They assist in the supply of food and medicines from one location to another in hospitals and can move quickly across hospital corridors, departments, and elevators. For instance, in February 2016, Sophia was manufactured by Hanson Robotics in Hong Kong. Sophia imitates human facial expressions & and gestures, answers questions & holds simple conversations on predetermined topics. In 2017, she was given Saudi Arabian citizenship and worked on women's rights.
Restraint:
High investment costs in the sector of research and development
Educational robots, Robotic toys, and programmable industries made with mass-market elements operate simple tasks and are inexpensively presented in the market. Nonetheless, in the situation of humanoid robots, as the degree of difficulty of jobs increases, the cost of R&D. The high expense of humanoid robots is a significant impediment to market expansion. The total price of humanoid robots includes the repair, component, R&D costs, and maintenance costs associated with developing professional and advanced humanoid robots. This is a considerable investment for small-sized as well as medium-sized corporations.
Segments Insight:
Motion-type landscape in the global humanoid robot industry
In 2022, the wheel-drive sector contributed the most to the humanoid robot market. Wheel-drive robots have been designed and are trained to navigate their surroundings. The demand for the robot of wheel-type in defense and military surveillance applications is anticipated to enhance market growth. Wheel-drive robots are utilized as entertainment robots in theme parks, amusement parks, and science events.
During the projected period, the wheel drive segment has the largest market share in by 2032. Bipedal robots are gaining popularity due to their widespread use in construction, manufacturing, and other industries.
Application Insights:
The personal assistance & caregiving segment is expected to dominate the market with a market share. Humanoids care for the elderly and patients and assist them in their daily activities, such as delivering medicine. These humanoids are also programmed to perform routine tasks generally performed by caregivers.
On the other hand, the research & space exploration segment is expected to grow the fastest. Robots aid in space exploration by mechanically designing planetary rovers, space manipulators, sensors and actuators of space robots, end-effectors/tools of space robots, reconfigurable robots, and robot mobility. Sending a robot to space is less expensive than sending a human. Robots do not need to eat, sleep, or use the restroom, and they can survive in space for many years without assistance.
Furthermore, robots can perform many tasks that humans cannot. For instance, a humanoid robot was used for the Gaganyaan mission by ISRO (Indian Space Research Organization). The association worked on a space program to launch humanoids into space by 2022. Moreover, ISRO launched a humanoid robot known as Vyom Mitra instead of sending humans into space in January 2020. VyomMitra is a female humanoid robot that traveled to space as there were no females on the Gaganyaan mission when it was launched in 2022.
Component Insights:
The software segment had the highest revenue share in 2022. As technology advances, the complexity of features such as AI & autonomous operations grows; consequently, the value of the software component increases.
The hardware segment is expected to grow at the fastest pace holding the market share as these components give robots a human-like appearance. The traditional approach of highly rigid robots gradually shifts to compliant and dynamic ones for safer human interaction, propelling segmental growth.
Regional Insights:
North America accounted for the largest revenue share in 2022, owing to the rapid adoption of humanoid robots. There is a rise in demand for these robots in healthcare and the educational sector for caregiving and teaching. Increasing investment by the government and key players for expanding the application areas will also drive the market's revenue over the next few years.
Over the anticipated period, the European market is predicted to expand steadily. European countries are more developed in healthcare and technology, creating significant opportunities for providers offering cutting-edge solutions. Robots can help with learning by making it more fun and interactive for children. Furthermore, the use of automated machinery to reduce manufacturing time and cost is directly influenced by rising consumer demand for electronics and automobiles, which is expected to drive demand for humanoid robots in the region. For instance, TALOS was launched by PAL Robotics in 2020. The torque sensor feedback in all joints allows the moving biped humanoid robot TALOS to be completely torque-controllable, enabling robust sensing and multi-contact motions.
Recent Development:
In January 2023, Tesla developed AI-powered humanoid robots. Google plans to connect a robot body to its AI brain. Due to robotics, droids are rapidly becoming more human-like.
In January 2023, Halodi Robotics generated humanoid robots using the Ansys simulation software.
Key Market Players:
Samsung Electronics
DST Robot Co. Ltd.
Qihan Technology Co.
Kawada Robotics
Toshiba
Robo Garage Co.
Honda Motor Co. Ltd.
Engineered Arts
Instituto Italiano Di Technologia
WowWee Group
Toyota Motor Corporation
ROBOTICS
Ubtech Robotics
Pal Robotics
SoftBank Corporation
Hanson Robotics
Segments Covered in the Report
By Motion Type
By Component
By Application
Research & Space Exploration
Education
Entertainment
Security and Surveillance
Personal Assistance and Caregiving
Others
Buy this Research Report@ https://www.precedenceresearch.com/checkout/2556
You can place an order or ask any questions, please feel free to contact at sales@precedenceresearch.com | +1 9197 992 333