The global hyperloop train market size surpassed USD 1.35 billion in 2022 and it is projected to attain around USD 39.19 billion by 2032, poised to grow at a CAGR of 40.1% from 2023 to 2032.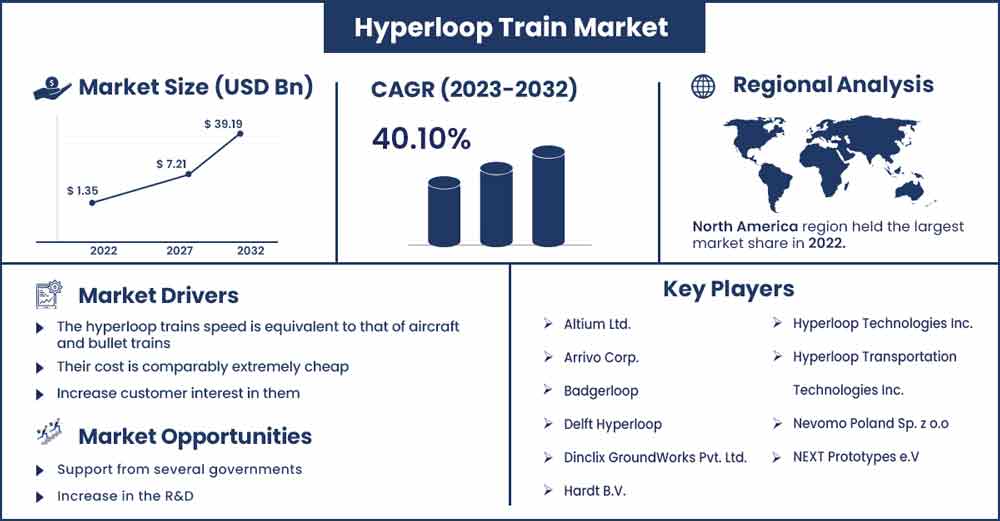 The term "hyperloop" refers to a sealed tube or network of tubes and is seen as the fifth mode of transportation. These tubes hold up a pod that moves without friction or air resistance and transports persons or items at the fastest possible acceleration.
A Hyperloop train has a theoretical top speed of 760 mph. A century ago, the idea of evacuated tubes as a form of transportation or as atmospheric trains was developed, but it was not regarded to be financially successful. Elon Musk, a well-known engineer and inventor, reintroduced the Vactrain to the world in late 2012. He conceptualized the Hyperloop, a highly anticipated system for super high-speed train transportation. Every time throughout ages, new ideas, philosophies, and innovations were created.
It is expected that this technology will have a bright future due to ongoing technological advancements and new ideas being applied by major players in the industry.
Report Highlights:
Passenger transportation is predicted to hold a sizable percentage of the hyperloop train market as most companies are focusing on commuters and connecting big cities and countries to acquire a bigger piece of the industry.
The market for hyperloop trains is anticipated to have the highest CAGR at speeds of more than 700 kmph.
Due to the existence of well-known hyperloop technology providers like Hyperloop Technologies, North America has a sizable market share
Governmental and private organizations are focusing on utilizing the high-speed network to their advantage. The growth of these regional markets is being fueled by the rising number of pilot projects in European countries and the influx of new participants.
One of the main reasons propelling the market is the growing need for a speedier means of transportation throughout the world. Additionally, the market is expanding because to growing worries about environmental degradation, the depletion of natural resources, and air pollution brought on by traditional transportation vehicles.
Regional Snapshots:
North America is expected to have rapid growth in the hyperloop technology industry. The region is expected to have a sizable share of the overall market because of the presence of numerous important industry players. The adoption of the Hyperloop technology in countries like the United States is expected to cause the area to expand quickly. Europe, which is expected to have a smaller market share than North America, is primarily driven by the established and wealthy economies of the European Union.
Europe is predicted to be followed by Asia Pacific in terms of market share. The hyperloop network for the area is expected to enhance business opportunities and corporate ties. The Middle East, Africa, and South America are expected to make up a tiny percentage of the market as interest in hyperloop technology grows.
Hyperloop Train Market Report Scope:
| | |
| --- | --- |
| Report Coverage | Details |
| Market Revenue in 2023 | USD 1.88 Billion |
| Projected Forecast Revenue in 2032 | USD 39.19 Billion |
| Growth Rate from 2023 to 2032 | CAGR of 6.75% |
| Largest Market | North America |
| Base Year | 2022 |
| Forecast Period | 2023 to 2032 |
| Regions Covered | North America, Europe, Asia-Pacific, Latin America, and Middle East & Africa |

Market Dynamics:
Drivers:
One of the main reasons propelling the market is the growing need for a speedier means of transportation throughout the world. Additionally, the market is expanding because to growing worries about environmental degradation, the depletion of natural resources, and air pollution brought on by traditional transportation vehicles. Additionally, the hyperloop technology requires less space than conventional means of transportation and decreases noise and traffic congestion.
It is also resistant to earthquakes and other natural calamities since it is constructed on pylons and features high passenger pod tubes. These advantages are anticipated to have a favorable impact on the main modes of transportation, together with the growing use of solar energy to improve them and make them more efficient and lucrative. To further reduce the cost of hyperloop technology and test and demonstrate created technologies for commercialization, major market participants are heavily spending in research and development (R&D) efforts. In the next years, these tactics are anticipated to support the market's expansion.
Restraints:
Although the hyperloop technology industry is anticipated to increase over the next few years, barriers to market expansion include lack of consumer knowledge of the technology, the potential for travel-related technical difficulties, and safety and security issues. The expenses of infrastructure and building are difficult to estimate. For the pod doors and hatches, for instance, sealing are crucial. They will need routine maintenance, which is troublesome considering how difficult it is for most cities to keep their roads, bridges, and rail lines in working order.
A major problem is acquiring land. In a report on the commercial viability of the hyperloop, NASA estimated that the cost of the technology alone would be between $25 and $27 million per mile, excluding land acquisition, while the cost of an almost entirely underwater track between Helsinki and Stockholm would be $64 million per mile, including vehicles.
In comparison, high-speed rail in California costs somewhere between $63 and $65 million per mile, whereas the price per mile in Europe is $43 million. However, while railway sets are not included in those calculations, land acquisition expenditures are.
Opportunities:
The market for hyperloop trains is evolving as a result of the rising demand for next-generation transit technologies. Commercial hyperloop developments have accelerated during the past few years in the U.S., China, and Europe. The commercialization potential in the market for hyperloop trains has increased as a result of an increasing number of public-private collaborations. Even entrepreneurs have been displaying incredible interest in the idea, as experts predict that it won't be long before it becomes a reality. These firms have all been drawn to the market for hyperloop trains not just because of their incredible speed but also because of their environmental friendliness.
One significant trend supporting the market development for hyperloop trains is the emphasis on passenger comfort and safety. Government authorities are now more accepting of the physics behind the hyperloop, which is encouraging such advancements. An increasing number of test facilities show this to be the case. The market for hyperloop trains is growing as a result of an increasing number of initiatives that directly address the problems with transportation.
Challenge:
One of the biggest difficulties the hyperloop technology faces is the potential for passenger emergencies in the event of a power loss. The hyperloop train must be able to transport the passengers to the closest station in the event of any emergency, such as a human control malfunction or unforeseen weather attacks, to ensure their safety. The pods and tubes of hyperloop trains must include emergency exits, including windows, doors, and other openings. There should be direct radio communication between all train capsules and station personnel, enabling passengers to report any incidents, ask for assistance, and get on-board assistance as needed. In the event of an emergency, the system must complete the intended route and connect with emergency personnel at the destination.
Recent Developments:
In order to speed up the construction of a TransPod Line between Edmonton and Calgary, China-East Resources Import & Export Co. and the Broughton Capital Group based in the UK reached an agreement in principle in March 2022 to provide a combined USD 550 million in financing and a Master EPC arrangement, respectively.
In September 2021, a feasibility study was conducted in Rio Grande do Sul, Brazil. The projected structure would connect the metropolitan districts of Porto Alegre and Caxias do Sul. When covering the 137 km in fewer than 20 minutes, a top speed of 835 km/h may be obtained.
Major Key Players:
Altium Ltd.
Arrivo Corp.
Badgerloop
Delft Hyperloop
Dinclix GroundWorks Pvt. Ltd.
Hardt B.V.
Hyperloop Technologies Inc.
Hyperloop Transportation Technologies Inc.
Nevomo Poland Sp. z o.o
NEXT Prototypes e.V
The Boring Co.
TransPod Inc.
Zeleros Global SL
Market Segmentation:
By Product Type
By Speed
More than 700 kmph
Less than 700 kmph
Buy this Research Report@ https://www.precedenceresearch.com/checkout/2412
You can place an order or ask any questions, please feel free to contact at sales@precedenceresearch.com | +1 9197 992 333