The global industrial cooling systems market size was evaluated at USD 19.39 billion in 2022 and is expected to attain around USD 32.34 billion by 2032, growing at a CAGR of 5.3% from 2023 to 2032.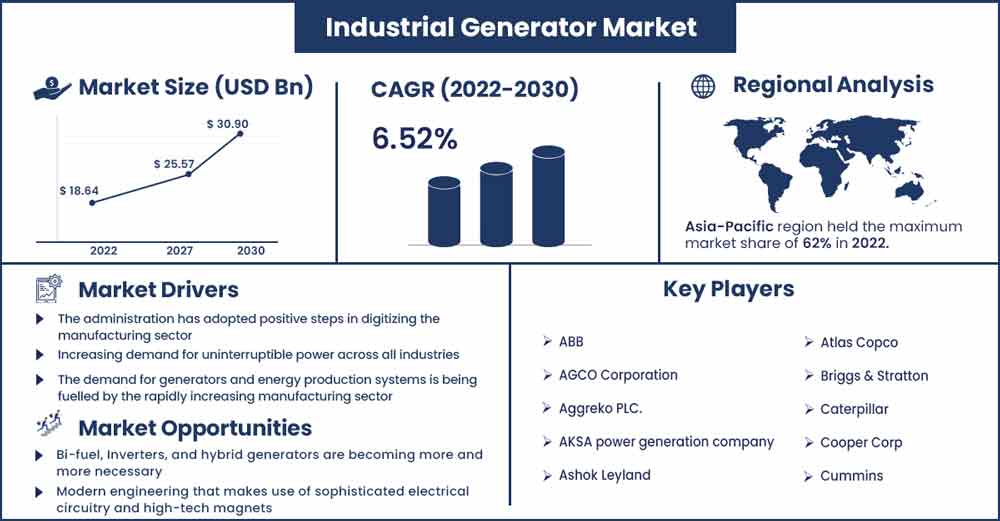 Energy-efficient cooling systems have been created as a result of increased spending in R&D efforts. Products or pieces of machinery called industrial cooling systems are used to cool the air at a workplace. In many industries, cooling systems are necessary to prevent equipment's from overheating. A facility's temperature is managed via an industrial cooling system. To prevent exothermic reactions, component and machine overheating, and other industrial processes like exothermic reactions, several cooling methods are employed.
The need for energy-efficient technologies will increase as global worries about greenhouse gas emissions grow. To distinguish their goods and acquire a competitive advantage on the market, a number of businesses are investing in R&D. The need for energy-efficient technologies will increase as global worries about emissions of greenhouse gases grow. To distinguish their goods and acquire a competitive edge in the market, a number of businesses are investing in R&D.
The market for industrial cooling systems is also being driven by rising interest in creating production refrigeration systems and equipment. This is mostly attributable to the superior performance of the world's industrial refrigeration systems, which are crucial in resolving several problems with industrial refrigeration as well as heat exchange. It is anticipated that increased demand for evaporative cooling towers would present the industry with sizable prospects.
The growth of the industrial cooling system market is projected to be aided by the rising usage of cooling systems in the automotive, metallurgy, chemical, energy, and electrical sectors throughout the course of the forecast period. Industrial cooling systems must be used in the food and beverage sector for temperature control and product safety. To maintain the temperature and food quality, key firms are focusing on offering innovative cooling systems to the food and beverage sector. For instance, Air2O offers HVAC air conditioning systems that employ IDEC technology to provide plant processes with fresh air as a cooling option.
The coronavirus (COVID-19) pandemic significantly impacted the development of the industrial cooling system market in 2020 as a result of a fall in demand, interruptions to the supply chain, and trade restrictions on a global scale. A number of industries have momentarily stopped output. The massive supply-demand disparity, fluctuating prices, and growing cost of raw commodities in the market all exacerbated the effect. In the second half of 2020, lockdowns decreased, enabling cooling system makers to carry out their expansion plans and create new systems.
With rising demand for these systems in sectors including pharmaceutical, utilities & power, oil & gas, and automotive, the market is expected to rise in 2021. Following the vaccination programmes, industrial activity will go back up, which will fuel market expansion.
Regional Snapshots:
East Asia is expected to hold a substantial market share because of its dominance in the production of energy and industrial manufacturing. Due to increased development activities in the fields of industry, building, and communications, South Asia is predicted to have rapid growth in the worldwide industrial cooling system market.
In addition, Latin America and MEA are anticipated to see the most fervent expansion in the worldwide industrial cooling system market as a result of the region's rising urbanisation and rising electricity consumption. Due to its considerable and sturdy infrastructure, Europe is one of the most developed areas that will generate creditable demand through the replacement of conventional coolers with modern industrial cooling systems over the projection period.
Industrial Cooling Systems Market Report Scope:
| | |
| --- | --- |
| Report Coverage | Details |
| Market Revenue in 2023 | USD 20.32 Billion |
| Projected Forecast Revenue in 2032 | USD 32.34 Billion |
| Growth Rate from 2023 to 2032 | CAGR of 5.3% |
| Largest Market | North America |
| Base Year | 2022 |
| Forecast Period | 2023 To 2032 |
| Regions Covered | North America, Europe, Asia-Pacific, Latin America, and Middle East & Africa |

Report Highlights:
In 2020, the market was dominated by the evaporative cooling segment, which accounted for nearly two-fifths of the global industrial cooling system market. Evaporative cooling systems outperformed refrigerated systems in terms of efficiency and economic value.
Over the course of the projection period, the transport cooling segment is predicted to see the highest CAGR of 6% due to the rise of the food processing industry and the requirement for strict temperature control when moving pharmaceutical and biotech commodities.
Asia Pacific accounted for the greatest market share across regions in 2022 for industrial cooling systems, and it is expected that this pattern would hold over the next years.
The rise in the usage of energy-efficient and environmentally friendly refrigerants, as well as the expansion of the pharmaceutical sector, have all contributed to the growth of the global industrial cooling system market.
Market Dynamics:
Drivers:
The GCC market revenue is being supported by the rising demand from the oil and gas sector. In the GCC, the oil and gas industry's market for industrial cooling systems is anticipated to expand at a CAGR of more than 12% from 2022 to 2032. To absorb process heat and cool fluids, industrial equipment in oil and gas refineries is commonly jacketed or sleeved with running water. A new set of market restrictions mandates that cooling system drift rates be cut below 0.0005% of the maximum circulating water flow that evaporative cooling towers are capable of producing.
Due to the hot climate of the GCC nations, evaporative cooling systems are being widely used in many industrial applications. These systems use less energy and are less expensive to operate. A number of significant companies employ once-through cooling techniques that recycle heated water back into lakes, rivers, or seas. Algae blooms are produced as a result, endangering water life and the natural ecology.
Restraints:
The market expansion over the last few years is anticipated to be impacted by the scarcity of trained technicians for industrial cooling systems. The Bureau of Labor Statistics estimates that over 25% of the workforce in the United States will retire by 2022. Additionally, during the next four years, industries anticipate hiring 115,000 new industrial cooling system technicians. Therefore, it is anticipated that a lack of qualified experts would impede market expansion in the years to come.
Opportunities:
Due to the exponential growth in population, fast urbanisation, and the expansion of the manufacturing sector, there is a considerable increase in the demand for industrial cooling systems in end-user sectors including pharmaceuticals and food and beverage. Additionally, the need for energy-efficient technology is anticipated to increase as worldwide concern about greenhouse gas emissions rises. In order to differentiate their goods and get a competitive edge in the market, many firms are investing in R&D.
In the food and beverage industry, the usage of industrial cooling systems is crucial for product safety & temperature control. Key companies are concentrating on providing cutting-edge cooling systems for the food and beverage sector in order to maintain temperature and food quality.
Challenges:
Despite the fact that the market is predicted to increase steadily as a result of the advantages listed above, the industrial cooling system Market may be hindered by high energy consumption, expensive installation and maintenance costs, and other operational challenges. Government control and the restriction on dangerous refrigerants may potentially limit market expansion. Additionally, the demand and supply have been impacted by the growing number of limitations imposed globally as a result of the epidemic. The market for industrial cooling systems will also suffer from volatility in raw material costs. This would thus hinder the market growth rate for industrial cooling systems.
Recent Developments:
GEA Group introduced their Blu-Red Fusion cooling system in October 2020. The GEA group's BluGenium and BluAstrum Chillers were combined to create the final product. With low heat input temperatures and large temperature increases between both the heat source and the heat sink, it is perfect for refrigerated, cooling, and heating requirements
Johnsons Controls announced the opening of a research and development and testing centre in the US in April 2018. The firm will be able to supply the HVAC market with cutting-edge and superior goods thanks to the new facilities. Additionally, producers provide a variety of product categories across several sectors.
Key Market Players:
SPX Corporation
Hamon Group
Johnson Controls Inc.
Airedale International Air Conditioning Ltd.
American Power Conversion Corporation (APC)
Black Box Corporation Emerson Electric Co.
Rittal GmbH & Co. KG
SPIG S.P.A.
Paharpur Cooling Towers Limited
Baltimore Aircoil Company Inc.
EVAPCO Inc.
Brentwood Industries, Inc.
Star Cooling Towers Pvt. Ltd.
ENEXIO
Bell Cooling Towers and Mesan Group
Market Segmentation:
By Product Type
Hybrid Cooling
Water Cooling
Air Cooling
Evaporative Cooling
By Function
Transport Cooling
Stationary Cooling
By End-User
Utility and Power
Chemical
Food & Beverage
Chemical
Pharmaceutical
Oil and Gas
Others
Buy this Research Report@ https://www.precedenceresearch.com/checkout/2433
You can place an order or ask any questions, please feel free to contact at sales@precedenceresearch.com | +1 9197 992 333