The global medical simulation market size was exhibited at USD 2.2 billion in 2022 and is projected to attain around USD 7.2 billion by 2030, poised to grow at a strong CAGR of 15.95 percent during the projection period from 2022 to 2030.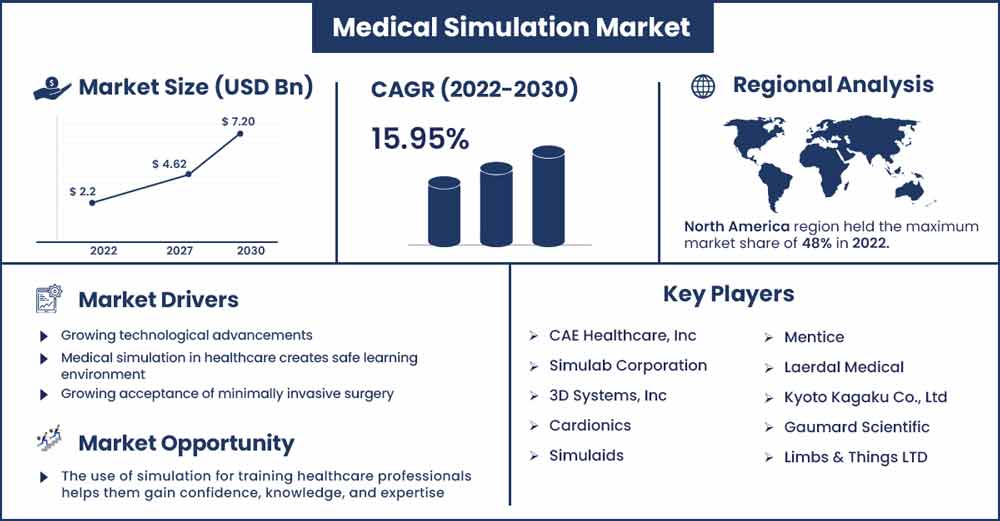 The market for medical simulation is expected to expand significantly in the upcoming years as a result of the growing acceptance of minimally invasive surgery, technological developments, a growing emphasis on improved patient outcomes and safety, and significant expenditures in the area.
The sector offers a variety of goods and services, including simulation software, web-based simulation, simulation training services, and mannequin-based simulation. Web-based simulation is one of these that is anticipated to see rapid expansion in the upcoming years due to the internet's quick adoption in the medical industry, the development of healthcare information technology (IT) solutions, as well as a shortage of qualified specialists. The two main software categories are virtual instructors and recording software, while the services offered in the healthcare/medical simulation industry include vendor-based training, specialized consultancy, and educational organizations.
Second Life and serious games are examples of web-based simulation, whereas mannequin-based simulation products include eye simulators, endovascular simulators, ultrasound simulators, patient simulators, dental simulators, surgical simulators, and task trainers. Patient simulators now have the greatest healthcare/medical simulation market share among the different mannequin-based simulators, and they are also anticipated to see the fastest growth over the next several years. This might be attributed to its growing use, which helps both experienced practitioners and novices better comprehend important anatomical medical concepts, leading to increased effectiveness and patient safety during practical treatments.
Military organizations, hospitals, academic institutions, and training facilities are the main end customers in the sector. Due to the widespread deployment of these solutions at major, expensive institutions, the healthcare/medical simulation market for hospitals has the highest size among them. The deployment of such solutions in hospitals in the upcoming years will also be influenced by the need to lower medical mistakes and give doctor's long-term, cost-effective training.
Report Highlights:
The market for medical simulation is expanding as a result of ongoing technical developments, increased patient safety concerns, and rising desire for minimally invasive procedures.
The adoption rate of the cardiac simulator in hospitals and research facilities is steadily rising as a result of the rising number of surgical and other treatment operations, which is a result of the high incidence of cardiovascular diseases (CVDs) worldwide.
The market for medical simulation is anticipated to increase as a result of the increasing use of minimally invasive operations in the area since simulation allows for hands-on experience with actual surgical procedures. For instance, most women who undergo oophorectomy and ovarian cystectomy for benign causes undergo minimally invasive surgery because it is associated with fewer complications than laparotomy, according to a research study titled "Trends in the Use of Minimally Invasive Adnexal Surgery in the United States" that was published in November 2021.
Medical Simulation Market Report Scope:
| | |
| --- | --- |
| Report Coverage | Details |
| Market Revenue in 2023 | USD 2.55 Billion |
| Projected Forecast Revenue in 2030 | USD 7.2 Billion |
| Growth Rate from 2022 to 2030 | CAGR of 15.95% |
| Largest Market | North America |
| Base Year | 2022 |
| Forecast Period | 2022 To 2030 |
| Regions Covered | North America, Europe, Asia-Pacific, Latin America, and Middle East & Africa |

Regional Snapshots:
North America had the highest revenue share (48%) in 2022. The presence of major competitors in the area and significant expenditures in technology are only two examples of the many variables that have contributed to the market's growth. Additionally, during the course of the forecast period, rapid technological improvements and rising disposable income are some of the factors anticipated to drive market expansion.
The United States has strong development potential in North America because to its abundance of training facilities and the military's strong interest in such solutions. In APAC, India is anticipated to have considerable development in the healthcare/medical simulation industry. The development of its healthcare infrastructure, which is resulting in the introduction of improved training methodologies and technology, is a major factor in this. Additionally, conferences and seminars are often organized by both public and private businesses, raising public and consumer knowledge of the advantages of medical simulators and the range of available goods.
Due to ongoing developments in healthcare infrastructure, it is predicted that the Asia Pacific sector would have considerable growth throughout the projection period. Additionally, the market is expanding as a result of the growing use of healthcare facilities and the quickening expansion of manufacturing facilities in developing nations like China and India.
Market Dynamics:
Drivers:
The need for minimally invasive operations is fueling the expansion of the medical simulation industry. According to the American Society of Plastic Surgeons, 15.7 million cosmetic procedures using a minimally invasive technique were carried out in the U.S. in 2017. These treatments require operating within the body; a tiny slit rather than a major incision is used to access the internal organs. In these situations, surgeons must know exactly where to do surgery in order to reduce the risk of an accident. Doctors can better prepare for surgery by using simulators to see the inside anatomy before the operation.
Restraints:
Before working with actual patients, researchers and clinicians may test out novel therapeutic procedures and improve their interpersonal and teamwork skills in a secure learning environment created via simulation in healthcare. Manikins are used in many simulation applications when it is possible to create symptoms that respond to the simulated therapy. Models and instruments, however, are unable to accurately reflect human functioning because of how complicated human systems are. Facilitators and simulation engineers must build and modify the simulation models to accurately represent a physiological response that is sought under certain conditions. It might be difficult to manipulate these systems to achieve the necessary simulation aims.
Simulators with poor design might result in negative learning, which could ultimately result in future medical decisions being made incorrectly. For instance, pupils could fail to look for physical and physiological signs if they aren't there in the simulation. Additionally, shortcuts like skipping through safety protocols and patient permission may be encouraged by simulation-based learning, which may also encourage fake rather than real communication skills. The way participants behave in a simulator will never be the same as in real life, which has an impact on how learners behave. Hypervigilance, which results in increased worry because one knows an event is going to happen, and flippant conduct, which happens because it is obvious no human life is in danger, are two frequent shifts in attitude that might happen. These elements could have a limited impact on market expansion.
Opportunities:
The medical professionals that participate in the training programmes will learn about a variety of procedures, body anatomy, physiology, and other topics. Military hospitals are included in the healthcare/medical simulation, and training is also offered for academic hospital staff. Through the predicted period, the benefits of healthcare/medical simulation might lead to promising growth prospects. All of these factors may offer promising opportunities for the market for medical simulation to expand.
Challenges:
Since there is an iron curtain separating the clinical team and the technicians and operations professionals running the simulation lab, simulation scenarios are requested by both groups. There are several communication gaps in this situation.
One approach to ensuring the smooth implementation of simulation technology is to foster partnerships and successful collaboration between clinical professionals and simulation specialists. Failure to collaborate is thus impeding the development of medical simulation. Furthermore, one of the factors limiting demand for medical simulation goods is unstable wireless connectivity in wireless simulators.
Recent Developments:
In March 2022, HeartCodeComplete is a new online resuscitation training platform that was introduced by MedLern, a top provider of digital learning for hospitals and healthcare workers. It was created in collaboration with the American Heart Association and is powered by Laerdal Medical technology.
Major Key Players:
CAE Healthcare, Inc
Simulab Corporation
3D Systems, Inc
Cardionics
Simulaids
Mentice
Laerdal Medical
Kyoto Kagaku Co., Ltd
Gaumard Scientific
Intelligent Ultrasound (MedaPhor Ltd.)
Limbs & Things LTD
Market Segmentation:
By Product and Services
Anatomical Models

Patient Simulators

High-Fidelity Simulators
Medium-Fidelity Simulators
Low-Fidelity Simulators

Task Trainers
Interventional/Surgical Simulators

Laparoscopic Surgical Simulators
Gynaecology Surgical Simulators
Cardiac Surgical Simulators
Arthroscopic Surgical Simulators
Other Interventional/Surgical Simulators

Endovascular Simulators
Ultrasound Simulators
Dental Simulators
Eye Simulators

Web-Based Simulation
Medical Simulation Software

Performance Recording Software
Virtual Tutors

Simulation Training Services

Vendor-Based Training
Educational Societies
Custom Consulting and Training Services
By Technology
Virtual Patient Simulation
3D Printing
Procedure Rehearsal Technology
By End-Use
Academic Institutes
Hospitals
Military Organizations
Research

Medical Device Companies
Others
Buy this Research Report@ https://www.precedenceresearch.com/checkout/2334
You can place an order or ask any questions, please feel free to contact at sales@precedenceresearch.com | +1 9197 992 333