The global monorail system market size surpassed USD 6.23 billion in 2022 and is projected to rise to USD 9.27 billion by 2032, anticipated to grow at a CAGR of 4.1 percent during the projection period from 2023 to 2032.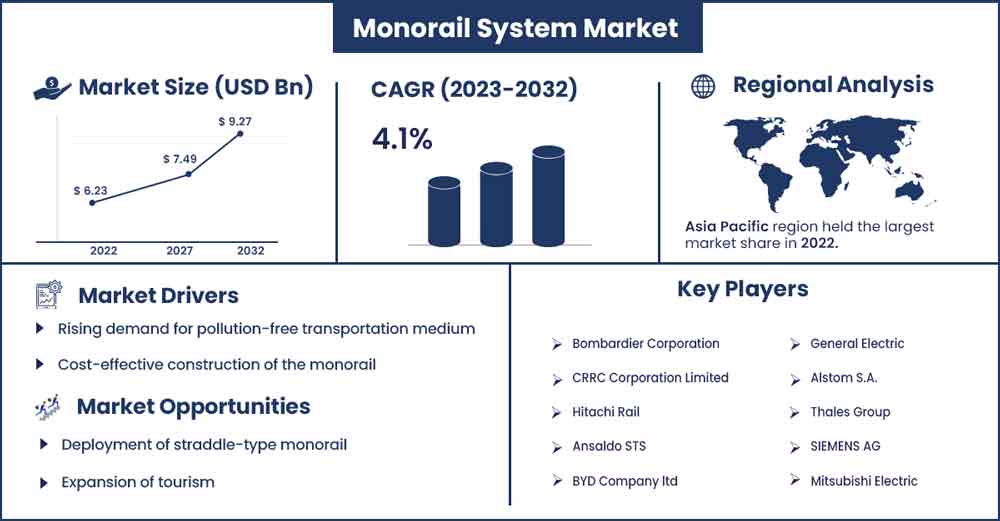 Market Overview
Monorail is one of the widely accepted travel mediums in urban areas globally. The monorail is supported and guided through the same single beam via interaction. Monorail has several benefits such as conventional system that requires minimum space both vertically and horizontally, the monorail system is mostly elevated and operated in a beam. With having equal capacity of passengers monorail is less expensive to build than another elevated rail line. With the minimum footprint, the monorail looks more attractive than other elevated rail lines and occupies less space.
Advancements in transportation is reaching the heights of innovation and monorail is one of the modern-day transportation systems that is gaining popularity in urban areas globally. The increasing population and rising need for speedy transportation without traffic congestion are raising the trend for the monorail system market. Many major regions are covering monorail as their day transportation in the urban areas, countries such as the United States, Canada, India, China, and Japan are heavily investing in their transportation which is observed to supplement the market's growth.
Hitachi rail works on the signaling and transportation systems. Founded in 2006 with a revenue reported 10.88 trillion Japanese yen globally. In November 2022, Hitachi Rails was recognized as a leader of a consortium to deliver and design a European Rail Transportation Management System (ERTMS) for the digital signaling in the Italian rail network of 1,885 km and has been awarded €867 million worth of contract.
Indian government regulated the policies for the increase in transportation in urban areas and expanding the metro and bus transportation. For these, the budget allocated for the expansion of the metro is US$26 billion and the nation has anticipated spending US$1.5 trillion in the general transportation network which includes bus networks in 2020 to 2025.
The largest driverless monorail system was undertaken by Egypt's National Authority for Tunnels in August 2023. The launch will revolutionize the transportation infrastructure of the nation. The project costs US$4 billion in North Africa's pioneering monorail, forecasting the completion of the project in 2024, and covers 98.5 kilometers.
Urban areas in developing countries are widely accepting the monorail system for transportation due to the heavy traffic conditions and for having an alternative travel medium. As per the reports, India will soon see monorails on there every major urban city, Mumbai is all geared up
Monorail System Market Report Scope
| | |
| --- | --- |
| Report Coverage | Details |
| Market Revenue in 2023 | USD 6.45 Billion |
| Projected Forecast Revenue by 2032 | USD 9.27 Billion |
| Growth Rate from 2023 to 2032 | CAGR of 4.1% |
| Largest Market | Asia Pacific |
| Base Year | 2022 |
| Forecast Period | 2023 to 2032 |
| Regions Covered | North America, Europe, Asia-Pacific, Latin America, and Middle East & Africa |

Regional Snapshot
Asia Pacific dominates the global monorail system market. The growth of the market in the region is attributed to the rising population and increasing traffic congestion. An increasing number of the population diverting to the urban areas for work opportunities and financial growth will continue to support the market's expansion in the region.
The technological advancement in the transportation industry in countries like China, Japan, and India that are rapidly adopting the monorail system as the transporting medium is considered to be another major factor for the market's growth. The governments of multiple Asian countries are actively investing in the infrastructure development of transportation systems. With such investments, the monorail systems market is expected to get accelerated due to its economical and environmentally friendly nature. Also, rapid urbanization and rising traffic congestion in several countries are some of the major factors that are driving the growth of the monorail system market across the APAC region.
Approximately 79% of the line kilometers of the monorail are located in the Asia Pacific region.
In October 2023, the revolutionary milestone in the transportation network of China, the first-ever suspended monorail was launched for the public in Wuhan, the capital of Hubei province.
The monorail system market in Asia Pacific is fragmented with multiple small-scale and large-scale players including, CRRC Corporation Limited, Hitachi Rail, BYD Company Ltd, and Mitsubishi Electric.
BYD Company Ltd, a Chinese conglomerate a publicly listed company headquartered in Shenzhen Guangdong, recorded a revenue of more than 424 billion Yuan in 2022.
Mitsubishi Electric is a multinational electronics company with headquarters in Tokyo Japan earned an operating profit of 262.3 billion Japanese yen in 2023.
Market Dynamics
Drivers
Rising demand for pollution-free transportation medium
Unlike buses and cars, the monorail does not use carbon-based fuels and is therefore pollution-free. A gas or coal-fired power plant that generates pollution may be the source of the electricity that powers the train, but as the usage of alternative energy grows, this issue will be less of a concern. Additionally, when compared to steel-wheeled, steel rail alternatives, monorail systems are vastly efficient in terms of construction, right-of-way requirements, manufacture, implementation, maintenance, and operation. Rising demand for the conventional transportation medium is driving the growth of the market.
Cost-effective construction of the monorail
Cost-effective construction can make monorail projects more attractive to public and private investors, encouraging funding and support. Monorail systems can generate a positive return on investment by improving transportation, reducing traffic congestion and stimulating economic activity. Monorail systems can be designed and built to match the specific needs and budget constraints of a region, allowing for scalability in construction and expansion.
Restraints
Limited flexibility and connectivity
Monorails are mostly elevated and cannot be worked or operated easily through intersections and switching tracks, monorails only be effective in urban areas and need a proper infrastructure to maintain them, so there is limited flexibility in the operations of monorails which impacts the growth of the monorail system market.
Availability of alternatives
Monorail systems may need to compete with well-established transportation networks like subways that offer more extensive coverage capacity. This competition can limit the adoption of monorail systems, particularly in densely populated urban areas. Thereby, the availability of alternatives is observed to act as a restraint for the market.
Opportunities
Deployment of straddle-type monorail
The deployment of straddle-type monorail is expected to expand the market positioning for monorail systems. One-person operating systems have been used on straddle-type monorails, which are urban transit systems that must be able to be controlled by a single person in order to cut labor costs. Recently, there has been a lot of interest in the DTO system for urban transportation networks, which enables trains to operate totally without an onboard driver.
For use with straddle-type monorails, Hitachi has been developing a DTO system for years. Now, Hitachi has created the first DTO system that has actually been deployed in Japan on a regular commercial monorail route, replete with an ATO, platform gate, and other supporting equipment.
Expansion of tourism
Monorails can connect key tourist attractions, hotels, and transportation hubs, making it easier for tourists to move around and explore a destination. More tourists mean increased passenger traffic. Monorail systems can efficiently transport large numbers of passengers within cities and tourist destinations, reducing traffic congestion and offering convenient transportation.
Recent Developments
In October 2023, Glass glass-bottomed monorail system was launched in Wuhan the capital of Hubei Province, China. The "Photon" autonomous monorail was announced by the Wuhan connectivity and business hub named Optics Valley.
In August 2023, the SIF Consortium award was given to THE Trust for the Development of the Dominican Republic's Mass Transport System (Fitram), the SIF Consortium led by the Alstom and Sofratesa, a worth a €500m contract for building monorail in the north of the Dominican Republic's Santiago de los Caballeros.
In September 2023, Disney Land is planning to expand its monorail system at the new proposal. The Disneyland forward proposal includes a 17,000-car parking garage and toy story parking.
Major Key Players
Bombardier Corporation
CRRC Corporation Limited
Hitachi Rail
Ansaldo STS
BYD Company ltd
General Electric
Alstom S.A.
Thales Group
SIEMENS AG
Mitsubishi Electric
ABB
Market Segmentation
By Type
Straddle Monorail
Suspended Monorail
By Autonomy
Semi-autonomous
Completely Autonomous
Manual
By Propulsion Type
Electric Monorail
Maglev Monorail
By Size
By Autonomous
Buy this Research Report@ https://www.precedenceresearch.com/checkout/1004
You can place an order or ask any questions, please feel free to contact at sales@precedenceresearch.com | +1 9197 992 333