The global monorail system market size was estimated at USD 6.23 billion in 2022 and it is projected to be worth around USD 9.27 billion by 2032 and growing at a CAGR of 4.1% from 2023 to 2032.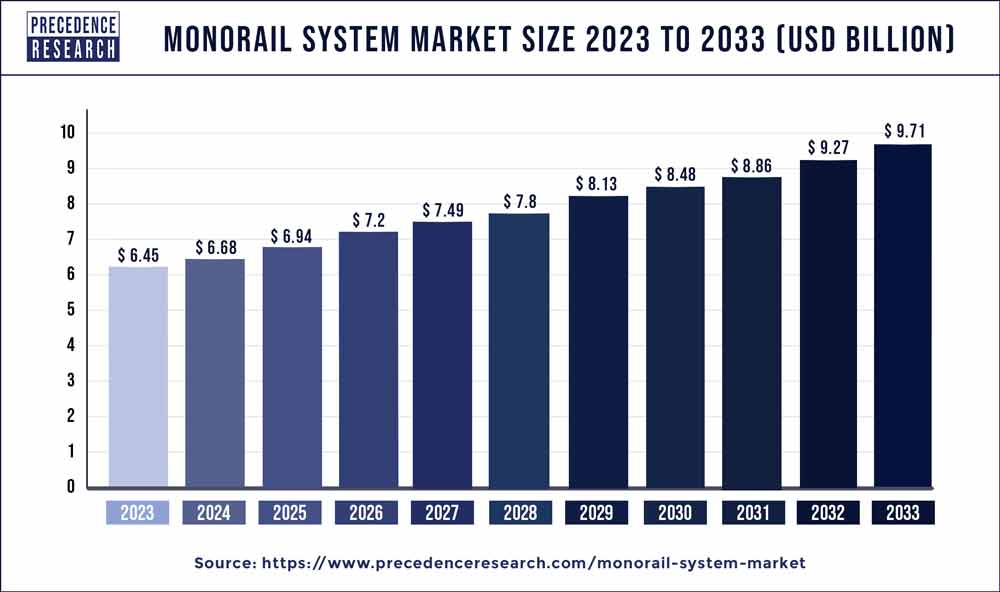 Access our Premium Real Time Data Intelligence Tool, Visit: Precedence Statistics
Key Takeaways
Asia Pacific led the global market with the highest market share of 40% in 2022.
By Type, the straddle monorail segment has held the largest revenue share in 2022.
By Autonomy, the completely autonomous segment had the biggest market share in 2022.
By Propulsion Type, the electric monorail segment is estimated to hold the highest market share in 2022.
Monorail System Market Overview
Monorail is a type of elevated transportation system that is supported by a single track and is frequently referred to as a beam way. From airport transit to medium-capacity metros, monorail has a wide range of applications. Furthermore, companies now provide mass transit planners. Furthermore, the industry's growth is expected to be hampered by low market penetration, speed, and the availability of alternative options. Furthermore, over the forecast period, traffic congestion, technology advancements, and environmental compatibility are expected to provide profitable prospects for the market.
Increasing demand for reliable transport, environmental sustainability, and rising traffic congestion have triggered the demand for clean and voluminous transport system are the major factors driving the monorail systems market. As per American Public Transportation Association (APTA), Americans took 9.9 Bn trips on public transport. In addition, rising infrastructure development along with increasing demand for reliable & environment-friendly public transport system expected to fuel the demand of monorail systems in the coming years. U.S. spends nearly US$ 400 Bn on public infrastructure, besides this the American Society of Civil Engineers (ASCE) stated that the investment on public infrastructure falls short every year and require to invest an additional US$ 2.1 Tn between 2016 and 2025 to meet the rising demand.
However, its low passenger carrying capacity hampers the market growth. Monorails are capable of carrying only four to six cars at a time and sometimes up to eight cars. This is the prime factor that governments of several developing nations prefer rapid transit systems or metros over monorails. Nonetheless, its environment-friendly feature as it runs on electric and magnetic energy may make it a preferred choice for the intra-city transport system in the coming years.
Monorail System Market Asia Pacific 2023 To 2032
The Asia Pacific monorail system market size was valued at USD 6.23 billion in 2022 and is expected to hit around USD 9.27 billion by 2032, registering a CAGR of 4.1% from 2023 to 2032.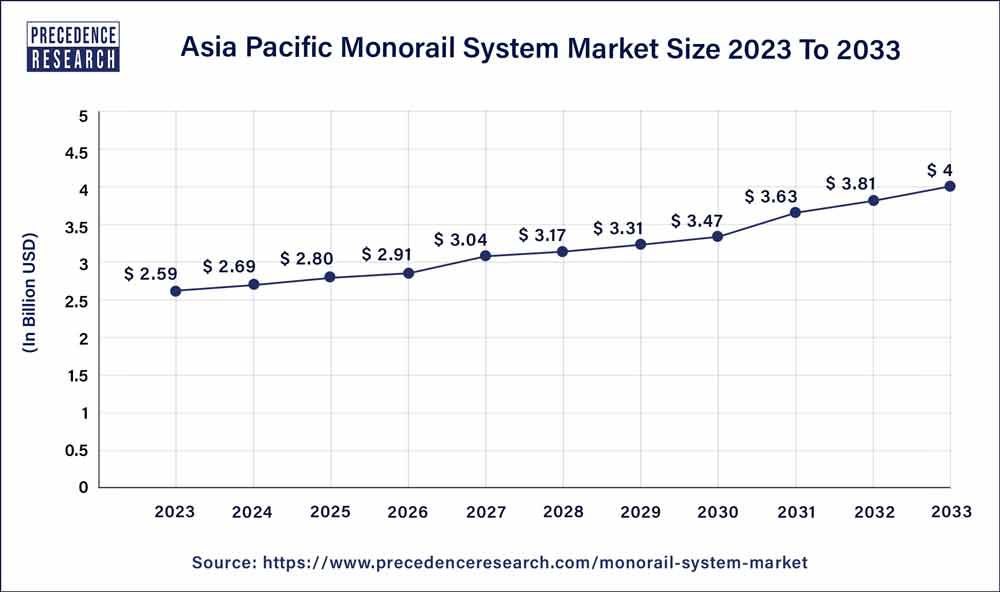 Asia Pacific contributed more than 40% of revenue share in 2022. Most of the under-construction projects are based in India, China, and ASEAN countries. In March 2019, India completed its first monorail project in Mumbai with an estimated investment of USD 5019 Mn on the project. In addition, rapid urbanization, rising traffic congestion, along with ever increasing population expected to propel the market growth in the region significantly.
Governments are preferring monorail systems due to rapid urbanization, an increase in the number of daily commuters, increased road traffic congestion, and the availability of tiny places. As a result of the enormous number of projected monorail system projects in Asia Pacific, the region is likely to provide profitable possibilities for monorail system manufacturers.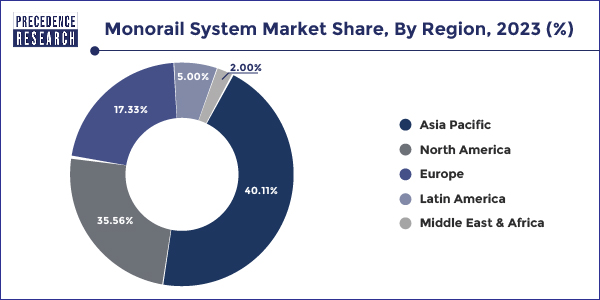 Rest of the world is another most opportunistic region that offers significant revenue growth in the coming years. The factors attributed to the market growth are increased per capita income, enhanced education quality, and the rising number of daily commuters are fueling the demand of monorail systems in the region.
Monorail System Market Scope
| | |
| --- | --- |
| Report Highlights | Details |
| Market Size in 2023 | USD 6.45 Billion |
| Market Size by 2032 | USD 9.23 Billion |
| Growth Rate from 2023 to 2032 | CAGR of 4.1% |
| Largest Market | Asia Pacific |
| Fastest Growing Market | North America |
| Base Year | 2022 |
| Forecast Period | 2023 to 2022 |
| Segments Covered | Type, Autonomy, Propulsion Type, Autonomous, Size, Geography |
| Companies Mentioned | Bombardier Corporation, CRRC Corporation Limited, Hitachi Rail, Ansaldo STS, BYD Company ltd, General Electric, Alstom S.A., Thales Group, SIEMENS AG, Mitsubishi Electric, ABB |
Monorail System Market Dynamics
Drivers: Surge in demand for electric monorails
Individually motorized carriers in electric monorail systems are powered by a track-mounted bus bar. Production areas or supply systems that require accumulation are typical applications. This system allows for a wide range of conveyor speeds, ranging from 8 to 400 fpm, permitting the carrier to fast-track, sneak into a meticulous location for automaticworkspaces, converse travel, travel on clear production hubs, travel at extremely high rates, accumulate, and so on. Furthermore, the electric monorail system can be equipped with an onboard computer that allows for decision-making for alternative routes without relying on the selected centralized conveyor system. Thus, the demand for electric monorail systems is driving the growth of the market.
Growing adoption of urban transportation
As urban areas across the globe expand and progress, the popularity of monorails as a cost-efficient, effective, and environmentally friendly transportation option is on the rise.
According to the world bank, approximately 6% of the global population, which accounts for 4.4 billion people, resides in urban areas. This trend is projected to continue to exist; by 2050, the urban population is anticipated to more than double its current size. At that point, nearly 70% of the world's population will reside in cities.
Moreover, according to the high road foundation organization, monorail systems around the world transport millions of people daily, with nearly 50 such systems in operation. For instance, in Chongqing, China, the monorail system efficiently serves an impressive daily ridership of approximately 1.3 million passengers.
Also, the monorail has the lowest carbon footprint. Monorails cause fewer disruptions during construction and operation compared to other transportation alternatives.
Grams of CO2 Emissions Per Kilometer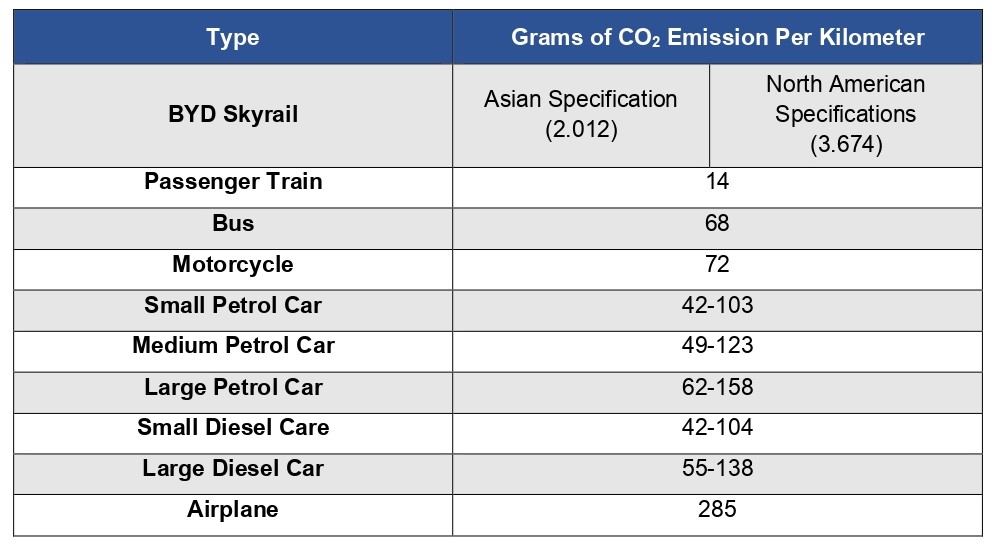 They have a small footprint, requiring only 36 square feet for every 100 feet of elevated track, which reduces ground disturbance during and after construction. Furthermore, the monorail systems have the benefit of having the lowest operational and maintenance costs compared to other mass transit systems. Since monorail cars are elevated, they are less prone to vandalism and generally stay cleaner than ground-based rail systems. The important components like engines and guide rails have a longer lifespan than those in buses and trains, leading to lower long-term operating costs. Also, there are 42 urban monorail systems in operation across the globe, covering over 269 miles and serving more than 400 stations. These systems transport millions of passengers every day reliably.
Number of people transported per hour in an urban environment
| | | | | |
| --- | --- | --- | --- | --- |
| Car | Bus | Tram | Monorail | Metro |
| 2000 | 9000 | 22000 | 48000 | 50000+ |
Restraints: High installation cost of maglev
The high installation cost of maglev compared to electric railway systems is one of the major constraints limiting its progress. In emerging markets, these cars have a low adoption rate. One of the greatest barriers to manufacturers joining the market, especially in developing and developed countries, is the increased installation costs.
Opportunities: Growing utilization of straddle monorail
The straddle monorail is a mechanism that allows passenger vehicles to use the track's wheels to travel. Apart from the walking wheels, the bogie has stabilizing and guiding wheels on both sides that clamp to the track's edges to ensure safe and smooth operation. As a result, the monorail system market is expected to grow in near future.
Challenges: Lack of innovation
In the monorail systems market, there is a dearth of innovation and research, and development. Companies must invest extensively in research and development to improve the capability of monorail systems, as well as their speed, reliability, and efficiency, in order to cut turnaround times. Thus, this is a major challenge for market growth.
Type Insights
Monorails are normally employed to support manufacturing undertakings. Straddle design of monorail system utilizes extremely effectual guideway design. The guideway's narrow beam is fashioned offsite in a way that route corridor can stay highly reachable to the general public during production. The accomplished guideway is considerably thinner and permits more light through compared to widespread bridge structures requisite by other transit vehicle designs, whereas employing suggestively fewer construction material. As a result, it has significantly lower construction costs.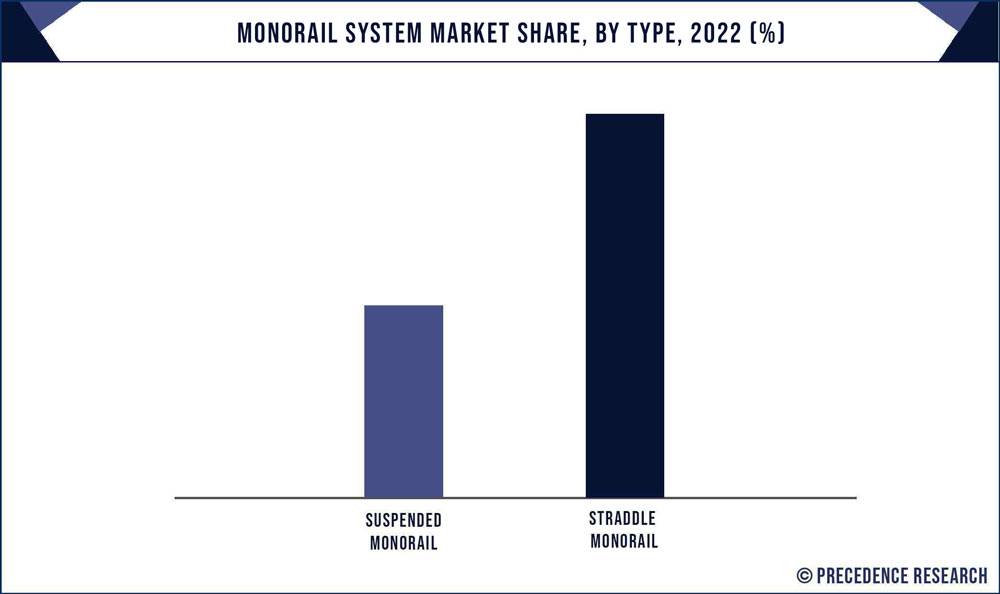 Straddle type monorail led the global monorail system market in 2022 owing to its higher capacity of carrying passengers than suspended type. Thus, straddle type monorail are a preferred choice over for crowded and high-frequency transportation. However, suspended type is most used at zoos, parks, and other small areas where the number of passengers is less.
Straddle monorail, which uses rubber wheels and precast concrete track beams, is a unique urban rail transit system with great climbing capabilities, a small turning radius, minimal land use, low noise, moderate volume, and low cost.
Autonomy Insights
In terms of autonomy, the completely autonomous segment held the major market share in 2022. The segment is experiencing growth due to its features, such as high reliability and safety, increased availability, short system delivery, seamless integration, and growing installation.
For instance, In March 2021, a fully automated driverless monorail was launched in Wuhu in eastern China. The monorail uses an Automatic Train Operation system called ATO GoA 4, which means it can run entirely on its own. The monorail was developed through a partnership between Alstom and CRRC with a total project investment of more than 8 billion yuan. The newly constructed Wuhu Line 1 features an elevated monorail that operates at a speed of 80 kilometer per hour. It is equipped with the most advanced level of automatic train operation, known as ATO GoA4. This state-of-the-art technology allows the monorail to operate without a driver and runs fully without supervision.
Propulsion Type Insights
Electric monorails dominated the global monorail systems market in 2022. Electric monorails require less manufacturing time and cost as compared to maglev trains thus they captured most of the revenue share nearly 80% of the global market. In addition, Maglev trains are not suitable for short distance run such as intra-city transportation or within urban city travel as they have very high speed compared to electric monorails. Speed range of electric monorails is between 80 to 100 kilometers per hour on the other hand, maglev train speed is above 500 kilometers per hour. A rail-bound mode of transportation with separately operated vehicles that move independently on the rail system is known as an electric monorail. With the help of switch points, branch points can be implemented on a line.
Automation Insights
The grade of automation is decided on the basis of a number of automated components in the train. Based on automation the global monorail system market is classified into GoA0, GoA1, GoA2, GoA3, and GoA4. GoA3 and GoA4 grade are considered as fully automated mass transport system and they possess highly level of punctuality and safety. They are mostly preferred in mass transits. However, GoA2 monorails are more preferred across the globe as they are more effective in reducing accidents along with enhancing the overall train performance. GoA2 trains are incorporated with Automatic Train Protection (ATP) and Automatic Train Operation (ATO) systems, and operated under surveillance. These are some of the important factors that drive the growth of the electric monorail systems market.
Recent Developments
In February 2023, the first medium-capacity monorail train manufactured by CRRC Changchun was introduced in Chongqing, China, on February 10th. This multi-adaptive straddle-type monorail offers excellent climbing ability, a small turning radius, and high environmental adaptability. With a maximum speed of 80km/h, each car can accommodate 136 passengers. The flexible configuration meets different passenger traffic demands, and its lightweight construction and low running noise have a minimal environmental impact.
Alstom delivered monorail in September 2021 at its own plant in Derby, UK. The first 2Innovia 300 monorail trains for the Cairo Monorail plan have already inwards in Cairo, with Alstom's Trapaga, Spain plant leading the propulsion systems application.
Egypt debuted the world's largest monorail east and west of Cairo in May 2022. Bombardier Transportation, a company based in Canada, has successfully completed monorail projects.
Hitachi stated in December 2021 that it will purchase Bombardier Transportation's business interests, which includes the V300 ZEFIRO extremely high-speed train from Alstom.
Siemens, a German corporation, was awarded a project in January 2021 to build a high-speed electric monorail network that would be tested by the middle of 2024. According to Kamel EL-Wazir of the Ministry of Transport Egypt, the monorail project's initial construction began in early 2021. The project is estimated to be worth $3 billion.
Monorail System Market Players
Bombardier Corporation
CRRC Corporation Limited
Hitachi Rail
Ansaldo STS
BYD Company ltd
General Electric
Alstom S.A.
Thales Group
SIEMENS AG
Mitsubishi Electric
ABB
Segments Covered in the Report
This research report analyzes and predicts growth of market size at global, regional, and country levels. It also offers comprehensive study of the up-to-date industry developments in all of the sub-segments from 2023 to 2032. In order to study thoroughly this research study classified global monorail system market depending upon different parameters such as propulsion type, autonomy, automation, and region:
By Type
Straddle Monorail
Suspended Monorail
By Autonomy
Semi-autonomous
Completely Autonomous
Manual
By Propulsion Type
Electric Monorail
Maglev Monorail
By Size
By Autonomous
By Geography
North America
Europe
Asia Pacific

China
India
Japan
South Korea

Rest of the World