The global OLED market size surpassed USD 45.63 billion in 2022 and is projected to rise to USD 214.8 billion by 2030, anticipated to grow at a strong CAGR of 21.37 percent during the projection period from 2022 to 2030.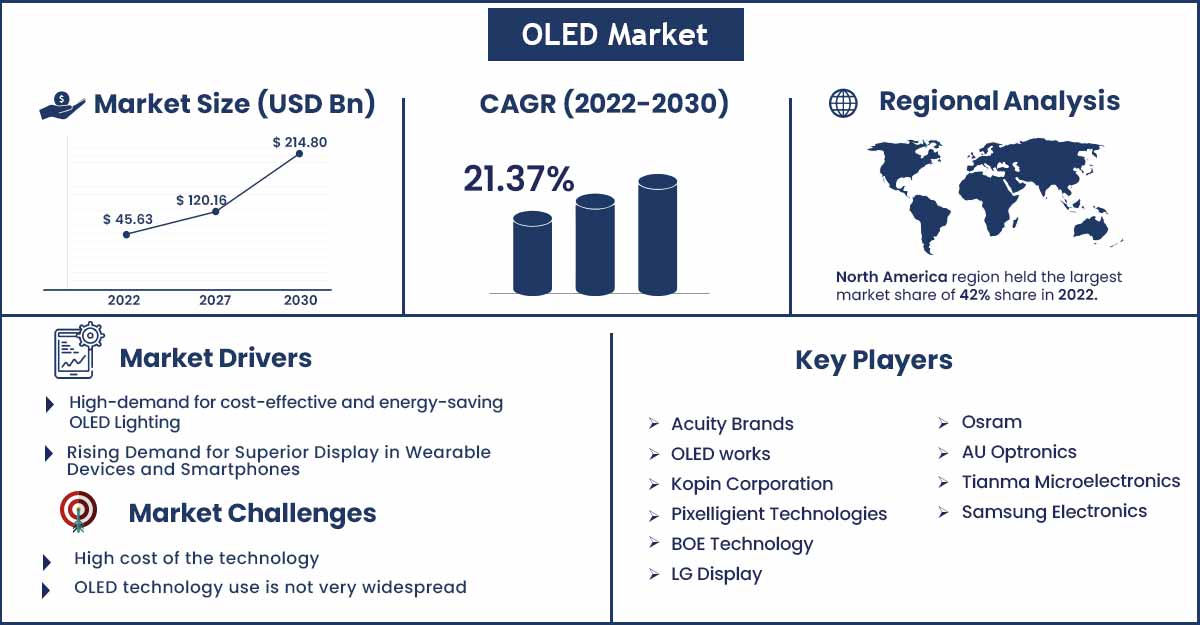 The expanding use of OLED technology across a range of industries, particularly the consumer electronics market, is anticipated to fuel the rise. In the years to come, it is anticipated that rising investments and consumer demand for products like cameras, mobile phones, and others would affect industry growth. Organic Light Emitting Diode (OLED) displays have better contrast and brightness than traditional LED, VFD, or LCD displays. They also offer quicker reaction times, broader viewing angles, and lower power consumption. OLED displays do not need a backlight for the best visibility in all settings since its organic substance makes them self-illuminating.
Through 2027, it is predicted that advancements in OLED technology would fuel market development overall. These technology and products have been constantly developed by several businesses.
The popularity of AMOLED screens is rising everywhere. To facilitate the passage of energy across many big screens, these components are frequently employed in large displays. Behind each pixel on AMOLED screens are strips of thin-film transistors (TFT). Better refresh rates due to the ease of pixel activation and improved viewing angles will increase product demand, resulting in the expansion of the AMOLED display category throughout the course of the projected period.
OLED displays are widely employed in a variety of consumer electronics goods, provided that they can use less electricity. Among these, mobile cellphones are expected to have a big commercial impact. Reputable experts predict that roughly half of all smartphones sold in 2022 will have an OLED display. Additionally, the use of OLED displays in televisions is expanding as a result of technological breakthroughs that have facilitated the creation of large-sized panels. OLEDs are now being used in other consumer goods, like as microwaves and washing machines, to help make them more ecologically friendly.
Report Highlights:
PMOLED is anticipated to dominate. The OLED market is predicted to be driven by the rising use of PMOLED panels in wearable technology, media players, automobiles, healthcare technology, and other products.
Mobile phones accounted for more than 80% of the market share for OLEDs, making them the most popular end-use industry.
To save expenses and greenhouse gas emissions, governments throughout the world have focussed on installing OLED technology-based lighting.
The Asia Pacific OLED display market is anticipated to grow through 2027 due to the region's concentrated manufacturing and rising product demand.
The prospects in the phone, tablet, laptops and PC monitor, tv, signage/large format display, car and public transportation, wristwatch, and near-to-eye (NTE) device make the future of the OLED market appear good.
OLED Market Report Scope:
| | |
| --- | --- |
| Report Coverage | Details |
| Market Revenue in 2023 | USD 55.38 Billion |
| Projected Forecast Revenue in 2030 | USD 214.8 Billion |
| Growth Rate from 2022 to 2030 | CAGR of 21.37% |
| Largest Market | North America |
| Base Year | 2022 |
| Forecast Period | 2022 To 2032 |
| Regions Covered | North America, Europe, Asia-Pacific, Latin America, and Middle East & Africa |

Regional Snapshots:
Due to the fact that key vendors like LG and Samsung have production facilities in the region, Asia Pacific is predicted to see the greatest CAGR in the OLED display market. Additionally, companies that produce TVs, signs displays, and other products have regional headquarters, such as Samsung Electronics, the biggest producer of OLED displays in the world. Furthermore, China is the largest OLED production center and consumer goods market in the world, both of which are expected to increase demand for OLED displays and speed up market growth.
Market Dynamics:
Drivers:
The OLED industry is evolving swiftly. OLEDs have attracted consistent interest from the worldwide scientific and industrial communities throughout the years. OLEDs come in a wide range, with an emphasis on active and passive matrix solutions, and have applications across a wide range of sectors. The major area of investigation in the OLED industry is the production of white OLEDs with a long lifespan of much more than 15,000 hours at a brightness of 1,000 cd/m2. Additionally, the advent of flexible OLEDs with enhanced mobility has made it feasible to create electronics that are bendable, light, and unbreakable. OLED displays do not require the backlighting or filtering components frequently seen in LCD displays since they use organic materials to produce light.
Over the next 10 years, OLEDs are predicted to replace LCDs in the majority of applications, including large televisions and small wristwatch screens. OLED screens are easier to recycle and sunlight-readable than LCDs. Due to the lack of a backlight and the fact that each pixel on the screen generates its own light, OLED displays have great contrast. When contrast is required, the display simply reduces brightness or turns off the relevant pixels to provide a true, deep dark colour while consuming less energy. Due to its high brightness, low energy consumption, and greater contrast ratio, OLED displays are widely employed in a wide range of applications.
Restraints:
Alternative technologies like micro-LED and direct-view LED provide comparable advantages. Micro-LEDs are light-emitting diodes that are made in micrometre diameters and can be employed in the production of self-emitting displays. Thus, micro-LEDs are significantly brighter and more power-efficient since the backlit panel is not necessary. With regard to display and lighting applications, micro-LEDs are predicted to be the game-changing innovation. Micro-LED technology can be utilised for lighting and display purposes.
Due to the benefits that Micro-LED technology has over other display technologies like LCD and OLED, the market for display panels based on this technology is anticipated to expand quickly. Benefits of the technology include quicker reaction times, increased brightness, and longer device battery life, particularly for business and retail applications.
Opportunities:
Because OLED technology provides efficient and appealing lighting panels, OLED smart TVs are growing in popularity. Smart TVs are digital televisions that have facilities for connecting to the internet. What is essentially a conventional television set now incorporates interactive Web 2.0 features and the internet. Users may view photographs and surf the internet while listening to music and watching movies. According to a Cisco study, online video streaming accounted for 90% of all internet traffic in 2019. These factors are what are causing the entertainment industry and the definition of entertainment to change thanks to smart OLED TVs. The widespread adoption of luxury goods like curved OLED TVs is likely to be a result of rising disposable income brought on by strong economic expansion.
Challenges:
One of the major challenges facing the OLED market is the need for significant investment and the corresponding rise in production complexity. The most recent LTPS-LCD manufacturing facilities may be converted to OLED factories by adding additional machinery. However, a substantial initial expenditure is necessary. Additionally, due to panel overstock, the TFT-LCD business is currently suffering losses. It is anticipated that the first group to suffer significant losses on their initial investment before rebounding in the OLED market would be LG Display, Japan Display, and AU Optronics. An AMOLED screen still has to be produced using more advanced technology than an LCD. The supply chain is significantly more complicated as a result of the complicated value chain and many suppliers.
Recent Developments:
LG announced the June 2020 release of a new dazzling, clear OLED display for use in digital signage solutions. In order to deliver an extremely responsive, accurate touch experience, the new display combines projected capacitive (p-cap) film technology and cutting-edge touch screen technology. The new OLED display is made of anti-reflective, toughened, shatter-resistant front glass to make it suitable for commercial use.
Major Key Players:
Acuity Brands
OLED works
Kopin Corporation
Pixelligient Technologies
BOE Technology
LG Display
Osram
AU Optronics
Tianma Microelectronics
Samsung Electronics
Universal Display Corporation
Lumiotec
Royole Corporation
Konica Minolta Pioneer OLED
China Star Optoelectronics Technolog
Emagin Corporation
JOLED
Raystar Optronics
Panasonic
Truly International
Visionox
Winstar Display
Wisechip Semiconductor
Market Segmentation:
By Technology
Active-matrix OLED (AMOLED)
Passive-matrix OLED (PAMOLED)
Foldable OLED
White OLED
Transparent OLED
Others
By Product Type
By Display Panel Type
By Application
Smartphone & Tablet
Smartwatches & Wearables
Television
Digital Signage Systems
PC Monitors
Laptop
Others
Buy this Research Report@ https://www.precedenceresearch.com/checkout/2128
You can place an order or ask any questions, please feel free to contact at sales@precedenceresearch.com | +1 9197 992 333