The global patient temperature monitoring market size was evaluated at USD 4.15 billion in 2022 and is expected to touch over USD 6.8 billion by 2030, representing at a CAGR of 6.37% during the forecast period 2022 to 2030.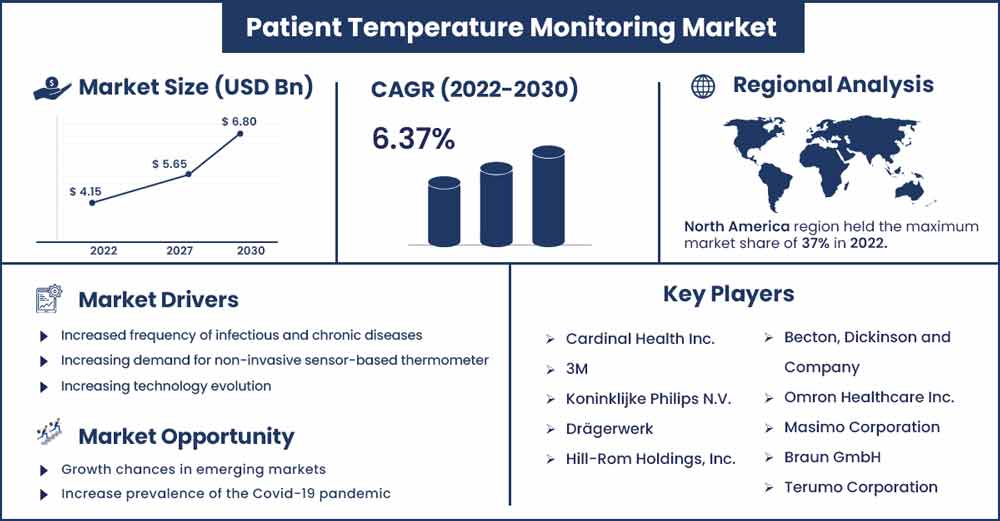 Healthcare workers may evaluate acute illnesses, inflammation, infections, and antigenic reactions thanks to body temperature monitoring. Additionally, it aids in describing the illness and evaluating how well treatments work. On diverse body parts, including the mouth, ear, armpit, rectum, and forehead, it is carried out utilizing a variety of non-invasive techniques and technologies. On the other hand, intrusive techniques are used all over the world to measure the core temperatures of severely ill patients, including thermometers, probes, and electronic pills. Additionally, states and municipalities in various regions of multiple nations are putting their reopening plans into action.
The need for non-contact temperature assessment devices to measure people's body temperatures at entrances to public spaces including schools, colleges, workplaces, malls, supermarkets, restaurants, and metro stations is increasing as a result of this. In addition, these tools serve as a typical screening test for infectious disorders. As a result, there has been a marked increase in their incidence among children worldwide, which is driving the market's expansion.
Additionally, the market is growing as a result of wearable technology that can continually and precisely detect core body temperature and deliver real-time data on smartphones. Additionally, as exercise increases core body temperature, more people who engage in professional sports and other physical activities are using body temperature monitoring devices. The most accessible place to measure the core body temperature is the mouth cavity, which is also widely assumed to do so. The most frequent location for local sensors to measure body temperature is the mouth cavity. Eating and drinking might skew the results of an oral temperature measurement.
Inaccurate readings may result from placing the thermometers within the mouth and beneath the tongue. The onset of the COVID-19 pandemic has altered how medical treatment is provided globally. One of the major causes driving up demand for patient temperature monitoring devices globally to offer early indications of fever and illness is the global epidemic of coronavirus disease (COVID-19).
The pandemic caused an all-time high growth in the patient temperature monitoring market, which may be ascribed to the surge in infectious disorders including COVID-19, infections with Mucor mycosis, pneumonia, and other associated illnesses. The use of infrared (IR) thermometers and other non-contact thermometers, which were incredibly helpful for identifying the new instances of an outbreak caused by the virus, led to a rise in the requirement for non-contact thermometers as a result.
Regional Snapshots:
North America, which generates the most revenue for the market, is anticipated to expand at a CAGR of almost 6.9% during the projected period. The existence of substantial market participants, a developed economy, high disposable income, rising healthcare spending, a high rate of surgical procedures, and an increase in blood donation and transfusion activities may be credited for this.
Due to the benefits of patient health assessment, the American healthcare system has invested significantly and added new patient temperature monitoring devices. Additionally, a surge in viral infection outbreaks like COVID-19 is expected to fuel growth in the U.S. patient temperature monitoring market throughout the course of the projected period. Additionally, a sizable portion of the industry is in Europe, and in the years to come, that market is predicted to expand quickly. This would be a result of both the active research being done in patient monitoring technologies and the increased incidence of diabetes and cancer.
Patient Temperature Monitoring Market Report Scope:
| | |
| --- | --- |
| Report Coverage | Details |
| Market Revenue in 2023 | USD 4.41 Billion |
| Projected Forecast Revenue in 2030 | USD 6.8 Billion |
| Growth Rate from 2022 to 2030 | CAGR of 6.37% |
| Largest Market | North America |
| Base Year | 2022 |
| Forecast Period | 2022 To 2030 |
| Regions Covered | North America, Europe, Asia-Pacific, Latin America, and Middle East & Africa |

Report Highlights:
The market for patient temperature monitoring is currently led by the non-invasive temperature monitoring category, and this is anticipated to continue. Because of the more accessible, enjoyable, straightforward, and precise temperature monitoring made possible by various versions, this sector is expanding.
The demand for oral thermometers is rising as a result of the increased need for oral temperature monitoring. This need is anticipated to hasten the market introduction of oral thermometers by providing a sizable potential for producers and distributors. Handheld temperature monitoring devices continued to have the biggest market share in 2021 with a 27.0% increase in patient convenience and availability.
The market for patient temperature monitoring has the largest share, or around 30.1%, in the pyrexia/fever category. The age of the population, as well as an increase in trauma and hemolysis, are the main factors contributing to this category's domination.
Hospitals will account for approximately 44% of the income generated by patient temperature monitoring systems in 2021, making them the leading end customers. The increase in the prevalence of infectious illnesses, the spike in demand for minimally invasive treatments, and the large number of people who frequent hospitals are the causes of this.
Market Dynamics:
Drivers:
The market for patient temperature monitoring will expand as a result of rising demand for non-contact sensor-based thermometers.
Healthcare applications benefit from accurate, non-contact temperature measurements made possible by infrared sensor-based thermometers. The most common uses for this kind of thermometer are for taking the temperature of the forehead, ears, or skin. To measure the infrared energy of an object, the temperature detecting device uses multiple thermocouples on a silicon chip. Of addition, with the rise in COVID 19 instances, many organisations and even residential societies closely adhere to social distance regulations.
This aspect is the main cause of the worldwide increase in demand for non-contact thermometers using infrared sensors. As a result, numerous businesses choose to produce digital infrared thermometers through inorganic strategic alliances in order to fulfil the projected demand for thermometers. For instance, Shopppemex announced the debut of its newest product, an infrared digital thermometer, in April 2020. This device can provide extremely quick readings of body and surface temperatures without making contact.
Restraints:
The substantial risk of contamination associated with mercury based thermometers may place growing constraints on the market for monitoring patient body temperature. Despite the increased need for thermometers globally, a few factors are restricting the growth of the temperature management market. One of them is the risk posed by thermometers made of mercury. The silver ball within the thermometer is extremely dangerous to people if the glass breaks or is not cleaned correctly. As a result of the significant risk involved, people are consequently less likely to use contact thermometers, which restricts the market's capacity to grow.
Opportunities:
Rising blood transfusion procedures, rising awareness of continuous temperature monitoring, rising demand for advanced temperature monitoring devices, rising number of different surgical procedures, and rising constant innovations and technological developments in the industry are the main factors among others driving the patient temperature monitoring market. The growing geriatric and pediatric population is a vital factor escalating the market growth. Additionally, growing R&D activities, technical developments, and modernization in the healthcare industry, as well as expanding developing markets, will all foster fresh growth prospects for the patient temperature monitoring market throughout the course of the projection year.
Challenges:
In order to do minimally invasive core temperature monitoring, a temperature catheter is introduced through the anus and several centimetres into the rectum. These devices may not be used due to issues including the prolonged monitoring duration, related privacy worries, the high risk of intestinal injury, and the presence of faeces that prevent the thermometer from hitting the intestine wall.
Recent Developments:
3M created the 3MTM SpotOnTM system, a non-invasive, precise core temperature monitoring system that uses a cost-effective single-use sensor to continuously monitor patient temperature. This system promotes standardisation by using a single, reliable temperature monitoring technique throughout the perioperative period.
Sensesense created STEADYTEMP®, a Class I certified medical device that offers a rapid, simple, and accurate method of detecting temperature. A graphical depiction of temperature growth is provided by STEADYTEMPcontinuous, ®'s non-invasive, and precise measurement at regular 5-minute intervals.
Key Market Players:
Cardinal Health Inc.
3M
Koninklijke Philips N.V.
Drägerwerk
Hill-Rom Holdings, Inc.
Becton, Dickinson and Company
Omron Healthcare Inc.
Masimo Corporation
Braun GmbH
Terumo Corporation
Paul Hartmann AG
Beurer GmbH
Microlife
Omega Engineering
iHealth
Briggs Healthcare
Market Segmentation:
By Product
Smart Temperature Monitoring Patches
Table-Top Temperature Monitoring Devices

Non-invasive Vital Sign Monitoring Devices
Continuous Core Body Temperature Monitoring Devices

Wearable Continuous Monitoring Sensors
Handheld Temperature Monitoring Devices

Mercury Thermometers
Digital Thermometer
Infrared Thermometer

Invasive Temperature Monitoring Devices
By Type
Non-invasive Temperature Monitoring

Tympanic Membrane Temperature Monitoring
Oral Temperature Monitoring
Axillary and Temporal Artery Temperature Monitoring

Invasive Temperature Monitoring

Rectal Temperature Monitoring
Esophageal Temperature Monitoring
Nasopharynx Temperature Monitoring
Urinary Bladder Temperature Monitoring
By Application
Blood Transfusion
Hypothermia
Anesthesia
Pyrexia/Fever
Others
By End-User
Hospitals

Emergency Rooms
Intensive Care Units
Operating Rooms

Ambulatory Care Centres
Nursing Facilities
Home Care Settings
Buy this Research Report@ https://www.precedenceresearch.com/checkout/2336
You can place an order or ask any questions, please feel free to contact at sales@precedenceresearch.com | +1 9197 992 333