The global plant-based beverages market size was exhibited at USD 27.90 billion in 2022 and is projected to attain around USD 73.19 billion by 2032, poised to grow at a strong CAGR of 10.12 percent during the projection period from 2023 to 2032.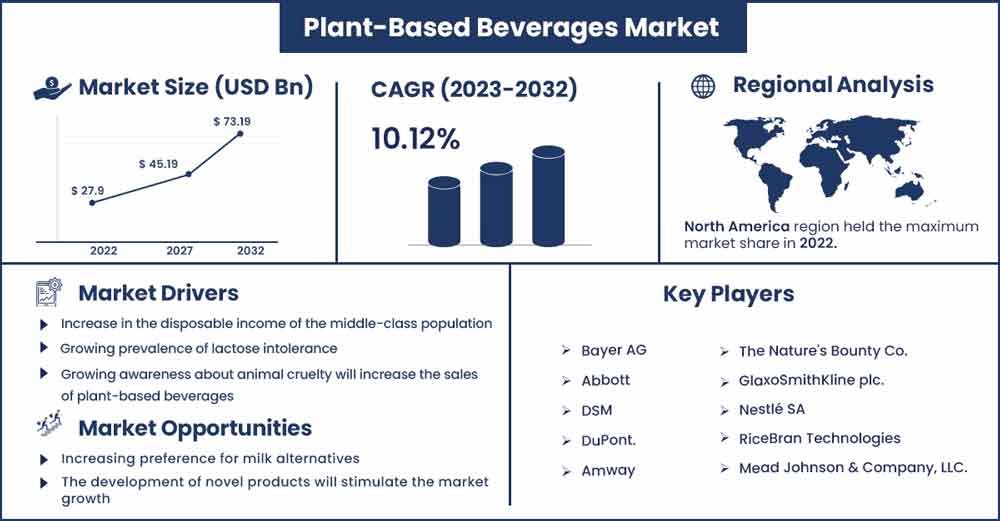 Market Overview:
The global plant-based beverages market revolves around the development, production and distribution of drinks and beverages by utilizing plant-based materials such as plant matter, seeds, grains, and other forms of material extracted from plants. They are frequently used to replace dairy milk.
With the rising awareness about plant-based nutrients, the market for plant-based beverages is observed to grow. Most soy and grain-based drinks are traditionally manufactured with low-quality, imported components. Consumers across the globe are looking for alternatives to conventional dairy drinks that are also ecologically friendly and are becoming more and more interested in plant-based beverages. As a result, the food sector is creating a variety of accessible, enticing, nutritious, and long-lasting plant-based milk substitutes.
Regional Snapshot:
Asia Pacific held a significant share of the market in 2022, the region is observed to grow at a significant rate during the forecast period. As vegetarian cuisine becomes increasingly popular, the Asia-Pacific is quickly gaining momentum in the plant-based beverages and food business. Customers looking for better dietary options that satisfy their nutritional preferences and taste have shown special interest in the demand for meat and dairy substitutes in this region, this element propels the growth of the market in Asian countries. Additionally, the region is moving towards plant-based diets due to the increased attention paid to ecological and animal welfare issues. As a result, substantial investments have been made in the plant-based beverage and food sectors throughout Asia-Pacific. Government funding for health programs also encourages industry innovation, furthering its expansion and advancement.
Europe is also expanding considerably in the years to come. In the UK, there has been a rising number of vegan startups. Companies like Little Bandits and Allplants Ltd are introducing new goods to the market to meet the growing demand for inventive, plant-based food items. Compared to other European nations, Germany has the highest percentage of vegetarians. In Germany, a nation with an estimated 82 million inhabitants, veganism mostly centers around organic, gluten-free, naturally occurring, and unprocessed foods. These results indicate that the country's plant-based beverages market will grow significantly during the next several years.
Report Highlights:
By type, the plant-based milk segment is observed to acquire the largest share of the market during the forecast period. The rising emphasis on plant-based protein sources along with the rising inclination towards veganism is observed to be the major contributing factor for the segment's growth.
By source, the soy beverage segment led the market in 2022, the segment is anticipated to grow at a significant rate during the forecast period. The segment's growth is anticipated to the advantages of soy milk comparable to milk derived from dairy products, it is extensively eaten worldwide.
By distribution channel, in the forecast period, the online stores segment is observed to generate a significant share in the market. The availability of a wide range of plant-based beverages plays a significant role in the segment's expansion
Plant-Based Beverages Market Report Scope:
| | |
| --- | --- |
| Report Coverage | Details |
| Market Revenue in 2023 | USD 30.72 Billion |
| Projected Forecast Revenue in 2032 | USD 73.19 Billion |
| Growth Rate from 2023 to 2032 | CAGR of 10.12% |
| Largest Market | North America |
| Base Year | 2022 |
| Forecast Period | 2023 To 2032 |
| Regions Covered | North America, Europe, Asia-Pacific, Latin America, and Middle East & Africa |

Market Dynamics:
Driver:
Rising demand for environmentally friendly products
Plant-based dairy products have a lower environmental effect than manufacturing of other beverages since their raw ingredients are obtained from plants. According to research by Oxford University, the manufacturing of milk results in three times as many greenhouse emissions as that of milk made from plants. In addition, milk production takes ten times more area to produce the same quantity for a year as oat milk. Due to the significant amount of methane gas produced by cow dung and burps, milk production generates a lot of greenhouse emissions. Methane gas is also reported to have a 25-fold greater greenhouse effect than carbon dioxide. As a result, producing milk has a big influence on the environment. Whereas the production of plant-based beverages is expected to lessen the environmental effects, by acting as a driver for the market's growth.
Restraint:
Low calcium obtained from plant-based products
Edible products made from plants have the drawback of having less calcium than those obtained from animals. When comparing cow's milk with soy milk, cow's milk has 220 mg of calcium per 200 ml, whereas soy milk has just 30 mg. Even though certain goods add calcium, plant-based diets absorb calcium at a rate less than foods made from animals. Milk made from almonds and rice milk are two examples of plant-based milks that essentially have low amounts of calcium. Dairy products made from plants are not recommended if increasing calcium consumption is the objective for patients. This causes a limitation in the adoption of plant-based beverages by acting as a major restraint for the market.
Opportunity:
Improvisation of the overall products
While addressing the major constraints in the industry such as low nutritional values, the market players in the global plant-based beverages market are focused on the production of clean-label beverages by improving the overall nutritional values in the product. Moreover, the development of creative plant-based beverages that contribute to the revolution of healthy eating is observed to address the challenges with such beverages. Thus, such advancements in the products are observed to offer significant opportunities for the market in the upcoming years.
Challenge:
Risks associated with the formation
Working with natural products increases the threat of exposure to chemical residues, such as allergies, pesticides, and mycotoxins, which are less common and different than raw milk. The likelihood of allergen cross-contamination and related recalls due to incorrect labeling dramatically rises with the production of a wider variety of drinks that include allergenic components, such as tree nuts, soy, or gluten proteins. Manufactures entering the plant-based, low-acid beverage sector must revise their risk evaluations and manufacturing practices to account for new technical obstacles and physical, chemical, and biological dangers. Considering the potential limitations and risks with the processing of plant-based products, the factor is observed to create a significant challenge for the market.
Recent Developments:
In June 2023, with the release of its much-anticipated plant-based, vegan-friendly drinks, Bagrry's celebrated its expansion by meeting the desires of health-conscious people looking for ethical, vegan, and sustainable solutions. These goods represent a revolutionary extension of the steadily expanding market for vegan-friendly drinks. The highest-quality ingredients derived from plants are skilfully combined to create Bagrry's plant-based beverages, which ensures a wholesome and satisfying experience.
In June 2022, Nestlé debuted Little Steps Plantygrow under its SMA Nutrition line, a new Plant-based beverage for toddlers. The manufacturer stresses that the drink is not a substitute for breast milk but rather a dietary supplement meant to be relished by children from 1-3 years old as a part of a diverse and balanced diet. The substitute for milk may be either straight up or mixed into shakes and smoothies. Nestlé claims that their 'Growing Up Drink' has been enhanced with iodine, omega-3 fatty acids, vitamins A, C, B2, B12, and iron. The beverage also has vitamin D and calcium in it.
Major Key Players:
Bayer AG
Abbott
DSM
DuPont.
Amway
The Nature's Bounty Co.
GlaxoSmithKline plc.
Nestlé SA
RiceBran Technologies
Mead Johnson & Company, LLC.
Medifast, Inc.
Premier Nutrition Corporation
TOOTSI IMPEX Inc.
U.S. Spice Mills, Inc.
Health Food Manufacturers' Association
NOW Foods
Glanbia PLC
Herbalife International of America, Inc.
Bionova
Market Segmentation
By Source
Coconut
Soy
Almond
Rice
Oats
Hemp
Others
By Type
Plant-based Milk
Juices
Tea and Coffee
Others
By Product
By Distribution Channel
Hypermarkets and Supermarkets
Specialty Stores
Online Stores
Others
By Function
Sauce & Dressing
Carbonated Soft Drink
Cardiovascular Health
Cancer Prevention
Lactose Intolerant
Bone Health
Buy this Research Report@ https://www.precedenceresearch.com/checkout/2610
You can place an order or ask any questions, please feel free to contact at sales@precedenceresearch.com | +1 9197 992 333