The global power transistors market size surpassed USD 17.13 billion in 2022 and it is expected to rake around USD 27.58 billion by 2032, poised to grow at a CAGR of 4.88% during the forecast period 2023 to 2032.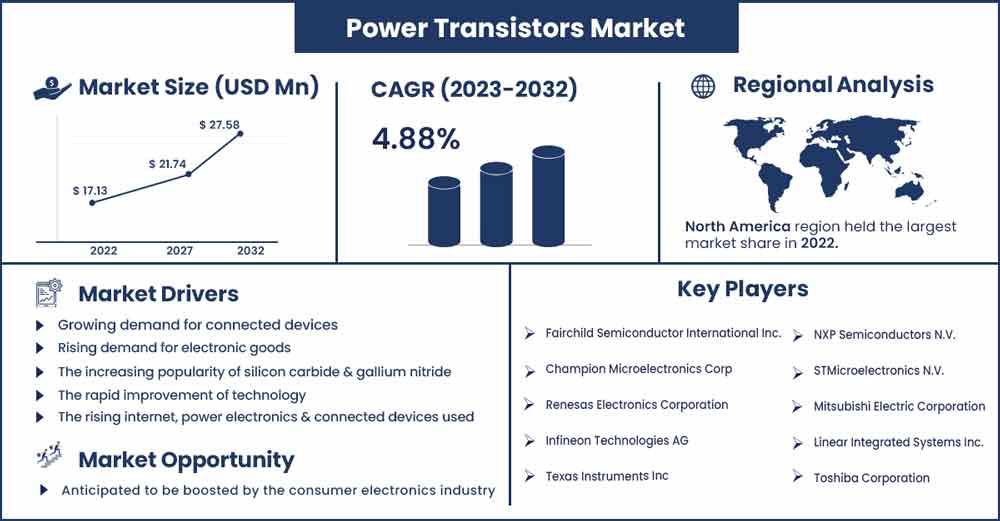 A transistor is termed as a semiconductor tool used to provide electrical signal amplification as well as switching. Greater power is carried by power transistors than by smaller transistors. Such semiconductor terminals come in a number of power as well as switching speed character tics and might have PNP or NPN polarity. Recently, power transistors have become more and more well-liked due to their ability to improve the power and switching efficiency of electric devices.
Transistors are frequently employed in electronic circuit boards and are typically made of semiconductor component like silicon. These can improve system correctness while boosting switching productivity as well as performance. Applications requiring high current and voltage are best suitable for power transistors. Field-effect transistors as well as bipolar junction transistors are two categories for power transistors. The primary basis for categorizing transistors is their structure. Transistor of each type has a unique set of characteristics, advantages, and disadvantages. Current-controlled semiconductors are bipolar junction transistors.
When a tiny amount of current flows through a base of a bipolar junction transistor, a big amount of current is produced from emitter to collector. Field Effect Transistors, on the other hand, are unipolar devices as the majority number of charge carriers are all they require for activation. Power transistors are used in signal amplifier devices as well as power controllers and regulators. Due to its power-saving capability, its primary use is in the production of automobiles, industries, and telecommunication.
Report Highlights:
The need for power transistors is likely to increase internationally throughout the anticipated time period due to the vehicle sector. This is a result of rising demand for cars, which also adds to the need for sustainable growth to encourage the manufacturing of EVs and an increase in environmental issues.
The Asia-Pacific region is seeing the fastest growth in the global markets for power transistors due to the presence of large companies like Toshiba Corporation and Mitsubishi Electric Corporation, among others.
The bipolar junction transistor is anticipated to have the biggest global power transistor market throughout the projected period as a result of the increased demand for electronic gadgets around the world.
The market share for low-voltage FETs was greater than 41% in 2022. The sales of each of these components, which each sell at least a million units yearly, have been the primary drivers of the market for low-voltage FETs.
Power Transistors Market Report Scope:
| | |
| --- | --- |
| Report Coverage | Details |
| Market Revenue in 2023 | USD 17.97 Billion |
| Projected Forecast Revenue in 2032 | USD 27.58 Billion |
| Growth Rate from 2023 to 2032 | CAGR of 4.88% |
| Largest Market | Asia-Pacific |
| Base Year | 2022 |
| Forecast Period | 2023 to 2032 |
| Regions Covered | North America, Europe, Asia-Pacific, Latin America, and Middle East & Africa |

Regional Snapshots:
Due to prominent corporations like Toshiba Corporation, Mitsubishi Electric Corporation, and other enterprises, the Asia-Pacific region is expected to be the fastest-expanding power transistor market. Some large nations with a sizable market share are China, Japan, Taiwan, and South Korea. Additionally, the area offers a sizable market for smartphones and 5G technologies.
Power transistor market growth is anticipated to be aided by the region's increased production of electronic equipment to meet the rising demand for electronic cars, consumer electronics, and power and energy.
China makes a major contribution to the semiconductor business. The usage of semiconductors in electric cars will be driven by the growing demand for electric vehicles.
In contrast to other nations in the area, China, South Korea, and Japan are experiencing a significant rise in semiconductor demand due to the ongoing export of different electronic devices to China. Furthermore, China is home to one of the top five consumer electronics markets in the world, which creates a wealth of prospects for the adoption of semiconductors during the projected time period across the whole area.
Market Dynamics:
Drivers:
Over the forecast period of 2022 to 2032, the increased demand for connected devices is anticipated to have an impact on the growth of the power transistor market. Additionally, it is projected that greater consumer knowledge of the power transistor's advantages would spur the market for these devices. These advantages include switching capability, durability, and others. Additionally, the widespread use of electronic devices, their high rate of consumption, and the development in their power efficiency are all expected to have a beneficial effect on the market's expansion. Additionally, it is anticipated that there will be a significant increase in demand for power transistors as well as a boost in the growth of the power transistor market due to the rise in need for power-efficient electronic devices and the high demand for silicon carbide (SiC) and gallium nitride (GaN) transistors.
Restraints:
Long-term market growth of the power transistors market may be hindered by operational restrictions due to limits like temperature sensitivity, reverse blocking capacity, restriction of operation above switching frequency of 15 kHz, and among others.
The power transistors market was significantly damaged by the COVID-19 outbreak. Production facilities for semiconductors and electronics were suspended as a result of the global labor shortage and slowdown. Due to travel restrictions and manufacturing plant closures brought on by COVID-19, the power transmission industry saw a large and extended decline in growth.
Opportunities:
Market growth is anticipated to be boosted by the consumer electronics industry. The segment's growth is supported by the rapid use of consumer electronics items including headphones, cellphones, laptops, wearable device, and portable gadgets.
Power transistor demand will be driven by the growing need for better effective semiconductors in the consumer devices. The number of 5G subscribers having a 5G-enabled device increased by 70 million in the first quarter of year 2021, according to the Ericsson Mobility Report, and is expected to reach 580 million by the end of 2021.
Due to rising consumption and rising data requirements for the processing of data, the market for 5G-capable devices will see a boom in the upcoming years. Chip manufacturers will increasingly need 5G chipsets to meet the growing demand for 5G-enabled devices, including smartphones. The expansion of semiconductor chips will support the advancement of semiconductors, ultimately increasing the demand for power transistors.
There will likely be a scarcity of semiconductors in the future due to the rising demand for power transistors. The United States Senate has also proposed the FABS Act, which would grant tax benefits to semiconductor firms in order to increase semiconductor manufacturing capacity in step with the rise in demand for semiconductors in the automotive sectors and consumer electronics.
Challenge:
While less aftermarket sales and poor load-bearing capacity may pose challenges to the growth of the power transistor market in the forecast period, the rise in performance concerns due to thermal runaway and also the operating switching frequency are anticipated to act as the major growth constraints for power transistors in the aforementioned forecasted period.
Recent Developments:
May 2019 - Samsung declared intentions to start production for one of the 2-3-nilm GAA processes in the second part of 2020, with major production planned for 2012. The business intends to begin 3 nm GAA process manufacturing in 2021, with mass production beginning in 2022. Samsung's 7-nm FinFET technology was the first to adopt the new-generation extreme ultraviolet lithography.
September 2018 - NXP Semiconductors N.V. launched a new RF-electronic transistor technology aimed at scientific, industrial, and medical applications like plasma processing, laser generation, skin treatment, magnetic resonance imaging, and diathermy. This technology uses a ground-breaking 65 V Lateral Dispersed Oxide Semiconductor (LDMOS) silicon technology.
Major Key Players:
Fairchild Semiconductor International Inc.
Champion Microelectronics Corp
Renesas Electronics Corporation
Infineon Technologies AG
Texas Instruments Inc
NXP Semiconductors N.V.
STMicroelectronics N.V.
Mitsubishi Electric Corporation
Linear Integrated Systems Inc.
Toshiba Corporation
Market Segmentation:
By Product
Low-voltage FETs
IGBT modules
RF and microwave power
high-voltage FET power
IGBT power
By Type
Field Effect Transistor
Heterojunction Bipolar Transistor
Bipolar Junction Transistor
Others
By Industry Vertical
Consumer Electronics
Communication Technology
Manufacturing
Automotive
Others
Buy this Research Report@ https://www.precedenceresearch.com/checkout/2574
You can place an order or ask any questions, please feel free to contact at sales@precedenceresearch.com | +1 9197 992 333