The global single cell oil market size is anticipated to reach around USD 726.4 billion by 2032 up from USD 74.19 billion in 2022 with a CAGR of 25.62% between 2023 and 2032.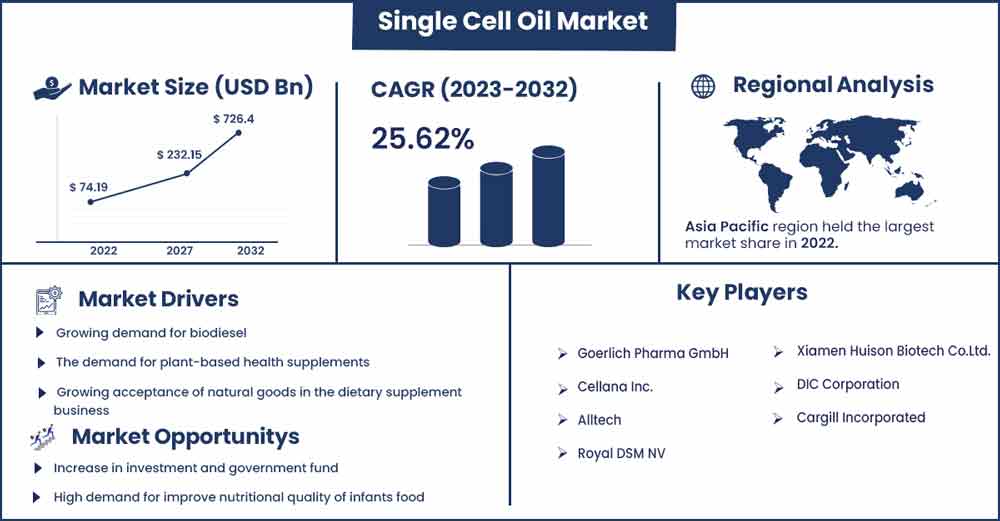 Market Overview:
Single-cell oils have become a highly desirable feedstock for sustainable biodiesel synthesis due to their similar structure and content to plant oils. The usage of biofuel is widespread in sectors like transportation, electricity production, and heating. It is a possible source of renewable energy that can successfully reduce pollutants in the environment like wastewater and carbon dioxide in the atmosphere. Fuel-grade SCOs are perfect for a bio-based economy because they offer efficient operation and purification of more valuable fuels.
The oils that filamentous fungus produce are perfect as raw materials for biodiesel production. In fact, as they may produce oils with qualities resembling those of vegetable oils, fungal SCOs find significant use in the manufacturing of sustainable biodiesel. Due to their hydrolyzing enzymes and unique pellet form, filamentous fungus are being employed more frequently in the production of single-cell oil. This helps with the harvesting process.
There are little labor needs and no seasonal or climatic effects on the lipids utilized as feedstock for biofuel applications. These materials are useful for the synthesis of biodiesel since they can simply be scaled up for industrial processing to produce SCOs. To strengthen their market positions, several of these firms are concentrating on expansion initiatives. For instance, the Dutch multinational company Royal DSM announced the beginning of a campaign to promote the use of omega-3 components derived from algae in April 2022. Their recently enlarged line of algal omega-3 products is in line with the promotion.
Regional Insight:
Due to the expanding pharmaceutical, automotive, and animal feed industries in the continent, the size of the single-cell oil market in Europe will increase. The use of SCO-based biodiesel, medications, and animal feed is being encouraged by the overpopulation of animals, treatments for rare and deadly diseases, and carbon-free transportation. So, a lot of governments are likewise making market-friendly policy choices. The UK government previously declared its intentions to expand spending on the nation's pharmaceutical industry, with a concentration on R&D, to £20 billion (USD 24 billion) annually by 2024-25.
Single Cell Oil Market Report Scope:
| | |
| --- | --- |
| Report Coverage | Details |
| Market Revenue in 2023 | USD 93.2 Billion |
| Projected Forecast Revenue by 2032 | USD 726.4 Billion |
| Growth Rate from 2023 to 2032 | CAGR of 25.62% |
| Largest Market | North America |
| Base Year | 2022 |
| Forecast Period | 2023 to 2032 |
| Regions Covered | North America, Europe, Asia-Pacific, Latin America, and Middle East & Africa |

Market Dynamics:
Drivers:
Increasing demand for algal oil in aquaculture
The demand for plant-based health supplements has increased due to the growing acceptance of natural goods in the dietary supplement business, which is anticipated to drive market expansion over the next nine years. Due to its low amount of saturated and trans fats, it can also be utilized as specialty oil in the food business, making it a healthy option. The market is anticipated to benefit from the expansion of application categories, especially in North America and Europe. Omega-3, which is driving demand in the animal feed industry, gives algae oil more nutritional value than grain feed. Also, it has a benefit over land crops that are used as animal feed because algae cultivation uses less water.
Restrain:
High manufacturing costs
The significant expenditures associated with the single cell oil fermentation process raise the manufacturing costs, making product utilization a high-investment endeavor for organizations switching to clean energy systems. Due to the low productivity of some oleaginous bacteria, which makes the procedure more time-consuming, the manufacture of single cell oils (SCOs) is not commercially viable. Further limiting growth possibilities are issues with solid-state fermentation process for single cell oil production, including problems with scaling up, managing process parameters, and expensive product recovery.
Opportunity:
High demand for improve nutritional quality of infants food
Soft home-cooked food is traditionally fed to infants; in impoverished and developing nations, this practice is still common. Nonetheless, the demand for packaged infant foods has expanded across all civilizations and cultures due to expanding urbanization and shifting lifestyles. Between the ages of four to six months and two years, these meals are given to infants. Increasing dietary awareness, an increase in structured retail marketing, urbanization, and a notable rise in the number of working women are important drivers of the infant food market's expansion.
Microorganisms Landscape:
The microorganisms needed to produce single cell oil only consume a small amount of feedstock and produce a large amount of product quickly and without harming the environment. Single Cell Oil is now a more affordable and sustainable source of protein than other traditional protein sources because of this property. Algae Biomass Corp. formed a partnership with Valensa International to broaden its clientele and invest more in R&D. The goal of this merger was to raise awareness of Single Cell Oil as a sustainable source of nutrient-dense sustenance for both people and animals.
The European Algae Biomass Association arranged a number of workshops for producers of nutrient-dense foods in order to raise awareness about the usage of Single Cell Oil and its favorable effects on the environment.
Application Landscape:
In terms of application, the increased use of SCO as feed in aquaculture because of their substantial nutritional value is driving the single-cell oil market position from the aquaculture segment. Many farm-raised fish species, including rainbow trout and Atlantic salmon, eat SCOs because they are a powerful source of omega-3, protein/amino acid, and bioactive compounds. By promoting fish development, the product's use as fish feed aids the aquaculture industry in increasing its commercialization and profitability.
Sugarcanes are primarily used as the raw material for the manufacturing of single cell oil because they are inexpensive carbon sources with high lipid contents. Sugarcane bagasse is also a possible source of biomass in regards of fermentable sugars. When employed as a starting material for the synthesis of SCO, sugarcane molasses offers the adaptability required to manage growth and lipid accumulation by adjusting the feed flow velocity of the carbon and nitrogen sources and limiting nutrients within the fermentation process. In order to get a better density and production of biomolecules during the growth phase, the substance is also largely used in bioprocessing.
Recent Development:
A US-based business that specializes in clinical diagnostics and life science research, Bio-Rad Laboratories, Inc., bought Celsee Inc. in April 2020 for an unknown sum. With this acquisition, Bio-Rad Laboratories expanded its single-cell analytic capabilities, providing important new information for the identification and management of the disease. A US-based company called Celsee, Inc. offers equipment and supplies for finding, isolating, and analyzing single cells.
For instance, Royal DSM expanded its selection of components generated from algae in April 2022 to provide customers with plant-based omega-3 solutions with no negative marine impact. By creating substitutes generated from fish oil, the business will be able to diversify its product line and outperform competitors on the international market.
Key Market Player:
Goerlich Pharma GmbH
Cellana Inc.
Alltech
Royal DSM NV
Xiamen Huison Biotech Co.Ltd.
DIC Corporation
Cargill Incorporated
Market Segmentation:
By Micro-Organisms
Bacteria
Yeast
Microalgae
Fungal
By Application
Bio-Fuel Feedstock
Fish Oil Substitute
Functional Oils
Animal Feed
Infant Formulae
Pharmaceutical Products
Aquaculture
Buy this Research Report@ https://www.precedenceresearch.com/checkout/2790
You can place an order or ask any questions, please feel free to contact at sales@precedenceresearch.com | +1 9197 992 333