The global small UAV market size is anticipated to reach around USD 11.32 billion by 2027 up from USD 4.75 billion in 2022 with a CAGR of 18.89% between 2022 and 2027.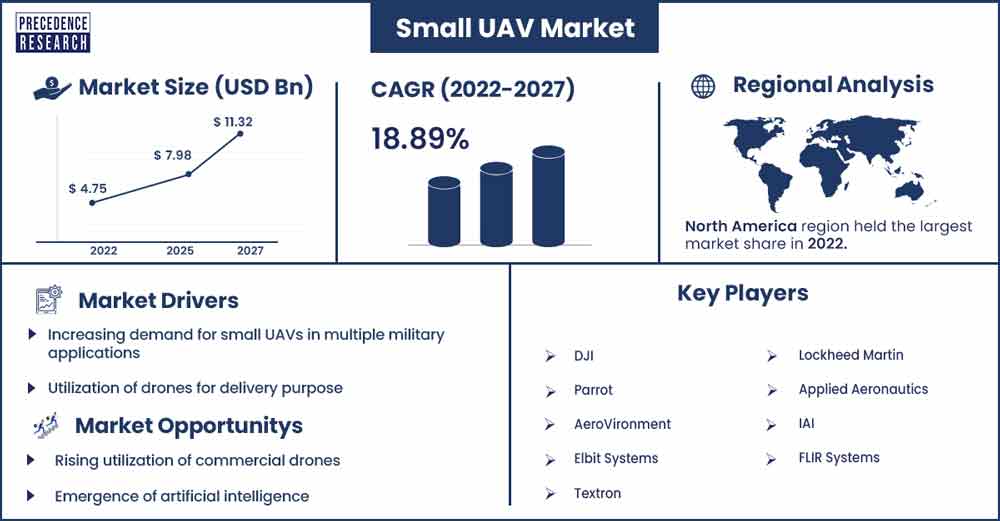 Market Overview
A small unmanned aerial vehicle (SUAV) is an aircraft that does not carry any human pilot, passengers, or crew. SUAVs are also known as drones which is a lightweight machine that has a low Maximum Weight Take-Off (MWTO). SUAVs are specifically designed to take relatively short-range flights. A small unmanned aerial vehicle is a flying robotic system that can be controlled remotely from a controller, a computer, or a mobile phone. These small unmanned aerial vehicles include advanced features like GPS, high-definition cameras, and obstacle avoidance sensors despite their small size.
Growth Factors
Small unmanned aerial vehicle is extensively used in defense, photography, construction & mining, agriculture, surveillance & inspection of infrastructure. SUAVs are employed in multiple sectors for various applications such as crop monitoring, video recording, environmental monitoring, surveying & mapping, and disaster management. The market's growth is driven by several factors including technological advancements, favorable government regulations, increase in geopolitical tensions, rise in the defense budget, and rapid growth of the agricultural sector. In addition, the market has grown as a result of the increasing use of the small UAV to carry out lethal counterterrorism strikes and other non-lethal operations. Furthermore, the wide adoption of SUAVs for civilian and military applications is projected to fuel the market's growth rate.
In November 2022, the Chhattisgarh government signed a memorandum of understanding at the Chhattisgarh Business Summit 2022 at India International Trade Fair-2022. The MoU was signed for setting up a manufacturing unit of drones and a UAV. An MoU has been signed between the state government and Manish Bajpai of Daybest Research Private Ltd for setting up drone and UAV manufacturing units with an investment of Rs.50.95 crore.
In February 2023, Skydio, an American drone manufacturer announced its strategic partnership with collaborated with India's Aeroarc, to manufacture the most advanced drones available for Indian government customers, compliant with local regulations and world-class security standards. The Indian government's 'Make in India' policy does not permit the import of foreign drones and to become the world's drone manufacturing hub. Skydio uses 100% non-Chinese components.
In October 2023, Kothari Industrial Corporation Ltd, a Chennai-based established a drone division to deploy drone technology in farmlands. KICL plans to invest over Rs 150 crore into the drone division in the coming few years. The company aims to revolutionize farming practices by using advanced drone technology to distribute nano-urea in agricultural lands.
In October 2023, Optiemus Infracom announced to invest Rs 25 crore in its new division called Optiemus Unmanned Systems (OUS) for research & development and manufacturing of Unmanned aerial vehicles (UAVs). Optiemus Unmanned Systems (OUS) plans to sell the drones in India and overseas markets. Optiemus is targeting a wide range of applications, including defence, healthcare, disaster management, agriculture, logistics, mapping, and oil and gas.
In November 2022, Garuda signed a Memorandum of Understanding (MoU) with the Indian Institute of Science (IISc) to work together on technical drone and research operations for over a period of 2 years. As per the company, the Department of Aerospace Engineering will support Garuda Aerospace and IISc in future operations. In addition, Garuda will also focus on providing aerial imaging, agricultural drones, and other related field services.
In February 2022, Zerodha co-founder Nikhil Kamath, along with Abhijeet Pai invested in drone start-up, Omnipresent Robot Tech through their investment arm Gruhas Proptech. Omnipresent's drones are deployed at various UltraTech Cement plants, ADB plants, and Adani Green Energy.
Small UAV Market Report Scope
| | |
| --- | --- |
| Report Coverage | Details |
| Market Revenue in 2023 | USD 5.67 Billion |
| Projected Forecast Revenue by 2027 | USD 11.32 Billion |
| Growth Rate from 2022 to 2027 | CAGR of 30.6% |
| Largest Market | North America |
| Base Year | 2022 |
| Forecast Period | 2022 to 2027 |
| Regions Covered | North America, Europe, Asia-Pacific, Latin America, and Middle East & Africa |

Regional Insights
North America is expected to dominate the small UAV market owing to technological advancements, increasing use of newer-generation military UAVs, presence of prominent market players, rising adoption of small drones for various civilian applications, and supportive government regulations. Among all countries in the region, the United States allocates a significant portion of its defense budget towards spending on war-to-war surveillance missions as well as the integration of technology and other mission applications.
Therefore, the United States has become the largest contributor to the small unmanned aerial vehicle (UAV) market, with an increase in defense budget. The U.S. spends on defense more than any other country in the world. As per the global military spending published by the Stockholm International Peace Research Institute (SIPRI), the United States spends the most on the defense sector across the globe.
The United States military spending reached $877 billion in 2022, which was 39% of total global military spending and 3 times more than the amount spent by China. As technology continues to evolve and new business models emerge, drones offer greater convenience to customers and significant opportunities to deliver goods to homes.
Due to the continuous efforts of logistics and retail firms such as Amazon and UPS, to implement the technology, home deliveries by drones have become a reality in North America. As per the recently published reports, Walmart plans to use its United States base of 4,700 stores located within 90 percent of the country's population to offer drone delivery services at scale. Drones have become cost-effective for package delivery.
According to the US Federal Aviation Administration, there are a total of 863,728 drones and 352,222 commercial drones registered in the United States for serving various purposes. Technology companies are rapidly deploying drones in their businesses after the FAA implemented regulatory benchmarks for commercial drones.
Walmart has partnered with several drone delivery companies such as DroneUp, Flytrex, Zipline, and Wing, and as of January 2023, Walmart established 36 stores as drone-delivery hubs in seven US states.
Market Dynamics
Drivers
Increasing demand for small UAVs in multiple military applications
Small UAVs are widely utilized in multiple military applications to serve various purposes and are expected to positively influence market revenue in the coming years. Military escalations are rising including the recent Israel-Hamas war in the Middle East, and Ukraine-Russia in Europe, and militaries across the globe have increased the adoption of SUAVs to strengthen their defense sector.
In June 2023, The US military provided a contract worth USD 118 million to RTX Corporation to procure the latest version of common sensor payload systems that will operate on the MQ-1C Gray Eagle unmanned aircraft.
In addition, to the rise in enemy trespassing and border crossing, many countries have reported making sizable SUAV production. Small UAVs are designed to carry tasks such as reconnaissance, intelligence gathering and surveillance for a variety of missions. Several nations have acquired as well as created their military drones to get ready for potential future conflicts and counterterrorism operations.
Utilization of drones for delivery purpose
The rising use of drones for food or package deliveries is anticipated to boost the market revenue. Drone delivery involves using flying drones to deliver packages from retailers to customers as courier services. Drones have the capability to deliver packages in shorter time span than any road logistics option. This creates more efficient delivery solutions, especially for food delivery companies. For instance, In October 2023, Amazon announced the launch of ultra-fast drone deliveries in Italy, the UK, and the U.S. The three new locations can expect to get their packages delivered by drone by the end of 2024.
Restraints
Stringent government regulations
Small or micro drones can pose a safety risk when flown in restricted or crowded locations and it may hamper future expansion. Commercial drones are employed in several nations for monitoring, mapping, and surveying purposes. As the operation of SUAVs continues to rise, government authorities are observed to implement stringent regulations for several locations. Therefore, the rising privacy and security concerns can hinder the market progress.
Challanges
Rapidly deploying of drones in the agriculture sector
Drone, as an emerging technology, has a wide scope of applications in the agriculture sector. SUAVs are widely deployed in precision agriculture for multiple purposes such as agrospraying and it assists in saving man hours associated with manual spraying of pesticides and alleviating risks associated with exposure to chemicals. SUAVs are also used in capturing images and videos of crops for timely intervention in agricultural processes and offer farm security. For instance, In October 2023, Heilongjiang Huida Technology Co., Ltd., a Chinese manufacturer of agricultural drones collaborated with Mexican dealer ORBITECH to introduce the HD540Pro agricultural drone in the Ensanada region of Mexicali, Mexico, the drone is designed to spray nutrients and pesticides in local orchards and aims to support the development of intelligent agriculture in Mexico.
In addition, Governments across the globe support the use of drones in agriculture for better productivity. The Indian Government is providing grants for drone purchasing and increasing support for drone manufacturers. Therefore, fueling the market's expansion in the coming years.
Lack of awareness in underdeveloped areas
In areas with limited awareness, there may be misconceptions about UAVs, including concerns about privacy, safety, or potential negative impacts. These misconceptions can deter potential users and hinder market growth. Operating small UAVs requires specific skills and training. Lack of awareness can lead to a shortage of trained operators and maintenance personnel, which is a barrier to the widespread adoption of these technologies.
Opportunities
Rising utilization of commercial drones
The increased use of commercial drones across various industries, including agriculture, construction, surveying, and more, has created a demand for smaller UAVs. Small UAVs are often more agile and cost-effective, making them suitable for a wide range of applications. Small UAVs are generally more affordable than their larger counterparts. As businesses and industries adopt drone technology, the lower cost of small UAVs makes them an attractive choice, especially for smaller enterprises and start-ups looking to enter the market. Small UAVs are well-suited for niche markets and specialized applications. They can be customized to meet specific industry needs, allowing companies to target niche markets effectively.
Emergence of artificial intelligence
AI-powered small UAVs can perform tasks autonomously, reducing the need for human intervention. This leads to increased operational efficiency and cost savings, making them more attractive for small businesses and organizations with limited resources. AI-equipped UAVs can collect and process vast amounts of data quickly and accurately. This data can be used for various purposes, such as crop monitoring, infrastructure inspections, or disaster response. Small businesses can leverage this data for decision-making and insights. AI-equipped UAVs are increasingly used in precision agriculture. They can monitor crop health, detect pests and diseases, and optimize irrigation and fertilization. Small agricultural businesses benefit from these technologies to increase crop yields and reduce costs.
Recent Developments
In March 2023, Manna, an Irish company, announced its expansion into the United States market with investment from Coca-Cola HBC, the bottling partner of The Coca-Cola Company. Manna stated that it has partnered with multinational real estate development company Hillwood to initially serve 10,000 residents in Texas' Dallas-Ft. Worth area. Manna's drones are designed to perform deliveries of up to 3.5 kgs (7 lbs) in high-density suburban last-mile settings. With an average flight time of just three minutes, these drones fly at an altitude of 50-80 meters and at a speed of over 60 kph.
Major Key Players
DJI
Parrot
AeroVironment
Elbit Systems
Textron
Lockheed Martin
Applied Aeronautics
IAI
FLIR Systems
Market Segmentation
By Type
Fixed Wing
Helicopter
Rotary Blade
By Application
Defense
Commercial and Civil
Buy this Research Report@ https://www.precedenceresearch.com/checkout/1177
You can place an order or ask any questions, please feel free to contact at sales@precedenceresearch.com | +1 9197 992 333