The global small UAV market was valued at US$ 411.8 million in 2020 and is predicted to surpass around US$ 1,350.1 million by 2027, poised to grow at a CAGR of 18.9% during the forecast period 2021 to 2027.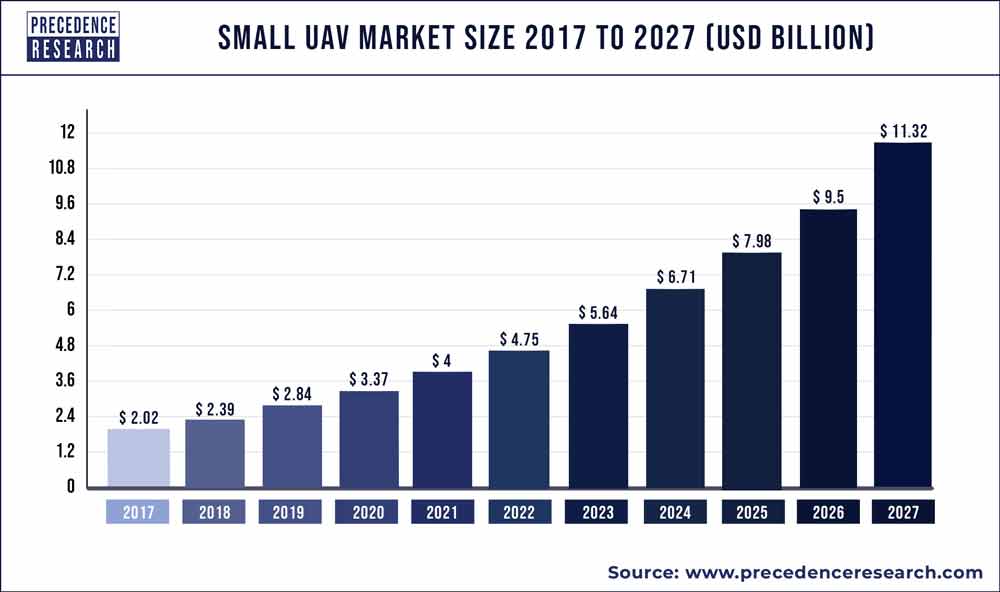 Key market Insights:
The intensifying realization of the UAV implementation in military operations has encouraged vendors to present UAVs that can be employed in plentiful commercial applications. These UAVs are also receiving receptions in other applications such as aerial photography, internet provision in remote places, and video recording, document wildlife and survey, and public service missions. Numerous corporations mainly offer small-UAVs that are utilized in aerial photography, agricultural, and data collection applications. As numerous nations seek to upsurge their military surveillance capability, enormous investments are being made in the advancement of small drones.
Crucial factors accountable for market growth are:
Rising implementation of small UAV's for commercial applications
High Frequencies of Terrorism compelling the usage of UAV's for its anti-terrorism competences
Technological progression in the arena of drone payloads
Budding demand of UAV's for cutting-edge patrolling of marine borders
Investments in unmanned aerial vehicles (UAVs) and drones
Report Scope of the Small UAV Market
| | |
| --- | --- |
| Report Highlights | Details |
| Market Size | USD 1,350.1 million by 2027 |
| Growth Rate | CAGR of 18.9% from 2021 to 2027 |
| Largest Market | North America |
| Fastest Growing Market | Asia Pacific |
| Base Year | 2021 |
| Forecast Period | 2021 to 2027 |
| Segments Covered | Type, Application, Region |
| Companies Mentioned | DJI, Parrot, AeroVironment, Elbit Systems, Textron, Lockheed Martin, Applied Aeronautics, IAI, FLIR Systems |
Significant Market Trends:
Rotary Blade Segment Reported Major Market Cut in 2019
Rotary blade segment recorded the prime market share in the global small UAV Market in 2019. The key cause for the hefty share of the rotary blade segment is its ease-of-operation and capability to help in examination and surveillance, thus making them striking for both military and civilian usages. Rotary blade UAVs subsidized to above 70% of the global revenue in due to their ability to traverse numerous directions as well as hover in a specific position which makes them idyllic for a huge array of applications.
In the commercial and civil application sector, rotary blades mall UAVs find usage in meteorology, entertainment purposes, product delivery, disaster relief, firefighting, and search & rescue among others. Rotary blade type UAVs are preferred over fixed wing due to core downside of a fixed-wing aircraft is their failure to hover in one spot and high cost. Helicopters are very popular in manned aviation, nonetheless presently only fill a trivial niche in the drone marketspace.
Defense Application is Projected to Govern the Small UAV Market Revenue
Driven by lessons from the conflicts in Afghanistan and Iraq, countries across the globe are anticipated to endure adding UAVs to their military arsenals, boosting annual worldwide expenditure for defense drones by 36% over the impending decade. The paradigm shift in favor of unmanned systems imitates the military's general tendency to be at par with the most cutting-edge technology accessible and insights of the advent of asymmetrical warfare.
Developing military powerhouses including India, China, and Iran are upgrading their UAV collection to counter the hazard of being outgunned on the aerial front. For instance, in February 2018, China's domestically manufactured UAV completed a 6-day live-fire test with numerous ammunitions covering both specific targeting and extensive bombing. Further, militaries across the globe are securing nano drones for diverse military missions.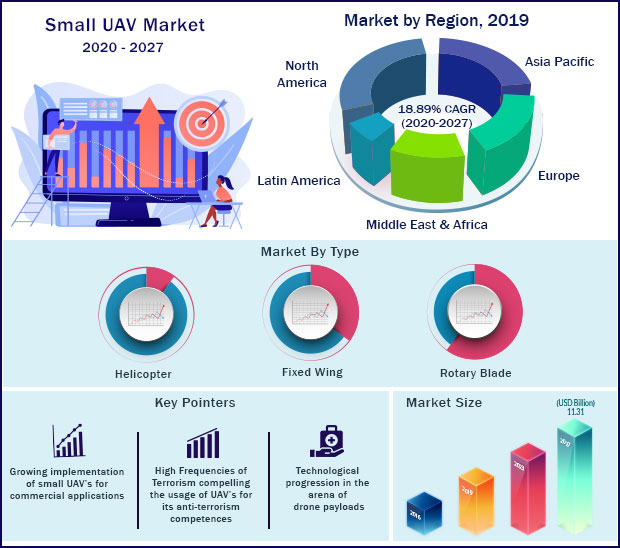 North America is Estimated to be the Largest Market for Small UAV
The research report covers key trends and prospects of small UAV products across different geographical regions including North America, Europe, Asia-Pacific, Latin America, and Middle East and Africa. Geographically, small UAV market is conquered by North America owing to cumulative practice of UAVs for border and maritime surveillance actions in nations like the U.S. and Canada. On the other hand, Asia-Pacific is anticipated to witness the rapid growth rate, on account of expansion of defense capabilities in crucial economies such as India, China, Japan, and South Korea.
Top Players contending in the Market:
Players with higher technical competences are likely to subsidize suggestively toward technological advancements in the payload and propulsion systems features of the UAVs. Leading competitors contending in global small UAV market are as follows:
DJI
Parrot
AeroVironment
Elbit Systems
Textron
Lockheed Martin
Applied Aeronautics
IAI
FLIR Systems
In order to better recognize the current status of acceptance of UAVs, and policies adopted by the foremost countries, Precedence Research predicted the future evolution of the small UAV market. This research study bids qualitative and quantitative insights on small UAV market and assessment of market size and growth trend for potential market segments.
Major Market Segments Covered:
By Type
Fixed Wing
Helicopter
Rotary Blade
By Application
Defense
Commercial and Civil
By Geography
North America
Europe

Germany
France
United Kingdom
Rest of Europe

Asia Pacific

China
Japan
India
Southeast Asia
Rest of Asia Pacific

Latin America

Brazil
Rest of Latin America

Middle East & Africa (MEA)

GCC
North Africa
South Africa
Rest of Middle East & Africa