The global smart port market size is anticipated to reach around USD 25.11 billion by 2032 up from USD 2.68 billion in 2022 with a CAGR of 25.09% between 2023 and 2032.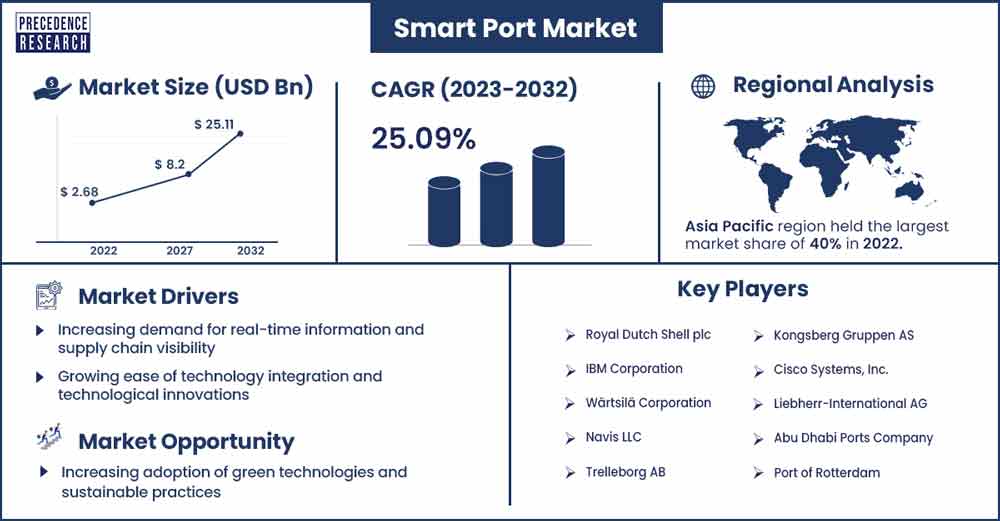 This significant growth is attributed to the increasing demand for automation and digitalization in port operations, rising investments in smart port infrastructure, and the adoption of advanced technologies such as IoT, AI, and blockchain in the port industry.
A smart port is a technologically advanced and modernized port that uses digital technologies and automation to enhance port operations and efficiency. Smart ports integrate various technologies such as the Internet of Things (IoT), blockchain, artificial intelligence (AI), and big data analytics to connect different port stakeholders and streamline the flow of goods through the port. Smart ports have several functions, including vessel traffic management, cargo handling, and port security. By utilizing digital technologies, smart ports can automate processes, minimize errors, and reduce manual labor, leading to increased efficiency and reduced costs.
Moreover, smart ports offer real-time data on port operations, empowering port operators to make data-driven decisions and optimize their operations for improved performance. The use of IoT devices and sensors is a crucial component of smart ports as they collect and transmit real-time data on port operations. For instance, sensors can be installed on trucks, cranes, and cargo containers to track the movement of goods through the port.
The collected data is then transmitted to a centralized platform for analysis using big data analytics and AI, providing valuable insights into port operations.
Smart ports play a vital role in enhancing safety and security by monitoring port activities in real-time and identifying potential risks.
With the use of sensors, smart ports can detect hazardous materials and promptly alert port authorities to take appropriate action. Smart ports can also contribute to environmental sustainability by incorporating energy-efficient technologies, minimizing emissions, and promoting sustainable practices. This approach reduces the ecological footprint of the port operations, thereby improving the environment.
Moreover, smart ports can provide an enhanced customer experience by offering real-time data on port operations, reducing waiting times, and improving cargo handling and delivery. By providing insights into port operations, customers can efficiently manage their cargo and reduce the overall turnaround time.
Smart ports have numerous applications across different areas of port operations. A crucial application is cargo handling, where smart ports can optimize the movement of goods through the port by automating container movements, enhancing cargo loading and unloading, and reducing the time required for cargo processing. This approach not only improves efficiency but also reduces costs and increases customer satisfaction.
Smart ports can also enhance vessel traffic management by using real-time data and analytics to optimize docking and loading processes, minimize congestion and delays, and create a safer and more efficient environment for vessels. With advanced technologies such as IoT, AI, and big data analytics, smart ports can provide accurate and timely information to port operators, leading to informed decision-making and improved vessel management.
Report Highlights
The global smart port market is expected to experience significant growth in the coming years, driven by increasing demand for efficiency, sustainability, and security in the logistics industry.
Key market drivers include the increasing adoption of automation technologies, the need to reduce operational costs and improve efficiency, and the growing focus on environmental sustainability.
One of the main challenges facing the smart port market is the high initial cost of implementing smart port technologies, which can be a significant barrier to entry for smaller port operators.
The smart port market is poised for significant growth and presents numerous opportunities for stakeholders in the industry to improve efficiency, enhance sustainability, and drive innovation in the global logistics industry.
Smart Port Market Report Scope
| | |
| --- | --- |
| Report Coverage | Details |
| Market Revenue in 2023 | USD 3.35 Billion |
| Projected Forecast Revenue by 2032 | USD 25.11 Billion |
| Growth Rate from 2023 to 2032 | CAGR of 25.09% |
| Largest Market | Asia Pacific |
| Base Year | 2022 |
| Forecast Period | 2023 to 2032 |
| Regions Covered | North America, Europe, Asia-Pacific, Latin America, and Middle East & Africa |

Regional Snapshots
In 2021, the Asia Pacific region dominated the smart ports market, accounting for over 38% of a global revenue share. The region is characterized by the presence of major ports with the high throughput capacity, making it the largest share worldwide. South Korea, China, Japan and Singapore are major countries that recognized as the prime trading points gaining large amounts of trade activities. Additionally, the availability of cost-effective technologies, especially from countries like China and Taiwan has ensured the strong growth in that region.
Europe is said to witness the highest compound annual growth rate (CAGR) during the forecast period. Although European ports are relatively smaller, they handle a significant amount of it. European ports are no longer capable of competing on the port size alone, as even ports with less capacity can handle much traffic as larger ports. Therefore, moderately and the scarcely busy ports are largely shifting towards smart operations. For instance, like Germany, port of rotterdam has partnered with the IBM to deploy smart sensors across 42-kilometer-long stretch of these ports.
Market Dynamics
Drivers
The growing ease of technology integration and technological innovations are driving the widespread adoption of smart technologies in all types of ports. The increase in national and international trade through maritime transport has resulted in lower transportation costs, making marine transport a preferred choice.
The rise in global trade activities has also led to an increase in the workload on shipyards and decks, putting pressure on harbor authorities to embrace smart technologies to automate several harbor operations. As a result, smart technologies and solutions are becoming increasingly necessary to handle the growing number of port operations efficiently.
Restraints
The adoption of smart technologies may also have social implications, such as job displacement due to automation. Smart ports may require fewer manual laborers, which could negatively impact the job market for workers in the port industry. This could lead to social and economic challenges for port communities, which need to be addressed in the implementation of smart port technologies.
The regulatory environment for smart ports is also a challenge. Port operators need to comply with a range of national and international regulations related to safety, security, and environmental protection. The implementation of new technologies and systems must also comply with these regulations, which can add complexity and increase the cost of implementation.
Opportunities
Innovation can have a significant impact is in the development of more advanced and user-friendly technologies. As smart port technologies become increasingly complex, there is a growing need for solutions that are easy to use and can be quickly adopted by port operators. New players can focus on developing more user-friendly interfaces and intuitive software that can help streamline operations and improve overall efficiency.
Finally, new players can also focus on developing solutions that are tailored to the specific needs of smaller, regional ports. Many of the existing smart port solutions on the market are designed for larger, international ports and may not be suitable for the unique needs and challenges faced by smaller operators. By developing more specialized solutions that are specifically tailored to the needs of smaller ports, new players can help improve the efficiency and competitiveness of these ports, while also promoting greater sustainability and environmental stewardship.
Challenges
As the use of smart port technologies becomes more widespread, new regulatory requirements and compliance issues are likely to emerge. These may include requirements related to data privacy and security, as well as regulations governing the use of automation and artificial intelligence in port operations. In addition to regulatory and compliance issues, there may also be legal challenges related to data ownership and liability. For example, who is responsible if a smart port system fails and causes damage or delays to cargo? These issues will need to be addressed in order to ensure that smart port technologies can be deployed in a safe and responsible manner.
Recent Developments
The "Maritime India Vision-2030" plan is a significant development that is expected to drive the growth of the smart port market in India. The plan's focus on funding port projects and creating job opportunities for millions of people is likely to increase investment in port infrastructure and drive the adoption of smart technologies in Indian ports. This, in turn, is expected to create new business opportunities for companies providing smart port solutions and services. The increased investment in port projects is also likely to improve India's competitiveness in the global market, further driving the growth of the smart port market in the region.
Major Key Players
Royal Dutch Shell plc
Wärtsilä Corporation
Trelleborg AB
Navis LLC
Huawei Technologies Co., Ltd.
ABB Ltd.
Port of Rotterdam
IBM Corporation
Intel Corporation
Abu Dhabi Ports Company
Liebherr-International AG
Cisco Systems, Inc.
Kongsberg Gruppen AS
Port of Singapore
Yokogawa Electric Corporation
Segments Covered in the Report
By Technology
Process Automation
Internet of Things (IoT)
Artificial Intelligence (AI)
Blockchain
By Throughput Capacity
Scarcely Busy
Moderately Busy
Extensively Busy
By Port Type
Buy this Research Report@ https://www.precedenceresearch.com/checkout/2832
You can place an order or ask any questions, please feel free to contact at sales@precedenceresearch.com | +1 9197 992 333