The global software defined data center market size surpassed USD 56.9 billion in 2022 and is projected to rise to USD 328.7 billion by 2030, poised to grow at a strong CAGR of 24.51 percent from 2022 to 2030.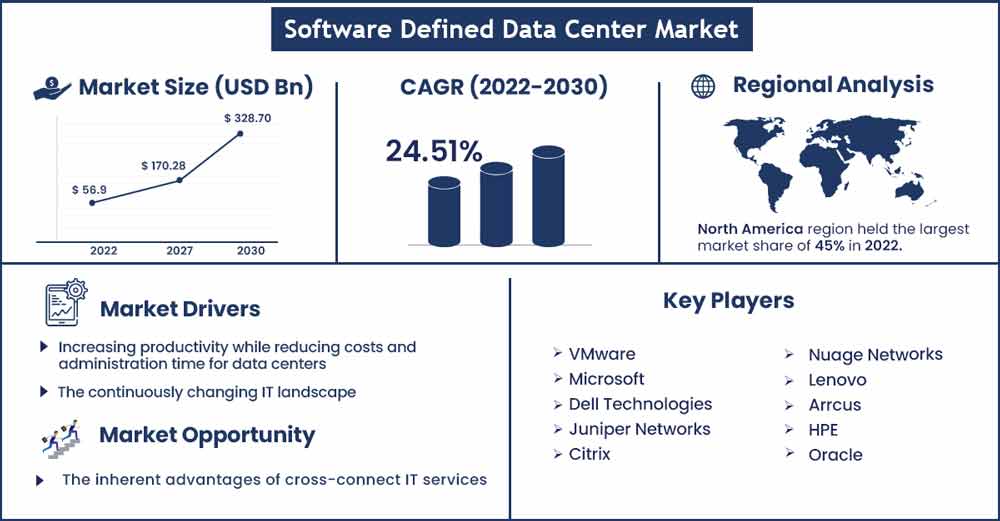 A data storage facility known as a software defined data center (SDDC) is one in which all infrastructure components, including storage, CPU, networking, and security, are virtualized and provided as a service. Software-based access to all data center resources is provided to end users by SDDC using cloud and virtualization technologies. Its primary objectives also include the provision of smarter services, superior management tools, and standardized hardware platforms.
It can be administered through a consolidated dashboard that gives IT users access to inventory, health status, and intelligent software-based control over the entire server, storage, and networking.
Report Highlights:
On the basis of component, the managed services segment is the leading segment and is expected to make the largest contribution to the software-defined data center.
During the predicted period, services are expected to grow most quickly. Organizations' growing desire to achieve optimal workload management with greater agility, efficiency, and security and to do it without having to deal with the challenges of training, integration, and implementation has led to the growth of managed services. Additionally, a key factor in its expansion in businesses is the demand for services brought on by the use of software-defined services. Despite the advantages of software defined data centers, there are still some challenges, and these challenges call for the use of services that go beyond what a traditional IT team is able to provide. As a result, many businesses are looking to as-a-service organizations for support.
On the basis of type, the highest CAGR is projected for the software defined compute (SDC) segment during the forecasted period. Due to the acceptance of the cloud-native application, SDC has a significant market share. A cloud-native application makes use of cloud computing principles to lower deployment risks and enhance the performance, quality, and flexibility of services. Both on-premises and cloud platforms are supported by cloud-native applications.
On the basis of industry, IT & telecom industry hold the largest share in software defined data center market. Due to its importance to the market, the IT & telecom industry is anticipated to have the greatest market share and the highest CAGR during the forecast period. Due to the expansion of big data and the increasing demand for services and storage for software-based data, BFSI and government are also projected to hold a sizeable market share infrastructure.
Software Defined Data Center Market Report Scope:
| | |
| --- | --- |
| Report Coverage | Details |
| Market Revenue in 2023 | USD 70.85 Billion |
| Projected Forecast Revenue in 2030 | USD 328.7 Billion |
| Growth Rate from 2022 to 2030 | CAGR of 24.51% |
| Largest Market | North America |
| Base Year | 2022 |
| Forecast Period | 2022 To 2030 |
| Regions Covered | North America, Europe, Asia-Pacific, Latin America, and Middle East & Africa |

Regional Snapshots:
North America is already a dominant region and is predicted to be in the dominating state during the forecast period. This region has seen a sizable number of new SDDC installations as well as upgrades to the current data center infrastructure systems. Because it is home to big telecom and IT firms, dependable suppliers, and end-user sectors that regularly adopt newer technologies for increased company productivity and job efficiency, the U.S. owns the largest position in the global market for software-defined data centers. Additionally, this region is home to the majority of the top market companies, including, Dell Technologies, Cisco, Oracle, and IBM. According to predictions, North America will hold the top spot in the SDDC industry for the foreseeable future.
Market Dynamics:
Drivers:
Adoption of cost-effective strategies to reorganize business models has intensified due to the state of the global economy and the market's current rivalry. Businesses are switching from the challenging process of purchasing and managing hardware to the trustworthy Operational Expenditure (OPEX) model. A significant portion of any company's overall expenses go toward IT infrastructure. Datacenter operators are attempting to reduce their OPEX, and SDDC solutions can assist them reduce Capital Expenditure (CAPEX) and significantly increase the likelihood of the success of their total IT infrastructure. By automatically turning off hardware or reducing power during periods of low or no demand.
A single point of control made possible by the unified management of data centers aids in increasing productivity while reducing costs and administration time for data centers. The need for SDDC is being driven by the financial advantages of implementing Software-Defined Networking (SDN).
The continuously changing IT landscape is one of the key drivers driving the market for software-defined data centers. Software-defined data centers are being used by businesses to simplify IT infrastructure and boost IT agility. It will help in the standardization of management tools across infrastructure layers and enable a quicker response to new requests for IT resources by offering policy-driven provisioning and pooled infrastructure resources. It also enables IT administrators at end-user firms to reduce operating costs, map out a modernization strategy for end-use, and keep provisioning control.
Restraints:
Although SDDCs are becoming more popular, there is no such SDDC standard. Due to the absence of a common virtualization standard, SDN controllers created by various manufacturers may behave inconsistently or incoherently in a multi-controller SDN architecture. Using multiple controllers simultaneously has the potential to cause network traffic jams. When converting current data centers to SDDCs, SDDCs encounter a number of interoperability problems as a result of this lack of standardization. Companies are still very concerned about creating a consistent global network image in a multi-controller system since even a small delay in controller communication might affect network performance.
Opportunities:
Due to the inherent advantages of cross-connect IT services and Layer 2 Wide Area Network (WAN) connectivity, businesses are progressively shifting their workloads from conventional on-premises data centers to colocation centers. Workloads travel between cloud environments in a colocation data center to achieve more automated and integrated network and service delivery. Although multi-tenant at scale setups come with a number of management and operational complications in a standard cross-connect colocation technology. As a result, businesses have been forced to create a platform that works inside the colocation center in order to consolidate and execute services automatically. This architecture enables higher flexibility and robustness without losing track of network status by decoupling network information and storing it in a scale-out data store. Such advancements are anticipated to increase the resilience of SDDCs, opening up a sizable window for the market expansion of software-defined data centers.
Challenges:
Traditional IT management teams face difficulties when converting from on-premises architecture to cloud deployment models since it requires changing the current IT governance and security structure. In order to ensure a smooth transition, businesses invest a lot of time and money, especially when they don't select cloud environments that best complement existing on-premises investments. In these situations, it is impossible to ignore the fact that small businesses are unable to use their current IT skill sets and resources to operate these new solutions. Although businesses can prevent such issues with better research, caution, and the right selection of SDDC solutions. To address these issues, SDDC solution providers offer a range of consultation, installation, and integration, training, support, and maintenance, as well as managed services that businesses can choose from to ensure a smooth transition from conventional architectures to cloud environments.
Recent Developments:
An x86 server-based, software-defined high-volume data management solution called Fujitsu Storage ETERNUS DSP was introduced by Fujitsu. The system, which is a part of Fujitsu Storage's ETERNUS line, provides a versatile storage environment with x86 servers as the hardware, as well as quick storage expansion and all-around agility.
Major Key Players:
VMware
Microsoft
Dell Technologies
Juniper Networks
Citrix
Nuage Networks
Lenovo
Arrcus
HPE
Oracle
IBM
Nutanix
Cisco
Huawei
Fujitsu
Vexata
Market Segmentation:
By Component
Hardware
Software
Services

Training and Consulting
Integration and Deployment
Support and Maintenance
Managed Services
By Type
Software-Defined Computing (SDC)
Software-Defined Storage (SDS)
Software-Defined Data Center Networking (SDDCN)
Automation and Orchestration
By Organization Size
Large Enterprises
Small and Medium-sized Enterprises (SMEs)
By Industry
IT and Telecom
Government and Defense
BFSI
Education
Healthcare
Retail
Manufacturing
Others (Media and Entertainment, and Energy and Utilities)
Buy this Research Report@ https://www.precedenceresearch.com/checkout/2158
You can place an order or ask any questions, please feel free to contact at sales@precedenceresearch.com | +1 9197 992 333