The global uninterruptible power supply (UPS) market size surpassed USD 8.79 billion in 2022 and is projected to rise to USD 13.16 billion by 2032, anticipated to grow at a CAGR of 4.12 percent during the projection period from 2023 to 2032.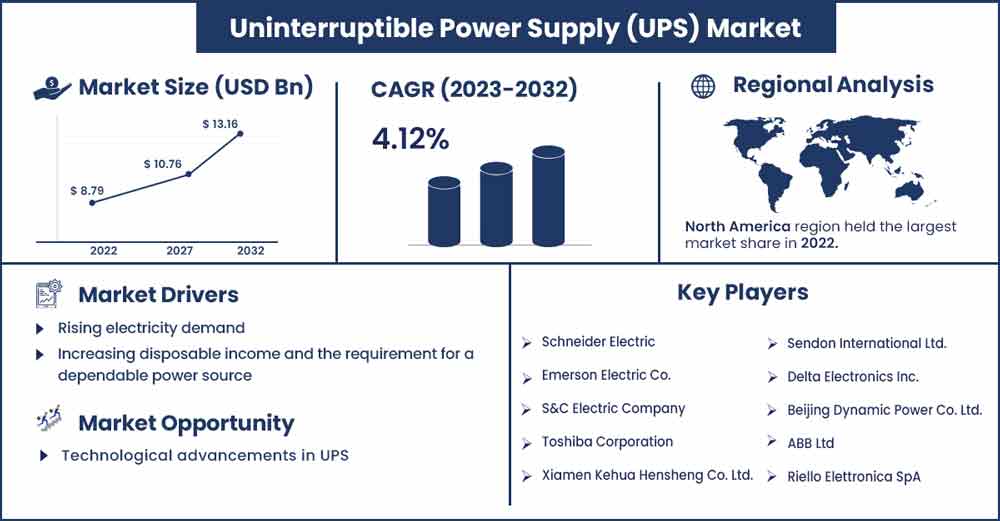 One of the market's main growth drivers is the expansion of hyper-scale data centers, which store and manage massive amounts of data. Furthermore, product features minimize downtime due to equipment failure brought on by increased power voltage and the rising demand for appliances that can deliver reliable and stable electricity.
COVID-19 Impact:
The COVID-19 outbreak had a substantial detrimental impact on the market for uninterruptible power supplies (UPS). The closure of numerous non-essential government, energy, and other private sectors impacted the UPS market on both the supply and demand sides. Business continuity issues were brought on by the COVID-19 pandemic in several sectors, such as information technology (IT), healthcare, and the manufacturing industry, which saw a decline in demand. Due to frequent interruptions in the functioning of various types of business units, it is believed that uninterruptible power supplies (UPS) have sold less frequently across several industries at once, owing to lockdowns all over. However, due to the relaxation of regulations and growth in the telecommunications sector, the UPS market is picking up speed in the post-pandemic scenario.
Uninterruptible Power Supply Market Report Scope:
| | |
| --- | --- |
| Report Coverage | Details |
| Market Revenue in 2023 | USD 9.15 Billion |
| Projected Forecast Revenue in 2032 | USD 13.16 Billion |
| Growth Rate from 2023 to 2032 | CAGR of 4.12% |
| Largest Market | Asia Pacific |
| Base Year | 2022 |
| Forecast Period | 2023 To 2032 |
| Regions Covered | North America, Europe, Asia-Pacific, Latin America, and Middle East & Africa |

Market Dynamics:
Market Driver:
Increasing demand for cloud services and the building of data centers:
Rapid urbanization worldwide has increased the necessity for cloud servers & colocation service providers, boosting the demand for UPS. The UPS market has benefited from government regulations and policies encouraging start-ups and modernizing existing industrial facilities.
Most of the GDP comprises small and medium-sized firms or SMEs, and most companies rely on hardware to provide services to their customers. A power supply interruption could have a disastrous impact on the company's reputation. In accordance with this reality, the expansion of the UPS market is influenced significantly by the retail sector, small businesses, and start-ups in various industries.
Market Restraint:
Breakdown in UPS units
There is an increased need to promote the importance of maintaining a UPS battery that is utilized frequently to prevent any expensive issues brought on by a power loss. This results from power surges or outages, which could result in significant problems, including data loss and hours of missed productivity. Even worse, if people working on the machines were involved, it might even result in fatalities and severe injuries in the manufacturing business. These causes of UPS system failure could limit the market expansion for uninterruptible power supplies.
Device protection
It is not advised to use UPS in appliances that require a significant quantity of power because UPS is battery-powered. For instance, a UPS cannot be powered by an air conditioner with high-power consumption as a backup source. Even for a period of time, the UPS that supplies backup power is restricted. Additionally, a UPS system always consumes more energy than a solo item, which is considerably higher than the device needs. This is because the UPS battery always needs to be charged, and it must be linked to a power outlet for this, which results in increased power loss. Consequently, this may limit market expansion.
Market Opportunity:
Technological advancements in UPS:
The growing use of IoT technologies and the quickening pace of infrastructure construction globally is molding uninterruptible power supply market growth. The developed nations are investing in creating smart cities, which depend heavily on uninterrupted electricity, which is anticipated to impact the overall growth of the market for UPS. Industry developments, such as the switch from lead-acid to lithium-ion batteries to address issues with higher working temperatures and quick charging capacities, are influencing the overall value of the uninterruptible power supply industry.
Segments Insight:
Product Insights:
Due to the product's ability to keep supplying continuous AC power to vital equipment while protecting it from voltage fluctuations caused by blackouts, brownouts, surges, and sags, the online conversion market is currently gaining traction. The segmental share is being led by the growing need for online conversion that can guarantee a constant and secure energy supply while shielding electronic devices from damage.
Capacity Insights:
According to capacity, the above 100 kVA category is anticipated to expand quickly throughout the projected period. Because they enable effective maintenance, greater scalability, and improved services, a variety of telecommunication operators, cloud service providers, BFSI service providers, and small- and medium-sized data centers use modular UPS systems in this range. These over 100 kVA capacity solutions increase corporate productivity while providing several advantages, such as simple installation, capacity growth, better usability, simple safeguarding, and capacity development on demand.
Application Insights:
Industries are expected to benefit from UPS systems that offer continuous power with various power range modules, depending on the application. As a result, massive industrial facilities invest significantly in contemporary technology to increase their output and efficiency. Market participants are anticipated to create cutting-edge technologies and solutions in response to key organizations' rising desire for convenient services that are adaptable and scalable. Due to the industrial development in nations like China, India, and Japan, the industrial category is also anticipated to grow at a significant CAGR throughout the projection period. UPS is used frequently for essential process control, such as at an oil rig or a nuclear power plant.
Regional Insights:
the North American region is anticipated to dominate the global UPS market. The demand for reliable power plants operating in North America is rising because of the annual increase in energy consumption, which necessitates a continuous power supply. This is anticipated to boost the market for uninterruptible power supply.
Due to the spike in demand for higher power rating UPS systems in industrial and commercial sectors, the United States now dominates the UPS market. Manufacturing SMEs, large data centers, healthcare facilities, financial applications, mission-critical systems, and double conversion topologies require UPS systems with expandable battery duration. A variety of applications that distribute power range from smaller single-phase input/single-phase output with a capacity of 2-10 kVA to three-phase input/three-phase output with a capacity of 60 kVA or more. These applications range from PLC-based controls to complete distributed control systems (DCS). To reduce space, more compact systems are currently popular. The necessity for handling voltage fluctuations has boosted the need for high-capacity UPS systems, which is expected to support the expansion of the UPS market.
Key Developments:
Schneider Electric debuted their updated EcoStruxure Service Plan for 10-40 kVA Three-Phase Uninterrupted Power Supply (UPS) products in July 2022. The EcoStruxure Service Plan combines traditional onsite services with digital capabilities driven by the IoT-enabled EcoStruxure architecture to provide customers with 24/7 remote and onsite expertise and support.
In July 2021, Eaton announced the 9PX lithium-ion UPS globally introduction. Eaton's new UPS is superior to valve-regulated lead-acid (VRLA) battery-powered UPS technology in terms of battery life and footprint, making it perfect for distributed, "edge" situations and light industrial applications such as healthcare and education.
In January 2021, the introduction of the G9400 series uninterruptible power system for usage on a global scale was announced by Toshiba International Corporation (TIC). The "engine" of the UPS, the Gen 7 IGBTs from the G9400 Series, are the most recent iteration of cutting-edge CSTBT IGBT automation. The G9400 automation is perfect for massive Colocation or Hyper-Scale Data Centers worldwide because it offers excellent power concentration in a modest footprint with 97% online efficiency at varying loads.
Major Key Players:
Schneider Electric
Emerson Electric Co.
S&C Electric Company
Toshiba Corporation
Xiamen Kehua Hensheng Co. Ltd.
Sendon International Ltd.
Delta Electronics Inc.
Beijing Dynamic Power Co. Ltd.
ABB Ltd
Riello Elettronica SpA
Eaton Corporation PLC
Mitsubishi Electric Corporation
Market Segmentation
By Product
Online Conversion
Line-interactive
Off-line/ Standby
By Capacity
Less than 10 kVA
10-100 kVA
Above 100 kVA
By Application
Telecommunication
Data Centers
Industrial
Medical
Marine
Residential & Commercial
Others
Buy this Research Report@ https://www.precedenceresearch.com/checkout/2549
You can place an order or ask any questions, please feel free to contact at sales@precedenceresearch.com | +1 9197 992 333