The global veterinary services market size surpassed USD 114.41 billion in 2022 and is projected to rise to USD 241.76 billion by 2030, anticipated to grow at a strong CAGR of 9.8 percent during the projection period from 2022 to 2030.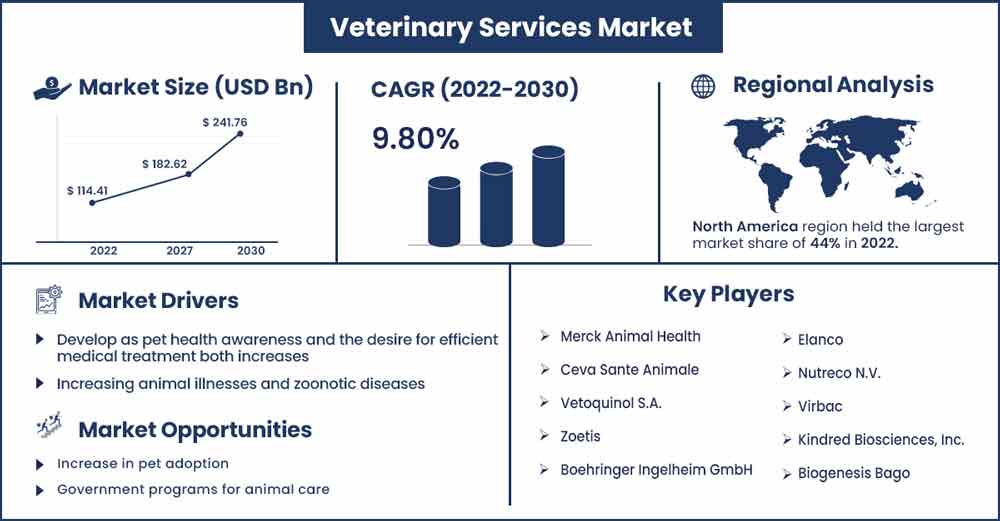 The increasing rate of pet adoption and resulting increase in demand for veterinary services will significantly aid overall industry growth. Veterinarians can effectively provide high-quality treatment to a variety of animals because to the industry's growing adoption of digital technologies. A veterinary clinic's digital transition allows for easy access to patient information and effective service. For example, modern technology enables veterinarians to do imaging tests, upload the pictures to the cloud, and share them with any pathology lab worldwide.
The digitalization of clinical procedures raises the general level of veterinary imaging services quality. Additionally, the growing connection between pet parents and their animals, rising disposable income, and expanding market penetration of various pet insurance plans allow pet owners to freely spend money on giving their animals the best veterinary care possible. The majority of clinics are using this opportunity to market auxiliary veterinary services like wellness programs, pet daycare, and boarding services.
One of the other significant drivers of the veterinary services market growth is the rise in pet-related problems, including worries about the health, nutrition, and emergency care needs of the various animals. Among other things, veterinary services include the treatment of sick animals, regular health checkups, neutering animals, preventative care, diagnostic and dental care for pets, pet vaccinations, artificial insemination, and animal health protection. The health and wellness of agricultural and companion animals are also covered by veterinary services, which also include procedures and pet consultations.
The COVID-19 pandemic's development had a significant impact on how the healthcare industry as a whole operated. Many vital goods and services had a multi-fold surge in demand, whilst their non-essential equivalents experienced a decline globally. It was shown that the COVID-19 pandemic marginally impacted the market's expansion for veterinary services.
Due to severe limitations on the movement of people and commodities during the early stages of the pandemic, veterinary institutions only saw a small influx of patients despite the rising number of cases. The operations of veterinary facilities were significantly interrupted by the lack of qualified healthcare workers and the suspension or postponement of elective treatments, which had a detrimental effect on market suppliers. Positively, pet adoption rates were shown to rise during this time as people adopted companion animals in response to the directives to stay at home.
Increasing disposable income also makes it possible for pet owners to spend money on high-quality veterinarian care. Veterinarians were seen to continue operations throughout the pandemic while adhering to the necessary regulations as the limitations were observed to loosen with time. The use of digital consultation services by both pet owners and veterinarians enabled the provision of veterinary services in outlying areas, improving the ease of pet ownership as a whole. These developments are universally acknowledged to have greatly increased market demand.
Regional Snapshots:
Due to rising demand for Veterinary Services in emerging nations, particularly India and China, the market in Asia Pacific is estimated to achieve the highest CAGR exceeding 9% during the forecast period. This rise is also attributed to a higher level of life. The growing pet population and pet health issues are projected to boost supplement demand.
During the projected period, the Asia Pacific market is predicted to increase favorably. Increased disposable income is predicted to boost the possibility of pet adoption and generate market growth prospects. Furthermore, the market is projected to be driven during the forecast period by the growing modernization of complex healthcare infrastructure. It has been noted that the industry has improved prospects, notably in the Asia Pacific area, as a consequence of rising veterinary healthcare costs and a growth in the number of pets in nations like China and India.
Veterinary Services Market Report Scope:
| | |
| --- | --- |
| Report Coverage | Details |
| Market Revenue in 2023 | USD 125.63 Billion |
| Projected Forecast Revenue in 2030 | USD 241.76 Billion |
| Growth Rate from 2022 to 2030 | CAGR of 9.8% |
| Largest Market | North America |
| Base Year | 2022 |
| Forecast Period | 2022 To 2030 |
| Regions Covered | North America, Europe, Asia-Pacific, Latin America, and Middle East & Africa |

Report Highlights:
The production animal category had the highest revenue share in 2022 as a result of the widespread use of livestock facilities for maintaining biosecurity.
Due to the growing use of services like artificial insemination and foot care, cattle held the greatest proportion of the production animals category in 2022.
From 2022 to 2030, the companion animal type segment is expected to experience the fastest CAGR growth due to an unprecedented rise in pet adoption as a result of the animals' positive effects on people's health, including improved psychological stability, lowered blood pressure, and fewer panic attacks.
Dogs made up the greatest portion of companion animals in 2022, thanks to improved pet owner knowledge of pet cleanliness and the associated rise in demand for grooming services.
The existence of independent veterinarians in North America, who offer these services to clients directly, helped the region dominate the worldwide market in 2022.
Due to the high clinical urgency in managing unexpected disease outbreaks like Ebola and swine influenza as well as zoonotic illnesses, Asia Pacific is expected to see a large CAGR from 2022 to 2030.
Because of the market's extreme fragmentation, the major players use tactics like regional expansion to obtain a competitive edge.
Market Dynamics:
Drivers:
Over the course of the projection period, the global veterinary services market is anticipated to develop as pet health awareness and the desire for efficient medical treatment both increase. For instance, the Federation of Indian Animal Protection Organization (FIAPO) has collaborated with several local activists and animal rights organizations to promote animal welfare in India. Additionally, the federation has been advocating for a variety of animal welfare concerns through lobbying and awareness campaigns.
Increasing animal illnesses and zoonotic diseases are also anticipated to fuel market expansion for veterinary services globally over the course of the projected period. For instance, zoonotic infections are quite prevalent both in the United States and across the world, according to the Centers for Disease Control and Prevention (CDC). According to scientific estimates, 3 out of every 4 new or emerging infectious illnesses in humans and more than 6 out of every 10 recognized infectious diseases in humans can be transmitted from animals.
Restraints:
A lack of qualified workers and the high cost of veterinary services are predicted to restrain the market's expansion. The high cost of veterinary services is a result of the high cost of veterinary medications and diagnostic imaging supplies.
Opportunities:
The worldwide veterinary services market is anticipated to increase as a result of positive government and industry initiatives to offer veterinary services. For instance, the Indian government's Ministry of Fisheries, Animal Husbandry & Dairy introduced mobile veterinary units (MVUs) in May 2020 to offer veterinary services to farmers at their doorstep. The improvement of animal health is the main objective of the Indian government's "Livestock Health & Disease Control program." Market players are anticipated to help the expansion of the global veterinary services market by introducing fresh goods or services.
Challenge:
The development of the global veterinary services market is anticipated to be hampered by a lack of knowledge in developing or underdeveloped nations. For instance, the two most popular domestic pets that might be a direct or indirect source of zoonotic illnesses are cats and dogs.
Recent Developments:
In December 2020, Pets at Home in Britain sold 5 specialized referral facilities to Mars' Linnaeus subsidiary for $132.2M. This boosted the company's business activities in the UK and was its largest purchase in 2020.
In the April 2020, National Veterinary Care Ltd. was acquired by VetPartners Pty. Ltd. for $251.5M. In order to improve veterinarian health services throughout New Zealand and Australia, the two businesses would pool their resources.
Major Key Players:
Merck Animal Health
Ceva Sante Animale
Vetoquinol S.A.
Zoetis
Boehringer Ingelheim GmbH
Elanco
Nutreco N.V.
Virbac
Kindred Biosciences, Inc.
Biogenesis Bago
Indian Immunologicals Ltd.
Neogen Corp.
Hester Biosciences
Phibro Animal Health
Dechra Pharmaceuticals PL
Market Segmentation:
By Service Type
Diagnostic tests and imaging
Physical health monitoring
Surgery
Others
By Animal Type
Production
Poultry
Swine
Cattle
Sheep & Goats
Fish
Companion
Dogs
Cats
Horses
Others
Buy this Research Report@ https://www.precedenceresearch.com/checkout/2393
You can place an order or ask any questions, please feel free to contact at sales@precedenceresearch.com | +1 9197 992 333