The global print on demand market size was accounted at USD 6.34 billion in 2022 and it is projected to be worth around USD 67.59 billion by 2032, growing at a CAGR of 26.71% over the forecast period from 2023 to 2032.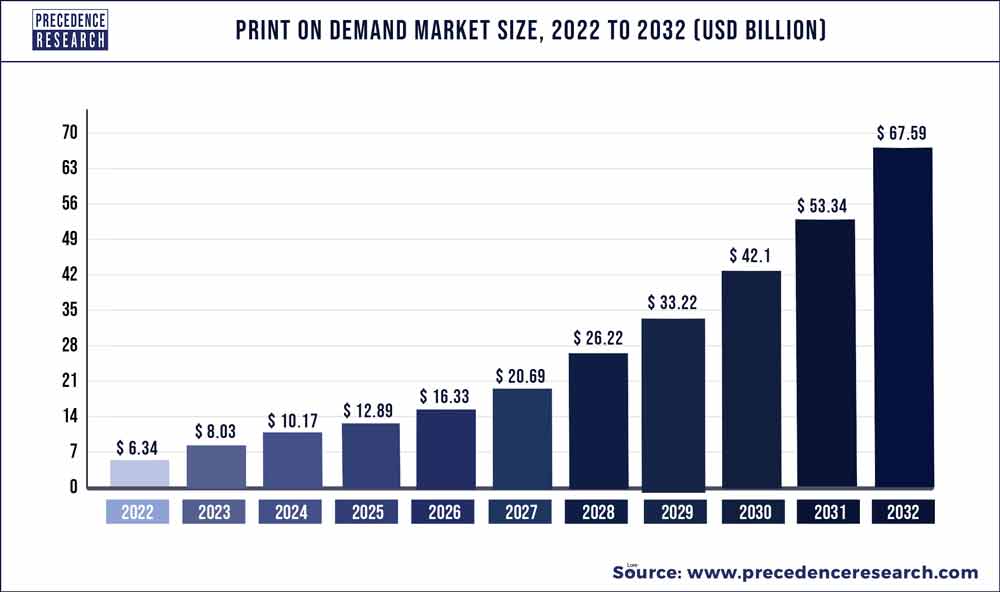 Access our Premium Real Time Data Intelligence Tool, Visit: Precedence Statistics
The print-on-demand market refers to a business model where products such as books, apparel, and other goods are only printed when an order is received, rather than being produced in bulk and stored in a warehouse. This approach allows for a more efficient and cost-effective supply chain, as well as reduced waste and environmental impact. The print-on-demand market has grown rapidly in recent years due to advancements in technology and increasing demand for personalized and unique products. This market includes various players, including online retailers, publishers, and self-publishing authors. The print-on-demand market is expected to continue to grow in the coming years, with the rise of e-commerce and increasing consumer demand for customized products.
Key Takeaways:
North America is predicted to dominate the global market between 2023 and 2032.
Asia Pacific is expected to expand at the fastest CAGR of 28% between 2023 and 2032.
By Platform, the software segment had the largest revenue share in 2022.
By Platform, the service segment is predicted to grow at the greatest CAGR of 28.7% from 2023 to 2032.
By Software, the integrated segment had the maximum revenue share in 2022.
By Product, the apparel segment has generated the largest revenue share in 2022.
By Product, the home decor segment is expected to expand at a remarkable CAGR of 28% from 2023 to 2032.
Growth Factor:
A framework for accurately and effectively managing and optimizing printing machinery and processes is called print on demand. It reduces printing costs for companies by allowing customers to monitor, oversee, and control their complete printer fleet from a singular application interface. Software for print administration makes printing, shipping, and dispatch fast and efficient. This utility can handle desktop printers, scanners, and copiers with just one control. Within regulated print centers, print management software is available in autonomous and integrated forms.
The demand for print-on-demand is being fueled by elements like rising discretionary income, rising internet usage and smartphone uptake, and a preference for fashion apparel and distinctive goods. The industry is expanding as a result of rising e-commerce purchases. The industry benefited from the COVID-19 epidemic. People started shopping online as a result of the lockdown limitations, and print-on-demand goods saw an increase in sales.
During the pandemic, purchases of print-on-demand goods included items like personalized facial masks. As more people adapted to working remotely and remaining at home, sales of products for the house were up. The market for print-on-demand is expected to expand rapidly as a result of this aspect.
Customers can get printing options for unique designs from print-on-demand sites. Depending on the platform, different designers and entrepreneurs who run print-on-demand businesses and want to sell their creations can link an existing online shop or launch a new one. After that, the service providers will print the orders and send the goods to the clients, completing the end-to-end delivery process.
The market is constrained by artists' and producers' lack of transparency and authority. As not all artists have access to the client roster, not all artists have authority over the quality of the goods. Customers may become unhappy as a result and seek out alternative options. Rapid automation and e-commerce expansion are the market's main factors.
The rising demand for personalized and customized goods, especially in the publication business, is to blame for this market's expansion.
Innovation and expansion in the print-on-demand market are anticipated to be fueled by technological developments in printing, such as digital printing and 3D printing.
Report Scope of the Print on Demand Market:
| | |
| --- | --- |
| Report Coverage | Details |
| Market Size in 2023 | USD 8.03 Billion |
| Market Size by 2032 | USD 67.59 Billion |
| Growth Rate from 2023 to 2032 | CAGR of 26.71% |
| Largest Market | North America |
| Base Year | 2022 |
| Forecast Period | 2023 to 2032 |
| Segments Covered | By Platform, By Software, and By Product |
| Regions Covered | North America, Europe, Asia-Pacific, Latin America and Middle East & Africa |

Key Market Drivers:
Systems that print on demand give users printing options
Sales of goods in the home décor product area have grown as a result of people working from home and residing in their houses. This aspect is anticipated to be a key factor in the growth of the market for print-on-demand services. Platforms for print-on-demand offer customers publishing options that are tailored to their needs. Artists and retailers who run print-on-demand businesses and want to sell their creations online can link their current online shop or start a new one, depending on the platform. The end-to-end delivery service will be completed by the service providers printing the customers' purchases and shipping the merchandise to the customers.
E-commerce Growth:
The demand for print-on-demand services is being driven by the explosive development of e-commerce platforms. Online markets offer businesses and people a practical and effective way to sell customized goods without the need for inventory control or an initial investment in manufacturing tools. In addition, the increasing presence of a number of e-commerce platforms provides easy access to a wide network of print-on-demand suppliers in customers' preferred locations. This in turn drives the demand for print-on-demand products. Furthermore, such platforms are offering discounts, coupons, and premium enterprise plans for a wide variety of print-on-demand products, which augments the growth of the e-commerce industry and POD market.
Such e-commerce platforms also advertise and adopt unique strategies to attract website visitors. They also provide information about starting a POD business at a very low cost. Moreover, the customization option provided by them allows customers easily get the product they desire. Extensive variety of products including apparel, accessories, and housewares which in turn creates the demand and thrives the growth of this market.
Key Market Challenges:
Lack of artists' and makers' power and transparency
The print-on-demand market has enabled artists and makers to bring their creative works to a wider audience without the need for costly inventory and distribution systems. However, one of the challenges faced by artists and makers in this market is the lack of power and transparency they have in the production process and pricing structure. Many print-on-demand platforms offer limited options for customization and control over the production process, leaving artists and makers with little say in the final product.
Additionally, the pricing structure on these platforms can be opaque, with unclear commission rates and fees, making it difficult for creators to accurately value their work and determine their profits. As a result, some artists and makers have turned to alternative print-on-demand platforms or even self-hosted e-commerce sites to gain greater control and transparency in the production and pricing of their creative works. However, this can come with its own set of challenges, such as increased marketing and customer acquisition costs.
Key Market Opportunities:
Increasing smartphone adoption and increasing internet penetration
The demand for print-on-demand services is rising as a result of consumer preferences for original goods and fashionable clothing, as well as rising internet and smartphone utilization. One of many elements supporting the sector's development is the rise in online shopping sales. Govid-19's limitations increased internet purchasing, which in turn increased the demand for products that were printed on demand.
The increasing adoption of smartphones and increasing internet penetration have contributed to the growth of the print-on-demand market. With more people having access to the internet and using their smartphones to shop online, the demand for print-on-demand products has increased. This is because print-on-demand services typically offer a convenient and affordable way for customers to order personalized or custom-made products, such as t-shirts, phone cases, and other merchandise.
Moreover, the rise of social media platforms has also played a significant role in the growth of the print-on-demand market. Social media has become a powerful marketing tool for print-on-demand services, as it allows them to reach a larger audience and promote their products directly to consumers. Additionally, social media platforms like Instagram and Facebook provide an avenue for creators and designers to showcase their work and connect with potential customers.
Segments Insight:
Platform Insights:
The print-on-demand market has been divided into two segments - software and service categories based on technology. Over the projection term, the service sector is expected to have the greatest CAGR, at 28.7%. This is explained by the rise in the number of service providers who give end-to-end fulfillment and drop shipment. The service providers additionally provide marketing and branding services, such as bespoke packaging, and artistic services, such as photos and graphic design. Print-on-demand retailers and creators can take advantage of these services' ease and variety.
The software sector had the biggest revenue share in 2022, and it is anticipated that it will continue to dominate for the duration of the forecast term. Software platforms offer solutions for designing, publishing, and printing books, magazines, and other printed materials. These platforms include tools for formatting, layout, and cover design, as well as e-commerce capabilities to sell printed materials directly to consumers. Service platforms, on the other hand, provide end-to-end solutions for printing and delivering printed materials to customers. These services can include printing, binding, and shipping, as well as e-commerce capabilities to sell printed materials on behalf of content creators.
Software Type Insights:
The integrated category had the biggest revenue share in 2022, and it is anticipated that it will continue to dominate for the duration of the projection period. It will expand at a CAGR of 24% over the course of the projection term. This is due to the elevated visibility and acceptance of combined software. The segment is growing as a result of the availability of numerous third-party e-commerce sites and the simplicity of linking to them. The demand for integrated solutions is also being fueled by advantages like flexibility, increased processing capacity, and cost-effectiveness.
Over the projection period, the stand-alone category is anticipated to expand at the maximum CAGR of 26.9% and hold onto its leadership position. Leading providers of print-on-demand services like the Australian Redbubble Group and the American Zazzle Inc. are independent companies. The standalone site functions like a marketplace where designers or merchants can make products and sell them there. The vendors benefit because they are saved from having to focus on technical specifics.
Product Insights:
The category for home decor is anticipated to have the greatest CAGR, at 28%. The increase in remote working since the pandemic can be ascribed to the fact that more people are remaining at home and trying to make their living spaces more comfortable. The expanding selection of goods in the house and living area, including mats, cushions, posters, and others, is offering consumers more choices and boosting sales.
The biggest revenue share was contributed by the apparel sector in 2022, and it is anticipated that this will continue throughout the projection period. This can be ascribed to the growing trend toward fashion apparel, the quick uptake of internet shopping in the fashion industry, and the younger generation's desire for customized and distinctive goods.
Regional Insights:
In 2022, North America ruled the market, and it is predicted that it will continue to do so throughout the forecast era. The market is expanding due to elements like technological infrastructure, steady currencies, and the availability of factories for print-on-demand goods. For instance, the headquarters of some of the biggest print-on-demand businesses, including Printful, Inc., Printify, Inc., and Zazzle Inc. A number of non-North American businesses, including Australia's Redbubble Ltd. and Norway's Gelato, have distribution facilities in the area.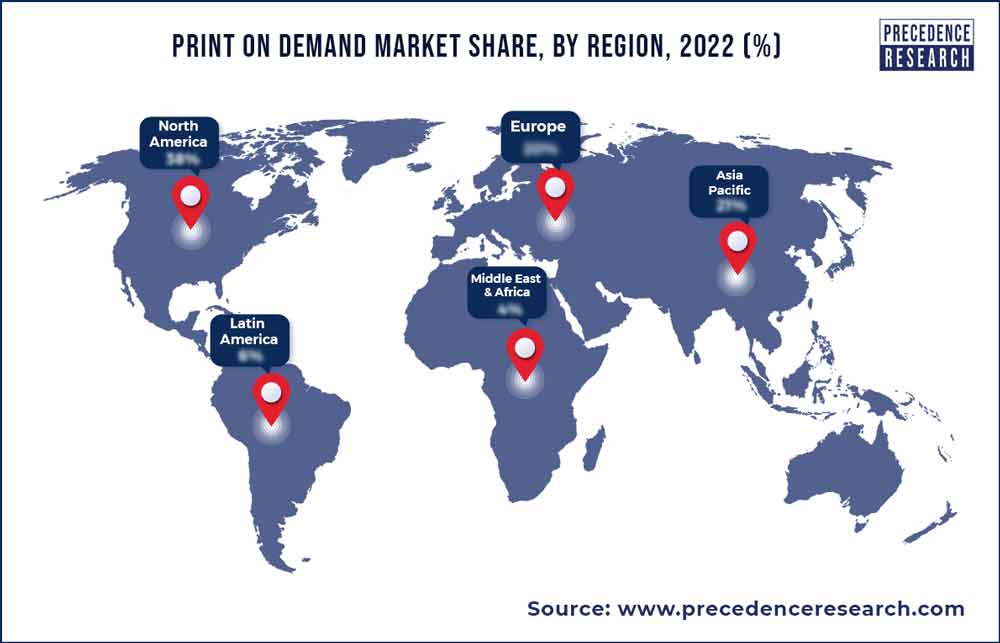 Over the forecast timeframe, Asia Pacific is anticipated to have the greatest CAGR of 28%. The expansion can be ascribed to the presence of significant market participants. The main development factors for the regional market are increasing smartphone usage and internet penetration, as well as a sizable number of online shoppers. The regional market is anticipated to expand as a result of technological developments and the existence of numerous sizable textile factories.
Recent Developments:
A technology business specializing in print-on-demand goods from Canon Europe, Kite Tech Ltd. was purchased by Prodigi Group in September 2019 and is located in London, United Kingdom. The business anticipates that the integration of Kite Tech Ltd.'s e-commerce software with Prodigi Group's API platform will increase revenue while lowering production and inventory management costs.
In 2021, Printful, one of the largest print-on-demand companies, acquired two companies - Kicksend, a photo printing app, and Packhelp, an online packaging supplier, to expand its product offerings and strengthen its position in the market.
In 2020, Printify, a print-on-demand platform, announced a partnership with Etsy, an online marketplace for handmade and vintage goods, to enable Etsy sellers to easily create and sell custom products.
In 2021, Kornit Digital, a leading provider of digital printing technologies, launched the Atlas MAX and Avalanche MAX, two new direct-to-garment printing systems that enable on-demand production of high-quality apparel.
Key Market Players:
Amplifier
Apliiq
CustomCat
Gelato
Gooten
JetPrint Fulfillment
Printed Mint
Printful, Inc.
Printify, Inc.
Printsome
Prodigi Group
Redbubble Group
T-Pop
Teelaunch
VistaPrint
Zazzle Inc.
Segments Covered in the Report:
(Note*: We offer report based on sub segments as well. Kindly, let us know if you are interested)
By Platform
By Software
By Product
Apparel
Home Décor
Drinkware
Accessories
Others
By Geography
North America
Europe
Asia-Pacific
Latin America
Middle East and Africa