The global punnet packaging market size was estimated at USD 2.45 billion in 2022 and it is projected to surpass around USD 4.13 billion by 2032, poised to grow at a CAGR of 5.36% from 2023 to 2032.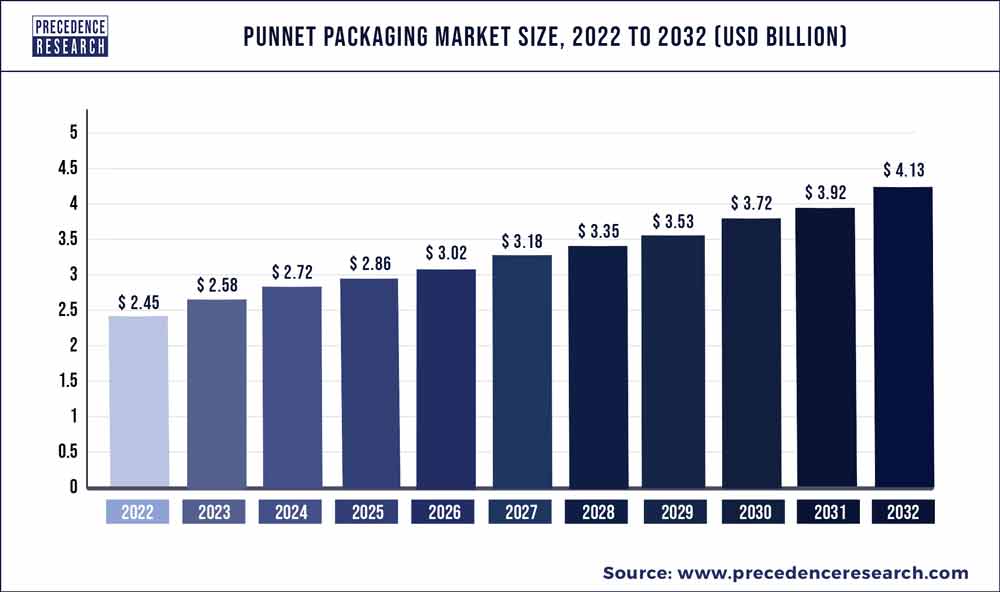 Key Takeaways:
Asia-Pacific dominates the global market, and the region will see substantial growth during the forecast period.
By material, the plastic packaging segment led the market.
By capacity, the market for punnet packaging was dominated by containers with a capacity of 301 to 500 grams.
By application, the fruits and vegetables segment led the application segment in the market.
Market Overview:
The global punnet packaging market revolves around the production, design, and distribution of packaging solutions in a compact box form. Punnets, small baskets, are utilized to pack soft vegetables and fruits like grapes, berries, mushrooms, cherries, and others. Punnet packaging increases the shelf life of soft fruits and vegetables by reducing bruising, squashing, and spoiling. Punnet packaging can be divided into several categories depending on the type of material used, such as paper, plastic, or molded fiber. Punnets made of plastic are often used for packaging fresh soft fruits practically. The producers are concentrating on creating recycled plastic punnets as a secure replacement for effectively storing food and fulfilling legal requirements for product safety.
Growth Factors:
Punnet packaging is expanding because of its recyclable qualities and convenience, reversing the worldwide trend away from traditional packaging. The market is expected to grow due to the rising demand for punnet packaging for horticultural output. The conventional polypropylene punnet packaging for mushroom storage is being replaced by R-PET or recyclable polyethylene films and polypropylene thin gauge sheets, which can lessen their environmental impact.
The market for punnet packaging is anticipated to be driven by the rising demand for paper and fiber punnets as alternatives to plastic punnets for food product packaging. Punnet packing is also a cost-effective packaging method due to its cheap disposal costs, minimal inventory requirements, and simple packaging procedure. The market for punnet packaging is driven by punnet packaging's ability to decrease food product damage during transit.
Report Scope of the Punnet Packaging Market:
| | |
| --- | --- |
| Report Coverage | Details |
| Market Size in 2023 | USD 2.58 Billion |
| Market Size by 2032 | USD 4.13 Billion |
| Growth Rate from 2023 to 2032 | CAGR of 5.36% |
| Largest Market | Asia-Pacific |
| Base Year | 2022 |
| Forecast Period | 2023 to 2032 |
| Segments Covered | By Material, By Capacity, and By Application |
| Regions Covered | North America, Europe, Asia-Pacific, Latin America, and Middle East & Africa |

Market Dynamics:
Driver:
The rising demand for sustainable alternatives to plastic packaging
Bans on plastic packaging are becoming more prevalent across the globe. For instance, plastic wrapping for fruits and vegetables will be gradually prohibited in France over the next few years. It is anticipated that other European nations will soon follow France's lead in light of the EU guidelines. Additionally, there is a growing market need for environmentally friendly packaging.
To meet this growing need, Smart Packaging Solutions created sustainable punnets. The demand for environmentally friendly consumer packaging is rising, and our innovative fruit and vegetable punnets are the answer. The use of lightweight solid cardboard ensures robust and sturdy packaging, and it is the perfect choice for packing plums, berries, tomatoes, pears, brussels sprouts, and other fruits and vegetables.
Optimal protection offered by punnet packaging
The journey from gardener to consumer of fruits and vegetables is long. Fruits and vegetables are fully safeguarded possible throughout the entire supply chain because of the use of lightweight cardboard and the packaging's design. Consequently, they reach the consumer unharmed, and no goods are lost enroute. Therefore, punnet smart packaging solutions are also observed to reduce food waste. The punnets also resist dampness and maintain their strength. As a result, the punnets are ideal for storing items that naturally retain a lot of moisture in humid environments, such as refrigerators.
Restraint:
Slower adoption of technological advancements and the growing cost of raw materials
One of the primary basic materials for food packaging is the punnet. PET plastic, which is clear, light, semi-rigid, and has lockable caps, is used for punnet packaging. These raw materials' fluctuating prices impact the punnet packaging industry. The cost of these raw materials is also rising due to laws the government and groups have set around resource conservation, preventing the punnet packaging market from expanding. The lack of readily available raw materials hinders technological growth in punnet packaging solutions. Many new packaging technologies are becoming costly because of the high cost of raw materials, and enterprises have to rely on conventional packaging, which adversely affects the environment and the economy.
Opportunity:
Growing demand for exotic packaging of fruits and vegetables
Due to the increasing population and personal discretionary income, there is a growing need for exotic packaged vegetables and fruits, driving up the price of punnet packing. The need for vegetables and fruits has increased due to consumers looking for nutrient-dense foods that are better for their diets. To meet the rising demand for vegetables and fruits, many economies import products from other producing nations, which promotes the expansion of punnet packaging companies. Additionally, new fruit varieties and flavors are piquing the curiosity of European consumers. Most imported goods increase the market value of exotic fruit in Northern Europe. More exotics with a higher value are imported annually than imports. The need for packaging is rising as the market steadily grows. As a result, the punnet packaging market is driven by the increasing demand for exotic fruits and vegetables.
Segments Insight:
Material Insights:
The punnet packaging market is dominated by the plastic packaging segment. PET and polypropylene are the two most common materials used to make plastic punnets worldwide. Multiple prominent market players are focused on the development of plastic punnet packaging solutions to sustain the competition. For instance, a leading producer of fruit packaging solutions, INFIA Srl, provides a variety of plastic punnets produced from recycled PET and Polypropylene. Many people use plastic punnets as an easy method for storing fresh food. Although they are made of many types of plastic and are not recyclable, it is challenging for customers to recycle them. Additionally, plastic punnets have a shorter shelf life since they cannot absorb moisture from food like fruit.
On the other hand, the increasing awareness about the severe hazards caused due to plastic material will accelerate the penetration of paper material punnet packaging in the global market. Punnets made of paper are a great substitute that combines sustainability, function, and design, which will promote the segment's growth during the forecast period.
Capacity Insights:
The market for punnet packaging was dominated by containers with a capacity of 301 to 500 grams. It is used since most retail chains offer leafy greens in cans that can accommodate 400 g of berries, other soft fruits, and up to 150 g of leafy vegetables. Furthermore, a sizable market growth rate is predicted for the 150-300 gm category. The majority of vegetables and fruits that are fresh are packaged in these two volume sizes. Numerous plastic punnets are additionally provided by well-known companies in various packing sizes.
Application Insights:
The fruits and vegetables segment held the largest share of the market in 2022; the segment will continue to grow at a significant rate during the forecast period. Fruits and vegetables are highly perishable products that require safer packaging solutions. By utilizing punnet packaging solutions for fruits and vegetables, it is possible to protect them from transport hazards, microbial damage, and insect damage. Punnet boxes are capable of enhancing the shelf life of fruits and vegetables. The rising emphasis on packaged fruits and vegetables and the growing e-commerce sales of fruits and vegetables will supplement the segment's growth during the predicted timeframe.
On the other hand, the poultry segment is expected to be the most lucrative segment of the market. Poultry products such as eggs require firm protection from external damage, micro-organisms, and other predators present in nature. In addition, poultry products are temperature sensitive. At the same time, punnet packaging solutions offer perfect protection for such delicate products during logistics and transportation. The rising penetration of online grocery shops has made poultry products available online; this factor is observed to highlight the growth of the segment.
Regional Insights:
Asia-Pacific dominated the punnet packaging market in 2022, and the region will see substantial gains during the forecast period. This is because of rising urbanization, industrialization, globalization, and the expansion of the packaging industry. China, India, Malaysia, and Japan will emerge as significant contributors from this region owing to the increased application of punnet packaging by the food and beverages industry. The rising emphasis on packaged vegetables and fruits in the region promotes the growth of the punnet packaging market.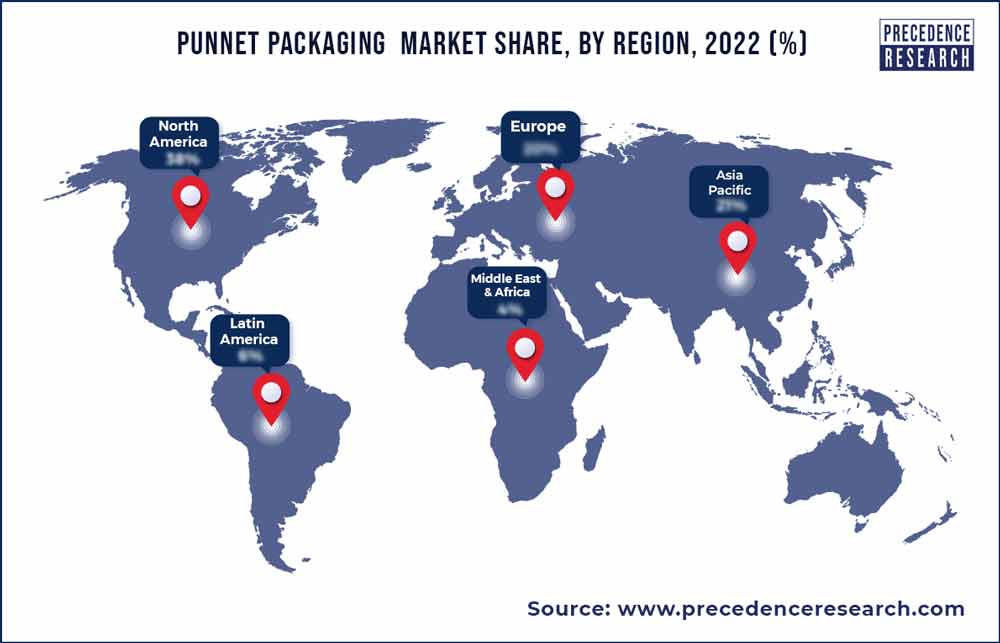 North America's punnet packaging market is anticipated to experience stable revenue growth throughout the forecast period because established retail chains sell fresh vegetables in elaborate packing configurations like punnets. Proper packaging is necessary to ensure that the delivered product is adequately protected.
Recent Developments:
In February 2022, the UK government enacted The Plastic Packaging Tax, and took effect. According to the new regulation, a fee of £200 per tonne will be applied to any plastic packaging imported or produced into the UK that contains less than 30% recycled plastic. A plastic packaging element will also be assumed to have less than 30% recycled plastic unless the opposite can be demonstrated. PET punnet manufacturer and exporter AVI Global Plast introduced ready-to-adopt rPET or recycled PET punnets with 30% post-consumer recycled content, generally recycled bottles, which was verified by international certification and testing company InterTek, to assist customers in aligning with the upcoming strict tax system. All of these punnets are recyclable.
In November 2022, Nespak, a member of the Guillin Group dedicated to sustainability, introduced Securipack, a cutting-edge plastic punnet with built-in tamper evidence. For individuals searching for packaging which combines security, aesthetics, use, and sustainability, Securipack offers a new choice. It is a fresh punnet made of rPET with a seal button and is entirely recyclable. The bag may travel everywhere, including the office, the classroom, and the vehicle. The seal breaks when the punnet is initially opened, but the movable top makes it simple to shut it again. The lid is kept attached to the punnet after it has been extended to keep it from lying around and damaging the environment. The device has an excellent design, is simple to operate, and is very visible.
In January 2023, The Future line of packaging solutions from Solidus, which comprises modified atmosphere packaging (MAP), skin packaging, and punnets, received an investment of €11 million. The product line was already introduced in Benelux, Germany, France, Poland, the United Kingdom, and Spain. According to the business, its MAP and skin packaging solutions utilize at least 80% less plastic, which can be readily separated to allow its paper-based materials to be recycled after use. The trays enable the switch from plastic to packaging made of paper with just minor modifications to the machinery already in use for packaging. Skin packaging is a cost-effective alternative to other methods because it employs deep vacuum technology to extend the product's shelf life and reduce the demand for protective packaging fillers.
Key Market Players:
Coveris Holdings SA
LC Packaging International BV
Smurfit Kappa Group Plc.
Groupe Guillin SA
Leeways Packaging Services Ltd.
Paccor Netherlands BV
Tacca Industries Pty Ltd.
InfiaS.r.l.
Raptis Pax Pty Ltd.
Alta Global
Segment Covered in the Report:
(Note*: We offer report based on sub segments as well. Kindly, let us know if you are interested)
By Material
By Capacity
150 gm
151-300 gm
301-500 gm
over 500gm
By Application
Vegetables And Fruits
Frozen Food
Poultry
Meat And Sea Food
Ready-To-Eat Food
By Geography
North America
Europe
Asia-Pacific
Latin America
Middle East and Africa