The global protective packaging market size accounted for USD 29.65 billion in 2022 and it is predicted to hit around USD 46.24 billion by 2032, poised to grow at a CAGR of 4.6% during the forecast period 2023 to 2032.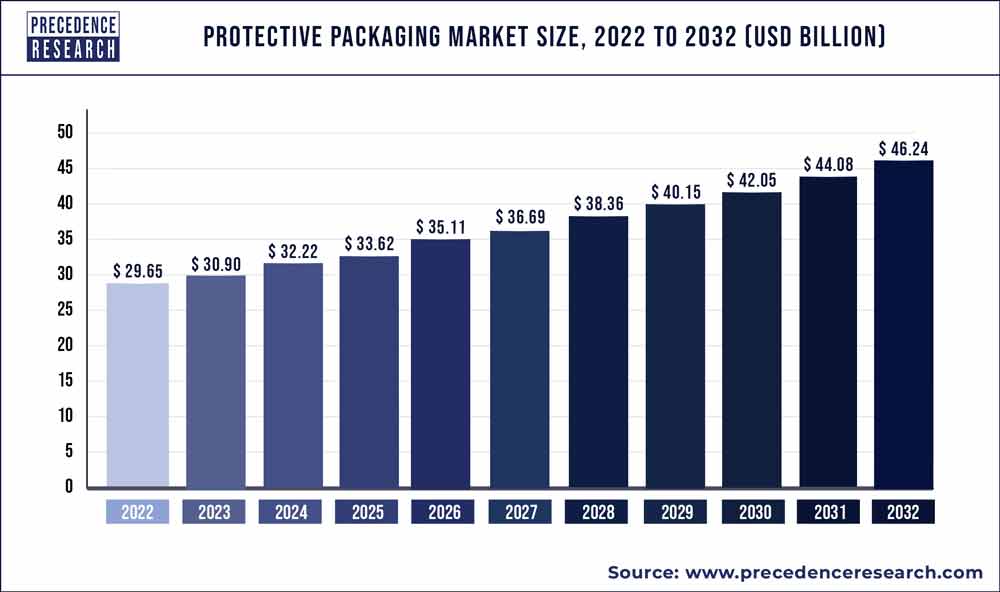 Key Takeaways:
Asia Pacific region has accounted 34.54% revenue share in 2022.
US is predicted to grow at a remarkable CAGR of 4.0% from 2023 to 2032.
By material, the plastics materials segment has held market share of over 44.75% in 2022.
By the foam, protective packaging segment continued to have the maximum share of the global market.
Flexible protective packaging segment is growing at a CAGR of 5.3% from 2023 to 2032.
By function, the cushioning segment has held market share of 25.20% from 2023 to 2032.
Market Overview
Protective packaging is designed to shield products from theft, loss, and damage while being transported, distributed, and stored. Using containers or wrapping to keep multiple goods together creates a sturdy platform for transportation. Protective packaging is used to endure varied static and dynamic stresses in a variety of supply chain locations, including the assembly line, transportation, warehouses, and order picking.
Moreover, it offers defence against environmental factors like precipitation, temperature, humidity, and sun radiation. Several applications, including those in the food, electronics, and pharmaceutical industries, embrace protective packaging. According to the type of goods, protective packaging can be divided into three basic categories: rigid, foam, and flexible.
Moreover, protective packaging offers solutions that shield machinery, equipment, and industrial goods from harm while being stored and transported. Protective packaging also provides security through the void fill, wrapping, flexible cushioning, blocking and bracing, protective containment, and surface defense.
Growth Factors
The market for protective packaging is expanding quickly due to a number of factors, including the rising demand from the food and beverage and healthcare industries as well as consumer preference for easy packaging. The production of manufactured goods on a global scale, ongoing technical advancements, and rising consumer demand for packaged goods are expected to drive the growth of the protective packaging market.
The e-commerce sector is expected to contribute significantly to cushioning the protective packaging market throughout the forecast period. Companies must make sure that they fully grasp their customers' needs and satisfy them. Major manufacturers are focusing on R&D efforts to enhance the creation of environmentally friendly and renewable packaging materials that can be recycled and regenerated.
Report Scope of the Protective Packaging Market
| | |
| --- | --- |
| Report Coverage | Details |
| Market Size in 2022 | USD 29.65 Billion |
| Market Size by 2032 | USD 46.24 Billion |
| Growth Rate from 2023 to 2032 | CAGR of 4.6% |
| Largest Market | North America |
| Second Largest Market | Europe |
| Base Year | 2022 |
| Forecast Period | 2023 to 2032 |
| Segments Covered | By Type, By Material, By Function and By Application |
| Regions Covered | North America, Europe, Asia-Pacific, Latin America and Middle East & Africa |

Market Dynamics:
Driver: E-commerce industry to drive the usage of protective packaging
Electronic commerce, also known as e-commerce, is the exchange of products and services as well as the transmission of money and data via an electronic network, most commonly the internet. These commercial exchanges take place between businesses, consumers, other businesses, or between consumers and businesses.
The E-commerce sector's growing use of protective packaging is the main factor fueling the market's expansion worldwide. The demand for the worldwide protective packing business is projected to increase as online shopping becomes more widely accepted in both emerging and developed parts of the world. Additionally, global industrial production will accelerate, consumer spending on packaged products will increase globally, and demographic trends including an increase in the number of urban residents will further fuel this growth.
The potential for technological innovation to create packaging materials that are sustainable, reusable, and recyclable can be further investigated in the global market for protective packaging. The worldwide market for protective packaging is significantly constrained by the availability and high cost of raw materials. Therefore, the market for protective packages could expand with the excessive use of the E-commerce sector.
Restraint: Stringent regulation for packaging
Since many plastic packaging wastes are non-biodegradable, they pose a serious threat to the ecosystem. Governments all over the world have put strict laws and regulations in place that the packaging business must follow to address this problem. The European green deal, for instance, which was introduced in December 2019 and outlined a route to zero net greenhouse gas emissions by 2050 while putting an emphasis on economic growth unrelated to resource use, is one example.
The Commission announced that it would continue the plastics strategy by concentrating on enacting new legislation, such as legal requirements to boost the market for secondary raw materials with mandatory recycled content, targets and measures to combat excessive packaging, and waste generation regulations to ensure that all packaging is reusable or recyclable in the EU in an effort to reduce waste. Governments in developing countries are taking action to encourage sustainable packaging as they become more environmentally conscious.
The enacted laws forbid businesses from obtaining basic materials from suppliers who do not follow environmental laws. As a consequence, the price of raw materials is gradually rising, pushing up the cost of operations. As a result, protective packaging revenues as a whole experience a drop in profits.
Opportunity: Globalization and international trade
Construction and industrialization are expanding quickly in emerging nations. As a consequence, there is an increase in demand for construction and chemical products. To satisfy this demand, international trade is expanding. Two major reasons are driving the global protective packaging market: greater trade and capital market liberalization, which has increased export and import activity, and technological advancements, which have reduced transportation costs.
As a consequence of globalization, businesses are also exporting their goods to other countries, which is increasing the demand for protective packaging to protect goods from damage over long distances.
Impact of COVID-19:
Several businesses throughout the world have been impacted by the COVID-19 outbreak. In order to slow the pandemic's rapid spread, governments everywhere put in place stringent lockdown procedures and social segregation laws. During the beginning of the pandemic, factories were closed all around the world. A large delay in the opening of the electronics market may also be caused by the economic downturn that followed the epidemic.
The foundation of technology providers, small and medium-sized firms, have seen a sharp decline in revenue since the pandemic's debut in 2020. Market participants faced a variety of difficulties as a result of supply chain disruptions. The availability of more supplies in the second half of 2022 will, however, lead to an improvement in the situation.
Segments Insight:
Material Type Insights:
The sector of foam plastics materials has the largest market share. Due to its low weight, excellent thermal insulation, and shock-absorbing features, which make it perfect for protective packaging, it enjoys a large market share.
Due to its recyclable and reusable characteristics, the paper and paperboard packaging market is expected to increase significantly throughout the projection period. For instance, Smurfit Kappa introduced a new packaging technique for its environmentally friendly TopClip product in February 2021. TopClip is a paper-based alternative to plastic shrinkwraps that package drinks multi-packs. This packaging method is suitable for beverage companies of all sizes and is intended for smaller businesses and trademarks.
The market for packaged foods favors paper and paperboard packaging. Soups, spices, and dairy products are just a few of the foods that include it. To maintain paperboard pristine and undamaged, it is typically covered with plastics or polymers. As comparison to glass and metal, it aids in lowering the overall weight of the finished product while preserving the food product's freshness. Paperboard is the ideal packing material because of its odor and taste neutrality. In order to satisfy consumer needs, food and beverage producers are working harder to offer environmentally friendly packaging and materials, practical and easy displays, and healthier food selections. In restaurants, cafes, hotels, and other food outlets, paper bags are becoming more and more common. The need for paper bags in the food service industry has also increased as on-the-go meals and online food delivery services gain popularity.
The key factor driving the segment is the increased demand for folded carton packaging. One of the most widely used forms of environmentally friendly packaging is paperboard. This package type may be produced in a variety of sizes with a tiny footprint compared to other bulkier packaging alternatives, making it appropriate for usage in practically all end-user industries. People all over the world are shifting their shopping preferences to more environmentally friendly options as they become more aware of the risks packaging poses to the environment. Manufacturers are under pressure from customers, the government, and the media to make their goods, packaging, and production methods more environmentally friendly. For packaging that is environmentally friendly, consumers are willing to spend more. The paperboard packaging sector is therefore anticipated to expand as a result of these changes.
The paper & paperboard packaging segment was valued at USD 9.81 billion in 2022 and growing at a CAGR of 5.2% form 2023 to 2032.
The plastics segment was accounetd for USD 13.27 billion in 2022 and it is expanding at a CAGR of 4.1% form 2023 to 2032.
Product Type Insights
Despite fierce competition from the flexible and rigid segments, the foam protective packaging category continued to have the largest share of the global market with established manufacturing end-use markets. Products made from foam include moulded foams, loose fills, foam in place polyurethane, and expanded polyurethane foams.
The rigid protective packaging segment was valued at USD 7.44 billion in 2022 and growing at a CAGR of 5.6% form 2023 to 2032.
The flexible protective packaging segment was valued at USD 12.82 billion in 2022 and growing at a CAGR of 5.3% form 2023 to 2032.
Rigid
Unable to bend or be coerced out of shape; rigid protective packaging is described as being non-flexible. Strong protective packaging known as rigid offers products structure and support. Glass jars, plastic bottles, and paperboard boxes are a few examples of rigid protective packaging materials. Since there are so many uses for rigid in the expanding CPG industry, it will always have a significant presence there. Rigid containers will probably continue to be used for high-end alcoholic beverages, fine perfumes, and particular beauty and wellness items that require an aerosol can, for example. Certain goods need strict protection, and in some circumstances, the choice of the consumer is important. Glass may indicate a higher perceived value than other forms of packaging for goods like fragrances and alcoholic beverages, for instance.
Furthermore, the rising demand from the food and beverage industry is expected to support the growth of the segment in the global protective packaging market during the forecast period. The majority of the beverage industry's products are sold in rigid containers, such as the well-known aluminum can for beer, sparkling water, and soda, as well as glass bottles for specialized drinks and alcohol. In order to distinguish their brands and products, the majority of food and beverage companies are also employing packaging more and more. Creating a luxury feel and appearance for the products with rigid protective packaging will assist draw in and keep customers. Also, the use of this type of packaging is projected to increase over the forecast period due to the rapid increase in the manufacturing sector in developing economies, particularly in India, China, Brazil, and South East Asia countries.
Function Insights
As cushioning protects delicate and lightweight objects from breaking during transit and storage, it is anticipated that cushioning would have the largest market share during the projection period. Moreover, it restricts the product's mobility and guards against damage brought on by shock and vibration during transit.
Since it offers a complete and lightweight solution to protect products during transportation, repair, or preservation, wrapping is the most significant category in the global market. Since it assists in preventing product damage and the minimization of losses and returns, it has evolved into a key part of corporate strategies like sales and marketing.
The cushioning segment was exhibited at USD 7.47 billion in 2022 and growing at a CAGR of 5% form 2023 to 2032.
The insulation segment was estimated at USD 8.33 billion in 2022 and it is poised to grow at a CAGR of 4.8% form 2023 to 2032.
The wrapping segment was estimated at USD 5.27 billion in 2022 and it is poised to grow at a CAGR of 3.9% form 2023 to 2032.
Application Insights
In the projection period, industrial goods held the biggest market share. Several end-use industries, such as the automobile, aerospace, pharmaceutical, and consumer electronics, make extensive use of these products. It is frequently used as a primary or secondary filler, depending on the intended use. It is crucial to take into account the repercussions of receiving a defective product when discussing the customer experience in the e-commerce sector.
The food & beverages segment was valued at USD 10.20 billion in 2022 and growing at a CAGR of 5.2% form 2023 to 2032.
The industrial goods segment was valued at USD 6.07 billion in 2022 and growing at a CAGR of 4.8% form 2023 to 2032.
The healthcare industry was valued at USD 3.13 billion in 2022 and growing at a CAGR of 4.5% form 2023 to 2032.
Regional Insights:
The protective packaging market in North America is anticipated to rise at a substantial CAGR during the research period. The growing demand for packaged goods, notably food and beverages, leads to a high demand for protective packaging. Also, there are more producers of protective packaging in this region, giving firms easy access to these supplies.
Due to the growing demand for packaged goods, particularly in the market for eco-friendly packaging, Europe holds the second-largest market share for protective packaging. One of the main drivers driving the protective packaging market in Europe is the increased emphasis on product quality, the steady rise in manufacturing output across Europe, and the expansion of end-user verticals, including food and beverage, healthcare, and beauty and personal care.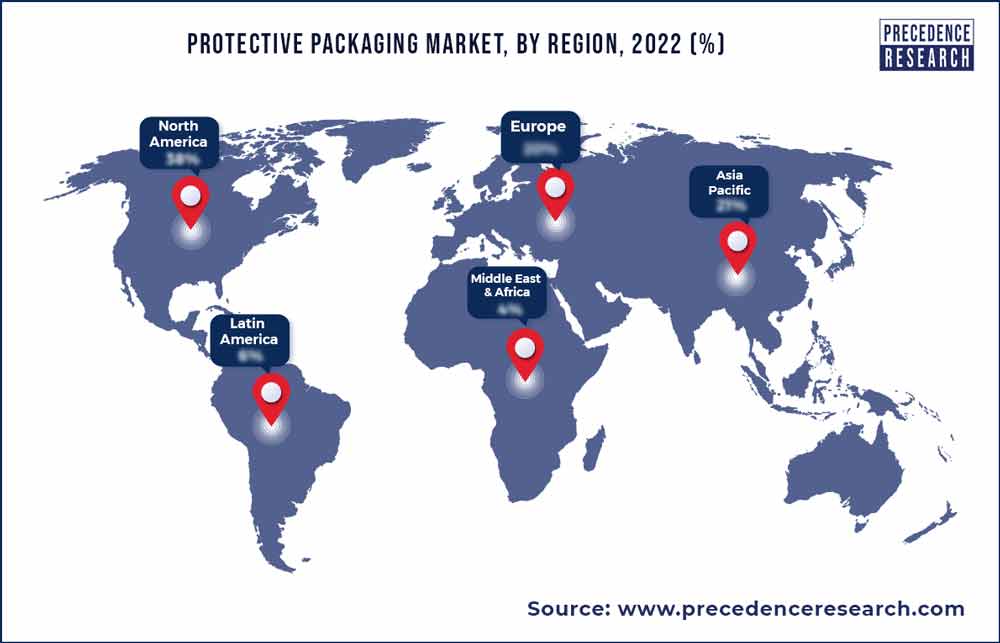 For instance, one of the leading markets on the continent for protective packaging is Germany. Due to a lack of supply and declining profit margins, the German packaging industry underwent a substantial transformation that gave manufacturers and suppliers the opportunity to use innovative and novel packaging strategies in order to boost sales. Moreover, the UK protective packaging market and the Germany protective packaging market both held the greatest market shares.
From 2023 to 2032, the Asia-Pacific protective packaging market is anticipated to experience the quickest CAGR growth. This is a result of the rising need for product security during delivery from the e-commerce industry. Rising consumer spending, continued technological advancements, and improvements in Asia Pacific industrial practises are driving the expansion.
The growth of the e-commerce industry is being fueled by populous nations like China and India, which will probably result in additional expansion. In addition, the India protective packaging market had the quickest rate of growth in the Asia-Pacific region, while the China protective packaging market had the greatest market share.
North America market was valued at USD 7.22 billion in 2022 and growing at a CAGR of 4.3% form 2023 to 2032.

Europe market

was valued at USD 9.09 billion in 2022 and growing at a CAGR of 4.7% form 2023 to 2032.

Europe market

was valued at USD 10.24 billion in 2022 and growing at a CAGR of 5.1% form 2023 to 2032.
Recent Developments:
In August 2021, in order to develop its corrugated plant in Culiacan, Northwest Mexico, Smurfit Kappa invested USD 22 million. The increased capacity, capabilities, and product selections for local consumers in the fresh produce area show the company's sustained commitment to the Mexican market. With the installation of cutting-edge high-tech equipment and the construction of a new building that will contain a new corrugator and an automatic Rotary Die Cutter (RDC) that will be completely operational by the end of 2021, the investment seeks to upgrade and expand the company.
In July 2021, Smurfit Kappa bought the Cartonbox folding carton enterprise in Monterrey, a city in northeastern Mexico. The company will be in a better position to compete in the Mexican market for paper packaging solutions as a consequence, and it will be able to expand to four more folding carton locations.
In February 2021, Smurfit Kappa unveiled a new packaging option for their environmentally friendly TopClip product. For packaging beverage multi-packs, TopClip is a paper-based substitute for plastic shrinkwraps. This packaging method was designed for smaller businesses and brands, so it can be used by beverage firms of all sizes.
In August 2020, Sealed Air Company said that it has entered into a collaboration deal with Plastic Energy, a market leader in cutting-edge recycling technologies. Moreover, Plastic Energy Global has received equity funding from Sealed Air.
Key Market Players:
Smurfit KAPPA Group
Westrock Company
Sealed Air Corporation
Sonoco Products Company
Huhtamaki OYJ
DS Smith PLC
Pregis LLC
Pro-Pac Packaging Limited
Storopack Hans Reichenecker Gmbh
The DOW Chemical Company
Cascades Corporation
Segments Covered in the Report:
(Note*: We offer report based on sub segments as well. Kindly, let us know if you are interested)
By Type
Rigid Protective Packaging
Flexible Protective Packaging
Foam Protective Packaging
By Material
Foam Plastics
Paper & Paperboard
Plastics
Others
By Function
Cushioning
Blocking & Bracing
Void Fill
Insulation
Wrapping
By Application
Food & Beverage
Industrial Goods
Healthcare
Automotive
Cushioning
Household Appliances
Others
By Geography
North America
Europe
Asia-Pacific
Latin America
The Middle East and Africa