The global recreational vehicle market size was estimated at USD 64.73 billion in 2022 and it is projected to surpass around USD 104.34 billion by 2032, growing at a CAGR of 4.89% during the forecast period from 2023 to 2032.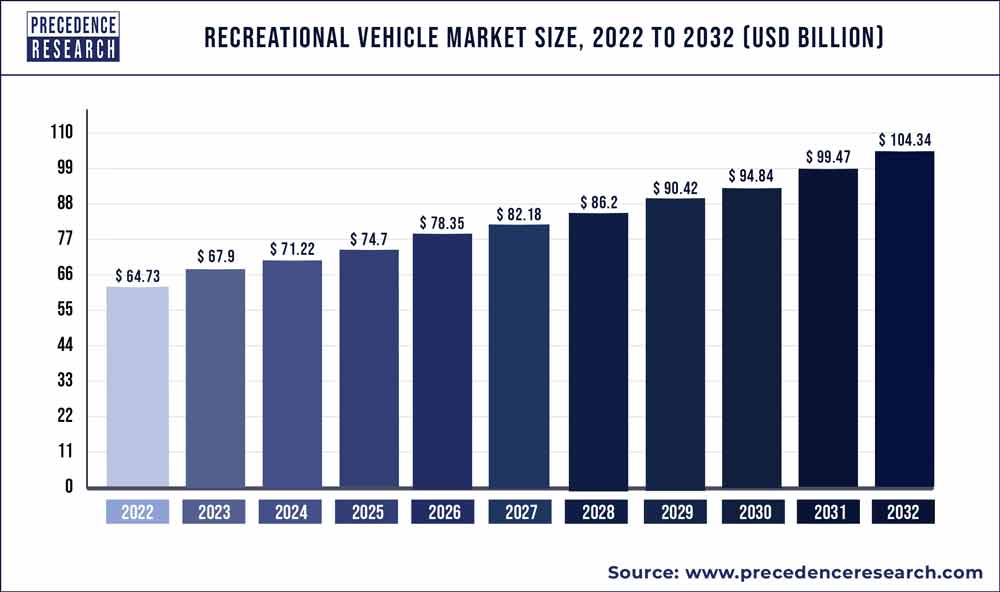 Key Takeaways:
North America region is predicted to lead the market from 2023 to 2032.
The asia-Pacific region is expected to expand at the fastest CAGR between 2023 and 2032.
By Type, the towable RVs segment is estimated to generate the largest market share between 2023 and 2032.
By Application, the personal segment is projected to record the maximum market share between 2023 and 2032.
A recreational vehicle (RV) is a motorized or towable vehicle that combines transportation and living accommodations for recreational purposes. It is designed to provide mobility and temporary living quarters for travel, camping, and other recreational activities. RVs are popular among people who enjoy traveling and camping, as they offer the convenience of having a home on wheels. RVs include various amenities such as sleeping areas, a kitchenette or full kitchen, a bathroom, and a dining/living area. They may also have features like air conditioning, heating, entertainment systems, and storage space for recreational gear.
The size and features of an RV can vary greatly, ranging from small and basic models to large, luxurious motorhomes with multiple slide-outs to expand the living space. RVs offer the flexibility to travel and explore various destinations while bringing along the comforts of home. Some individuals or families commonly use them for family vacations, road trips, camping trips, and even temporary or permanent residences.
The market for recreational vehicles is growing rapidly, driven by increasing disposable income, the desire for outdoor recreation, the flexibility of travel, demographic shifts, technological advancements, and the growth of the rental and sharing economy. As disposable income levels rise, individuals and families have more financial resources to invest in leisure and recreational activities. RVs offer a unique and flexible way to travel, allowing people to explore different destinations while enjoying the comforts of home. Higher disposable income translates to a larger pool of potential buyers for RVs.
Furthermore, there has been a growing interest in outdoor activities and a desire to connect with nature. RVs enable people to enjoy camping, hiking, fishing, and other outdoor pursuits, providing a convenient and comfortable base camp. Moreover, manufacturers have continuously innovated to enhance RVs' comfort and convenience. Modern RVs offer advanced features such as improved fuel efficiency, luxurious interiors, state-of-the-art entertainment systems, smart home integration, and eco-friendly options. These technological advancements attract buyers who seek a more refined and comfortable travel experience. Thus, these factors further create demand in the market.
However, maintenance and operating costs, the seasonal nature of travel, and infrastructure and campground availability are anticipated to impede the market growth. RV travel is often seasonal, with peak demand during warmer months and holidays. In regions with harsh winters or limited camping options, the market may experience reduced activity during off-peak seasons. This seasonality can impact sales and pose challenges for manufacturers and dealerships in managing inventory and maintaining steady revenue throughout the year.
The lockdown measures implemented by various governments in anticipation of the COVID-19 pandemic have disrupted global supply chains, leading to delays in the manufacturing and production of recreational vehicles. However, travel restrictions and concerns about staying in crowded hotels or resorts emerged during the pandemic, and many people turned to RVs as a safer and more self-contained option for travel and accommodation. RVs provided a way to maintain social distancing, control their environments, and have the flexibility to explore outdoor destinations. This surge in demand led to increased RV sales and rentals.
Report Scope of the Recreational Vehicle Market:
| | |
| --- | --- |
| Report Coverage | Details |
| Market Size in 2023 | USD 67.9 Billion |
| Market Size by 2032 | USD 104.34 Billion |
| Growth Rate from 2023 to 2032 | CAGR of 4.89% |
| Largest Market | North America |
| Fastest Growing Market | Asia Pacific |
| Base Year | 2022 |
| Forecast Period | 2023 to 2032 |
| Segments Covered | By Type and By Application |
| Regions Covered | North America, Europe, Asia-Pacific, Latin America, and Middle East & Africa |

Key Market Drivers:
Growing outdoor activities to brighten the market prospect
People are increasingly drawn to the allure of exploring the great outdoors, seeking adventure, and reconnecting with nature. RVs offer a convenient and comfortable way of experiencing outdoor activities, allowing individuals and families to travel and explore diverse landscapes while having cozy home-on-wheels. Furthermore, outdoor enthusiasts opt for RVs as they offer the flexibility to venture off the beaten path, discover hidden gems, and access remote camping sites that may not have traditional accommodations nearby. RVs empower travelers to design their itineraries, choose their destinations, and immerse themselves in the natural wonders of national parks, scenic routes, and picturesque camping grounds.
In addition, the growing interest in outdoor activities is closely tied to the desire for family bonding and quality time. RV travel allows families to disconnect from the distractions of everyday life and reconnect with one another amidst the beauty of nature. With onboard amenities and comfortable living spaces, RVs facilitate shared experiences, campfire gatherings, and outdoor adventures that create lasting memories for families. Furthermore, the rise of social media and the influence of travel bloggers and content creators have also played a significant role in driving interest in outdoor activities and RV travel. Captivating images, stories, and recommendations on platforms like Instagram and YouTube inspire and motivate individuals to embark on outdoor adventures. The sense of community within online forums and groups further fuels enthusiasm and encourages the exploration of new destinations. Therefore, the growing interest in outdoor activities has ignited a strong demand for RVs.
Growing demand for luxury and customized RVs
Luxury RV buyers seek vehicles that reflect their unique tastes and preferences. Manufacturers and custom RV builders are responding by offering various customization options, allowing buyers to tailor their RVs to their exact specifications. From high-end materials and finishes to advanced technology systems, luxury RVs can be customized to create a truly personalized and opulent travel environment. The desire for comfort and convenience also fuels the demand for luxury RVs. These vehicles often feature spacious living areas, state-of-the-art kitchens, luxurious bathrooms, and high-end entertainment systems. In addition, they may include amenities such as king-size beds, heated floors, premium sound systems, and high-speed internet connectivity. Such features ensure that travelers can enjoy home comforts while on the road. For instance, in April 2023, Midwest Automotive Designs LLC launched its 2024 Passage Ford RV Van with an excellent floor plan and includes standard features like a sofa bed, refrigerator, shower/toilet, and amenities abound.
Furthermore, luxury RVs cater to those who seek unique and memorable travel experiences. These vehicles are designed to provide a sense of adventure and exploration without sacrificing style and sophistication. Luxury RV owners can embark on extravagant road trips, explore stunning landscapes, and stay in upscale RV parks and resorts. Manufacturers and custom RV builders continually innovate and push the boundaries of luxury and customization. They incorporate cutting-edge technology, premium materials, and unique design elements to create RVs that epitomize luxury and sophistication. Thus, these factors drive demand for luxury and customized RVs across the market.
Key Market Challenges:
Maintenance and operating costs are causing hindrances to the market
Maintenance and operating costs can vary depending on the type and size of the RV, as well as the frequency of use and distance traveled. RVs require regular maintenance to keep them in good working condition. This includes servicing the engine, checking and maintaining electrical, plumbing, and HVAC systems, and ensuring the vehicle's overall structural integrity. The routine maintenance, repairs, and parts replacement costs can increase over time. Depending on the complexity of the RV's systems and components, maintenance costs can be higher than those of a standard vehicle.
In addition, when not in use, RVs require appropriate storage or parking arrangements. This can involve renting storage spaces, leasing RV parking spots, or finding suitable residential spaces with sufficient parking. These costs can vary depending on the location and duration of storage, adding to the overall ownership expenses. The lack of convenient and affordable storage options can pose challenges for RV owners, further contributing to cost concerns. Thus, maintenance and operating costs may constrain the demand for RVs.
Key Market Opportunities:
Growing demand for sustainable and eco-friendly RVs
Integrating advanced technology and connectivity features
Segments insight:
Type Insights: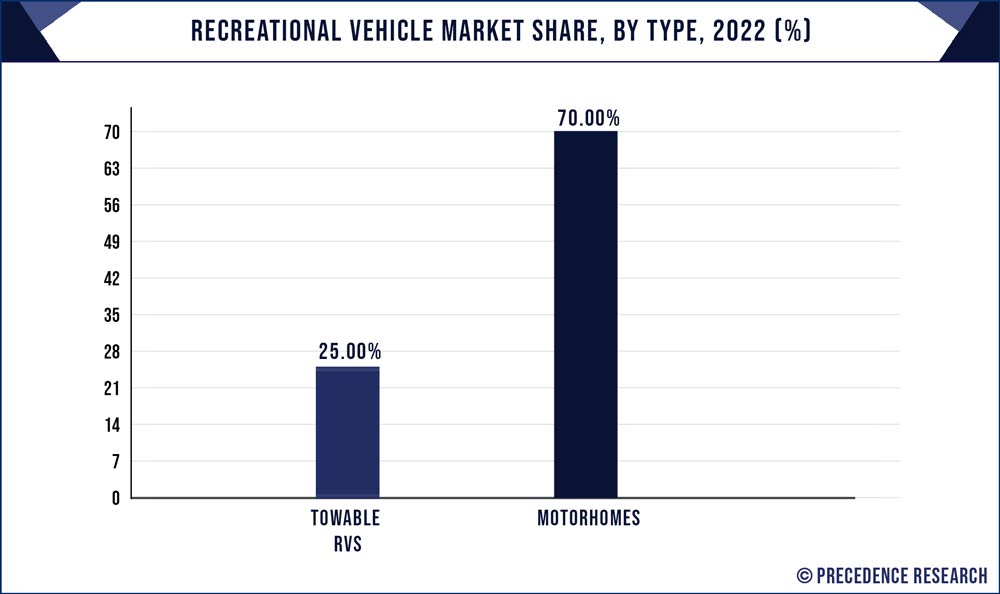 On the basis of type, the recreational vehicle market is divided into motorhomes and towable RVs, with the towable RVs segment accounting for most of the market. Towable RVs are popular among RV enthusiasts due to their versatility, affordability, and the option to unhitch and use the towing vehicle separately. They come in various sizes and styles to accommodate different needs and preferences.
Application Insights:
On the basis of the level of autonomy, the recreational vehicle market is divided into personal and commercial, with personal accounting for most of the market. Personal RVs are owned or operated by individuals for their recreational purposes, allowing them the freedom to travel and enjoy various outdoor activities.
Regional Insights:
On the basis of geography, North America dominates the market, primarily driven by factors such as lifestyle preferences, vacation trends, and a desire for adventure and exploration. North America has a robust consumer base of RV enthusiasts, including both full-time and part-time RVs. Many individuals and families in North America embrace the RV lifestyle, utilizing RVs for vacations, weekend getaways, and long-term travel. The culture of road trips and camping is deeply ingrained in the region, contributing to the popularity of RVs.
Europe is a significant market for recreational vehicles, with Germany, the United Kingdom, and France being the major contributors to the market's growth. This is due to the increasing interest in camping, road trips, and outdoor adventures. While the market in Europe is smaller compared to North America, it is experiencing notable growth as more individuals and families embrace the RV lifestyle.
The region in Asia-Pacific is anticipated to have the greatest CAGR. This is due to rising disposable incomes, changing lifestyles, and a growing interest in recreational activities. The travel preferences in the Asia-Pacific region vary, influenced by cultural factors, geography, and local traditions. RV travel is gaining traction as an alternative way to explore diverse landscapes, national parks, and coastal areas. The desire for outdoor adventures, family-friendly vacations, and the freedom to choose personalized itineraries drive the demand for RVs in the region.
Recent Developments:
In October 2022, Camplify, a Sydney, Australia-based RV rental platform, acquired Germany-based PaulCamper for $47.6 million.
In December 2022, Lexus, Toyota's luxury division, launched a new recreational off-highway vehicle (ROV) with a hydrogen engine. This vehicle showcases exceptional off-road capabilities while also offering near-zero emission driving.
In May 2023, First Hydrogen Corp. released its vision for a zero-emission recreational vehicle (RV). The concept has been developed in partnership with EDAG Group.
In January 2023, Kia India announced that it will invest Rs 2,000 crore into its EV program for the country and introduce a new all-electric recreational vehicle (RV) in the market in 2025.
Key Market Players:
Cruiser RV
Newmar
Gulfstream Coach
Forest River Inc.
Entegra Coach
Winnebago Industries
Airstream
Oliver Travel Trailers
Tiffin Motorhomes
Jayco
Thor Industries
Coachmen RV
Segments Covered in the Report:
(Note*: We offer reports based on sub segments as well. Kindly, let us know if you are interested)
By Type
By Application
By Geography
North America
Europe
Asia-Pacific
Latin America
Middle East and Africa