The global recycled lead market size was estimated at USD 16.92 billion in 2022 and is projected to hit around USD 23.75 billion by 2032 with a registered CAGR of 3.5% during the forecast period 2023 to 2032.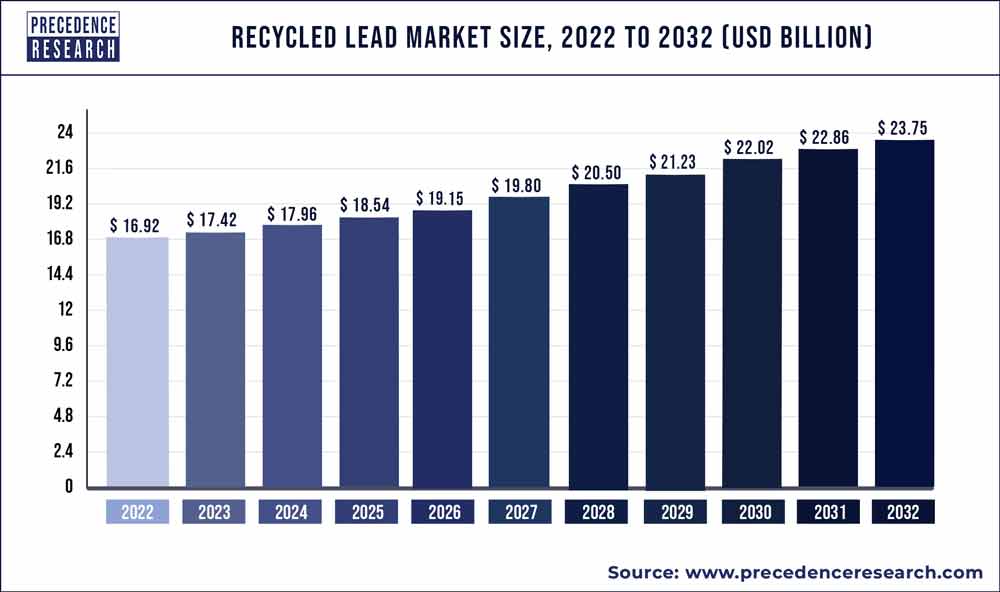 Access our Premium Real Time Data Intelligence Tool, Visit: Precedence Statistics
During a projected period, the recycled lead industries will be primarily driven by a broad range of applications in different areas such as energy, data centres, transport, construction, semiconductors, and health. Per the International Lead Organization, recycled lead meets more than half of the world's need for lead, attributable to its easy manufacturing and cost-effective properties, as well as the declining quantity of lead mines due to the scarcity of lead ores and an increase in lead extraction regulation. Conversely, the usage of rechargeable batteries, mostly in vehicles, which have a cheaper rate and a longer lifespan, is expected to drive the expansion of recycled lead market over the projection period. Lead is among the most often recycled materials with respect of recovery rate. It is frequently remoulded indefinitely to remove contaminants. Its core qualities make it easy to identify and inexpensive to collect and recycle.
All around world, recycled lead accounts for about half of the lead used in the production of the most recent lead goods. Because the grade of recycled lead is approximately identical to that of original lead mined directly, its worth and consumption as a recycled commodity are quite high. Lead-acid batteries are indeed an integral part of nearly a billion diesel and gasoline automobiles on the road today. These batteries are also used in a variety of important industrial applications, such as supplying power backup for telecommunication services. Considering that lead-acid batteries are required for automobiles to function, systematic and efficient lead recycling may have been a priority. The recovery and recycling of lead offers significant environmental benefits. Lead recycling decreases environmental pollution and conserves resources. Lead batteries are dangerous trash. Its disposal endangers both human health and the environment.
The utilization of salvaged lead in the manufacture of the most recent items is extremely eco friendly. Recycled lead manufacturing requires just 35 to 40% of the energy required to provide original lead from ore. Unlike many other materials, lead can be re-melted and recycled forever with no loss of quality, making it an ideal element for the circular economy.
Most of the globe has two lead requirements: one with a least of 99.99% Pb and another with a threshold of 99.97% Pb copper, nickel, Arsenic, antimony, bismuth, silver, tin, and zinc are the principal impurities in lead. Selenium and tellurium have recently been listed as significant contaminants. The removal of bismuth and silver in the refining process by recyclers represents a substantial change in the lead grades. Recycled lead generally includes enough bismuth to prevent 99.99% purity.
Report Scope of the Recycled Lead Market
| | |
| --- | --- |
| Report Coverage | Details |
| Market Size in 2023 | USD 17.42 Billion |
| Market Size by 2032 | USD 23.75 Billion |
| Growth Rate from 2023 to 2032 | CAGR of 3.5% |
| Base Year | 2022 |
| Forecast Period | 2023 to 2032 |
| Segments Covered | Application, Type, Industry Type and Geography |
| Companies Mentioned | Aqua Metals, Inc., Canada Metal North America Ltd., ECOBAT technologies, ENERSYS, Exide batteries, Gravitas Group, Mayco Industries, Recylex S.A, The Doe Run Company, Tianjin Dongbang Lead Resources Recycling Co., Ltd. |
Growth Factors
The lead industry is currently is vastly different from that of the past. Industry rules are stringent, encouraging a strong emphasis on recycling and resource conservation. In reality, lead is one of the world's most severely regulated industries. Lead must remain a resilient and profitable resource as the market grows forward. Rising earnings, urbanization, expanded access to power, and a growing need for telecommunication are all driving up energy consumption to unprecedented levels. Lead is an essential element in energy storage, with lead batteries assisting to provide even a safe, dependable, and long-term solution. This is significant because every possible energy resource will be required to fulfil the world's expanding demand. The lead battery business in the United States now has a yearly economic effect of $26.3 billion, and this figure is expected to rise. Global electricity output is predicted to increase by 50% over the next two decades, with wind and solar power accounting for more than half of this increase. Effective energy storage contributes to the consistency, dependability, and availability of renewable resources. Furthermore, battery storage provides more flexibility to power stations and systems that must supply electricity continuously.
Almost every high-tech sector depends heavily on lead, both in their present distribution chain and in their pursuit of future technical innovations and advancements. Lead permits many of the improvements that propel humanity ahead, from telecommunication to transportation to alternate energy.
Take automobiles as an example. Lead batteries are required for the unique start-stop technology, which reduces both fuel usage and pollutants. These technologies create larger requirements on auto electrics, necessitating a battery capable of supporting multiple engine restarts and a greater number of charge cycles. Lead batteries are indeed a dependable, cost-effective alternative that saves gasoline and emits up to 8% less CO2.
The 2020 Conference on the Development of the Recycled Lead Industries was conducted in Shanghai on December 12. The forum is held by Huizhou Merchants Futures and the Supervisory Board of Jieshou High-tech Industrial Development Zone in Fuyang, Anhui Province. Participants stated that the recycled lead industry has evolved significantly since the beginning of this year, that sales volume has continued to increase, and there is still much opportunity for improvement in standardization, and marketization of associated goods. Futures hedging are required for recycled lead firms to smooth overall earnings and maintain the smooth functioning of the operations when prices fluctuate drastically.
The categories expected to drive the growth of a recycled lead market are growing pressure for recycled items and lower pricing than new products. Whenever it comes to lead recycling, the United States ranks first. Lead's usage has varied throughout time, with a significant increase in recyclable uses. Approximately 85 percent of lead is now used in lead batteries, which are all recoverable and recyclable.
North America and Europe have a battery recycling rate close to 100 percent, and most other regions have a similar possibility of 100 percent recyclability. Because of their potential to be recycled, the lead containing acid batteries are expected to be in high demand. When compared to lead-acid batteries, the recycling technology and supply chain for lithium plus ion batteries are not completely developed. Furthermore, the energy required to produce the latter is three times less than that necessary to produce lithium-ion. As a result of these benefits and ongoing research & development, the demand for lead-acid batteries are expected to remain stable, which the bodes well for having growth of those recycled lead marketplace throughout the estimate period.
Furthermore, the rising recycling rate of lead acid batteries, rising demand for uninterrupted power supply, growing energy storage application across data centres and the telecom industry, and rising demand for radiation shielding in the healthcare industry are all driving the recycled lead market. Recycled lead, on the other hand, is mostly driven by the usage of lead acid batteries, which are primarily employed in vehicles due to their low cost and extended shelf life. Furthermore, lead is well-known for its remarkable qualities like as pliability, corrosion resistance, and soft texture.
Segment Insights
Application Insights
The batteries were the major category in 2022, accounting for around 85% of total sales, and also this trend is likely to continue throughout the projection period. In spite of certain limitations over alternatives, lead-acid batteries are expected to outperform throughout the projection period due to their numerous advantages. Its cost-effectiveness, ease of produce, low self-discharge rate with minimal maintenance needs, and mature, dependable, and further well-understood technologies are just few of the benefits that are predicted to drive production throughout the projection period. Battery type application segment is growing at a CAGR of 2.3%, in terms of revenue.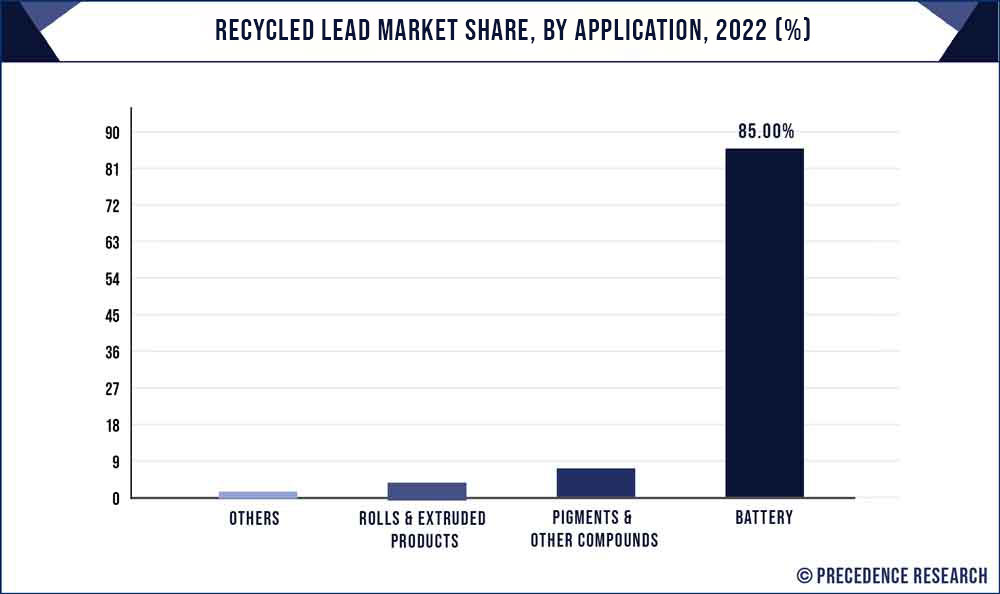 The recycled lead utilized in the manufacture of lead - acid is totally recyclable and reusable. Secondary lead, on the other hand, is treated, cast, and rolled into various forms including sheet, extrusions, and wire before being used in other commercial processes. Lead acid batteries are by far the most common source of lead recycling, with each element separated; lead is treated and turned into various forms for continuing use in the lead industry. Rolls & extruded products segment is expected to reach at a CAGR of 2.4% from 2023 to 2032.
Type Insights
The market is divided into three categories: soft/pure lead, lead oxides, and lead alloys. Soft/pure lead held the biggest market share in 2022, since it is the principal refined product of recycled lead and is primarily utilized as a raw material in the manufacturing of lead-acid batteries.
Pure lead is also used in the production of lead alloys and oxide. The three types of recycled lead compounds may be distinguished primarily by their distinguishing qualities. When other elements, such as silver, calcium, copper, indium and tin are added to pure lead, strong alloys are formed, which are subsequently used as the anti-corrosive sheets in industries such as nautical and construction.
Recycled Lead Market Share, By Region, 2022 (%)
| | |
| --- | --- |
| Regions | Revenue Share in 2022 (%) |
| North America | 23% |
| Asia Pacific | 57% |
| Europe | 15% |
| Latin America | 3% |
| MEA | 2% |
Regional Insights
Asia Pacific region hit highest revenue share of 56% in 2022.
North America controls global recycled lead market. When it comes to recycling things, the United States has been at the top. It uses its assets to recycle products at a lower price rather than manufacturing new ones. The federal government's health and environmental regulator in the United States evaluated recycling rates for a wide range of products and materials. It discovered that lead batteries had the greatest recycling rate of any consumer good, at 99 percent. According to the United States Department of the Interior, recycling has a significant cost. In 2018, 3.7 million tonnes of aluminium were created through recycled in the United States, saving enough energy to power 8 million households.
After North America, Europe leads the market. According to a report, second fastest growing market for recycled leads. Leads Europe recycles more than 95% of the lead there in market. Asia Pacific is a booming market for recycled lead due to its expanding population. Scrap lead acid batteries account for just approximately half of the lead scrap intake to recycling operations in Europe and the entire globe. Scrap lead sheet and tubing, cable wrapping, and other metal scrap materials account for a far bigger proportion of input scrap to recyclers in these nations than in the US. The proportion of scrap provided by lead acid batteries is predicted to rise as the number of automobiles on the road grows.
Key market players
Aqua Metals, Inc.
Canada Metal North America Ltd.
ECOBAT technologies
ENERSYS
Exide batteries
Gravitas Group
Mayco Industries
Recylex S.A
The Doe Run Company
Tianjin Dongbang Lead Resources Recycling Co., Ltd.
Segments covered in the report
(Note*: We offer report based on sub segments as well. Kindly, let us know if you are interested)
By Application
Battery
Rolls & Extruded Products
Pigments & Other Compounds
Others
By Type
Soft Lead
Lead Alloys
Lead Oxides
By Industry Type
Energy
Transportation
Data centers
Electronics
Construction
Healthcare
Others
By Geography
North America
Europe
Asia-Pacific
Latin America
Middle East & Africa (MEA)