The global regenerative agriculture market size was reached at USD 975.20 million in 2022, and it is projected to be worth around USD 4,290.92 million by 2032, poised to grow at a CAGR of 15.97% from 2023 to 2032.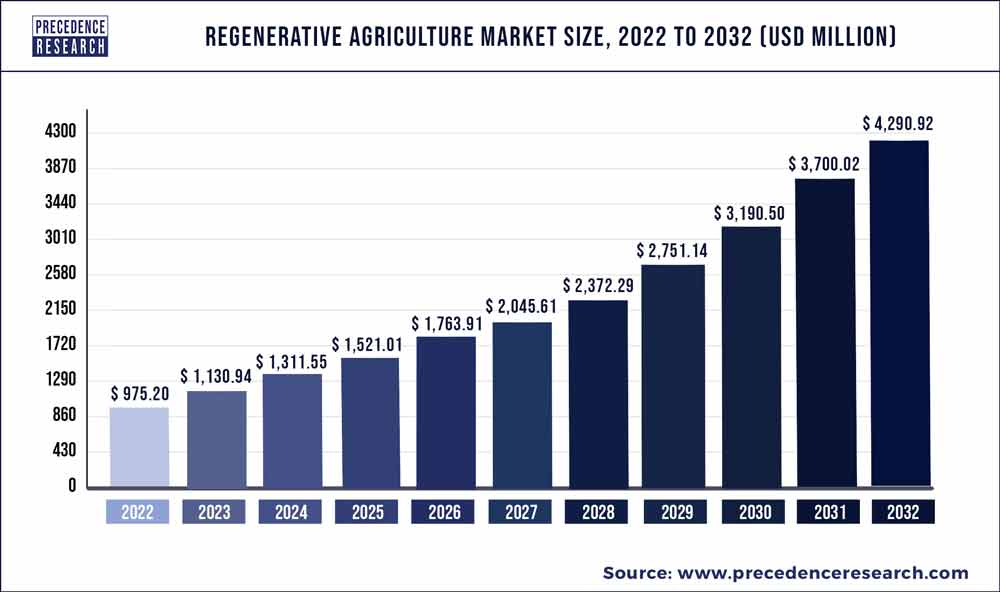 Access our Premium Real Time Data Intelligence Tool, Visit: Precedence Statistics
Key Takeaways:
North America generated more than 37% of the revenue share in 2022.
By Practice, the agroforestry segment held the highest market share of 21% in 2022.
By Application, the biodiversity segment had the highest revenue share in 2022.
Market Overview:
Regenerative agriculture combines a set of agricultural practices whose main objective is to enhance soil quality naturally. Regenerative agriculture also refers to restoring the fertility of exhausted or diseased soils. The global regenerative agriculture market is majorly driven by the growing uptake of regenerative agricultural practices, and rising awareness regarding environmental impacts of conventional farming techniques. Regenerative agriculture has emerged as a sustainable alternative that prioritizes biodiversity, soil health, and ecosystem resilience. The regenerative agriculture market tends to have a lucrative opportunity owing to the increasing demand for sustainable food production systems.
In December 2022, the Rockefeller Foundation announced a grant of $11 million for respective organizations that promote Indigenous as well as regenerative agriculture. Several trends driving the regenerative agriculture market growth include corporate funding for regenerative farming practices, rising consumer requirement for sustainable and healthy food, technological advancements, and government incentives & policies. Increased knowledge-sharing initiatives and collaboration among stakeholders in the regenerative agriculture domain propel the adoption of regenerative techniques and promote sustainable agriculture practices across the globe.
In March 2023, PepsiCo announced an investment of $216 million in long-term strategic partnership agreements with 3 of the well-known farmer-facing organizations – Soil and Water Outcomes Fund (SWOF), Practical Farmers of Iowa (PFI), and the IL Corn Growers Association (ICGA). These long-term strategic partnership agreements are aimed at driving the adoption of regenerative agriculture practices across the US.
Unilever, General Mills, Nestle, and PepsiCo pledged notable support for regenerative agriculture practices, which involve the avoidance of synthetic pesticides and fertilizers. As of September 2022, out of 900 million arable acres in the United States, around 1.5% is farmed regeneratively. Thus, there exists a vast scope for regenerative agriculture in the US. As per a new report, Soil Wealth, investments in regenerative agriculture-related projects are surprisingly high. As of July 2019, the report suggested that were around 70 investment strategies with assets under management of more than $47.5 billion across the United States.
A meta-review conducted by the Consultative Group on International Agricultural Research (CGIAR) in 2021 concluded that by maintaining biodiversity in agricultural lands, regenerative agriculture practices are able to create additional critical ecosystem services.
Report Scope of the Regenerative Agriculture Market:
| | |
| --- | --- |
| Report Coverage | Details |
| Market Size in 2023 | USD 1,130.94 Million |
| Market Size by 2032 | USD 4,290.92 Million |
| Growth Rate from 2023 to 2032 | CAGR of 15.97% |
| Largest Market | North America |
| Base Year | 2022 |
| Forecast Period | 2023 to 2032 |
| Segments Covered | By Practice and By Application |
| Regions Covered | North America, Europe, Asia-Pacific, Latin America, and Middle East & Africa |

Market Dynamics:
In July 2022, as part of a multi-year partnership with ALUS, General Mills, Inc. announced an investment of $2.3 million for supporting farmers and boosting regenerative agriculture in Canada. ALUS, a national charitable organization offers resources, expertise, and financial support to 35 communities in 6 provinces in Canada.
McCain Foods announced that by 2030, all potatoes bought by the company will be grown with regenerative agriculture techniques. The Regenerative Soils Program by BioSafe Systems follows the regenerative agriculture model, where soil health is improved using sustainable farming practices. This program is cost-effective and provides disease protection from pre-plant to harvest. Such regenerative soil programs are helpful in the production of tomatoes.
In order to enhance various regenerative agriculture techniques, respective companies can consider collaborations, partnerships, acquisitions & mergers, and joint ventures. Furthermore, continuously evolving regenerative agricultural technology can make the existing agricultural technology obsolete very soon. This may intensify the competition among the crucial market players in the coming years.
Since the count of regenerative agriculture solution providers (suppliers) is less in comparison to the count of buyers, the bargaining power of suppliers is relatively high as compared to the bargaining power of buyers. Due to promising profit margins, the threat of new entrants in the regenerative agriculture market is moderate as of now.
Our regenerative agriculture market report includes an in-depth analysis of the current market situation. This report covers crucial key factors such as the competitive landscape, the latest trends, regional analysis, and key players. The analytical research on the impact of the pandemic of COVID-19 helps in realizing the effects on the demand and supply side. The segmental analysis offers a distinct view of particular practices involved in regenerative agriculture.
COVID-19 Impact:
The sudden outbreak of COVID-19 affected the supply of ingredients required for regenerative agriculture. The production of soil fertilizers was impacted negatively across the globe. Logistical restrictions became a crucial concern for regenerative agriculture material producers. Many of the ecosystem stakeholders, particularly small and medium-sized enterprises (SMEs) had to stop or curtail their production. Since transportation was majorly impacted in various countries of the world, the export of numerous regenerative agriculture products was severely impacted.
The pandemic of COVID-19 disrupted various activities in the agriculture domain and the supply chain. Initial findings indicated that harvesting activities were suspended owing to a lack of migrant workers. The pandemic resulted in direct as well as indirect impacts on agriculture, soil, and the environment. The Pradhan Mantri Garib Kalyan Yojana / Package worth ₹ 1.70 lakh crore ($22.59 billion) proved to be a comprehensive relief package for the poor to fight against Corona Virus. In February 2021, the Food and Agriculture Organization of the United Nations (FAO) accepted €40 million ($48.18 million) help from Germany. This help was intended to help fishers and farmers deal with the ill effects of COVID-19 as well as extreme climate events.
Segments Insight:
Practice Insights:
Based on practice, the global regenerative agriculture market is segmented into agroecology, aquaculture, biochar & terra preta, agroforestry, no-till & pasture cropping, holistically managed grazing, silvopasture, and other practices. The agroforestry segment held the highest market share in 2022. The aquaculture segment is expected to hold a significant market share during the forecast period.
Regenerative agroforestry, a sustainable and resilient agricultural practice is considered to have the potential to deal with the climate issue. Regenerative agroforestry enhances food security for the rising population while reducing climate change, enabling economically viable production, and safeguarding biodiversity. This method is a nature-based and cost-effective practice that can be adopted across various parts of the world.
Application Insights:
Based on application, the global regenerative agriculture market is segmented into soil & crop management, biodiversity, operations management, and other applications. The biodiversity segment had the highest revenue share in 2022. The biodiversity segment is expected to dominate the market during the study period.
Numerous regenerative agricultural practices such as planting cover crops, no-tillage, and planting buffer strips help in enhancing biodiversity. A few other advantages of biodiversity include a clean and safe water supply, nutrient recovery, protection of the soil, the provision of fertilizer, and a greater variety of wildlife.
Regional Insights:
The regenerative agriculture market is spread across North America, Europe, Asia Pacific (APAC), the Middle East and Africa, and Latin America. In 2022, the North American region held the largest revenue share in the regenerative agriculture market. In 2022, the United States held the highest share followed by Canada and Mexico in North America. North America is one of the most developed continents owing to the presence of countries with favorable agriculture policies and an inclination towards regenerative agriculture.
Grupo Bimbo and CIMMYT partnership has planned to enhance regenerative agricultural practices for maize and wheat in Mexico. Grupo Bimbo has set a goal that 200,000 hectares of wheat should be cultivated with regenerative agriculture practices by 2030. Grupo Bimbo also aims that 100% of key wheat ingredients must be produced with regenerative agriculture solutions by 2050.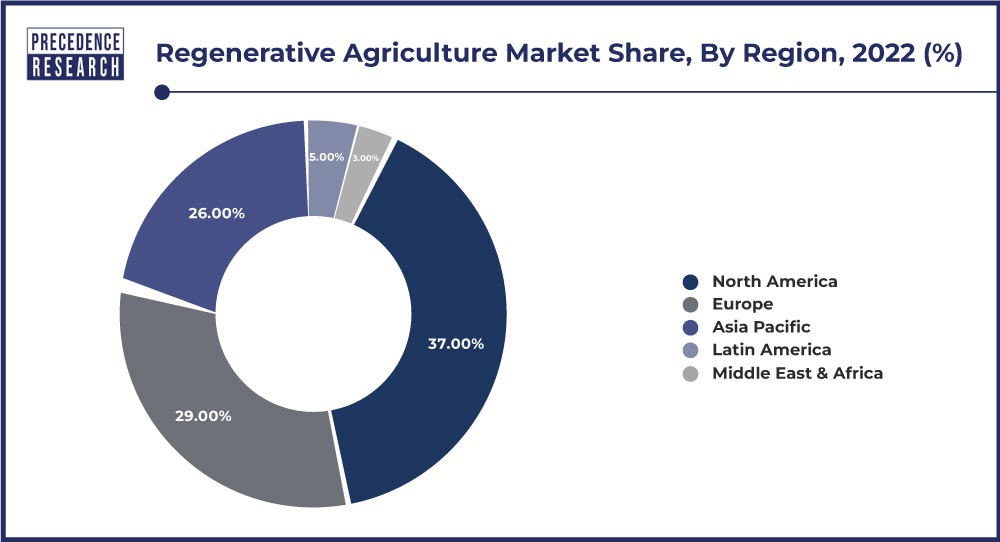 In Mexico, the production volume of wheat is forecast to rise by 0.1 million metric tons in the coming years. The production volume of wheat in Mexico is predicted to amount to about 3.22 million metric tons in 2031. The production of maize in Mexico is predicted to increase continuously by 1.7 million metric tons during the next years. The production of maize in Mexico is expected to amount to around 29.52 million metric tons in 2031. The partnership between Grupo Bimbo and CIMMYT, and the high production of wheat and maize are anticipated to create promising opportunities for the regenerative agriculture market in the near future.
The European regenerative agriculture market is segmented into France, Germany, the United Kingdom (UK), Italy, and the Rest of Europe. Germany is expected to hold the highest share of the European regenerative agriculture market during the study period. The European Agroforestry Federation (EURAF) promotes the growth of trees across farms and any kind of silvopastoral throughout various environmental regions of Europe. The European Agroforestry Federation has over 500 members from 20 European nations. The presence of such agroforestry federations is supporting the market growth in the region.
Organic farming methods that involve lesser use of pesticides and store more carbon in the soil are considered to be more popular. Experts suggest that the regenerative farming shift can decrease UK climate emissions. In November 2021, General Mills started its 1st regenerative agriculture project in Europe to help farmers who provide milk for Häagen-Dazs ice cream.
The regenerative agriculture market in the Asia Pacific (APAC) region is segmented into China, India, Japan, South Korea, and the rest of the Asia Pacific (APAC) region. In 2022, China dominated the Asia Pacific (APAC) regenerative agriculture market followed by Japan and India.
Latin America, Middle East, and African (LAMEA) regenerative agriculture market is segmented into South Africa, Saudi Arabia, Brazil, North Africa, Argentina, and the Rest of LAMEA. The Latin American region is estimated to hold a considerable share of the regenerative agriculture market during the forecast period. In 2022, Brazil held the largest market share in the LAMEA regenerative agriculture market. Owing to the low literacy rate, civil war, and unfavorable economic conditions in a few African countries, the regenerative agriculture market in the African region is expected to grow at a slower rate.
Recent Developments:
In September 2021, Nestlé announced to invest CHF 1.2 billion ($1.31 billion) for the next 5 years to support regenerative agriculture across the company's supply chain. Leveraging the broad network of research and development (R&D) experts, Nestlé is developing higher-yielding cocoa and coffee varieties with lower environmental impact. The company is also assessing unique solutions to decrease emissions across the dairy supply chain. For advancing regenerative farming practices, Nestlé decided to work with its food system partners, which include a vast network of 150,000 suppliers and over 500,000 farmers.
In May 2022, global consumer goods company Unilever, global asset management and insurance company AXA, and alternative asset management group Tikehau Capital reported that they signed a Memorandum of Understanding (MoU). This Memorandum of Understanding outlines a plan to create an impact fund for scaling and accelerating the regenerative agriculture transition. These 3 companies plan to invest €100 million each and combine a unique set of financial expertise to drive the structural change.
Key Market Players:
Alter Eco Americas, Inc.
Bluebird Grain Farms
Cargill, Inc.
CIBO Technologies
Continuum Ag
Danone SA
EcoFarm
General Mills Inc.
Grounded South Africa
Nestlé S.A.
RegenAG
Regeneration Canada
Soil Capital Ltd.
White Oak Pastures
Segments Covered in the Report:
(Note*: We offer report based on sub segments as well. Kindly, let us know if you are interested)
By Practice
Agroecology
Aquaculture
Biochar & Terra Preta
Agroforestry
No-till & Pasture Cropping
Holistically Managed Grazing
Silvopasture
Others Practices
By Application
Soil & Crop Management

Nitrogen Fixation
Water Retention
Nutrient Cycle

Biodiversity
Operations Management

Carbon Sequestration
Ecosystem Services

Other Applications
By Geography
North America
Europe
Asia-Pacific
Latin America
Middle East and Africa