The global robotic process automation in healthcare market size was evaluated at USD 1.4 billion in 2022 and is expected to hit around USD 14.18 billion by 2032 with a registered CAGR of 26.1% from 2023 to 2032.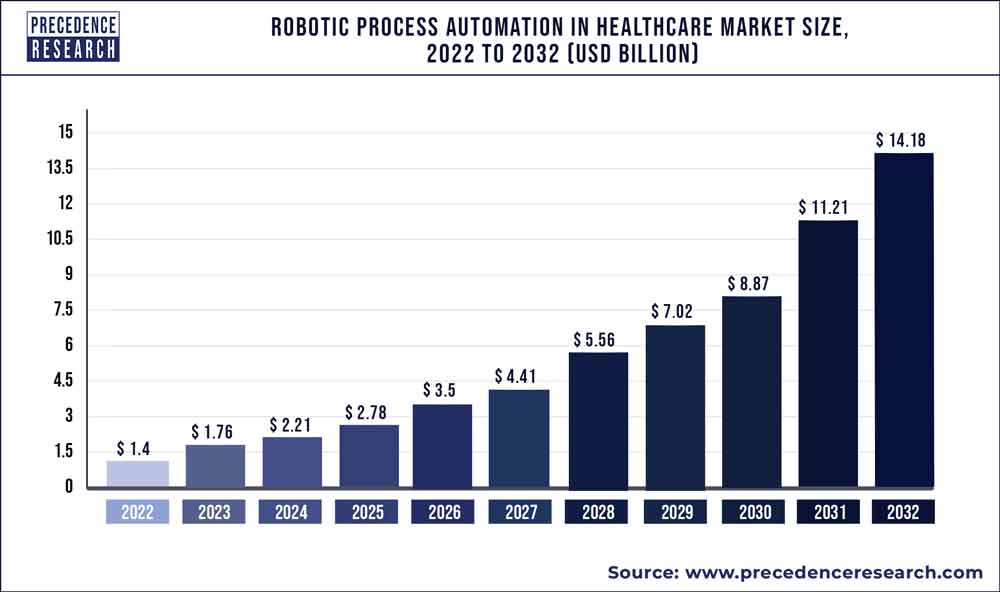 Access our Premium Real Time Data Intelligence Tool, Visit: Precedence Statistics
Robotic process automation (RPA) is a type of automation that makes use of software to do backend tasks that would often be performed by humans, including completing forms, extracting data, and transferring files. To connect and perform monotonous operations across corporate and productivity apps, it mixes APIs as well as user interface interactions. RPA solutions use scripts that simulate human operations to execute a variety of jobs, activities, and transactions through not linked software platforms.
RPA frequently automates decisions on the basis of pre-established rules and circumstances using a business rules solution. Additionally, it automates processes using logic and structured data. RPA has the characteristics to manage unstructured data, but only when a bot gathers the data and converts it to structured data using techniques like character recognition as well as natural language processing. Intelligent automation often referred to as cognitive automation, is made when an RPA system and AI are coupled. This type of automation typically employs bots in an effort to closely match human skills and activities. In the healthcare industry, there are a lot of delicate client interactions as well as time-consuming, boring labor and administrative responsibilities that don't require specialized expertise. RPA may automate tasks for the whole company, from front-end office duties to operational procedures to patient involvement and bill collection.
The worldwide pandemic has had an effect on business operations both inside and outside. Healthcare facilities were being overburdened by the increased number of Covid-19 cases, while business was falling in the retail, manufacturing, and IT & Telecom industries. Both the front-end and back-end office operations were impacted by this rare occurrence, which resulted in things like extended response times, worker fatigue, a backlog of documents, and disruptions in the distribution network, among other things. An automated solution must be used in order to save costs, expedite customer service, and make testing and reporting easier. Additionally, COVID-19 has increased the demand for a digital workplace across industries, opening up additional opportunities for RPA suppliers to gain market share. After the pandemic, employment will likely be determined by automation as businesses go through structural changes and more people work from home. The benefits of using RPA during a recession brought on by a pandemic are anticipated to boost demand for the technology following the epidemic and propel market expansion.
Growth Factors
The handling of claims and patient scheduling are only two examples of the numerous taxing activities and tight restrictions that healthcare systems involve. This causes inefficiencies, expensive operating expenses, and sluggish procedures. Healthcare practitioners may solve these problems, speed up healthcare operations, increase patient satisfaction overall, and make healthcare systems more efficient by utilizing automation and RPA. Treatment providers may avoid expensive, time-consuming digital transformation implementation projects with automation and quick implementation projects, made possible by RPA and intelligent automation. This allows them to focus more resources on providing healthcare. The market is expanding as a result of all these factors.
Report Scope of the Robotic Process Automation in Healthcare Market
Report Coverage
Details
Market Size in 2023
USD 1.76 Billion
Market Size by 2032
USD 14.18 Billion
Growth Rate from 2023 to 2032
CAGR of 26.1%
Base Year
2022
Forecast Period
2023 to 2032
Segments Covered

By Solution
By Operations
By Application

Regions Covered

North America
Europe
Asia-Pacific
Latin America
Middle East & Africa

Key Market Drivers
Robotic process automation is becoming more prevalent in healthcare
RPA can help the healthcare sector rely on desktop automation for certain basic to complicated repetitive activities as firms continue to grow and maintaining large client bases becomes challenging. RPA adoption is anticipated to help firms monetize a number of back-end procedures. RPA is anticipated to offer experience with next-generation hospitals and the capacity to manage large client loads in clinics and hospitals. Vendors are concentrating on effectively implementing bots for a variety of applications. Customers and the healthcare industry are investing in process automation software to construct better management and long-lasting management systems in order to get a larger market share.
RPA in healthcare industry to grow, driven by AI, algorithms, and cloud adoption
Robotic process automation in healthcare market growth will be largely fueled by the rising use of cutting-edge technologies like AI, machine learning, and the cloud. RPA is being used by more and more healthcare companies to automate operations and manage increasingly complicated data. RPA-based cloud and artificial intelligence (AI) technologies are being developed and implemented by enterprises to automatically enhance corporate workflows and procedures.
Key Market Challenges
Infrastructure and customization issue - When implementing robotic process automation technology, businesses must make investments in solid infrastructure and a qualified team to manage all activities. It's difficult and expensive to build up RPA infrastructure, acquire experts or train existing staff, and deploy thousands of bots in the healthcare sector. Additionally, the platforms for automation bots constantly change, and crucial flexibility is not always built into bots. Many businesses are apprehensive to use this technology in their work processes. It is also a tool that requires a unique identity and cutting-edge technology, making it challenging to adapt the platform to a company's always-changing demands.
Key Market Opportunities
Growth in innovations in RPA to accommodate changing consumer demands
In order to reduce labor costs in a variety of sectors, including manufacturing and retail, businesses are turning to RPA adoption. In addition, businesses can produce high-quality products and reduce the possibility of a human mistakes by implementing robot technology. The RPA market is expanding as a result of the fact that a variety of industrial businesses need to consume a lot of energy and want to do so by implementing robot technology. Although robotic technology has a high upfront cost, it helps healthcare organizations manage their procedures effectively and spend less overall. The market is anticipated to be less affected by cost increases in the future due to technological improvement.
The increasing need to manage unstructured data
The requirement to manage unstructured data is growing. Businesses desire robotic process automation to handle complex unstructured data and fully automate all business processes. Businesses are combining RPA with AI and cognitive technologies to expand the capabilities of business process automation. These tools keep track of employee activity, pinpoint appropriate workflows, and suggest an automation path to businesses.
One of the upcoming RPA trends that gets the most attention is the decrease in paperwork. Intelligent bots are becoming more and more common in RPA for online data extraction, filing, and processing. Pre-programmed bots can increase productivity for routine administrative tasks while reducing paperwork. Such developments would boost the market for robotic process automation globally.
Segments Insight
Solution Insights
Due to its wide range of applications, the software sector led the worldwide market in 2022, and this trend is anticipated to continue over the coming years. Recently, the Asia Pacific area has emerged as a major worldwide center for this software and services as a result of rising urbanization and technological innovation. Due to rising client awareness, consulting services now represent the bulk of the market value. Organizations in emerging markets are now looking for technological options that are more affordable. Therefore, the most in-demand service category is consulting services that inform firms about robotic process automation.
The second-largest service sector is training stakeholders in the technical skill set needed to properly employ robotic process automation. Organizations are spending more money on training and developing industry 4.0 skill sets to increase employee productivity and, therefore, income. Throughout the projected period, it is anticipated that the training sector will continue to hold the second-largest service segment position.
Operations Insights
The market is divided into Rule-based and Knowledge-based segments depending on operations. A new foundation for effective decision-making in the logistics and warehousing sectors is provided by knowledge-based operations. By providing interactive monitoring and hybrid technique-based flow optimization for logistical tasks, it empowers users.
Application Insights
The segment's greatest contribution to the worldwide market in 2022 was clinical documentation, billing, and workflow management, and it is very expected that this trend will persist over the forecast period. At every healthcare company, managing routine workflow encompasses a number of activities, including but not limited to patient care, inventory management, follow-ups, resource use, and much more. It is undoubtedly a time-consuming, error-prone, and ineffective strategy to manage them all manually. By automating these fundamental operations, resources will be used more effectively and attention will be paid to crucial tasks.
In recent years, other applications have developed and grown rapidly in South Asian nations, attracting the attention of several American and European MNCs. Without human participation, the appointment scheduling procedure is made quick and easy by automating it. Customers feel appreciated and significant when they receive timely notifications and are reminded of their appointments. To prevent misunderstanding and inconvenience, any modifications to the timetable caused by the doctor's absence can also be promptly communicated. Consequently, it is expanding quickly within the predicted period.
Regional Insights
Due to the growing implementation of sophisticated, self-regulatory technologies like AI and machine learning, North America is anticipated to have the biggest market share in the worldwide robotic process automation in the healthcare market throughout the course of the projected period. In order to motivate private healthcare companies to implement automated solutions for efficient workflow, the US government is sponsoring and running initiatives.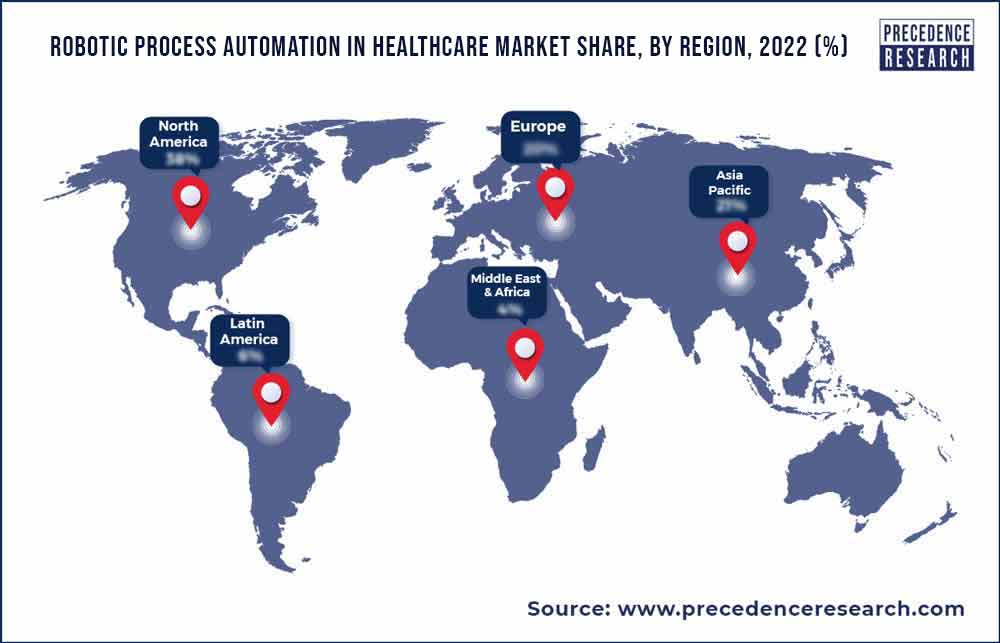 For instance, the US government implemented new RPA initiatives that resulted in the creation of 1,000 robotic automation solutions and the release of 1.5 million hours of capacity. The growing use of automation software, procedures, and solutions by businesses and government organizations in this area support market expansion. In order to better serve American citizens, the US Federal government allotted a budget in March 2019 that supports the deployment of RPA and AI.
Recent Developments
In September 2022: Eleviant Tech, a privately held digital transformation company with expertise in cloud, web, mobile, robotic process automation (RPA), blockchain, and artificial intelligence (AI) technologies, has been acquired by CTG, a leader in assisting businesses to use digital IT solutions and services to boost productivity and profitability in the Americas and Western Europe.
SS&C Technologies Holdings, Inc. announced in March 2022 that it had successfully acquired Blue Prism Group Plc ("Blue Prism") for around $1.6 billion (the "Acquisition"). Over 2,000 companies employ the services of Blue Prism, a major robotic process automation (RPA) firm with its global headquarters in the United Kingdom.
Key Market Players
UiPath
Blue Prism
Automation Anywhere
Kofax
WorkFusion
Jidoka
Kryon Systems
EdgeVerve Systems
PegaSystems
Another Monday
Segments Covered in the Report
(Note*: We offer reports based on sub-segments as well. Kindly, let us know if you are interested)
By Solution
Software
Services
Implementation
Support and Maintenance
Training and Consulting
By Operations
Rule-based Operation
Knowledge-based Operation
By Application
Claims Management
Clinical Documentation
Billing and Compliance Management
Appointment Scheduling
Workflow Management
By Geography
North America
Europe
Asia-Pacific
Latin America
Middle East & Africa (MEA)