The global semiconductor chip ecosystem market is expanding rapidly due to the growing demand for connected devices, increasing semiconductors sales and increase R&D investment.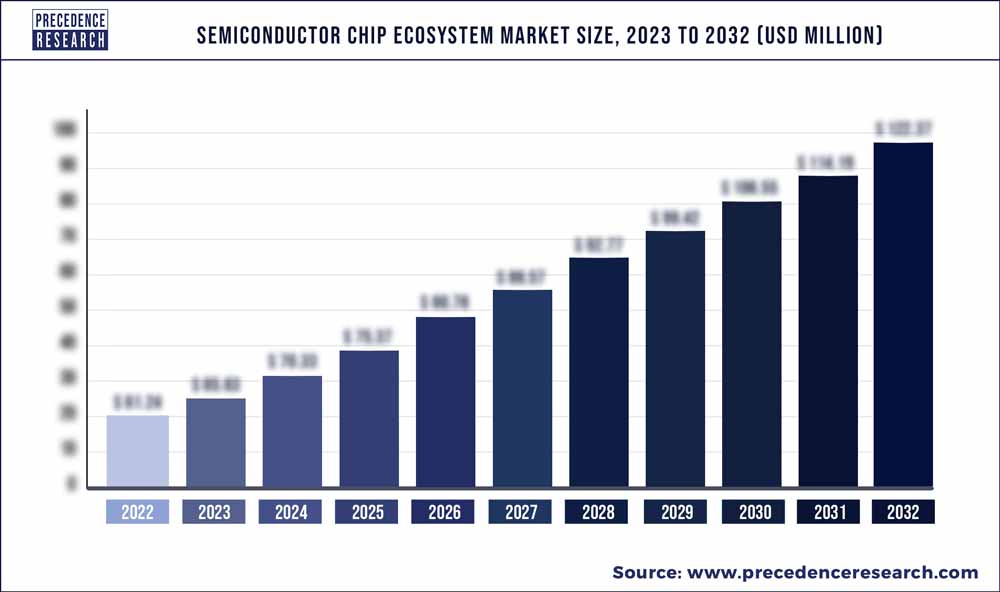 Access our Premium Real Time Data Intelligence Tool, Visit: Precedence Statistics
Key Points:
Asia Pacific region is projected to dominate the market from 2023 to 2032.
North America region is expected to expand at a remarkable rate from 2023 to 2032.
The wireless communication segment is predicted to expand at the fastest CAGR from 2023 to 2032.
The consumer electronic application segment is expected to expand the highest in 2023.
The healthcare equipment application segment is projected to grow at the fastest pace from 2023 to 2032.
The chip intellectual property cores types of companies are expected to be the fastest-growing segment.
The electronic design automation tools types of companies segment are predicted to grow at a remarkable CAGR.
Market Overview:
Everything is undergoing a digital transformation. Semiconductors, which are chips that operate digital information, are found in almost everything, such as computers, automobiles, home appliances, medical equipment, and so on. Engineers use specialized Electronic Design Automation (EDA) software to develop chips.
Inflationary stresses in China, supply chain shutdowns, and Russia's invasion of Ukraine have all hampered the semiconductor industry. A semiconductor chip's basic component is a sliver of silicon that has been etched with multiple billions of microscopic transistors & projected to particular minerals and gases, developing patterns to regulate the current flow while following various computational instructions.
According to a study by the India Electronics & Semiconductor Association (IESA), India's semiconductor component industry is expected to expand $300 billion in total net revenues by 2026, as 'Make in India' as well as PLI schemes promote local marketing of semi-components in the coming years.
Report Scope of the Semiconductor Chip Ecosystem Market
| | |
| --- | --- |
| Report Coverage | Details |
| Base Year | 2022 |
| Forecast Period | 2023 to 2032 |
| Largest Market | Asia Pacific |
| Segments Covered | By Communication, By Application and By Types of Companies |
| Regions Covered | North America, Europe, Asia-Pacific, Latin America and Middle East & Africa |

Market Dynamics:
Drivers
Increase R&D investment
Semiconductor businesses strive for innovation across all product segments because faster, more powerful chips and cutting-edge equipment help generate higher sales across all value chain segments. Companies with the most unique technologies and products are likely to become global champions.
In a cross-industry analysis, the semiconductor industry came in second only to pharmaceuticals and biotechnology in terms of R&D spending as a percentage of sales. India declared an approximately 10-billion-dollar production-linked incentive plan in December 2021 to promote semiconductors & exhibit products in the nation.
Increase in sales of semiconductors
As per the Semiconductor Industry Association, semiconductor sales reached a record $555.9 billion in 2021, a 26.2% increase, with revenues in China attaining $192.5 billion. As consumer product demand grew, semiconductor manufacturing lines switched from producing lower-cost car chips to developing more pricey microprocessors and other gadgets from current orders.
The widespread use of semiconductors in a broad range of end-use applications like electronics, industrial equipment, automotive, networking and communications, and data processing is a major factor driving global semiconductors sales.
Restraints
Semiconductor shortage
Semiconductor fabs were already nearing full capacity prior to the pandemic because they tried to avoid investing in new capital equipment beyond what is required to meet customer demand. In order to secure supply, several players increased their semiconductor stock levels in response to uncertain trade dynamics.
The pandemic, which prompted purchases of computers and other remote-working devices, pushed demand even higher. Hence, this leads to higher demand and less production which leads to a shortage in the supply of semiconductors.
Opportunities
A robust talent pipeline
As semiconductors are becoming more important for product differentiation, some electronics manufacturers, automotive OEMs, and hyper scalers are bringing chip design in-house to boost customization and eliminate bottlenecks. These moves make competition for already scarce semiconductor talent even more difficult than usual.
Simultaneously, chip design becomes more complex as semiconductor functions expand, necessitating more labor. The labor increase is especially pronounced for five-nm nodes, which are the most difficult to design and require the most days of work.
Impact of COVID-19:
While the COVID-19 pandemic was a humanitarian and economic recession, pandemic-era spending and widespread adoption of remote as well as hybrid work styles accelerated the adoption of digital technologies – changes that are likely to persist in the years ahead. As a result, the semiconductor industry experienced two years of explosive growth.
Currently, the semiconductor sector is focusing on worker health and safety, as well as continuous efforts for research, design, and manufacturing processes. This consistency in the semiconductor industry is critical because it supports key segments, such as medical and healthcare, as well as several complementary innovations such as Industry 4.0, AI, and 5G, in addition to other segments repurposing to fight the pandemic.
The semiconductor industry has been used in the healthcare sector for various applications specifically during COVID-19 when the world was digitalizing.
Segments Insight
Communication Insights
Wireless Communication
The wireless communication sector is anticipated to expand at the fastest CAGR from 2023 to 2032. Rapid developments in wireless communication technology are driving up demand for wireless communication semiconductors. Furthermore, some of the leading drivers for the semiconductors for the wireless communications industry include factors such as increasing IoT trends, cost and rigidity advantages provided by traditional semiconductors, as well as increasing adoption of compact consumer electronic devices, etc.
The supply of semiconductors used for wireless communication services experienced the steepest decline in 2020, with a drop of 11%-26%. Mobile phone deals, the basic driver in this sector, have previously been linked with GDP and are thus expected to fall sharply. The preferences of consumers to shift toward less costly phones also had an adverse impact on semiconductor demand. Furthermore, post-pandemic the sale of wireless communication expanded due to the introduction of the latest technologies.
Wired Communication
The wired communication division is projected to grow at a remarkable rate with a CAGR. Supply for semiconductors that are used in wired communication raised by 8%-11% in 2020 due to a number of COVID-19-related factors, such as increased security for current enterprise services and infrastructure as more employees are working from home, an approximately 50% rise in fixed broadband usage was observed in some nations, which resulting in higher purchases of DSL/ cable as well as wireless routers.
Furthermore, an approximately 40% rise in online streaming through many broadband networks is also expected to raise the demand for wired communication semiconductors.
Application Insights
Consumer Electronics
Based on the application, the consumer electronic sector is anticipated to expand the highest in 2023. Semiconductor firms manufacture components for a wide range of consumer electronics devices, such as televisions, watches, and video games.
Since the majority of devices in this group are purchased with discretionary funds, demand is strongly linked with GDP. Consumer electronics are performing better than wireless communication due to a rise in sales of audio equipment, gaming devices, as well as kitchen appliances.
Healthcare Equipment
On the other hand, the healthcare equipment sector is anticipated to grow at the fastest pace between 2023 and 2032. Factors such as the rising use of remote patient monitoring devices, advancements in diagnostic and treatment modalities, and the high prevalence of noncommunicable diseases are also predicted to fuel semiconductor growth in the sector. When the COVID-19 pandemic hit, telehealth usage skyrocketed as consumers and providers were looking for safe ways to access and deliver healthcare.
Remote patient monitoring is one area of telehealth that has grown in popularity. Remote patient monitoring aided healthcare during the pandemic by allowing patients to be monitored and treated from the comfort of their own homes. Furthermore, remote patient monitoring cut the amount of time patients needed to spend in situations where the COVID-19 virus was transmitted significantly.
As a result, demand for remote patient monitoring systems increased significantly, creating major demand for semiconductor chips used in such systems. Magnetic resonance imaging (MRI) devices, BP monitors, pacemakers, blood/chemistry gas analyzers, and bedside patient monitors are all examples of semiconductor-enabled equipment that is changing people's lives today.
End-User Insights
Chip Intellectual Property (IP) Cores
On the basis of end-user, the chip intellectual property cores are projected to be the fastest-growing segment. A chip's design is held by a specific company. Some businesses license chip designs for widespread use as software basic components known as IP Cores. Over 150 firms sell IP Cores chips. For instance, Apple licenses ARM IP Cores as a core component of microprocessors in computers and iPhones.
Electronic Design Automation (EDA) Tools
Furthermore, electronic design automation tools are predicted to grow at a remarkable CAGR. Engineers use specific Electronic Design Automation (EDA) software to develop chips. The sector is led by three US suppliers, which include Cadence, Synopsys, and Mentor. It utilizes a large technical team using EDA tools for 2-3 years for developing complicated logic chips such as a microprocessor used within a server, phone, or computer.
Regional Insights
Asia Pacific is expected to dominate the semiconductor chip ecosystem market from 2023 to 2032. Semiconductor producers in developing markets, particularly in Asian economies such as China, Taiwan, and South Korea, are profiting from cyclical pricing in the face of a global chip shortage. As per a Semiconductor Industry Association (SIA) study, East Asia (Japan, South Korea, and Taiwan) and mainland China account for nearly 75% of global installed capacity.
The semiconductor production equipment industry is expanding rapidly due to increased demand for semiconductor applications in consumer goods, automotive, electronic products such as wireless storage devices, and industrial.
Followed by Asia Pacific, North America is anticipated to expand at a remarkable rate. Due to the growing demand for connected devices, the United States is predicted to dominate the market. By incorporating devices with individual technologies, the use of connected devices improves the efficiency of business operations. This allows for the streamlining of processes, which saves money and time while increasing a company's ability to accomplish objectives in a more efficient manner.
Recent Developments:
In February 2023, in the Union Budget 2023-24, the Centre made an unplanned allocation of 3,000 crores to establish India's semiconductor ecosystem. This sum will be used to advance semiconductors as well as display production ecosystems.
In February 2023, India and the United States announced collaborations in space, defense, semiconductors, and next-generation technologies.
In February 2023, Integra Technologies, a semiconductor company, announced a $1.8 billion investment in a new site in Kansas.
In April 2022, a partnership was signed between India Electronics and the semiconductor association and the US Semiconductor industry association to strengthen the private-public collaboration between the countries.
Key Market Players
Samsung
Intel
SK Hynix
TSMC
Global Foundries
UMC
AMD
Nvidia
Qualcomm
Advanced Semiconductor Engineering (ASE) Inc.
Segments Covered in the Report
(Note*: We offer report based on sub segments as well. Kindly, let us know if you are interested)
By Communication
Wireless Communication
Wired Communication
By Application
Consumer Electronics
Automotive
Healthcare Equipment
Space Satellites
Industrial
By Types of Companies
Chip Intellectual Property (IP) Cores
Electronic Design Automation (EDA) Tools
Specialized Materials
Wafer Fab Equipment (WFE) Make the Chips
Fabless Chip Companies
Integrated Device Manufacturers (IDMs)
Chip Foundries
By Geography
North America
Europe
Asia-Pacific
Latin America
The Middle East and Africa