The global social commerce market size accounted for USD 2.2 billion in 2022 and it is projected to surpass around USD 12.1 billion by 2032, registering a CAGR of 18.58% during the forecast period 2023 to 2032.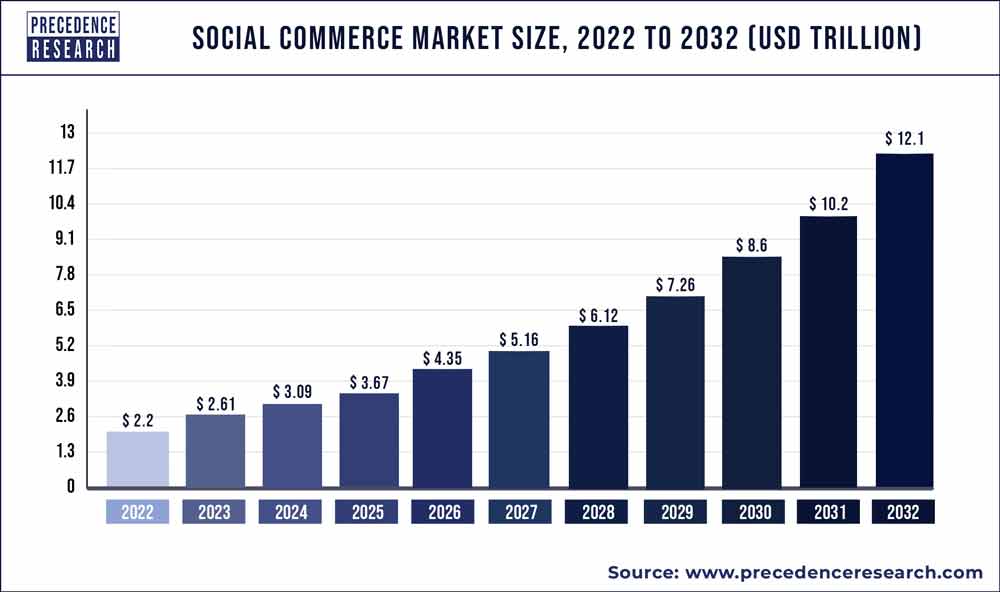 Key Takeaways:
Asia Pacific market has accounted for a 70.4% revenue share in 2022.
By business model, the B2C segment has accounted revenue share of 57% in 2022.
By platform, the video commerce segment has held a revenue share of around 42.7% in 2022.
By product, the apparel segment led the market with a revenue share of around 23.6% in 2022.
Market Overview:
Social commerce occupies a central position in the ongoing convergence of functionalities found on numerous online retail and social interaction platforms. This phenomenon is fueled by the introduction of commerce features by social-first platforms (for instance, social media platforms incorporating in-app product catalogs) and the integration of social shopping components by commerce-oriented websites (such as marketplaces introducing live streaming or group buying options).
The prevalent manifestation of Social Commerce involves commerce-driven websites incorporating social shopping elements (e.g., marketplaces). Simultaneously, in certain regions like China, where online retail platforms are more commonly utilized by brands, social media serves as a means to inspire and facilitate purchases, seamlessly integrating e-commerce into these experiences through popular formats like group buying and live-streaming. Furthermore, brands are increasingly investing in social commerce advertising to target specific audiences and drive conversions. Social media platforms offer targeted advertising options based on user interests, demographics, and behavior, allowing brands to reach potential customers with relevant and personalized advertisements.
Growth Factors:
The increasing social media users across the globe is anticipated to augment the growth of the market during the forecast period. In 2022, approximately 58% of the global population, which translates to around 4.6 billion individuals, actively engage with social media platforms. These users dedicate an average of 2 hours and 27 minutes per day to these channels. Simultaneously, consumers exhibit greater digital proficiency, spending an average of 6.58 hours online each day, with 3.43 hours consumed through mobile devices (Hootsuite, 2022).
With e-commerce now ingrained in everyday life, consumers are increasingly driven by the desire for instant gratification, offering platforms a significant opportunity to monetize the time users spend online and their social influence within the digital realm. To remain competitive, platforms continuously expand and refine their features, aiming to provide faster and more relevant experiences within the consumer's own environment. This evolution allows consumers to seamlessly connect, share, discover, and make purchases. The emergence of peer-to-peer platforms and influencers also fuels the growth of 'Social Commerce,' while generating curiosity about the metaverse. Brands seeking to engage with shoppers in their preferred digital surroundings must determine their strategic approach to leverage this emerging channel.
Report Scope of the Social Commerce Market:
| | |
| --- | --- |
| Report Coverage | Details |
| Market Size in 2023 | USD 2.61 Billion |
| Market Size by 2032 | USD 12.1 Billion |
| Growth Rate from 2023 to 2032 | CAGR of 18.58% |
| Largest Market | Asia Pacific |
| Base Year | 2022 |
| Forecast Period | 2023 To 2032 |
| Segments Covered | By Product Type, By Platform, By Business Model, and By Access |
| Regions Covered | North America, Europe, Asia-Pacific, Latin America, and Middle East & Africa |

Market Dynamics:
Driver:
Increasing adoption of mobile devices
The increase in adoption of mobile devices is expected to augment the growth of the social commerce market during the forecast period and this trend is likely to continue in the years to come. Based on the GSMA Intelligence's Mobile Economy 2022 report, it is projected that by 2025, there will be nearly 7.5 billion smartphone connections, accounting for more than 80% of all mobile connections. In the coming six years, the majority of regions are expected to witness a threefold increase in mobile data usage, driven by the widespread adoption of smartphones and the growing consumption of videos. Previously, it was observed a similar surge in content engagement on desktop and laptop devices, and now, with mobile-optimized solutions, the same upward trend is expected on the mobile platforms.
When analyzing content generation among all of Reevoo's retail and brand clients, it was evident that 25% of consumers who receive post-purchase requests to provide reviews or answer questions via email choose to respond using their mobile devices. This percentage of reviews and answers submitted through mobile is predicted to continually rise in the future. Although mobile conversion rates may currently start at a lower baseline, these numbers are anticipated to grow as consumers increasingly engage and conduct transactions through their mobile devices. Consequently, this is anticipated to contribute to the market growth within the estimated timeframe.
Restraints:
Limited social media reach
One of the major social media challenges is that in every 10 Americans, seven of them, especially young adults, make use of social media to engage, share connect, and entertain themselves. Though most of people today are on social media, it still has a limited reach and is very saturated. The saturation of users on social media creates a highly competitive environment, making it more difficult for businesses to expand their customer base and stand out amidst the noise. Furthermore, the limited reach hampers the ability to effectively target niche audiences, hindering the precision and effectiveness of marketing efforts. As users are flooded with a constant stream of content, including advertisements, ad fatigue sets in, causing users to ignore or actively block ads, leading to a decline in the organic reach of businesses.
To ensure business growth on social channels, one needs to ensure to create rich and engaging content. Moreover, social media product reviews are also very important when it comes to selling products on social media platforms. If the reviews are not enough and bad it affects the purchasing of the products. However, by using a product content management system, one can create rich product information that will keep the customers informed, create credibility and trust, and help to rank better. This will make it easier to attract the target audience to these platforms and support market growth in the near future.
Opportunities:
Emerging new shopping formats
According to recent data, 40% of global shoppers (and 27% in Europe) express a desire for live streaming as an additional component to enhance their immersive shopping experience. Additionally, 60% of global shoppers (and 50% in Europe) show interest in shopping experiences driven by Augmented Reality technology. These statistics highlight the growing demand for interactive methods of product discovery and commerce in new shopping formats.
The desire for live streaming as an enhancement to the shopping experience aligns with the growing trend of social commerce platforms incorporating live streaming features. This allows shoppers to engage in real-time interactions, product demonstrations, and influencer-driven content while making purchasing decisions. Similarly, the interest in augmented reality (AR) shopping experiences reflects the integration of AR technology into social commerce platforms, enabling virtual try-on, product visualization, and interactive elements that enhance the overall shopping experience.
The demand for interactive methods of product discovery and commerce directly aligns with the essence of social commerce, which focuses on merging social interactions, content sharing, and e-commerce functionalities to create a seamless and engaging shopping environment.
Impact of COVID-19:
The COVID-19 pandemic had a positive impact on the social commerce market. Social commerce growth accelerated as a result of the pandemic due to global closures of retail stores and customers spending much more time at home. According to a survey, around 40% of respondents across the globe purchase or plan to make purchases on social media platforms. This growth is expected to accelerate and lead to an increase in online spending. Social media platforms, already popular for their social interactions, became essential channels for businesses to reach their target audience during the pandemic.
The pandemic highlighted the convenience and safety of shopping through social commerce, as it provided a seamless experience within the comfort of one's home. Brands and retailers quickly adapted by leveraging social commerce features, such as in-app product catalogs, live streaming, and shoppable posts, to engage with customers and drive sales. The increased reliance on social media for shopping during the pandemic has not only fueled the market size but also accelerated innovation and further integration of e-commerce functionalities into social platforms. Consequently, this resulted in positive impact on the market during the pandemic.
Segments Insight:
Product Type Insights:
On the basis of product type, the apparel segment held considerable revenue share in 2022. This is owing to the increasing promotion of apparels by influencers over the various social media platforms. Their ability to engage and connect with their followers, showcase outfit ideas, and provide style inspiration drives consumer interest and boosts sales in the apparel segment of social commerce. Additionally, the integrated payment systems and streamlined checkout processes enhance the convenience and efficiency of shopping and is further likely to drive the growth of the apparel segment during the forecast period.
Business Model Insights:
Based on the business model, the business-to-consumer segment is expected to grow at a considerable CAGR during the forecast period. This is owing to the increasing adoption of smartphones along with the shift in consumer behavior as well as digital mode. Furthermore, the growing number of social media users provides a vast audience for B2C businesses to target. As more people spend time on social media platforms, the potential reach and engagement opportunities for B2C brands expand, driving the segmental growth of the market in the years to come.
Regional Insights:
North America held considerable revenue share in 2022. The US dominated the North America region in 2022. Express, a US-based apparel business, is enabling influencers and regular shoppers to take on the role of "Style Editors." These Style Editors have the opportunity to create their own Express storefronts and earn rewards based on their ability to attract new customers and generate sales. This is likely to support the growth of the market in the region during the forecast period. Furthermore, the increasing usage of smartphones and tablets is also likely to support the growth of the market in the region.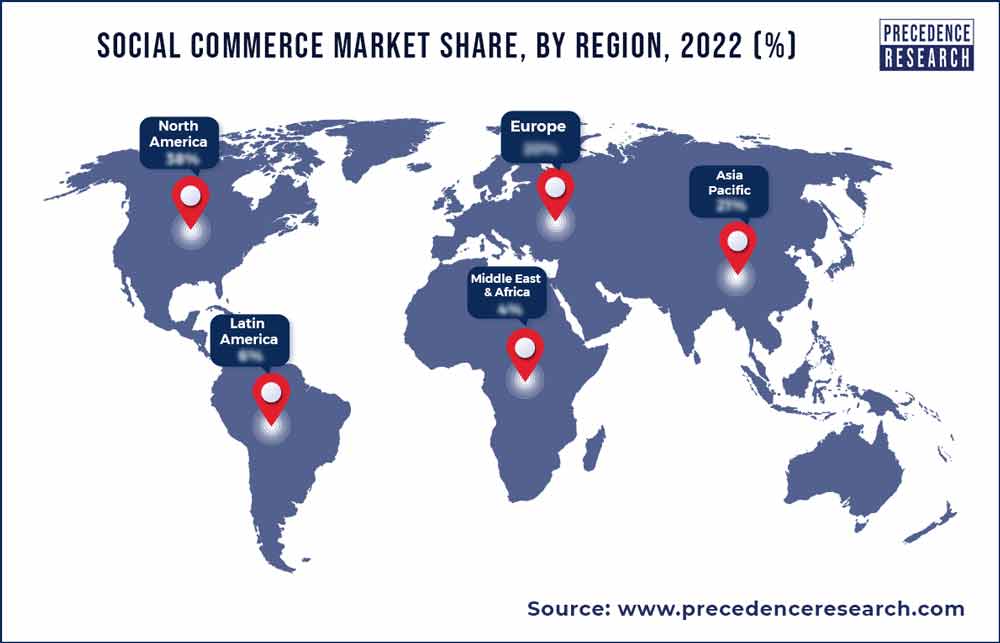 Asia-Pacific is expected to grow at the fastest CAGR during the forecast period.
Similar to the rapid growth of e-commerce in countries like India and China, where they dominated the regional market in 2018, social commerce is also anticipated to augment in China. It is projected that by 2025, social commerce will constitute nearly one-third of China's e-commerce market. While platforms like WeChat and Taobao are widely recognized outside of China, newer platforms such as Douyin (TikTok) and Pinduoduo are also gaining international prominence. Social commerce capitalizes on the immense popularity of social media in China, where research indicates that consumers spend over 48% of their time on social media apps. From 2017 to 2020, respondents reported a substantial increase in the influence of social media on their online shopping behaviors.
This encompassed around 38% rise in using social media for product awareness, an 85% surge in using social media to evaluate products, and an astonishing 252% upswing in using social media for making purchases. This is likely to support the regional growth of the market in the years to come.
Recent Developments:
In June 2023, OOOOO Entertainment Commerce Limited announced the global launch with its partner, Shiller Inc., of the Shiller app across all iOS app stores outside China. This app introduces social commerce for digital goods, offering live video and audio broadcasting technology. Approved creators on the Shiller app have the ability to produce content while endorsing digital assets that are from NFT marketplaces. Additionally, creators can also showcase their physical products that are approved from eCommerce stores on the Shiller platform. These digital and physical products are seamlessly integrated into the content, providing users with a convenient shopping experience with just a few clicks.
In December 2022, in response to a slowdown in shopping activity amid an uncertain economy and high inflation, Amazon announced its plan to incorporate a TikTok-like feed within its ecommerce app. This feature aims to attract new shoppers by presenting photos and videos from influencers. By adopting the format popularized by TikTok and Instagram, Amazon hopes to engage a younger audience who are drawn to short-form videos.
In November 2021, Myntra, an ecommerce platform, recently ventured into the realm of social commerce with the introduction of M-live. This groundbreaking offering introduces real-time, interactive and live shopping experience to millions of shoppers in the country. Myntra's move is driven by the evolving consumption patterns of content and shopping preferences of consumers, providing them with an innovative way to shop while staying connected.
Key Market Players:
TikTok
WeChat
Etsy, Inc.
Pinterest
Pinduoduo Inc.
Shopify
Trell Shop
Twitter, Inc.
Snap, Inc.
Segments Covered in the Report:
(Note*: We offer reports based on sub-segments as well. Kindly, let us know if you are interested)
By Product Type
Apparels
Personal & Beauty Care
Accessories
Home Products
Food & Beverage
Health Supplements
Others
By Platform
Social Network-led Commerce
Video Commerce
Social Reselling
Group Buying
Product Review Platforms
By Business Model
Business to Business (B2B)
Business to Consumer (B2C)
Consumer to Consumer (C2C)
By Access
Mobile Devices
Desktops & Laptops
By Geography
North America
Europe
Asia-Pacific
Latin America
Middle East and Africa