The global software-defined storage market size was accounted at USD 31.28 billion in 2022 and is projected to hit around USD 677.1 billion by 2032, growing at a CAGR of 36% during the forecast period from 2023 to 2032.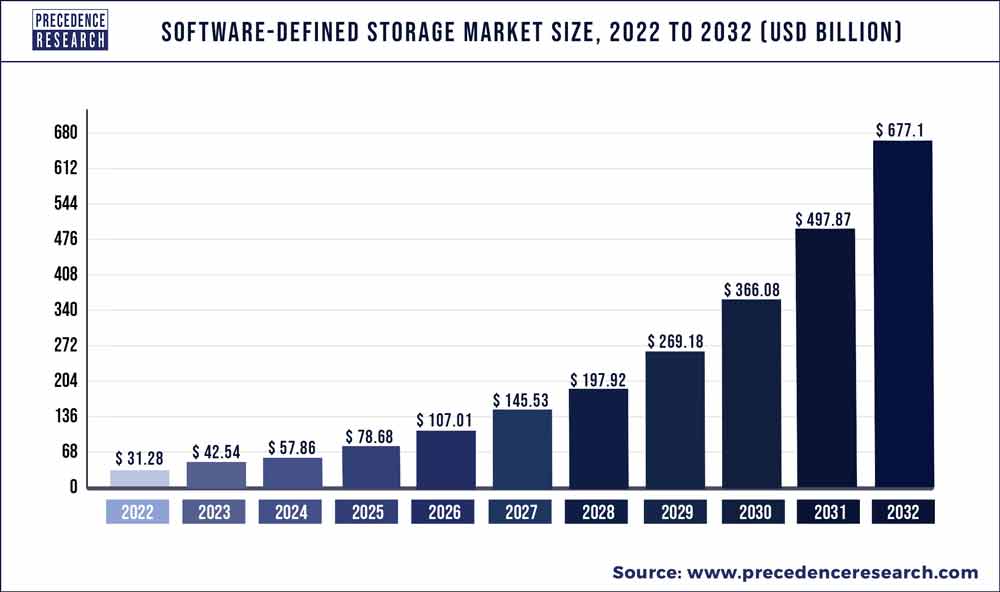 Access our Premium Real Time Data Intelligence Tool, Visit: Precedence Statistics
Key Takeaways:
North America dominated the global market in 2022.
Asia Pacific is expected to expand at the fastest CAGR from 2023 to 2032.
By Enterprise Size, the large enterprise segment dominated the market in 2022.
By Component, the services segment has generated the largest market share in 2022.
By Usage, the data backup and disaster recovery segment is expected to expand a the fastest CAGR between 2023 and 2032.
By End-user, the BFSI segment is predicted to grow quickly During the projected period of 2023–2032.
Market Overview:
The need for SDS solutions in small and medium-sized businesses is driven by the need to increase efficiency and business operations using data. Companies have moved their attention to new technologies in order to get a competitive edge as a result of the competitive climate. By automating process controls and substituting software for conventional hardware, SDS usage reduces costs. The necessity for a scalable storage architecture that is dependable and safe is increased by the explosive growth of amorphous data across several companies. Additionally, the amount of data generated at the edge is continuously growing as IoT spreads around the globe. By enhancing deployment flexibility and enabling businesses to use the software with any storage platform through a single interface, the SDS model responds to these objectives. Due to the expanding needs of big businesses in the banking and telecom industries, the leading vendors in the market have been releasing SDS software solutions with improved data safety and dependability.
Growth Factors:
A computer program called software defined storage (SDS) handles data storage resources and functionality without relying on the underlying physical storage hardware. Instead of being dependent on proprietary hardware like traditional Network Attached Storage (NAS) or Storage Area Network (SAN) systems, SDS is typically built to run on any industry-standard or x86 system. The exponential proliferation of amorphous data, which increases the requirement for a scale-out storage architecture, is one factor that contributes to the rise in SDS products. The SDS market is anticipated to expand as a result of the increased usage of cloud infrastructure and its multiple advantages, including cost effectiveness, improved flexibility, automation, and the skyrocketing value of amorphous data.
The market's goal is to be adaptable, nimble, and to have higher efficiency and control. The fact that the data center can be implemented on any arbitrary hardware is an extra benefit. Due to COVID-19, several IT behemoths were forced to secure their locations and encourage staff to work from home, which had an impact on income. However, the market for software-defined data centers for data storage, solutions, and recovery saw a sharp increase. The demand for operating and monitoring SDDCs for the efficient operation of the business may be considered as a sign of the market's expansion and as a factor influencing market growth. Other qualities include a decrease in capital expense, a reliance less on physical storage, a need for less people, and development.
Report Scope of the Software Defined Storage Market:
| | |
| --- | --- |
| Report Coverage | Details |
| Market Size in 2023 | USD 42.54 Billion |
| Market Size by 2032 | USD 677.1 Billion |
| Growth Rate from 2023 to 2032 | CAGR of 36% |
| Largest Market | North America |
| Fastest Growing Market | Asia-Pacific |
| Base Year | 2022 |
| Forecast Period | 2023 to 2032 |
| Segments Covered | By Component, By Usage, By Enterprise Size and By End-user |
| Regions Covered | North America, Europe, Asia-Pacific, Latin America and Middle East & Africa |

Market Dynamics:
Driver:
Amorphous data quantities are rapidly increasing
The amount of amorphous data gathered from various sensors, equipment, and connected devices across a variety of industries has increased as a result of the expanding usage of contemporary technologies like artificial intelligence (AI) and the Internet of things (IoT). A highly scalable and effective unified data storage and management solution becomes essential since these enormous amorphous data volumes must be constantly processed and stored.
The explosive growth of amorphous data across various organizations has had an impact on the fosterage of software defined storage (SDS) solutions with proficiencies like non-virtualization support, scale-out architecture, integration with cloud environments, high data performance speeds, and so on. Amorphous data volumes are increasing at a rate of 23 percent per year, or roughly doubling every 40 months, according to Igneous' State of Amorphous Data Management 2021 research. The need for SDS solutions to enhance reliability, productivity, and flexibility when handling machine-generated amorphous data and streamline decision-making processes has also been influenced by the drive towards digitalization or automation trends across a variety of industries.
Restraints:
Inadequate knowledge and technological expertise
Lack of technical expertise in the deployment or execution of software defined storage (SDS) infrastructures is a significant roadblock to the commercial spread of SDS infrastructures. Due to the difficulties of installation, SDS systems' power, intricacy, and flexibility can only be utilized by a specialized staff, which limits its use in all data storage applications. Lack of end-user customer awareness, education, and training regarding the advantages of using SDS solutions over conventional storage is impeding the market's growth. In order to boost end users' confidence in SDS solutions, software defined storage manufacturers must also focus on enhancing software solutions capable of reducing data theft concerns that appear during cloud location storage.
Opportunities:
Software storage solutions provides hardware-independence and offer better storage optimization
The fact that software-defined software storage systems are hardware independent is one of their advantages. This implies that software storage systems are not constrained by a certain hardware setup. The strong and ready-to-use redundancy offered by software-defined software storage solutions include software capabilities like data agility and scalability. For companies of all sizes, software storage solutions provide potential for storage optimization. Storage virtualization, which offers high storage efficiency storage capacity over conventional hard disc drive storage capacity, is advantageous for businesses of any size. By removing empty space on larger block storage devices, virtual storage management software boosts storage efficiency while decreasing costs. This allows more data to be stored on the available storage resources.
Impact of COVID-19:
Governments all over the world have taken extreme precautions to protect their citizens as a result of the COVID-19 outbreak and the spread of the pandemic that resulted from it. Corporate entities must also put unusual safeguards in place to protect their personnel, both internal and external. In this regard, corporate data collecting will be carried out in accordance with the requirements of data protection regulations. The recent massive data generation is anticipated to fuel the SDS market's expansion. Growing expenditures in cloud-based infrastructure as a result of the COVID-19 outbreak will necessitate the use of SDS. The coronavirus outbreak will also have a favorable effect on the industry as more small and medium-sized businesses adopt virtualization technologies.
Segments Insight:
Enterprise Size Insights:
Small and medium businesses are included in the software defined storage market segmentation based on organization size, as well as large businesses. The large enterprise category, which dominated the market in 2022, is expected to increase at a higher rate. Large businesses are more likely to adopt cutting-edge storage solutions like software-defined storage since they often have larger expenditures for IT infrastructure. These organizations need storage solutions that can manage large data volumes and adhere to strict security standards. On the other hand, as they search for affordable and effective storage solutions, small and medium-sized businesses are anticipated to experience significant growth. As a flexible and scalable alternative to conventional storage solutions, these organizations are embracing software-defined storage solutions at an increasing rate. Overall, the rising demand for effective and affordable storage solutions across organizations of all kinds is what is driving the rise of both groups. These all have a beneficial effect on the market growth for software-defined storage.
Component Insights:
Platforms and Services are included in the market segmentation for software defined storage based on components. In terms of revenue, the services sector accounted for the largest share of the software-defined storage market in 2022. The professional services and managed services in the services section offer assistance and upkeep for software-defined storage solutions. The hardware and software elements of the platform segment are necessary for the implementation of software defined storage solutions. The increased adoption of software-defined storage solutions by businesses of all sizes and in a variety of industries is what is fueling the platform segment's rise. Overall, the market for software-defined storage is expanding due to the rising demand for effective and affordable storage solutions as well as the rising popularity of cloud computing and virtualization.
Usage Insights:
The segment for data backup and disaster recovery is anticipated to expand quickly between 2023 and 2032. Due to their high costs and administrative burdens, traditional storage systems used for data backup have become obsolete, leading to an increase in the use of software defined storage solutions. Traditional storage requires a range of data protection solutions, including cloud backup tools, virtualized backup tools, physical server backup tools, and others, all of which add to the environment's complexity and cost. The adoption of software defined storage (SDS) solutions that offer increased flexibility has been supported by overcoming data security and storage silos as well as by lowering the requirement to use different tools in order to restore files, drives, systems, or an entire site.
Additionally, SDS might manage all aspect of storage through a single user interface, doing away with the need for independent data security, replication, recovery systems which are disastrous, or backup and boosting the enterprise's profits. Regardless of the storage location—on-site, off-site, or in the cloud—SDS solutions assist organizations in transferring, protecting, and recovering data and are crucial to their expansion across a range of industries.
End User Insights:
The market is divided into the following industry verticals: Banking, Financial Services, and Insurance (BFSI), Telecom and ITES, Education, Logistics and warehouse, Media and entertainment, Healthcare, and Others. During the projected period of 2023–2032, the Banking, Financial Services, and Insurance (BFSI) category is anticipated to expand quickly. Financial organizations require appliances that can communicate between sites as well as highly secure and accessible storage capabilities that can scale up and out. BFSI procedures including processing big data sets, controlling file access with encryption, and even data backup and recovery are all made easier by software-defined storage systems. For the shift to software-defined infrastructure and the closure of three data centers, Bank of America spent $300 million in 2017.
Regional Insights:
Europe is considered as second largest region in the software-derived storage industry. The region's favorable economic conditions, such as tax breaks, a plentiful supply of renewable energy, and sensible laws governing data privacy and protection, are what is driving the need for data centers. European enterprises are putting software-defined data centers into place swiftly because of favorable rules around data protection and privacy. Nordic countries also provide tax advantages to data center market participants, increasing demand for SDDC systems. Market participants are expanding their software-defined data center business in Europe to broaden their global reach.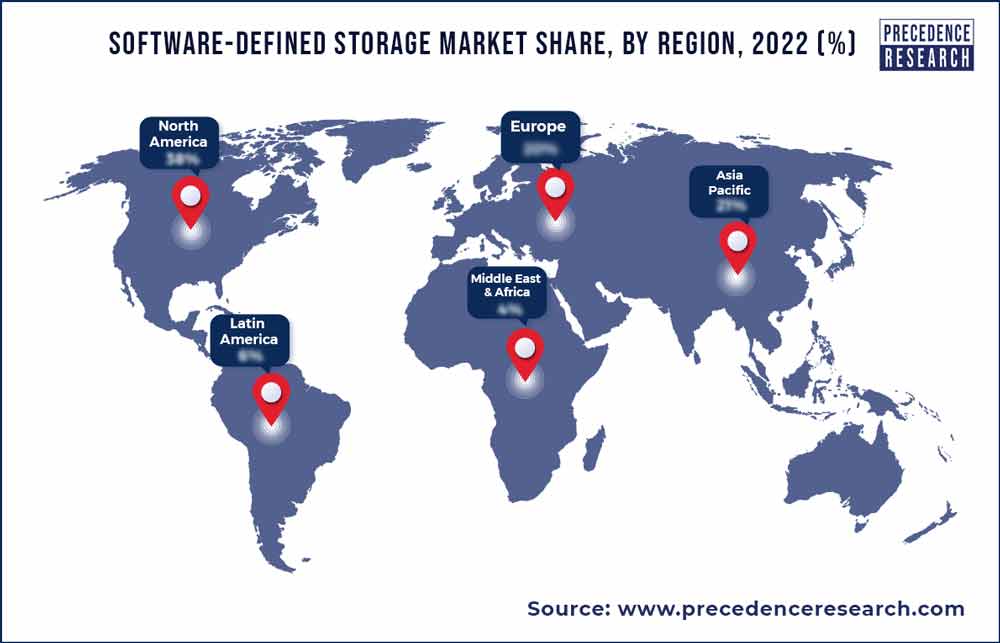 Furthermore, it is projected that the market in North America will increase as a result of fueled by big firms increasing their global reach through new products and collaborations. The United States has the greatest market share. The SDDC industry will likely be dominated by North America for some time to come, according to predictions.
Asia Pacific is anticipated to experience the fastest growth during the foreseen period. The region has greatly increased in size as a result of expanding industrialization and developing markets. The basic IT infrastructure of the APAC area is evolving more swiftly, resulting in a self-replicating cycle that promotes further investment and growth. Therefore, IT management will need greater power, money, and responsibility. This area has qualified programmers who are at least on par with those found everywhere in the world. Rapid global communication is made possible by the contemporary telecommunications infrastructure. Another important advantage is the extensive use of the English language. In higher education, only English is spoken.
Recent Developments:
Broadcom Inc. is a publicly traded business with its headquarters in the US. It is an international business with $27,450 million in annual revenue and about 20,000 employees. Along with its other products, it generates money from the global software-defined storage industry, although it is not the company's primary source of income.
Inc. Broadcom The business offers software defined storage that controls network traffic and interacts with underlying hardware infrastructure via software-based controllers or application programming interfaces. Open Compute Project Foundation, Broadview, Open Daylight, and Open Networking Foundation are some of its offerings.
In March 2022, Nvidia purchased Excelero, a provider of high-performance block storage, whose flagship product, Excelero NVMesh, provides software-defined block storage using networked NVMe SSDs and runs through networked drives on-premises or in private clouds. Microsoft Azure has been supported by Excelero NVMesh since last year. The GPU industry leader may have a wider variety of assets in its portfolio as a result of the Excelero acquisition as it looks to move beyond devices and into fully integrated systems and applications.
Exxact Corporation, a major supplier of high-performance computing (HPC), artificial intelligence (AI), and data centre solutions, and SoftIron, a major player in task-specific data infrastructure solutions, announced a partnership in October 2021 to develop software-defined storage (SDS) solutions for the contemporary enterprise that are straightforward.
Key Market Players:
Open Text Corp.
Microsoft Corp.
IBM Corp.
Oracle Corp
Net App, Inc.
Fujistu, Inc.
VMWare, Inc.
FalcoStor Software, Inc.
Nvidia
StarWind Software, Inc
Juniper Networks
others
Segment Covered in the Report:
(Note*: We offer report based on sub segments as well. Kindly, let us know if you are interested)
By Component
Services
Platform/Solution
By Usage
Surveillance
Data Backup and Disaster Recovery
Storage Provisioning and High Availability
Others (DevOps)
By Enterprise Size
Small and Medium Enterprise
Large Enterprise
By End-user
BFSI
Telecom and IT
Government
Others
By Geography
North America
Europe
Asia-Pacific
Latin America
Middle East and Africa