The global automated storage and retrieval system market size is projected to surpass around USD 23.41 billion by 2030 from USD 12.67 billion in 2022 with a registered CAGR of 7.98% from 2022 to 2030.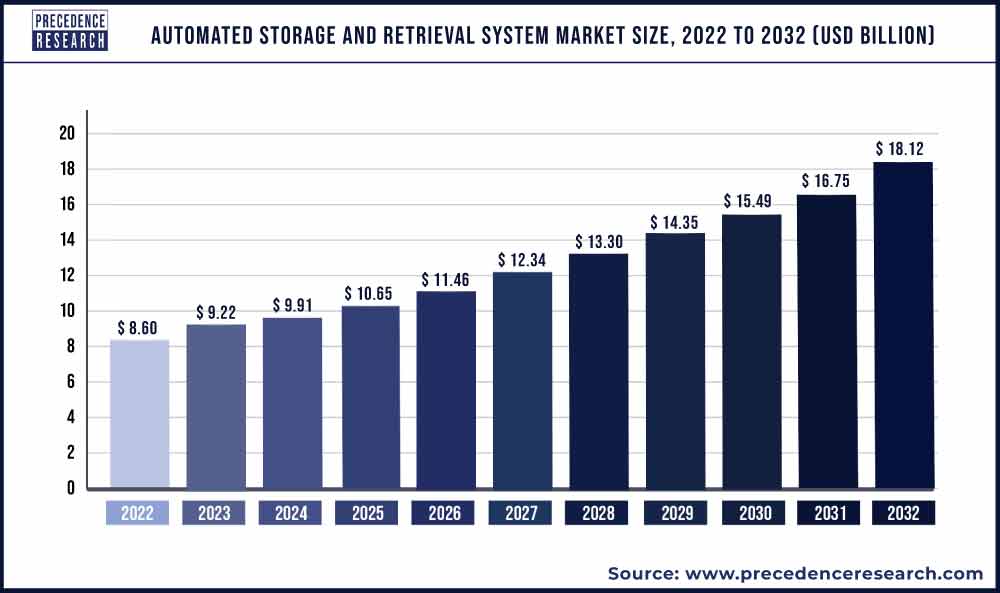 Inventory management systems with automated storage and retrieval capabilities are often employed in warehouses, distribution centers, and industrial facilities. They are made up of several computer-controlled devices for autonomously transferring cargo from one location to another. These technologies help provide rapid, dependable, precise, and affordable solutions when moving big volumes of goods from one place to another.
Key Insights:
In 2021, By end users, the automotive industry is anticipated to hold the largest market share.
In 2021, By type, floor robots are predicted to hold the highest market share.
According to load, the automated storage and retrieval system market will be dominated by the unit load.
In 2021, the North American region contributes the highest share around 40.30%.
Growth Factor
In order to guarantee consumer happiness around the globe, there is now a growth in the demand for quick, accurate, and effective fulfillment of in-store commerce. One of the main reasons propelling the market is this, coupled with the expanding industrial automation for enhancing productivity and quality while raising safety, lowering mistakes, and bringing flexibility to the production process. Additionally, ASRS is advancing technologically, helped by cutting-edge sensors. This is accelerating the market's growth, along with the rising need for improved storage systems across a number of industries. Additionally, many governments are making significant investments in creating digital infrastructure, which is helping the sector. In addition, the growing order volume in the e-commerce sector brought on by the ease of selling worldwide, retargeting clients, and customization of the purchasing process is providing industry investors with attractive development potential. In addition, the market is expanding because of the growing use of ASRS by small and midsize businesses (SMEs) to minimize human involvement.
Automated storage and retrieval systems allow robots and other material-handling equipment to automatically store and take items from shelves. These processes may be automated to save money on labor, quicken turnaround times, reduce human error, and increase storage capacity through vertical storage. The desire for higher productivity and efficiency throughout the supply chain, together with the rising need to use people and space as efficiently as possible, are projected to fuel market expansion. Thanks to the incorporation of cutting-edge technology, the market is benefiting from the expanded understanding of automated storage systems and inventory control.
A growing need for automation in the e-commerce sector and the advent of cutting-edge technology like shuttles and mid-load are both positive signs for the category market. Another aspect of the market's predicted strong growth in the future years is the rising usage of robotic systems in warehouses and industrial facilities to speed up procedures. As end-user demand for shelves, pallets, and racks rises, the market is projected to profit from these factors as well as from the systems' ability to reduce labor demands and increase productivity. The vehicle industry utilizes the most automated storage and retrieval systems due to their high level of automation. A lack of qualified labor and a growing focus on quality is driving the industry's demand for automated storage and retrieval solutions.
Growing need for quick, accurate, and efficient fulfillment for in-store shopping; increasing industrial automation and investment capacities of industrial customers in emerging nations.
Constant technical advancements in ASRS supported by state-of-the-art sensor technology
Supportive comments from local administrations emphasizing the development of digital infrastructure
Growing need for high-efficiency storage systems, rising order volume & order velocity in the e-commerce industry
The increased desire to eliminate mistakes and limit human engagement
Report Scope of the Automated Storage and Retrieval System Market
Report Coverage
Details
Market Size in 2022
USD 12.67 Billion
Market Size by 2030
USD 23.41 Billion
Growth Rate from 2022 to 2030
CAGR of 7.98%
Base Year
2021
Forecast Period
2022 to 2030
Segments Covered

By Application
By End Use
By Type
By Load

Regions Covered

North America
Europe
Asia-Pacific
Latin America
Middle East & Africa

Key Market Drivers
Retail supply-chain multichannel approach
Currently, there is a growing tendency toward multichannel supply chains, especially in the retail industry. In line with this plan, the businesses hope to develop an "in-house" distribution facility to handle order fulfillment tasks rather than contracting out to outside logistics providers (3PL). Companies want to handle both store and individual orders in a single facility by constructing their own distribution centers, which will result in considerable cost savings for distribution operations. The retail distribution centers in today's world serve as more than just a stop between storing and transporting items.
Major changes in the retail distribution centers have already been made as a result of the growth of the retail sector, which was made possible by the explosion in electronic commerce. These changes include mass personalization and increased customer service demands, both of which have caused the number of stock-keeping units to increase exponentially (SKUs). The retail industry will experience increased demand for goods as the world economy slowly improves. In order to maintain a balance between supply and demand, new automation technologies will need to be properly integrated, which will be significant for the growth of the automated storage & retrieval systems market.
Key Market Challenges
Many systems failures
A lot of sensors, equipment, and motors work together in synchrony as part of the complicated ASRS system, which is controlled by software. Any technical problem with the sensing component of the ASRS may halt the entire operating process, adding time and money to the company's expenses. Any programming error in the software will also result in the poor operation of the ASRS, slowing the entire manufacturing process and lengthening facility downtime. A few minutes to many days may pass during this downtime. As a result, system failures have a negative impact on the procedure and lower earnings.
Key Market Opportunities
Automated material handling systems now have more options because of the leasing of material handling equipment
Leasing and financing of commercial equipment will continue to expand as long as U.S. corporations boost their spending on capital equipment. Automated Storage & Retrieval Systems often have substantial installation, training, and servicing expenses during their first phases. Small and medium warehouse operators are typically discouraged by these high costs from incorporating AS/RS into their facilities, but growing support for equipment leasing, as seen in the European Law Faculties Association (ELFA) data, has made it possible for operators to acquire these systems in new ways. The distribution centers may benefit from these systems' efficiency, quality control, and decreased operating costs by leasing the equipment, while also seeing an instant return on their investment. Therefore, the AS/RS market will experience an increase in demand as the leasing of equipment in the sectors becomes more accessible.
Segments Insight
End User Insights
In terms of end users, the automotive industry is anticipated to hold the greatest market share for automated storage and retrieval systems in 2021. The growing emphasis on industry 4.0, the shortage of skilled laborers, particularly in developing nations, the rise of local government initiatives to revive the auto industry, and the desire to reduce reliance on third-party logistic providers are all major contributors to the large share of this market.
Application Insights
According to the application, the storage sector is anticipated to account for the greatest market share for automated storage and retrieval systems in 2021. The significant market share of this sector is mostly attributable to the explosion of online shopping, the rising desire for creative storage solutions, and the growing urgency to avoid product damage and workplace accidents.
Type Insights
According to type, floor robots are predicted to hold the biggest market share for automated storage and retrieval systems by the year 2021. The greatest share of this market is primarily attributable to the growing use of floor robots in the e-commerce sector, the rising need for floor robots for efficient order fulfillment operations, and the growing necessity to improve supply chain management. But over the projection period, the vertical lift modules sector is anticipated to exhibit the greatest CAGR. The demand for vertical lift modules regarding storage and picking applications in the retail industry, the rising need for larger storage capacities, the rising demand for vertical lift modules for efficient inventory management, and the rising number of deployments of VLM by top automated storage and retrieval systems are all factors that have contributed to the segment's rapid growth.
Load Insights
According to estimates, the automated storage and retrieval system market will be dominated by the unit load ASRS category. The significant market share of this sector is mostly attributable to the increasing pressure to meet shipping deadlines during busy periods, the growing desire to improve one's business acumen, and the expanding acceptability of unit-load automated storage systems. This market's expansion is anticipated to be aided by the integration of cutting-edge technologies into process handling and shipping operations as well as the growing need for lower incineration costs.
Regional Insights
In 2021, the North American region's market for automated storage and retrieval systems maintained a sizeable 40.30% market share. The market for automated storage and retrieval systems is anticipated to increase as a result of a rise in the use of big data technologies by businesses to improve their capacity for risk management and consumer target marketing. Additionally, the manufacturing sectors of nations like the United States and Canada have been at the forefront of automation. The expansion of the automated storage system manufacturers' market share in these nations was made possible by improvements in infrastructure and industrial growth.
Pie Chart 1
The market for these systems will also be greatly boosted by the rising need for safety and control in the industrial and manufacturing sectors in the United States. Automation will become more prevalent in order to decrease worker pay as salaries continue to rise. In addition, Mexico is increasingly serving as a manufacturing base for numerous businesses, mostly due to its affordable labor prices and closeness to the United States. The majority of the top manufacturers are locating their factories in the area.
The NAFTA accords give these businesses an easier way to export their output to the United States and Canada, which encourages the use of more sophisticated manufacturing techniques in this region. The increased use of automated storage systems in Mexico is a result of the increased productivity and efficiency they offer. As a result, these factors are examined to see how they may affect market growth between 2022 and 2030.
Recent Developments
In August 2021, SSI SCHAEFER was awarded the contract to automate a new portion of ZF Foton's warehouse in Jiaxing, Zhejiang province, China. The area of supplies and services also includes a mini load with retrieval and storage devices, a modernized bin conveying system, as well as a logistics software WCS system. The operating capacity, storage volume optimization, and picking effectiveness of the warehouse will all be enhanced.
Key Market Players
TGW Logistics Group GmbH (Austria)
Swisslog Holding AG (Switzerland)
Daifuku Co. Ltd. (Japan)
SSI Schaefer Group (Germany)
Murata Machinery (Japan)
Knapp AG (Austria)
Mecalux SA (Spain)
Vanderlande Industries (Netherlands)
System Logistics Corporation (Italy)
Bastian Solution (US)
Beumer Group (Germany)
Dematic GmbH & Co. KG (Germany)
Kardex Group (Switzerland)
Segment Covered in the Report
(Note*: We offer reports based on sub-segments as well. Kindly, let us know if you are interested)
By Application
Storage
Order Picking
Kitting
Buffering
Others
By End Use
Automotive
Semiconductor and Electronics
General Manufacturing
Retail and Warehousing or Logistics
Aviation, Chemicals
Rubber, and Plastics
Healthcare
Food and Beverage
Postal and Parcel
By Type
Vertical Lift Modules
Carousels
Crane-Based
Vertical Buffer Modules
Robotic Shuttles
Floor Robots
By Load
Unit Load
Mid Load
VLM
Carousel
Mini Load
By Geography
North America
Europe
Asia-Pacific
Latin America
Middle East & Africa (MEA)