The global material handling equipment market was estimated at USD 27 billion in 2021 and is expected to reach USD 46.38 billion by 2030, poised to grow at a compound annual growth rate (CAGR) of 7.5% during the forecast period 2021 to 2030.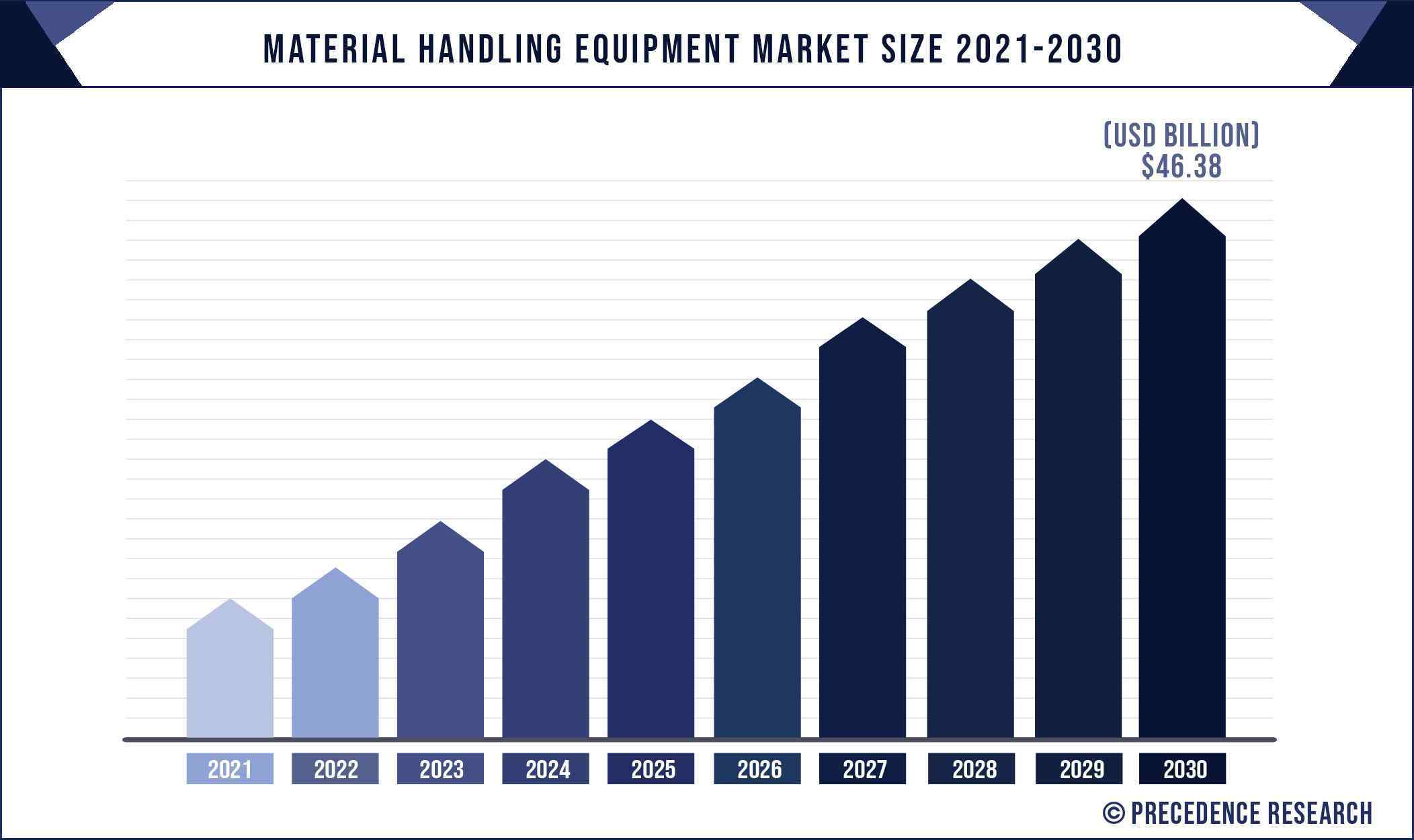 Growth Factors
The surge in investments for the development of power and battery technology will foster the market growth. Apart from that, favorable government initiatives worldwide encourage new infrastructure development, resulting in growth prospects in the material handling equipment market over the forecast period.
The developing economies such as India and China attract foreign investments promoting infrastructure and industrial development; this is expected to drive the market growth. Also, the development of public infrastructure such as rail networks, airports, seaports and power plants, and others are estimated to foster the market growth.
The development of Belt and Road Initiative (BRI) by China is anticipated to create lucrative opportunities that will fuel the growth of the materials handling equipment market. This initiative focuses on connecting a network of rail and road routes from China to Europe via the Middle East.
The material Handling Equipment Market has benefited greatly from the rapid rise of the ecommerce industry. Furthermore, in reaction to the COVID-19 epidemic, the imposition of social distance rules, lockdowns, and other measures has prompted consumers to turn to internet shopping, which has helped market growth.
The increase in labor cost and safety concerns has led many industries to choose the equipment's in order to improve work efficiency and time reduction and this factor will foster the market growth. Also, with the enhancement of technology there will be demand for automation and productivity and this will trigger the market growth. Furthermore, the increasing requirement for efficient material movement necessitates automated processes, which is expected to fuel market growth.
Product Insights
Based on the product, the industrial trucks product segment is expected to lead the market with largest market share of over 30.5% in 2020. These trucks are a desirable choice due to their wide area of application in an industrial setting. The transportation of heavy containers or crates in several end use markets is undertaken using industrial trucks and this attribute accelerates the market growth. As the logistics industries are shifting towards sustainable products, the demand for battery-operated trucks will be surged over the forecast period. For instance, On 8th July 2021, KION Group AG has announced that manufacture of forklift trucks would begin near the German-Polish border in order to balance equipment for all KION Industrial Trucks &Services brand firms. The goal of this initiative is to increase the level of automation and digitization at these locations.
The automated storage and retrieval system segment accounted for a remarkable revenue share of 28.4% in 2020 and is expected to grow at a CAGR of 8.1% during the forecast periodowing to the COVID-19 pandemic's implementation of social distancing standards During this time, these systems were preferred because they emphasized efficiency and corresponded with social distancing norms. Also, during the projection period, the investments in automated equipment will surge which is anticipated to create lucrative opportunities that will drive the growth of the material handling equipment market.
End Use Insights
Based on the End use, the Material Handling Equipment Market is divided into Automotive, Food & Beverages, Chemical, Semiconductor & Electronics, E-commerce, Aviation, Pharmaceutical and Others. The e-commerce sector will dominate the market with a revenue share of 23.4% in 2020 and is estimated to grow significantly during the forecast period. During the lockdown limitations, an unforeseen need for distribution and transportation of basic supplies, particularly groceries, fueled market expansion. The impact of the coronavirus will not be a short-term boost to the market; rather, it will have a long-term impact on industrial demand, offering enormous prospects for material handling equipment vendors. It is also estimated the revenue share of ecommerce sector will cross USD 10.5 billion by 2030.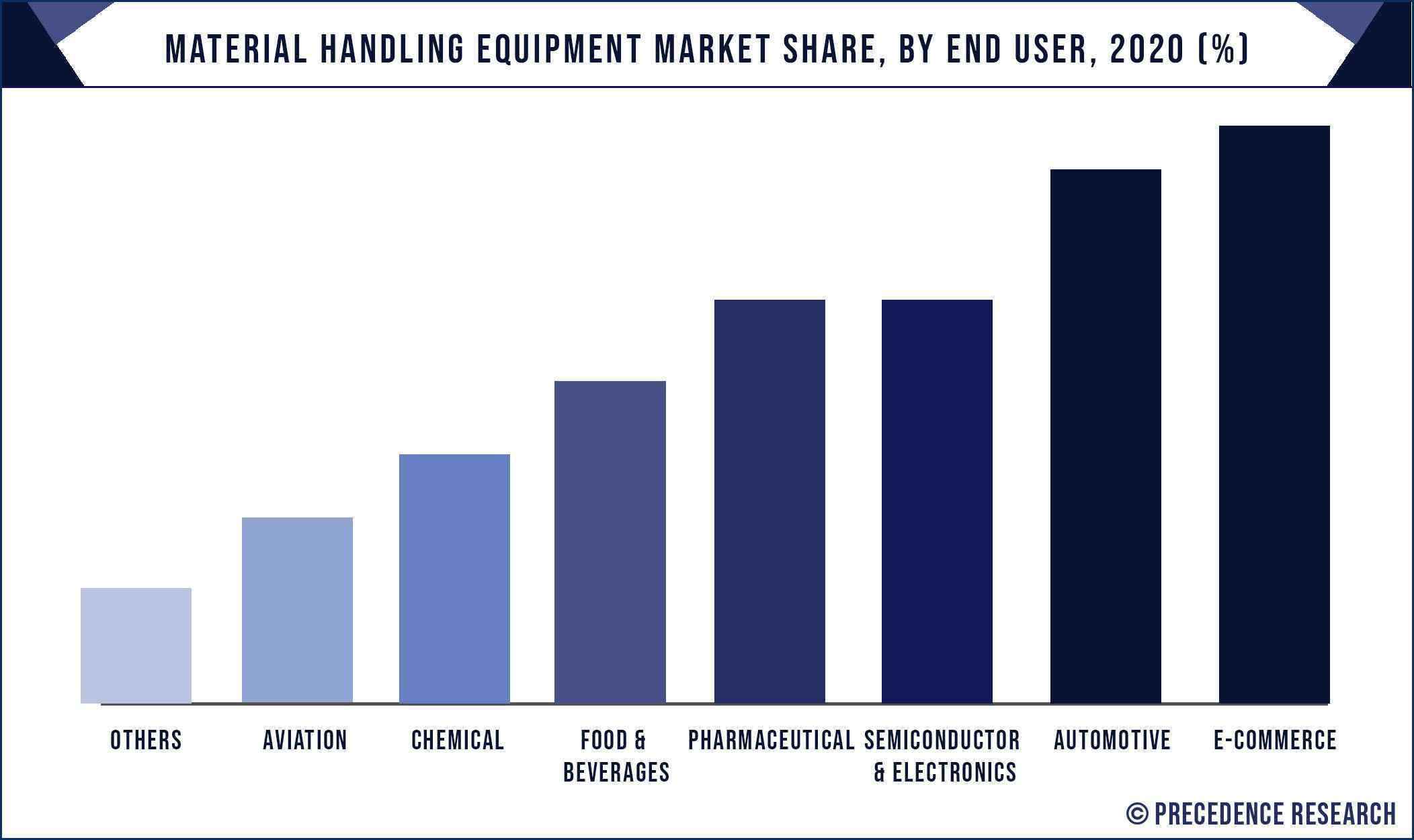 The retail sector has always offered massive profit opportunities, and this trend is expected to continue in the future. The convenience of online shopping has encouraged retailers to build micro-fulfillment centres that allow for quick product deliveries, and this attribute will boost the growth of material handling equipment market. For instance, On 28th September 2021, The Italian Calzedonia Group, a prominent player in worldwide fashion retail marketplaces, has chosen BEUMER Group, a leading global producer of automated material handling systems. to put its pouch-making technology to work Calzedonia Group has seen a rapid expansion in its Direct to Consumer (DTC) business as a result of the boom in e-commerce, and it needed to improve its dispatch operations to account for this growth while improving efficiency and customer service.
The automotive segment dominated remarkable revenue share in 2020. This segment is accounted for more than USD 5.2 billion by 2030.
Geographical Coverage
Europe is expected to dominate the market with a revenue share of more than 34.5% in 2020 and is expected to grow significantly over the forecast period. It's due to the employment of innovative products to support the region's large-scale industrial presence. Europe has a diverse range of industries, from food and beverage to electronics manufacturing, all of which offer sales opportunities. Furthermore, the e-commerce sector led by same-day delivery models has contributed remarkably towards market growth. For instance, On 14th October 2021, LogsticaCarosan, a Spanish storage and transportation company, has stated that it has rebuilt its Talavera de la Reina (Spain) facility in order to improve customer service. The company will adopt Mecalux's Easy WMS warehouse management system to streamline all of its logistical procedures. The technology will allow LogsticaCarosan to keep a close eye on its clients' entire inventory.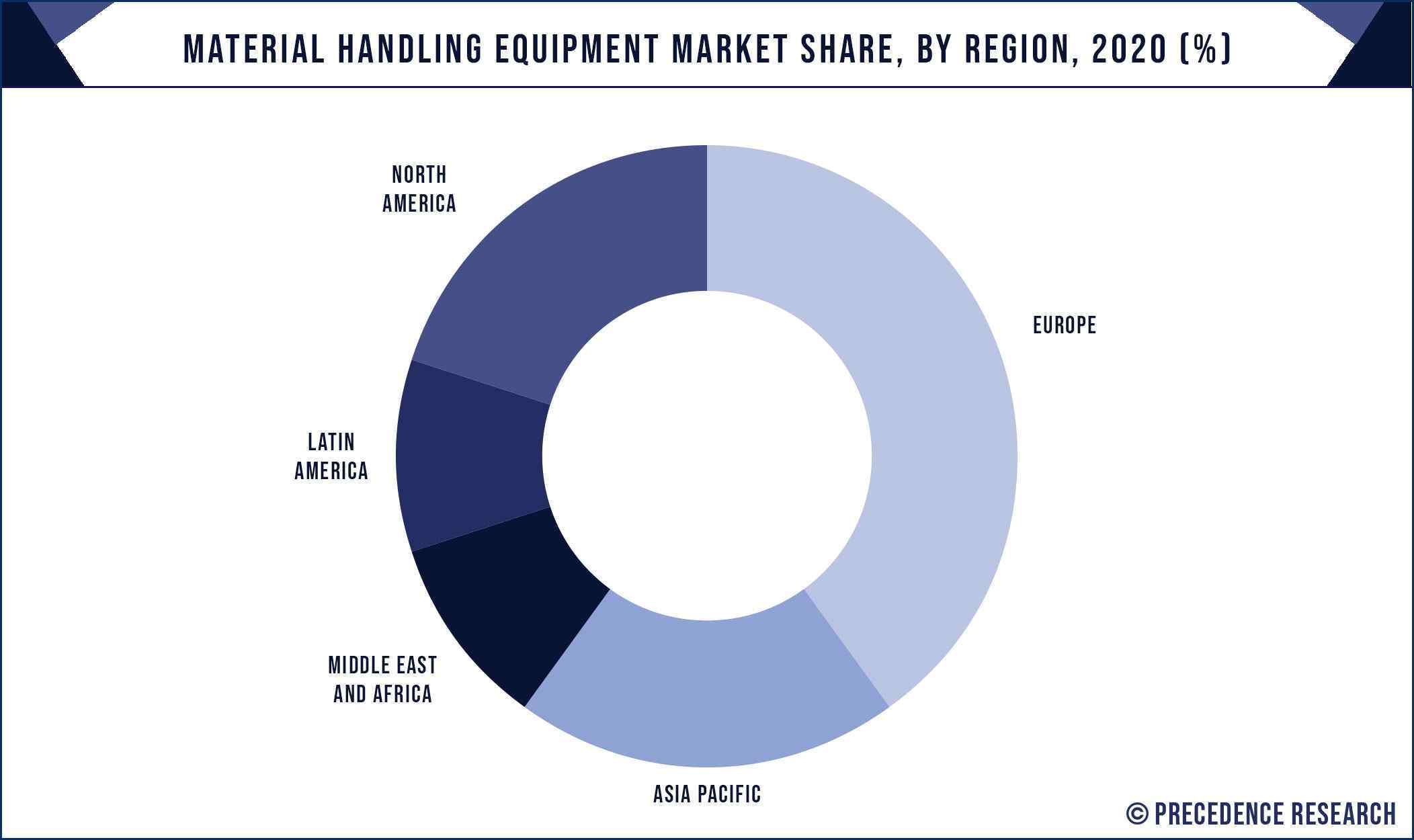 Asia Pacific region is also estimated to grow significantly over the forecast period and it has witnessed a CAGR growth of 9.8% in 2020. It is because the developing economies has provided ample opportunities, subsequently helping OEMs reach broader end user markets. Moreover, the rapid growth of the ecommerce industry in this region is anticipated to boost the market growth.
Key Companies Profiled
The global material handling equipment market is characterized by the presence of various small and big players. The major market player includes BEUMER Group; Daifuku Co., Ltd.; Honeywell International Inc.; Kion Group AG; Mecalux, S.A; Murata Machinery Ltd.; SSI Schaefer AG; Swisslog Holding AG; Toyota Material Handling Group; and Vanderlande Industries B.V. As the market is competitive in nature, the players are indulged in rapid adoption of advanced technologies to improve the material handling operationsand in raising their competitive share by means of strategic initiatives like mergers, new product and acquisitions.
Report Scope of the Material Handling Equipment Market
| | |
| --- | --- |
| Report Highlights | Details |
| Market Size | USD 46.38 Billion by 2030 |
| Growth Rate | CAGR of 7.5% from 2021 to 2030 |
| Largest Market | Europe |
| Fastest Growing Market | Asia Pacific |
| Base Year | 2021 |
| Forecast Period | 2021 to 2030 |
| Segments Covered | Product, End User, Region |
| Companies Mentioned | BEUMER Group; Daifuku Co., Ltd.; Honeywell International Inc.; Kion Group AG; Mecalux, S.A; Murata Machinery Ltd.; SSI Schaefer AG; Swisslog Holding AG; Toyota Material Handling Group; and Vanderlande Industries B.V. |
Segments Covered in the Report
By Product
Storage and Handling Equipment
Automated Storage and Retrieval System
Industrial Trucks
Bulk Material Handling Equipment
Others
By End Use
Automotive
Food & Beverages
Chemical
Semiconductor & Electronics
E-commerce
Aviation
Pharmaceutical
Others
By Geography
North America
Europe

U.K.
Germany
France
Russia
Italy
Spain
Rest of Europe

Asia Pacific

China
India
Japan
South Korea
Rest of Asia-Pacific

LAMEA

Latin America
Middle East
Africa